When it's an all ladies night you would want to pick the best place for your girls! Here are some places I personally recommend where you can have a great time because you deserve the best. These clubs have great music and ambience, good food and also a decent crowd which is a must.
1. Hoppipola
Hoppipola is one place that will not disappoint you, ladies! It has a great vibe, amazing music and it is stunning in terms of its ambience and food. They have multiple outlets in Mumbai at locations like Khar, Malad and Powai. I love the Khar one best, but Hoppipola in Malad has ladies night every Wednesday! And let me tell you, they have some great offer for us! The place can get crowded on weekends but apart from that, you will love the groovy music and delicious food here. Booking a table on a prior basis is recommended.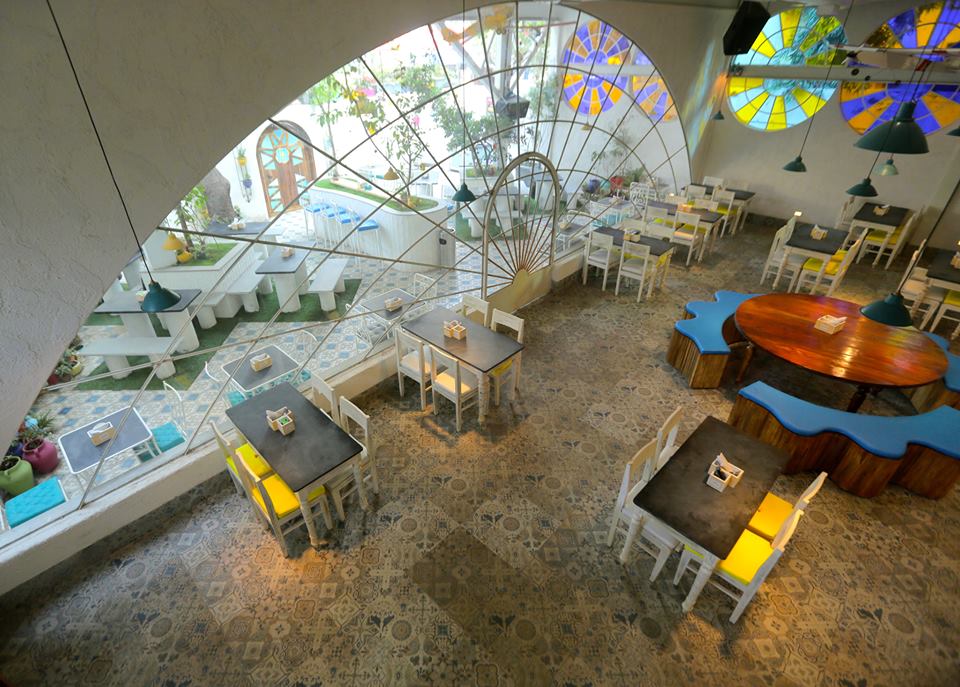 Address: Hoppipola, 759, 5th Ln, Khar, Ram Krishna Nagar, Khar West, Mumbai, Maharashtra 400052

Also Read: Laguna Waterpark Launches Weekly Ladies Night

2. Moonshine, Andheri
Moonshine in Andheri is a place where you can have a good time, enjoy their cocktails and drinks! Tuesday Nights are for you to chill with your gal pals. They have amazing deals on drinks and food as well. If you are lucky enough you can catch live music and if it's a match day you will not miss it as they have screenings for all the important matches. Moonshine is currently shut on a temporary basis and will be up and running soon.
Address: Plot B-10, 2nd Floor, Gopi Chamber, Link Road, Opposite Citi Mall, Andheri Lokhandwala, Andheri West
Also Read: 10 Of The Best Ladies Night Deals In Mumbai
3. Tamasha, Lower Parel
Tamasha is one place that will definitely put you in the drinking mood. The vibe here is so amazing, the lights definitely make your night better and your Instagram pictures even prettier. Tamasha does not have ladies night in particular but it is a great place for meet-ups dinners and brunches.
Here is a video that will take you to a tour of Tamasha in Mumbai in a minute!
Address: Tamasha, Ground Floor, Victoria House, E.B Marg, Lower Parel, Mumbai
Also Read Ditch Pubs, VOX Cinemas Has Launched A Special Ladies Night
4. Lord Of The Drinks, Lower Parel
Lord of the Drinks in Lower Parel is located in Kamala Mills. The place is huge and if you book on a prior basis you can have proper huge booths to yourself. The place also has great lighting, good music, amazing ambience and whole dance floor where you will love to get your groove on. Drinks, cocktails and food are great, but I remember having a cranberry cocktail which was too sweet. The staff was good and courteous enough to change the drink and make it right. So I can say this place in Lower Parel will live up to your recommendations.
Address: Lord Of the drinks, Third Floor, Trade View Building, Kamala Mills Compound, Senapati Bapat Marg, Lower Parel, Mumbai
5. Open House Cafe And Bar, Dadar

This place is Dadar has ladies night on Tuesday where women can avail a free drink! This place is in Shivaji Park is a small place which serves great food at affordable prices! They also have Karaoke night every Wednesday and it is fun and has a great vibe going on!
Also Read: Five Ladies Night In Dubai You Can't Miss
Also Read: Butterfly High In BKC Serves Free Cocktails To All The Ladies On Tuesday Nights!
Address: Open House Cafe And Bar, Amar Kunj, Cadel Road, Dadar Shivaji Park, Mumbai
6. DragonFly, Andheri
Many might not know about this place as it is the newest addition to Mumbai, they have an outlet in Delhi too! The first thing I would like to mention is the ambience here is great and the lighting is just amazing. Here, they don't have a ladies night as such but it is a good one for dinner with your girls.
https://www.instagram.com/p/BzeuwbWn_b-/
Address: Cts no – 69 & 72, New Chakala Link Road, Near JB Nagar, Chakala Opposite Solitaire Corporate Park, Andheri East, Mumbai, Maharashtra 400093

Also Read: Head To This All Girls Adventure Trip To The Hills Of Himachal At Just ₹7500
7. Butterfly High, BKC
Butterfly High in Bandra Kurla Complex is the ultimate place to enjoy with your girl gang. Here every Tuesday you can avail great offers on cocktails and drinks! Be it a planned Tuesday night, a chill meet up after office or you just want to celebrate, here are is a place that fits perfectly well for everything. Butterfly High is vibrant, colourful and a place that lifts your spirits. A good staff is always a plus point, so grab your gang and head to Butterfly High.
Address: Butterfly High, Unit 4, Ground Floor, Jet Airways Godrej G Block, next to MCA, Bandra Kurla Complex, Mumbai
8. London Taxi, Lower Parel
Where do I start with this one? London Taxi is also in Kamla Mills, Lower Parel. The place is very posh and it ensures you have the best night. I was stunned looking at how the bartenders were making the drink, exactly how they show it in the movies. Every Wednesday, for their Ladies Night and here you can avail free drinks and cocktails
Address: London Taxi, Kamala Mills Compound, A Wing, Ground Floor, Trade Centre, Lower Parel, Mumbai, Maharashtra 400013
Also Read: Srushti Went To Pondicherry For A Weekend Getaway All Under Rs 5000
9. Bombay Cocktail Bar, Andheri West
I have never seen someplace as huge as this one! Bombay Cocktail Bar in Andheri has ladies night every Thursday. So pick your girlfriends and come here to get some free cocktails! The seating here is unique and you will most definitely spend some quality time.
Address: Bombay Cocktail Bar, Ground Floor, Deluxe House, Plot b/50, Veera Desai Industrial Estate, Off New Link Rd, Andheri w, Mumbai, Maharashtra 400102
10. Bora Bora, Juhu
Ladies, Bora Bora in Juhu faces the sea! What else could you need? It is a beautiful place and perfect for brunches and dinners with your girls. They also have private dining and event. You can never have a bad time witnessing the beautiful colours in the sky while the sun is setting. Ladies night is every Tuesday at Bora Bora, Juhu. There three outlets in Juhu, Andheri and Bandra.
Address: Bora Bora, Juhu Tara Rd, Opp. Juhu Beach, Opposite Ramada Plaza, Juhu Tara, Juhu, Mumbai, Maharashtra 400049