Who can't resist the crispy, honeycombed Belgian delicacy of waffles? An amazing breakfast dish and an even better dessert, just hearing the word- waffles, can totally make our mouths water. Whether you like your waffles, thin and crispy, soft and fluffy, sweet or savoury, we have an amazing list of the best waffle places in Bangalore for you. So get your gang and let the Waffle Party start already!
1. Strawberry Cheesecake Waffle At A Hole Lotta Love Cafe
A quaint brunch joint in Koramangala, A Hole Lotta Love Cafe remains a favourite amongst the youth, the long Sunday queue is a testimony to this. So when you're on the hunt for the best waffle places in Bangalore a trip to this cafe is a must. Do try out their speciality Strawberry Cheesecake Waffle which is a delicious fluffy waffle layered with cream cheese and has a yummy strawberry filing. Chocolate Lovers! You must definitely try their Moonlight Waffles, which has an interesting combination of chocolate waffle filled with a combination of tangy raspberry and white chocolate fillings. You can thank us later for this!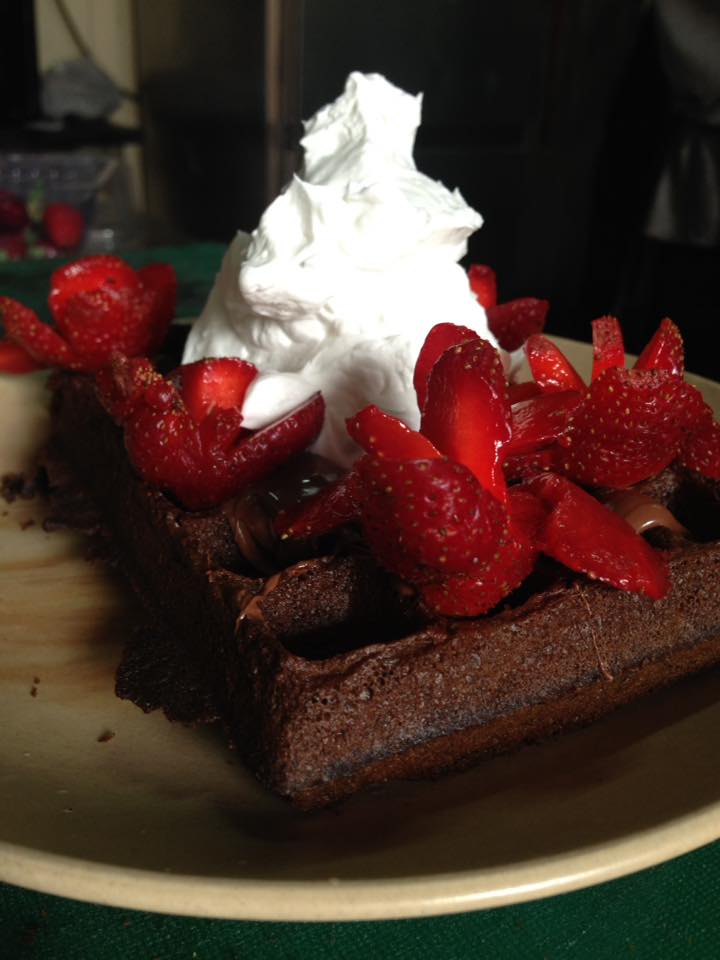 Deets
Address: 59, 1st Floor, Diagonally Opposite JNC, Industrial Layout, Koramangala 5th Block, Bangalore
Timings: 10 am to 10 pm ( Closed on Monday)
Cost: ₹600 for two
Contact: 080 37971886
Also Read: 5 Unique Desserts To Try In Bangalore
2. Red Velvet Waffle At The Belgian Waffle Co., Multiple Outlets
The crispy wafer-thin waffles laden with lip-smacking toppings at The Belgian Waffle Co. is making a great name all over the country. And if you haven't visited this waffle place in Bangalore yet, then wake up and smell the waffle! When you visit this quaint waffle place, its yellow ambience and aroma of freshly made waffles is sure to take you to a happy place! While you're here with your gang, do gorge on the Red Velvet Waffle, Kitkat Waffle and the Dark & White Fantasy Waffle. You can also try their speciality Waffle Ice Cream Sundaes where you can get the best f both worlds- waffles and ice creams.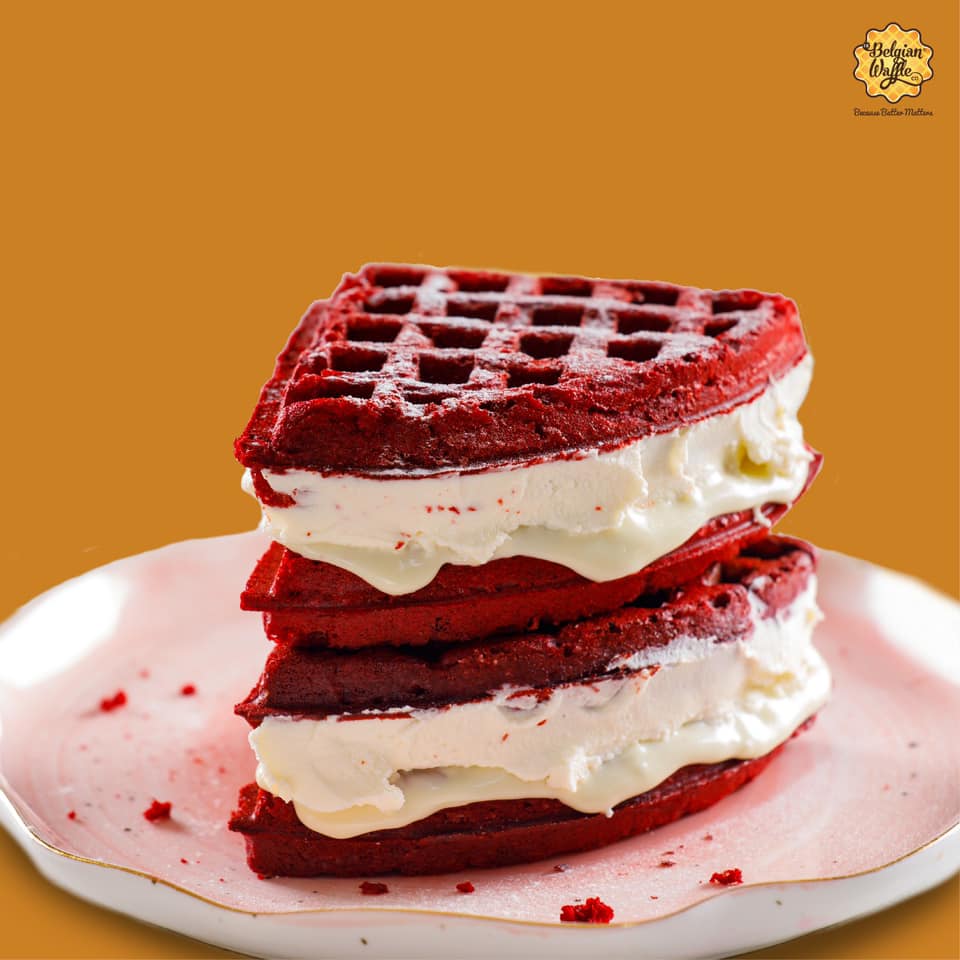 Deets
Address: Multiple Outlets
Timings: 9:30 am to 3 am
Cost: ₹300 for two
3. Create Your Own Waffle At Waffle Stories
Every dessert has a sweet, yummy and chocolately story to tell. So does Waffle Stories. What makes this waffle joint stand apart from its contemporaries, is its unique 'Create Your Own Waffle Story' concept. You can choose your own waffle be it plain, choco-chip, black waffle or red velvet waffle. Then choose your own topping from 10 toppings. We found the Choco-Brandy and Mocha quite interesting. Add cream or your choice of ice cream. And finally top it with fresh fruits, chocolates, nuts or cookies. Interesting right? So create your own waffle stories in this amazing waffle place in Bangalore.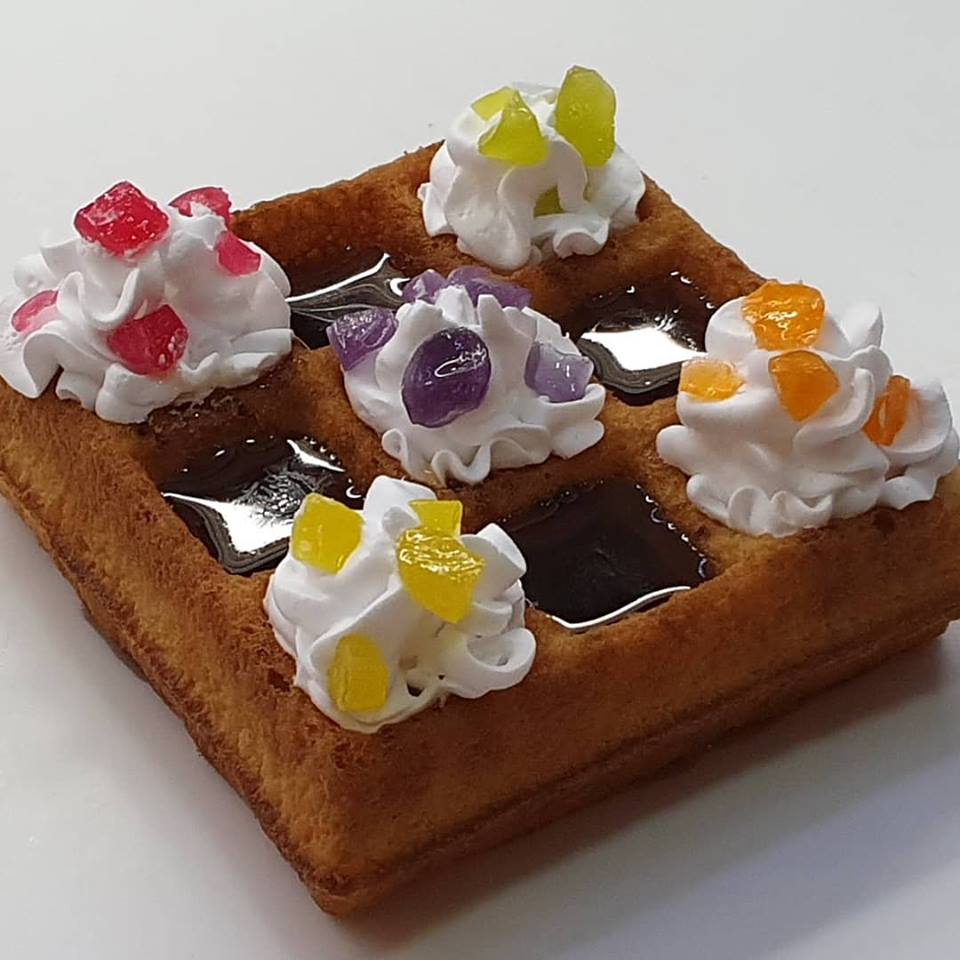 Deets
Address: 3rd Floor, Orion Mall, Brigade Gateway, Dr Rajkumar Road, Near Yeshwantpur, Malleshwaram, Bangalore
Timings: 11 am –to 10:30 pm
Cost: ₹300 for two
Contact: +91 9916992866, +91 9008175321
4. Chicken Tikka Waffle At Waffle Magic
Yes! You heard it right. Waffle Magic serves a variety of delicious chicken and vegetarian savoury waffles. So you can actually have a great savoury waffle and then end your meal on a sweet note, with their dessert waffle. The Chicken Tikka Waffle loaded with hot and spicy chicken with amazing spices is a popular waffle here. If you're a vegetarian, do try the Mushroom Garlic Waffle. End your meal with the lip-smacking Deluxe Blueberry Waffle and you can waffle you're way through the day.
Deets
Address: 621/B, 12th Main Road, HAL 2nd Stage, Indiranagar, Bangalore
Timings: 9 am to 3 am
Cost: ₹700 for two
Contact: +91 8884185383, +91 9000481581
Also Read: A Japanese Dessert Parlor In Bangalore Is Serving Their Iconic Mochi Ice Cream
5. Margherita Pizza Waffle At Bubblewrap Waffle Co.
Located in Jayanagar, Bubblewrap Waffle Co. is a cute little waffle outlet offering everything waffle! From a variety of dishes like bubble wrap waffle, savoury waffles, waffwichs and stick waffles you can definitely experiment with your favourite snack. You can try the Margherita Pizza Waffle here where you can enjoy the oozy delicious cheese and tomato goodness all wrapped in a good waffle. The Fruit Explosion Bubblewrap Waffle will give you the freshness and sweetness you have desired for in a perfect dessert.
Deets
Address: 663, 11th Main, 34th Cross, 4th Block, Jayanagar, Bangalore
Timings: 11:30 am to 11:30 pm
Cost: ₹450 for two
Contact: +91 8861828672, +91 9901475473
Also Read: Cheesy Pizzas And Creamy Pastas At These 10 Best Italian Restaurants In Bangalore
6. Lucifer's Favourite At Big Bang Waffles
The next time you want to Netflix & chill with your bae, and you get those midnight waffle cravings, then here's what you can do! Order sinfully tasty waffles like the Lucifer's Favourite from Big Bang Waffles at BTM. The dark chocolate waffle, laden with milk chocolate spread with a sprinkle of choco-chips is what dreams are made of. If gorging on chocolate waffles in the middle of a night is a sin, then you can sure as take us to hell! Big Bang Waffles is here to take you to the world of temptations with its variety of delicious classic and exotic waffles as well as quirky Big Bang Shakes. Wash down your meal of waffles with the minty Ice Burst Shake and you're good to go!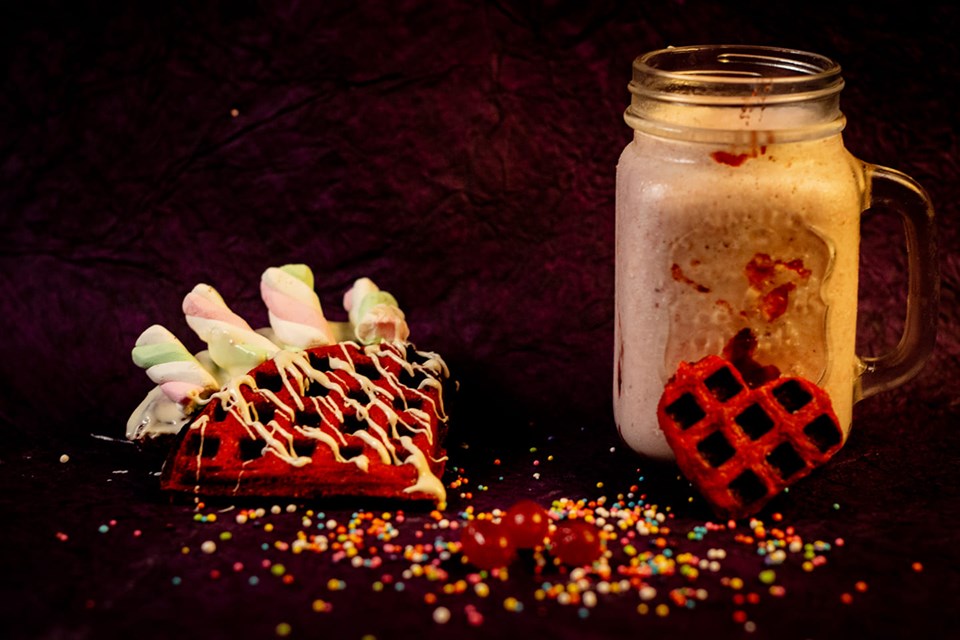 Deets
Address: 4, 4th Main, Tavarekere Main Road, 1st Stage, BTM, Bangalore
Timings: 4 pm to 4 am
Cost: ₹300 for two
Contact: +91 9605338667
7. Nutella Waffle At Absolute Waffles
Gorge on your favourite chocolatey Nuttela waffle here at Absolute Waffles. Officially known as the Chappel of Love, this chocolate waffle is filled with a mixture of orange and Nutella cream and laden with oreo crumbs. You can also try their speciality Ferrero Blast waffle which has a filling of your favourite Ferrero Rocher chocolate. Absolute Waffles is a great waffle place in Bangalore which you must visit.
Deets
Address: 7, Inside MSR Campus, New BEL Road, Bangalore
Timings:  10 am to 10 pm
Cost: ₹200 for two
Contact: +91 9243494002
8. Marshmallow Filled Waffle At The Waffle Press
You can enjoy your favourite campfire treat marshmallow in the form of a great S' mores Waffle at The Waffle Press in St. Marks Road. S'mores is a waffle filled with in-house marshmallow fluff paired with rich chocolate ganache. It's the perfect snack to munch on with your gang. While you're at it you can also try the Dirty Duchess waffle which has the best of chocolate, coffee and almonds all in one freshly baked waffle. This is definitely one of the great waffle places in Bangalore which you must visit.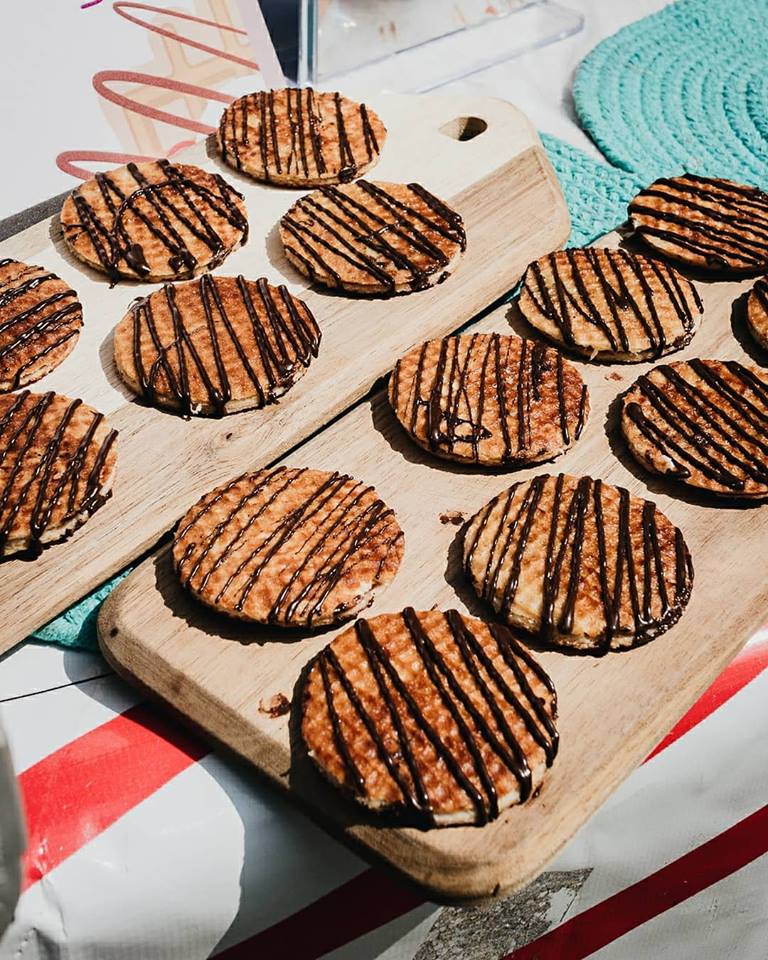 Deets
Address: Shop 3 & 14, Shanthala Nagar, Ashok Nagar, St. Marks Road, Bangalore
Timings: 12 pm to 11:30 pm
Cost: ₹400 for two
Contact: +91 9945403528
9. Tropical Delight At Waffle Walle
Waffle Wale.. waffle bana! This might be the exact tune you would want to hum when you eat the amazing waffles at Waffle Wale located in Royal Meenakshi Mall. When you're here, do try the Tropical Delight Waffle. The combinations of pineapples, vanilla ice cream and drizzle of maple syrup encapsulates the flavours of a sunny island. You can also try the Carmelicious Waffle and enjoy the sweetness of caramel sauce, fresh cream and wholesome nature of fresh bananas.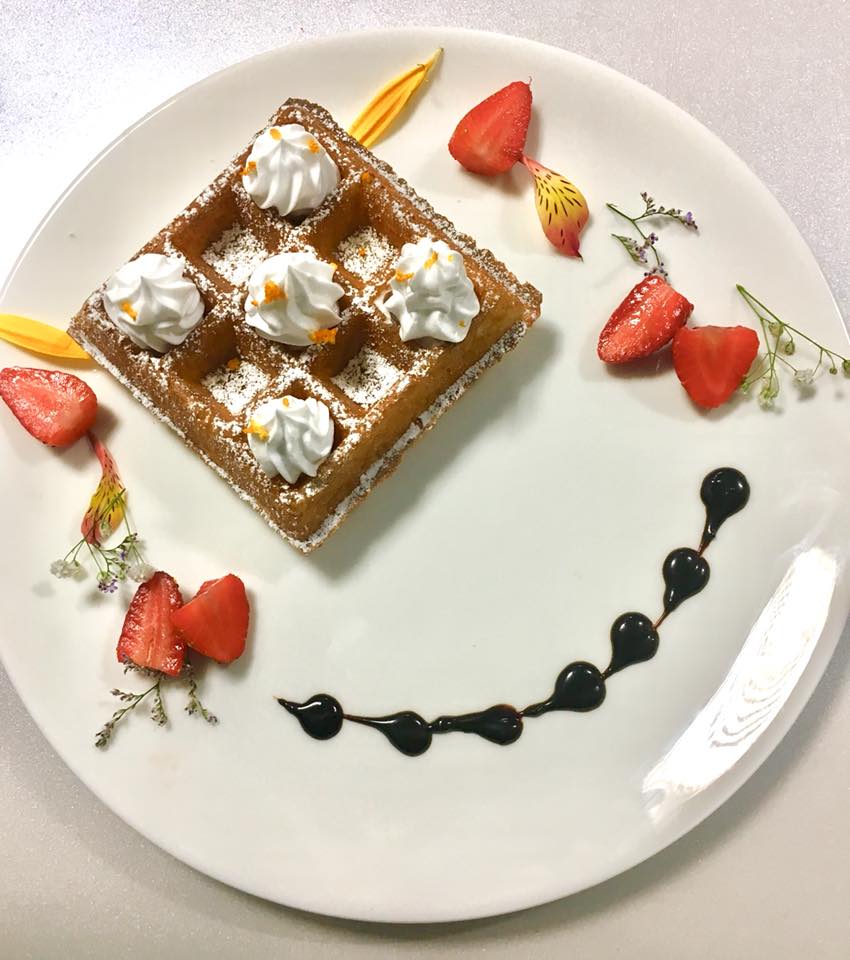 Deets
Address: Royal Meenakshi Mall, Bannerghatta Road, Bangalore
Timings: 11 am to 10 pm
Cost: ₹500 for two
Contact: +91 8105902392
10. Cinnamon Apple Waffle At XO Belgian Waffle, Multiple Outlets
Known for its warmly lit, brick-walled ambience and variety of delicious waffle, XO Belgian Waffle is a popular waffle place in Bangalore. When you're here with your gang, entertain yourself with the board games here, while you wait for your freshly baked waffles. We suggest you try their Cinnamon Apple Waffle which will surely give you apple-pie feels. The freshly baked waffle filled with sweet apple filling and topped with cinnamon is the perfect dessert to your meal. And if you like a little boozy-treat then the Rum Choco waffle would be perfect for you.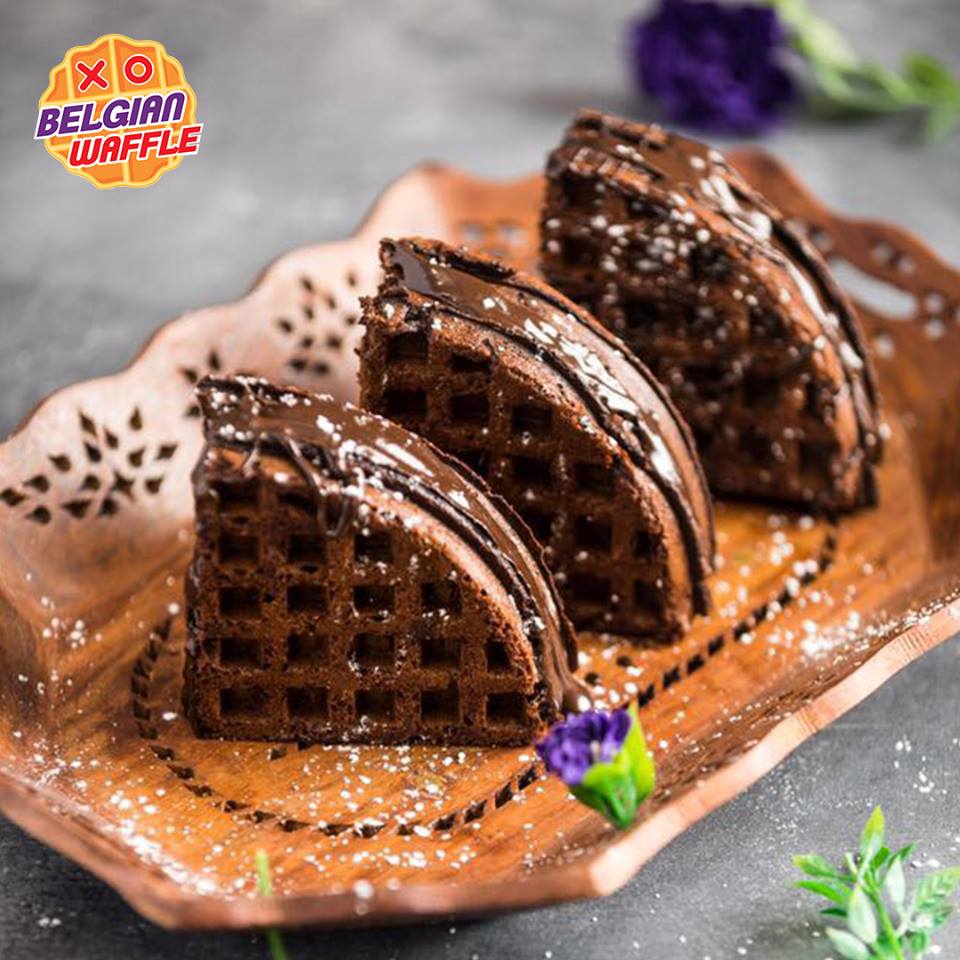 Deets
Address: Multiple Outlets
Timings: 11 am to 12:30 am
Cost: ₹500 for two
Contact:+91 6362619816
So now that we've given you our list of best waffle places in Bangalore, don't make your tummy crave for delicious waffles anymore. Make those dessert plans with your gang and munch on chocolate or savoury waffles right away.