Lonavala is probably an underrated hill station close to Mumbai & Pune. Apart from being popular for its peanut chikki, Lonavala is a place to unwind if you're stressed from work, or if you're looking for a quite getaway with bae for the weekend or even if you want to enjoy a glass of wine by yourself along with a book. You will find plenty of weekend stays or getaways here. Take a look at these properties and plan your next long weekend close to Lonavala –
1. Be Suspended On Chalets By Rumourss Sky Villa 
Leave the worldly chaos, get on a Japanese chalet & set your soul free at Rumourss Sky Villa & Resort in Lonavala. This is India's first resort made on the lines of Japanese Tree House Chalets and it is clearly an architectural feature of Lonavala. Rumourss Sky Villas & Resort is an eco-friendly retreat towards the Bushi Dam on INS Shivaji Road Tiger Point in Lonavala. These chalets are erected on a single iron mast at a height of about 30 to 40 feet. We have heard that they even tremble gently and pleasantly at periodical intervals to give you the real feel.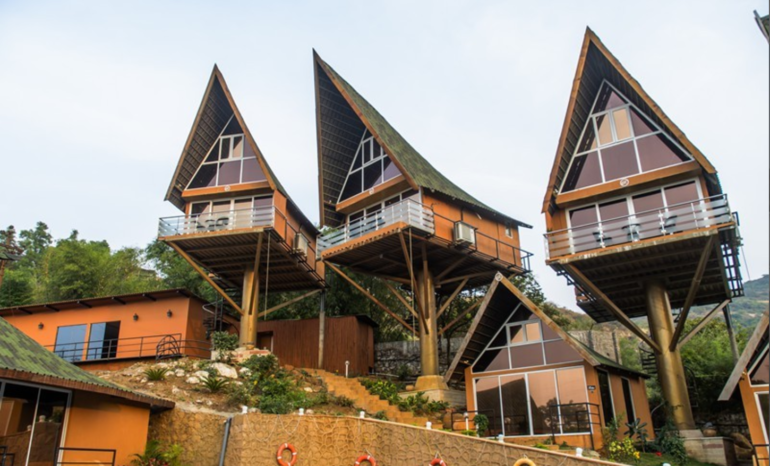 Where: Rumourss Sky Villa and Resort, INS Shivaji Road, Near Bushi Village Before Bushi Dam, Lonavala, Maharashtra
Contact: 098210 54823
How Much: Starts at ₹6300
Book here
2. Unwind With A Pool At Mawi Infinity Villa
If your idea of a vacation is waking up to the view of the lakes, mountains and lush greenery, head to Mawi Infinity Villa at Pawna Lake. We promise you won't be disappointed. The lower villa and the upper villa offers four bedrooms in total and can house up to 15 guests. The property is close to the verdant mountainous terrain that houses the famous Tung Fort. Plush rooms with modern amenities. An infinity pool overlooking the Pawna lake. A heated jacuzzi to soothe your frayed nerves. A pool table to enjoy a fun evening. All this & more! Mawi is a perfect haven for a memorable holiday.
Also read: A Legendary Vacation Awaits You At Mawi Infinity Villa, Pawna Lake
Location: Mawi Infinitty Villa, Kolechafesar, Pawna Dam, Lonavala, Maharashtra
Contact: +91 9820030887
Cost: ₹ 50,000 (weekdays) & ₹ 60,000 (weekends)
Visit The Website
3. Hang Your Worries On A Treehouse With Machan
Lush valleys, abundant waterfalls, silver streams and misty winds! Surrounded by glass on three sides, the canopies here are sure to give you an illusion of being suspended in limbo in the midst of a forest. The Machan in Lonavala is a luxury eco resort for who love nature & luxury as much as they love their spouses. An outdoor bathroom with rain shower is sure to shed away all your inhibitions.
Also read: 6 Amazing Tree House Resorts Of India That Look Absolutely Magical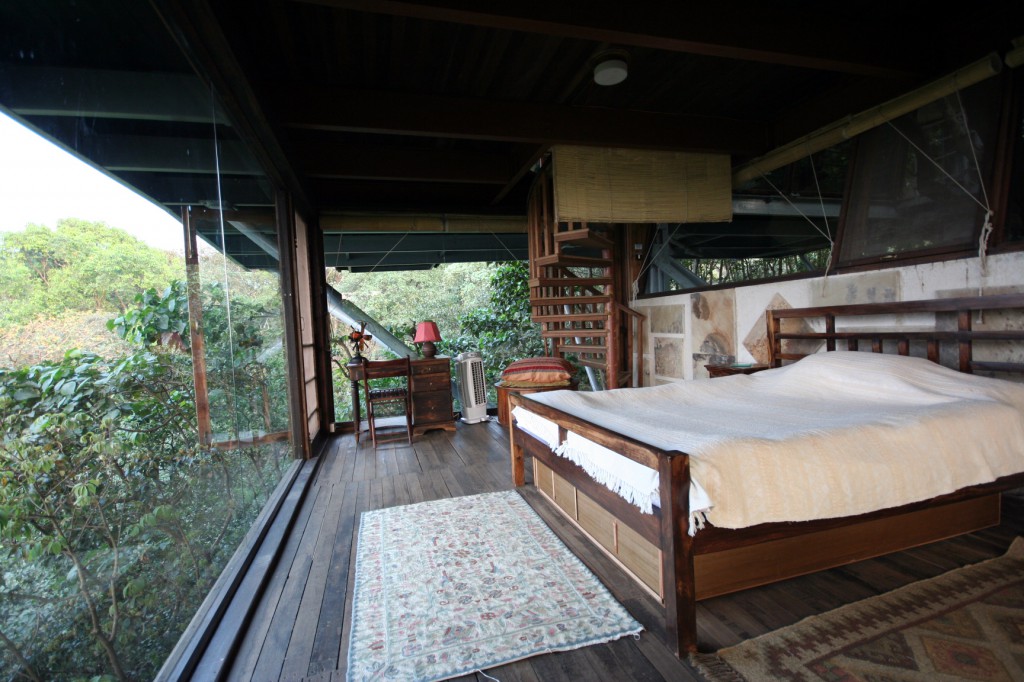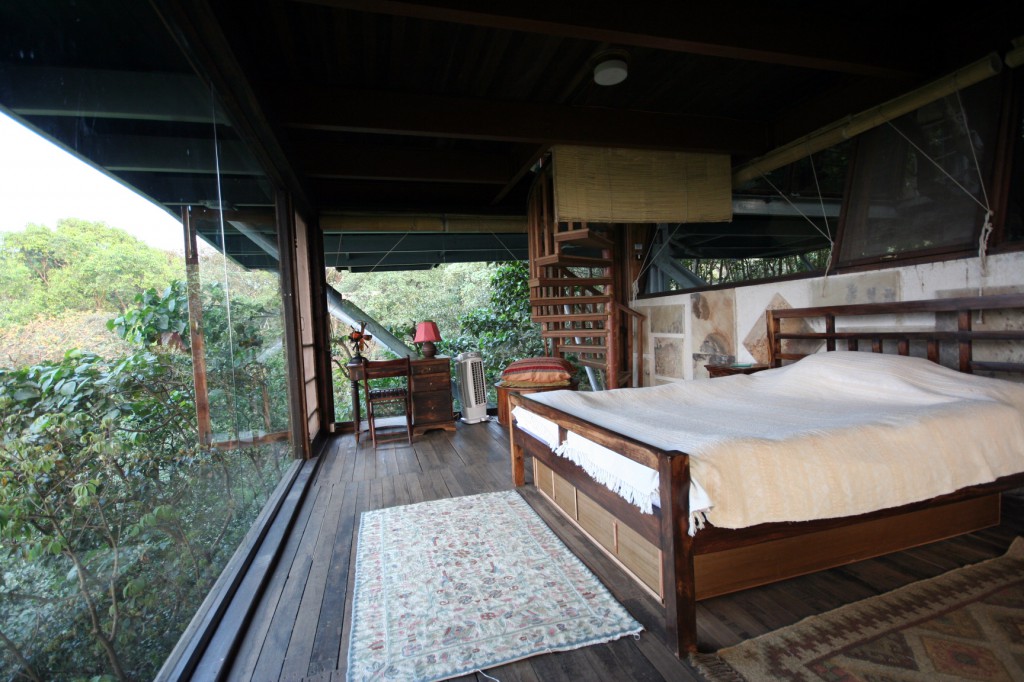 Where: Private Road, Atvan, Maharashtra 401401
How Much: ₹ 12,000-  ₹ 14,000 per night
Book Here
4. Chill With Your Puppers At Della Resorts Or Do A Military Training Course
If Luxe is your style, Della Resorts is a top-notch destination for a dose of adventure amidst opulence. Designed and owned by Jimmy Mistry who is a dog lover himself, this property is home to 12 dogs all of different breeds. Della offers 5 star facilities along with an array of services like pet-sitting, walking and customised meals to pamper you and your furball. Go on, shell them pennies for a trip to remember!
Also read: Pet-Friendly Vacations You Can Take Around Mumbai With Your Pooch!
5. Relax In A Private Jacuzzi At RiverRock
Relax in seclusion or host an exclusive party, at this lush private villa just outside of Mumbai. RiverRock in Panvel is luxurious farm-stay overlooking a lazy river. A quintessential retreat less than a 2 hour drive from both Mumbai and Pune, and set in tranquil nature. It's perfect for a quiet romantic getaway, rejuvenating family vacation or a Lively Celebration. RiverRock is the perfect place to leave the life and the ways of the city behind and have a dialogue with nature.
Also read: A Private Getaway Abode Just Outside Mumbai With An Outdoor Jacuzzi Awaits You
Price: Daily tariff for the villa is about ₹7000-8000 [incl. of breakfast]
caretaker available on the property.
Contact: 084240 40040
Where: RiverRock, Kalle rd, Karnala, Maharashtra.
Click here to book
6. Unwind With Luxury At Amanzi Boutique Resort, Pavna Lake
The boutique resort has 8 luxurious villas with four-poster beds and large verandas with views of the Sahyadri ranges and the dam. There are also 3 individual water villas attached with a spacious living area, a courtyard lit with natural sunlight and here comes the best part- the infinity swimming pool.
Address: Amanzi Boutique Resort, 440 Tikona Peth, Pavana Dam, Gevhande Khadak, Maharashtra 410406
Contact:  9769827222 / 9167526707 / 9821012163
Email: info@amanzi.in
Cost: ₹ 18,601 per night
7. A Budget Stay At Lakehouse, Pavna Lake
Surrounded by the cool mountain air, lush greenery and with a breathtaking view of Pawna Lake, Lakehouse Resort in Lonavala is the relaxing and peaceful weekend you've been looking forward to, with a luxurious touch. Near Tiger Point (29 km), the villa is superbly furnished with room service on call and a pool to soak all your stress in! It has 3 spacious bedrooms (Non AC), a modern bathroom and a kitchen with a chef on call whipping up delicious cuisines for you. Read more here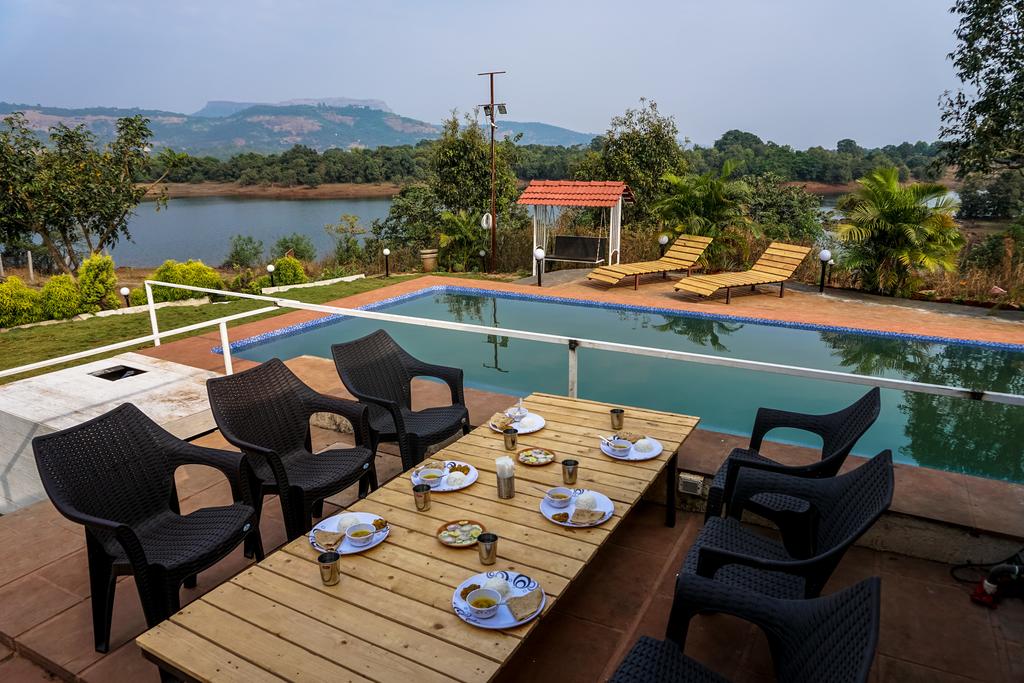 Deets:
Address: LakeHouse, Gevhande, Aapti, Pawna, Lonavala, 412108 Lonavala, India
How to get here: Nearest Airport is Pune International Airport and nearest Railway station is Chhatrapati Shivaji Railway Terminus, Mumbai.
Price: Approx 3000 per head with meals (prices vary according to season)
Book here
8. Try Falcon Hill In Lonavala For A Perfect Staycation
Perched on a hilltop, this 5 bedrooms luxurious villa is an ideal spot to get away from the city and enjoy a perfect staycation in Lonavala. Away from the crowded touristy places, this one is situated in a secluded spot for someone who is looking to spend their days in solitude. Get more details here.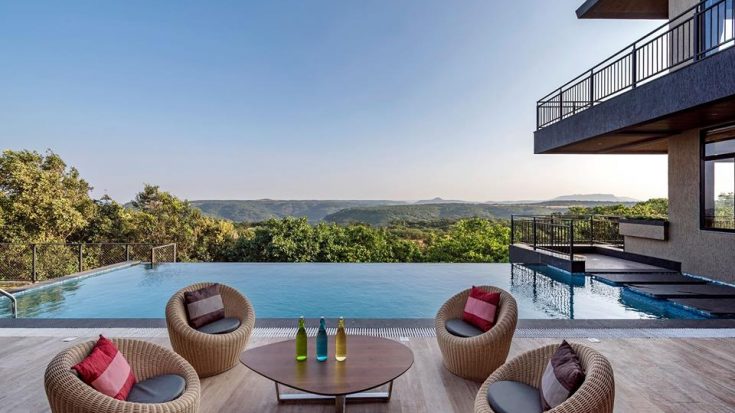 Address: Falcon Hill, Lonavala, Maharashtra
Cost: ₹3,098 per person (Approx.)
To make reservations click here.
9. Enjoy A Staycation At Casa Dios Luxury Villas In Khandala
Casa Dios are exotic luxury pool villas where you can find your zen and rejuvenate yourself amidst serene nature. All villas are a sprawling 10,000 sq ft. with spacious rooms nestled away in the lap of luxury and can fit up to 12 people. More details here.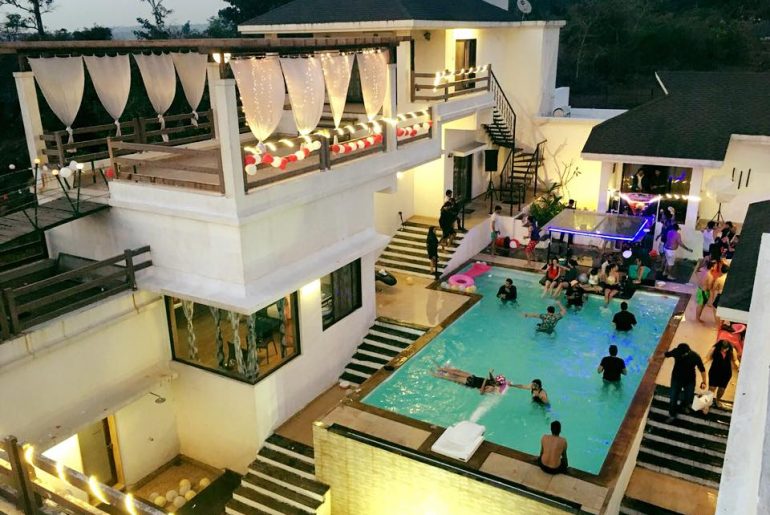 Address: Plot 18, Hill Stone Park, Khandala, Kunegaon, Khandala, Maharashtra 410401
Phone: 099306 69619
Tariff: ₹36,000 per night Friday, Sunday & Holidays, ₹45,000 per night​ Saturday
10.  Party With Your Friends At Deltin Villa
Just 8 kms. from the all-time favourite Bhushi Dam is the Deltin Villa. Mountain views, the crisp air and peace make your stay here one of the most memorable ones. It is a self-catered villa and you can enjoy a hearty Asian breakfast. During your time here, you can explore the surrounding tourist spots like Tiger Point which is just 14.5 kms. away. Book it for your next weekend outing and have a wonderful time.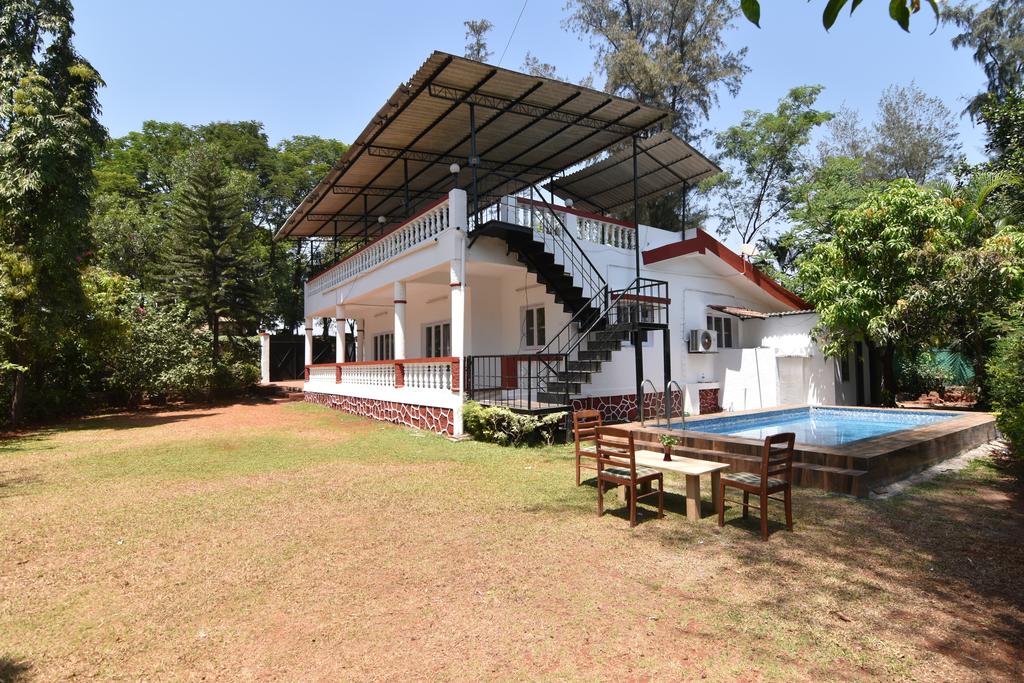 Cost per head per night (excl. taxes and charges): Rs. 830
Capacity: 12 Guests
Frills: Gated Premises, Private Swimming Pool, Garden, Pet-Friendly
Where: Kune Village Road, Khandala 410401
Book here
11. Peaceful Stay At Villa San Lawrenz
This villa is a little outside Lonavala and hence is one of the peaceful and clam locations to stay. You can stay here with your family and friends. They have options such as a standard room, deluxe room and Family room. This property is just perfect with all the facilities like a swimming pool, villas that are inspired by Spanish architecture and place for other recreational activities.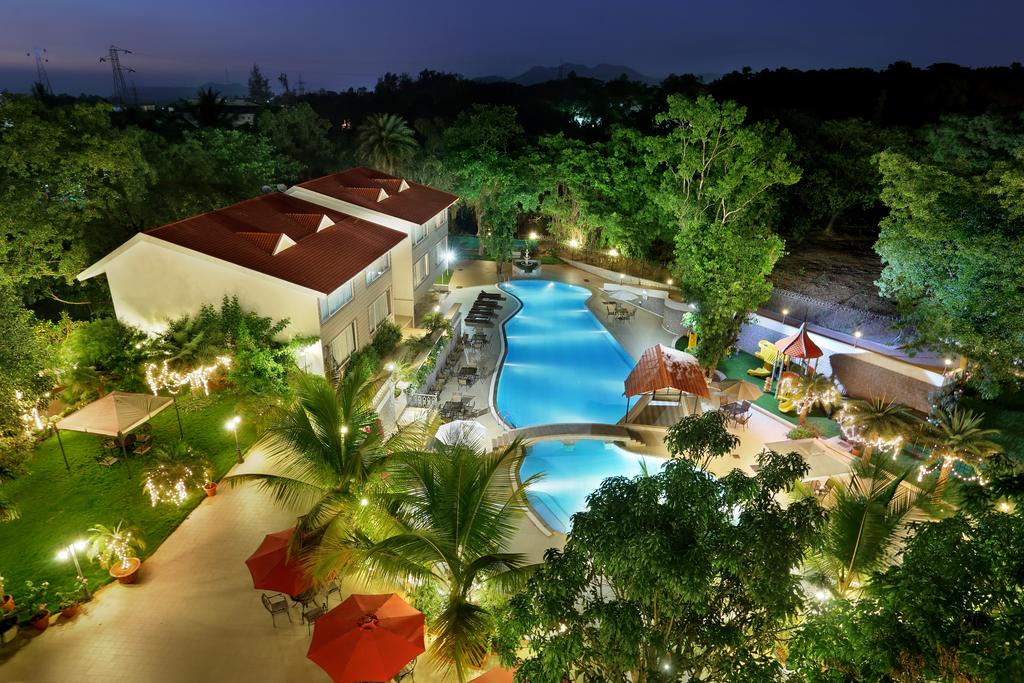 Cost Per Night: Rooms Start At ₹ 3,513
Address: San Lawrenz,  Thomrewadi Ryewood, Kurwande Road, Opposite Lonavla Lake., Lonavla, Maharashtra 410401
12. SaffronStays Cassiopeia, Khandala 
SaffronStays Cassiopeia is located at approximately 21 km from Kune WaterFalls which is a famous tourist spot in Khandala. This property is loaded with amenities like swimming pool and the villa is surrounded by lush greenery, tall mountains and during sunsets, it looks absolutely beautiful. And some of the tourist spots like Bushi Dam, Lion's Point and Amby Valley are close by. This place is away from the Hustle and bustle of Mumbai and the perfect destination for a weekend getaway.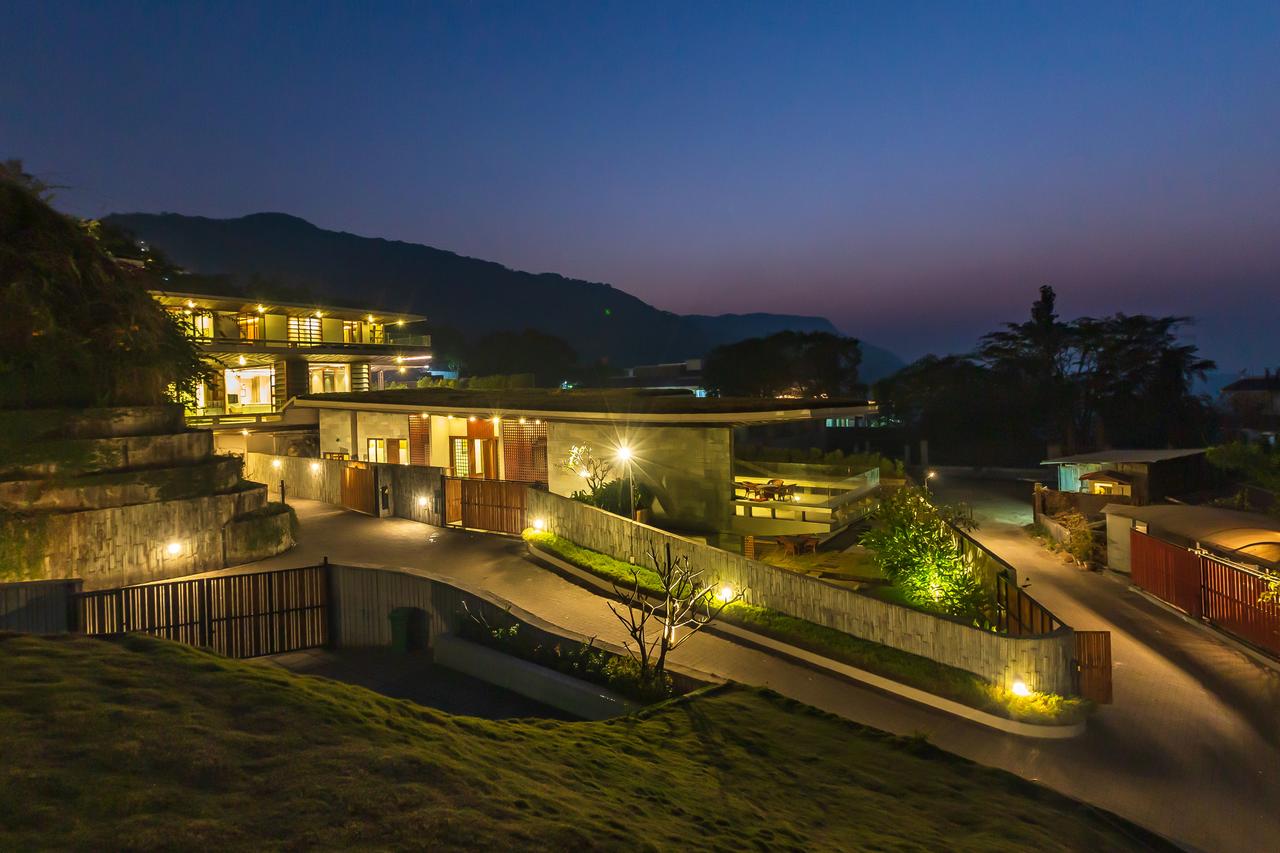 Cost Per Villa: 5 BHK Villa Start At ₹ 25, 208 (accommodates 10 guests)
Address: Bungalow no 4, Satguru Swarg Bungalow Complex Taluka Maval, Khandala, Maharashtra 410401
13. 4 BHK Pool Villa 
This 4BHK villa is a perfect place in Lonavala for a large group to stay as it accommodates about 12 guests. This villa has 4 bedrooms, 4 baths and 4 beds. This perfect villa is affordable for large groups and it is enlisted as an Airbnb property. The villa also has a pool inside the house and one can enjoy nature at it's best as the villa is located between tall mountains and rich greenery. Here is the Airbnb link where you can book this villa.
Cost: ₹7,854
14. Lonavala Boutique Forest View – Woods Villa
This massive villa in Lonavala has a view of the forest from the Balcony and it is just breathtaking. It is a perfect place for a group of friends or a family to stay spend the weekend. This villa is fully furnished with a bathtub, a furnished kitchen, a personal garden with a swing set and a beautiful dining area. This one of a kind of villa has large windows with a view of beautiful tall trees and dense forest. Here is an Airbnb link where you can book the villa.
Cost: Starts At ₹6,199 per night
15. The Elegant Villa 
This villa literally shouts luxury and elegance. It accommodates 16 guests and is equipped with 4 bedrooms, 4 beds and 4.5 baths. The property also has very well furnished rooms, a huge pool, and a balcony attached to rooms. The rooms here are huge and is a perfect luxury stay at budget prices. Here is the Airbnb link for booking this villa.
Cost: Starts At ₹7,499 per night