The Pizza Story
Once upon a time, pizza craving would reach its climax with an order at Domino's. Soon we got better options in the name of Pizza Express (best chicken options ever), Indigo Deli (best thin crust ever), Mia Cucina (best Italian place ever), Little Italy (best vegetarian option ever), and the likes.
BUT all conventional round-shaped pizzas, which isn't really much fun on the whole after a while. I wanted more and Mumbai just delivered it to me in ways I couldn't even envisage.
Like sometimes I want my pizza to NOT be round (yep a slice is too less, I want the whole damn pizza!). Then, sometimes I want it at 3 AM or for breakfast or just unlimited access (because cravings what to do!).
Paratha pizza, pav bhaji pizza, pizza fries, kurkure pizza and what not! So, here's my list of 11 favourite unconventional pizzas places you've got to try (not necessarily in that order) because maa kasam, they're just too awesome!
1. 3 AM Pizza @ 1 Tablespoon Pizza Kitchen
Have you ever had that sudden midnight craving on weekends only to find all places shut? Yep, me too. But then I was in Matunga with a couple of my school friends and I hit jackpot!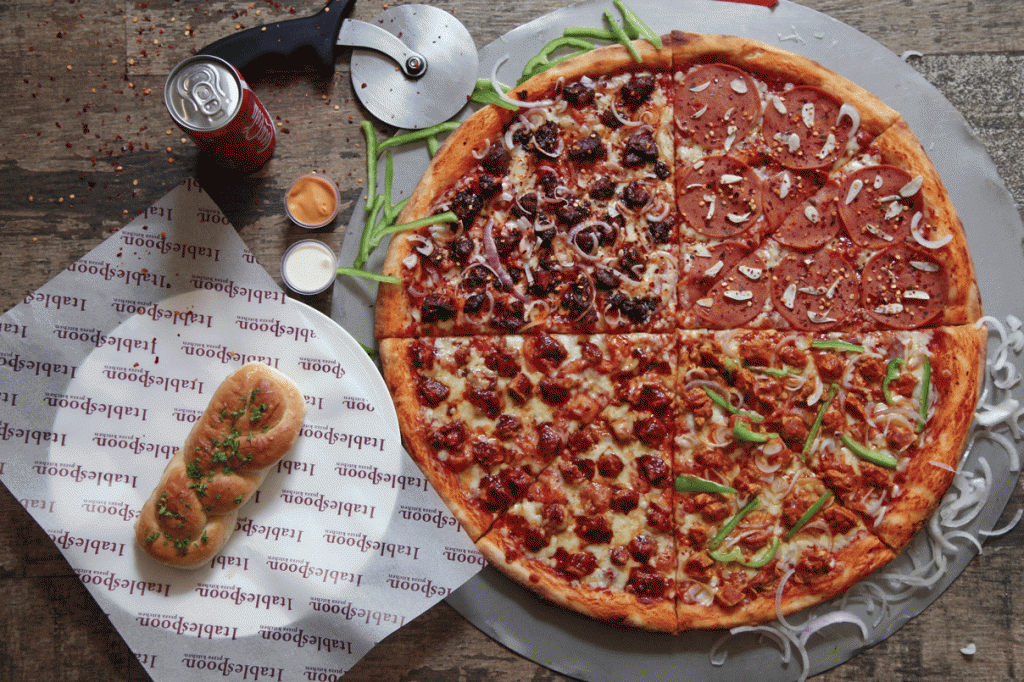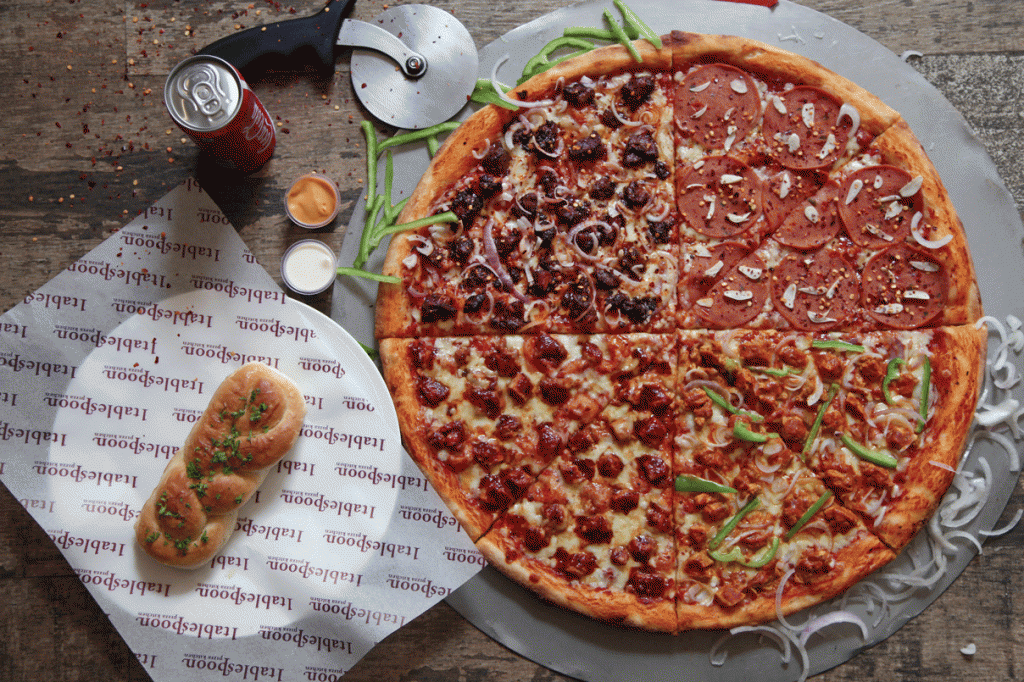 Where: 23, Ram Villa, Opposite Sahkari Bhandar, Matunga East, Mumbai
What To Try: Bianca pizza and  Goat Cheese Pizza
Burn: ₹450 (for two)
2. Chicken Base Pizza @ Foodgasm
Chicken lovers rejoice! This pizza base is not made of dough, it is made of chicken and it is out of the world! Oh btw, this one's totally gluten-free and low-carb schnitzel pizza! Isn't this exactly what dreams are made of?!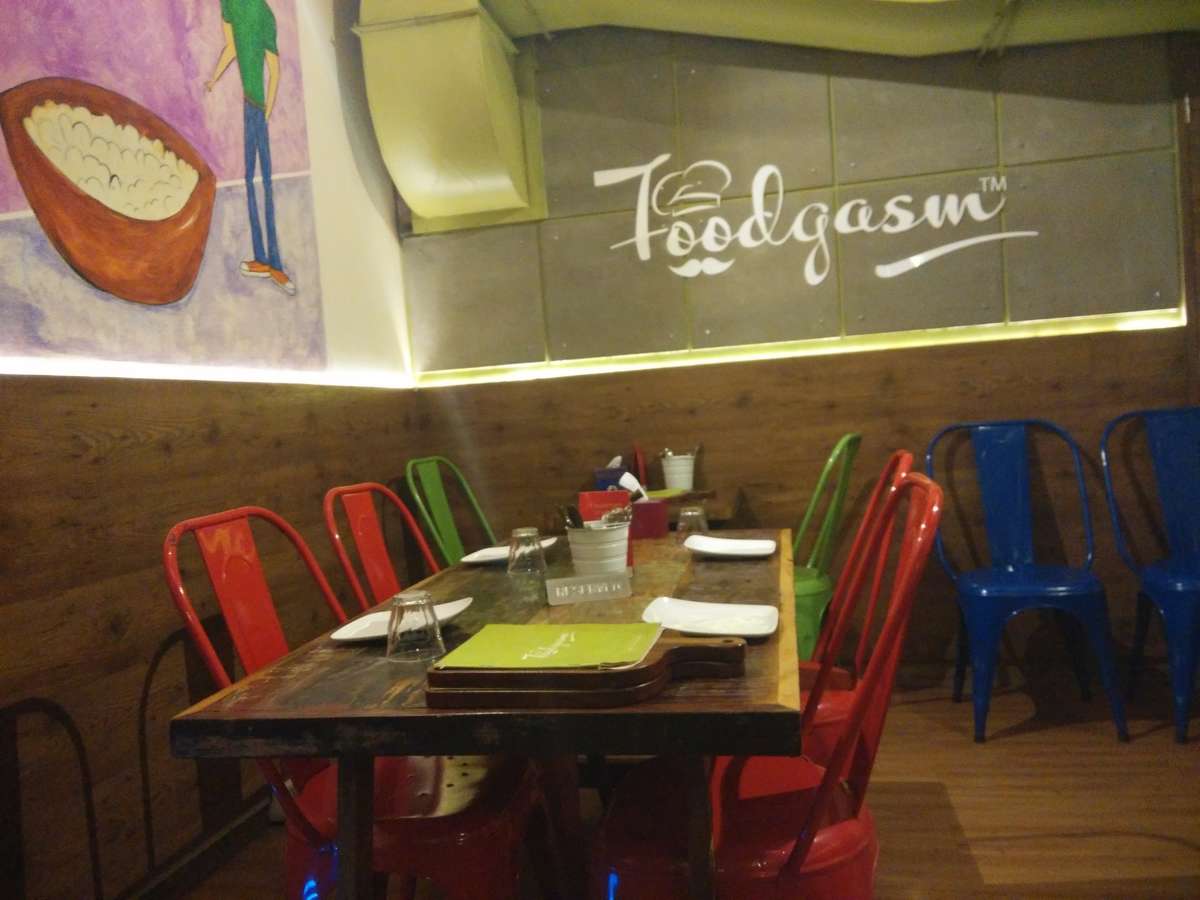 Where: Shop 4, Ankleshwar Building, ONGC Colony, Near IES College, Reclamation, Bandra West
Landmark: Doolally's lane
Open: 8 AM to 12 AM
Burn: ₹1,000 (for two)
3. Pizza Fries @ The J
My first memory of this place was when I heard of this concept called pizza fries and I knew I had to try it out. So, off I went to Churchgate and satiated this long suppressed desire and let me tell you, I attained Nirvana!
Where: 3, Vaswani Mansions, Dinshaw Vachha Road, Opposite HR College, Churchgate, Mumbai
Open: 8 AM to 12 AM
Burn: ₹600 (for two)
4. Naanza @ SpiceKlub
So what SpiceKlub does is that it brings you the crispiness of Pizza and combines it with the flavour of stuffed naan to make you go wowza! Trust me, this sacred union of Indian and Italian is the best thing to have ever happened to India.
Where: 8A, Janta Industrial Estate, Opposite Phoenix Mills, Senapati Bapat Road, Lower Parel, Mumbai
Open: 12 PM to 4 PM, 6:30 PM to 12 AM
Cost: ₹1,500 (for two)
5. Eggiza @ Oregano
Are you a hardcore eggetarian? If yes, you are going to love this! Eggiza is a thin-crust (OMG I love it already!) pizza topped with fresh veggies, cheese, and egg yolk.
Where: 1, Kenora, Wood Street, Hiranandani Estate, Thane West
Open: 12 PM to 11 PM
Burn: ₹250 (for two)
6. Guilt-Free Pizza @ Diet N Taste
Have you wanted to lose weight and craved for Pizza too? Diet N Taste is your middle ground here. Keep your calorie intake in check here while you indulge yourself guilt free!
Where: Building 12, Lotus CHS, Link Road, Oshiwara, Oshiwara, Andheri West
Open: 12:30 PM to 12:30 AM
Burn: ₹800 (for two)
7. Vegan Pizza @ Prisim Health Food
Their pizza is so vegan that the cheese is made of cashews! Not just that, it is delicious while being totally healthy AND affordable.
Where: Hormuzd Building, Ground Floor, Sleater Road, Grant Road, Mumbai
Open: 9 AM to 6 PM
Cost: ₹450 (for two)
8. Dessert Pizza @ Love & Flour
Yes, chocolate pizza and Nutella pizza are awesome, BUT HAVE YOU TRIED COOKIE PIZZA? If not, you need to drop down everything and head over to Cuffe Parade!
Sarah Patka, who runs this place, replaces cheese and tomato sauce with Nutella, S'mores, peanut butter, Belgian chocolate sauces and tops it with choco chips, flakes and everything yummy!
Where: 20/4, Horizon View Building, Opposite Y.B Chauhan Auditorium, Sachiwalya, Mantralaya, Cuffe Parade, Mumbai
Open: 11 AM to 9 PM
Burn: ₹400 (for two)
9. Extra Long Pizza @ Juno
20-inch long and the perfect thing to transform your mood – Juno has a pizza for everyone (including one for those gym fanatics post workout)! What? This is a family site. No pictures!
Where: Shop 383, Bhagat Building, S.V. Road, Vile Parle West, Mumbai
Open: 11 AM to 11 PM
Burn: ₹600 (for two)
10. Unlimited Pizza @ The Playlist Pizzeria
Ever felt so hungry that you thought you could go on a pizza eating spree? The Playlist Pizzeria in Bandra is where you need to go. You have 720 minutes to consume all you can! Not bad, eh?
Where: Shop 1, Gloria Apartments, St. Baptist Road, Near Mt. Mary Steps, Reclamation, Bandra West
Open: 12 PM to 12 AM
Burn: ₹599 for veg, ₹699 for nonveg
11. Breakfast Pizza @ Farmer & Sons
Are you like me, who could eat pizza for breakfast too? Well, there is a special place for us in Fort. The pizza in this menu (Breakfast menu) is made with eggs, spinach, prosciutto, parmesan, mozzarella, cherry tomatoes and mushrooms.
Where: 105, Apollo Street, Opp Laxmi Vilas Bank, Mumbai Samachar Marg, Kala Ghoda, Fort, Mumbai, Maharashtra 400001
Open:  8 AM to 1 AM
Burn: ₹2,000 (for two)
Which is your go-to pizza place? Did you know of these?
LIKE Curly Tales on Facebook | Instagram | Twitter
You can subscribe to our newsletters.