Can you ever say 'No' to stacks of perfectly caramelized pancakes or a spongy steamed idli? Never! That what some good breakfast does to us. But imagine all these breakfast delicacies being available to you throughout the day. So here are a few spots in Mumbai to grab some delicious breakfast.
1. El Mercado
There are a handful of places in Mumbai to find a traditional Spanish morning spread but none so cozy and elegant than El Mercado. This Spanish tapas café, serves some spectacular food and we kid you not, it is an impeccable breakfast hangout spot. It serves an indulgent variety of egg dishes such as Moorish fried eggs, Spanish Omlette, Chorizo eggs, Basque eggs and baked eggs to name a few. This cute little joint is known to give you a culinary experience with their tapas menu consisting of crepes, calamari sandwiches and lamb sliders.
If you're a person who enjoys a sweet breakfast, this place will make it happen for you with their French toast, loaded with fruits and coffee cream. For something sweeter than that, go Spanish with their Tarte de Santiago and Crema Catalana.
Address: Shop No. 3, Sunbeam, next to Deme by Gabriella Store, Perry Cross Rd, Mumbai
Costs:₹900 for two people (approx.)
Timings: 8:30AM- 10:00 PM
Also Read: 5 Maharashtrian Meals In Mumbai That Are A Must Try
2. Kyani & Co
Kyani & Co, known not only as an iconic eatery in Mumbai but also a one which serves outrageously good breakfast. Available all day, their breakfast items mainly consists of their famous puddings, cherry custard and lagano custard, biscuits and cream puffs. However, its two most mesmerizing dishes that will also bring us to this place are the kheema pav and cheese omelette. We'd recommend you to visit Kyani before 5 pm because its popularly known to run out of food after 5. While you are these show some love to their royal falooda, you'll not regret it.
Address: Ratan Heights, Dr D B Road, Opposite Navjivan Society, Mumbai, Maharashtra 400008
Costs: ₹300 for two people (approx.)
Timing: 7am- 8:45pm
Also Read: 5 Late Night Delivery Services To Satiate Your Midnight Hunger Pangs In Mumbai
3. Madras Cafe
Wining our hearts since the past few decades, Madras Cafe definitely deserves to be on this list. Serving you throughout the day with some authentic idlis and masala dosas, this one takes the crown for the best South Indian food in the city. Lets not forget the iconic rasam vadas, the warm upma and their filter coffee. Cafe Madras being the home to panpoli, a dessert made with jaggery and banana, makes this dessert a 'must try' on the menu. Lets just say this is the perfect eatery if you want delicious food with a hint of nostalgia to it.
Address: 38 B, Circle House, King's Circle Near Maheshwari Udyan, Matunga East
Costs: ₹250 for two people (approx.)
Timing: 11:30am – 4pm & 7pm – 11pm
Also Read: 5 Goan Restaurants In Mumbai That Are A Must Try
4. Goregaon Social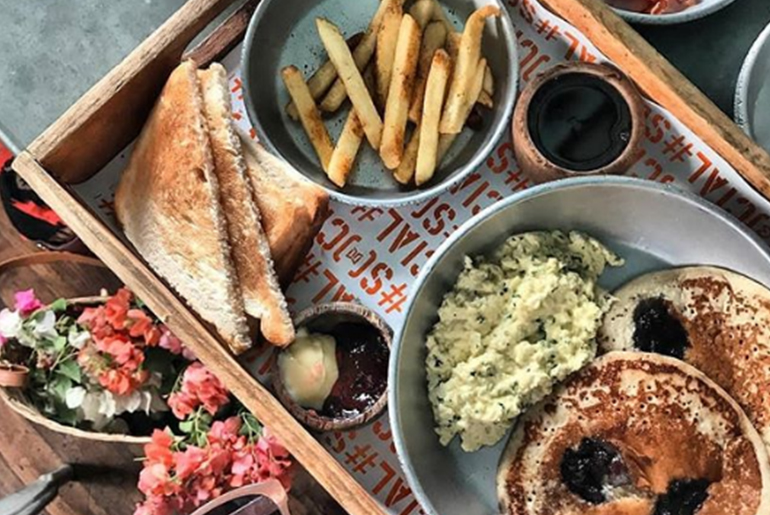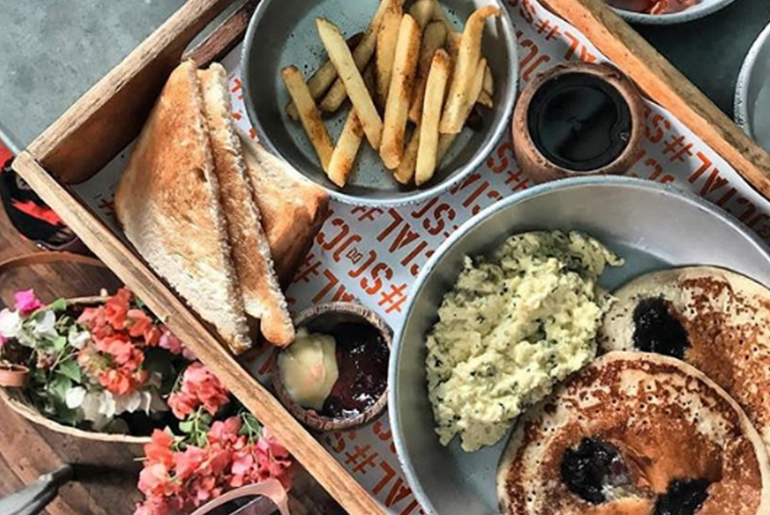 There are not too many items on their 'All-day Breakfast' menu, but they're all phenomenal: Disco fried egg, Irani Omelette, Social Bhurji, Saddlebags, Blueberry Pancakes, Poori Aloo to name a few. The pancakes served at Social are these slightly crispy, perfectly caramelized cakes that are demanded to be eaten. Their perfectly round pancakes, which come two to an order, are these satisfying big, thick, infused with blueberry, drenched in maple syrup, fluffy bundles of joy. Our other favorite was the Poori Aloo Nashta, devilously greasy but equally tasty Pooris come along with tangy Potato curry. You can then choose to end the meal with some hot moong dal halwa.
Address: Third Floor, The Oberoi Mall, Goregaon East, Mumbai
Costs: ₹1200 for two people (approx.)
Timing: 11am – 1am
Also Read: 5 Iconic Places In Mumbai Where You Should Definitely Eat