Want to spend a serene time with your loved ones in the lush green hills of Panchgani? The quiet town in the Western Ghats embraces stunning landscapes that make for a perfect weekend getaway. And if you thought that Panchgani is all about costly properties, we can break your myth. The destination is home to some accommodations that offer luxury stays in the lap of nature at affordable prices. So, which are the budget properties in Panchgani for lavish feels? Here are 5 stunning options:
1. OYO 28619 Hotel Dsk Valley Inn
This property has rooms with large windows that offer breathtaking views of the Panchgani mountains. It sits on the Wai-Panchgani road, near Dandeghar. The popular viewpoints of the hill station, the Sydney Point and Parsi Point are 1.4 km and 3.8 km respectively from here. Prices at this property start at around just  ₹1300/night. To book, click here. 
2. Belle-Vue Holiday Homes
Book a room with a balcony here and spend your day swinging by the arresting views of the mountain valley. The rooms are spacious with a sitting area and the accommodation offers free wifi too. It has a common terrace where guests can enjoy sunbathing. Prices at this property start at around ₹3099/night. To book, click here. 
Also Read: Dine Inside A Natural Cave Overlooking The Lush Green Mountains In Panchgani
3. Hotel Valley Nest
This is another beautiful property in Panchgani that comes with a garden too. The rooms here are spectacular and some of them offer mountain and lake views too. For those who love sports, the property has a game zone as well. Prices of staying here start at around ₹3731/night. To book, click here. 
4. Zostel Panchgani
This is a chilled-out space with a kaleidoscopic colour palette and houses a fireplace too. The property has unique protruded box-like chambers for accommodation. From reading books at the cafe to playing billiards in the game room, you can engage in a lot of activities here. Prices of staying here start at ₹1499/night for a bed in a dormitory room. The place has separate double bedrooms too. To book, click here. Skip The Mahabaleshwar Crowd & Visit Wai With Spellbinding Scenic Beauty & Strawberry Gardens
5. OYO Flagship 23505 S Ramada Village
This is one of the best budget properties in Panchgani for all those who love to spend quality time in seclusion. It sits on a sprawling lawn. The surroundings of the property are highly picturesque and can grip you into a paradise of calmness. The Mahadji Shinde Chhatri Pune is just 15 km away from here. Rates per night at this property start at around ₹2109 for a classic triple room. To book, click here.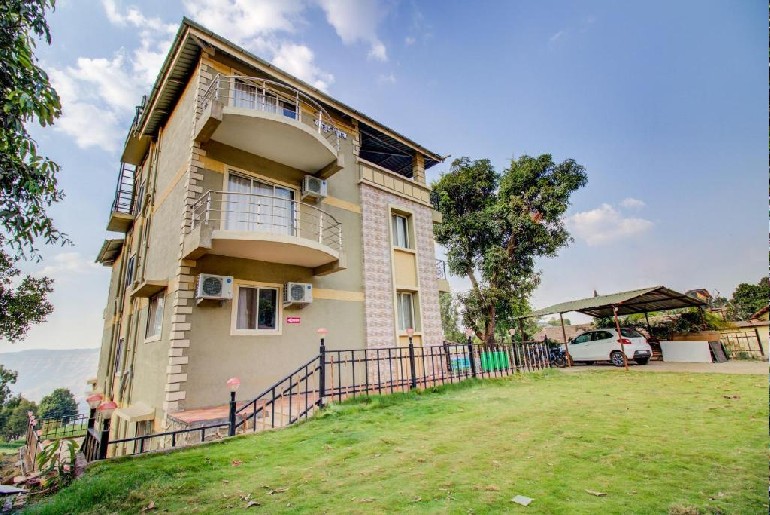 Also Read: Table Land In Panchgani Has The Best Sunset View
Which among these properties are you booking for your next holiday?