It's that time of the year again when you're out of cash and you're waiting for your salary to be credited. Perhaps it's the end of the month and the expenses have mounted, leaving you with very little to indulge. Well, fret not Bangaloreans! You can certainly indulge in delicious food and fancy ambience well within your budget. So, here are 5 budget fine-dining places you can explore in Bangalore for less than ₹500 per person.
1. RNR Biryani- Taste Of 1953 At Jayanagar
A thriving Donne Biryani restaurant in Bangalore helmed by two sisters to pay tribute to their grandmother's age-old recipes, RNR Biryani is a celebration of flavours. Walk into this fine dining restaurant to witness a stunning blue, and gold decor, comfortable seating and more. Indulge in their signature Chicken Biryani costing ₹259, enough for you and your bae. Beat the Bangalore chilly weather with a bowl of hot Mulligatawny soup for Rs90. And you're good to go.
View this post on Instagram
Also Read: Virat Kohli Visited This Famous Bangalore Bakery & No One Recognised Him
2. Basveshwara Khanavali At Multiple Locations
Why visit a fine-dining restaurant for just a starter, main course and dessert, when you can have an entire meal? Well, that's Basveshwara Khanavali for you. A famous restaurant in Bangalore serving North Karnataka meals in a fine-dining space, this is a must-visit for foodies. Order yourself a meal served on a leaf. Sit down and gorge on three types of North Karanataka curries, infused with peanut and brinjal, rice, sambhar, pickles, chutneys, jowar rotis and a hot gheelicious puran poli. The lavish meal costs just ₹300.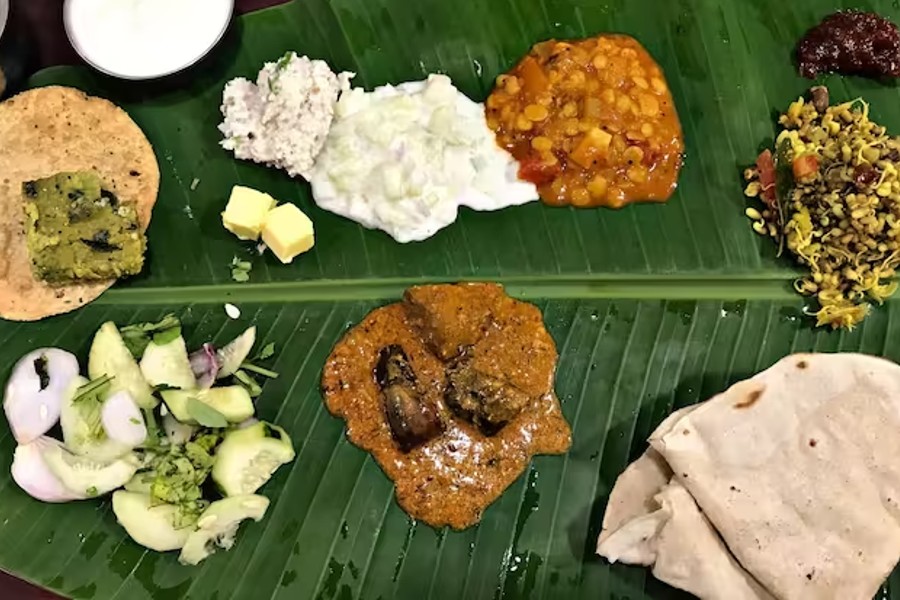 Also Read: 6 Best Vegetarian Restaurants In Bangalore You Must Try For A Soul Satisfying Meal
3. Vinny's At Multiple Locations
Craving for Italian food but don't have a great budget for fancy restaurants? Just head to Vinny's. With outlets in Banashankari, Koramangala and Brigade Road, you can visit your nearest Vinny's. The wood-fired oven, brick walls and cute wooden tables give this eatery a charming look and feel.  The best part is that Vinny's serves you one large slice of pizza starting from just ₹120. Try their Paneer Tikka, Margherita, BBQ Chicken and more. Wash down the pizza with a Raspberry Mojito for ₹135.
View this post on Instagram
Also Read: 21 Best Pizza Places In Bangalore For 2022
4. Nagarjuna At Multiple Locations
There's nothing better to beat hunger completely than a bowl of piping hot biryani or a thali. And Nagarjuna has both! Delicious biryani and wholesome Andhra meals. So, enjoy a lavish Andhra meal of signature spinach dal, Pappu, veg sabzis, rice, rasam, pickles and more for just ₹300. You can also gorge on their spicy Chicken Biryani for ₹310. The AC room with black cushions, wooden panelling and the aroma of flavoursome food will make your dining experience an indulgent one.
View this post on Instagram
Also Read: Ranveer Singh Relishes Massive Gujarati Thali With Kadhi & Besan Ki Chakki
5. Truffles At Multiple Locations
A favourite spot amongst college students, Truffles is a one-stop solution to fine-dining experiences within your budget. Devour the finest Italian, Continental and American cuisines. From juicy burgers, grilled sandwiches, creamy pasta, and Continental meals at prices starting from just ₹200. End your meal on a sweet note with their signature Ferrero Rocher Frappe and a slice of their specially baked cakes.
View this post on Instagram
So, these are some of the best fine dining places in Bangalore that will come well under your budget, especially on date when your salary hasn't been credited yet. You can pamper yourself without burning a hole in your pocket!