Goa is a city for all ages. The children love the water rides. The youth enjoy the party life and the older generation are in awe of the rich heritage. This beach town is best explored in a big group – be it family or friends! Whether it's North Goa or South Goa there's something for everyone here.  And so for you and your loved ones, we have handpicked some lavish villas which you can rent out in Goa, this monsoon.
1. The Brook, Succour 
If the name isn't poetic enough for you, the location surely will be. Located within one of the oldest villages of Goa, The Brook is the epitome of peacefulness and tranquillity. You and your family can lounge in this massive 5-bedroom villa which comes with a pool.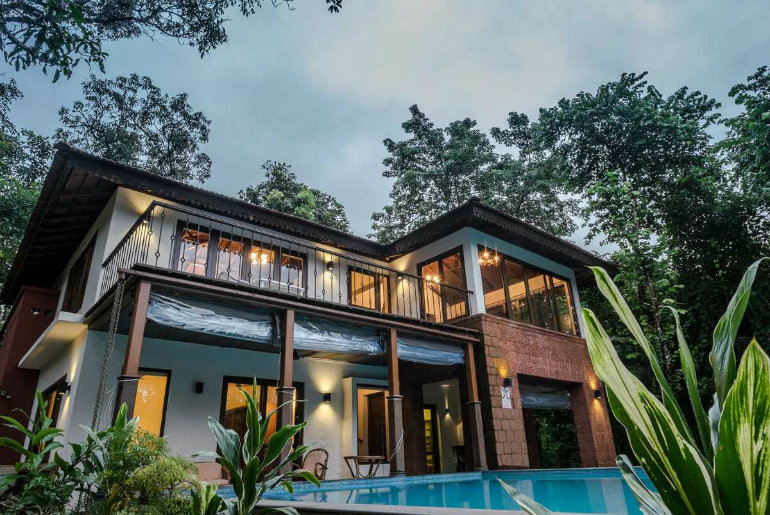 Address: House no 1173/1, Succour, Salvador do Mundo, Goa 403521
Contact: 098100 48508
Cost: ₹25,000 per night (Breakfast included) approx
Book here
Also Read: Fly To Goa In A Private Plane For ₹70,000 Per Person
2. The Inner Temple, Moira 
The 3-bedroom Portuguese villa in North Goa was only built to be used during the monsoon. The large veranda, the private balcony for each room is surely ever traveller's dream. By renting it out for ₹18,000 for a night, it includes free breakfast and a personal cook. You can reside here for a luxurious 5-day stay and explore Goa in a fun way.
Address: House No. 851 Nr Associacao, Academica de Moira (Moira Club) Moira, Goa – 403507
Contact:  095035 77779
Cost: ₹ 8,000  for a night (Breakfast included) approx
Book here
Also read: Restaurant Review: The Banyan, Goa
3. Coco Shambhala, Nerul 
The Coco Shambhala offers 4 villas in one setting which is perfect if you want to spend a relaxing holiday away from the hustle-bustle of the city life. Each villa has a treetop living room and a personal jet pool as well. The bookings start at a minimum stay of 3 nights. This tariff of ₹35,000  per night per villa includes breakfast, travelling vehicles and a driver. And if you need a little inspiration to visit Goa, then Bollywood movies are always there. 
Address: Patrimonio, Nerul, Bardez, Goa 403114
Contact : 093722 67182
Cost: ₹ 35,000  per night approx
Book here
4. River Villa, Canacona
The River Villa is bound to relax your stressed soul with its river-facing view. If you're an outdoor person, you can head out to the forest to spot kingfishers, parakeets, and kites. With a minimum of 2 nights stays, this villa offers breakfast and unlimited Wi-Fi services for ₹7,000  for a night. Interestingly according to a CT survey, 52% of people wanted to travel to Goa post lockdown. 
Address : H.no 125, Tarir, Rajbag, Canacona, Goa 403702
Contact:  098502 15990
Cost: ₹ 8,000 per night approx
Book here
Also Read: 5 Best Beaches & Food Spots You Can Visit In North Goa
5. Summertime, Calangute 
It is built on a height which lets you enjoy the gorgeous view of the valley. Summertime is a place to relax because you can request for a professional massage in the room itself. With a private pool and comfy interiors, you'll feel the tension leaving your bones in no time. You can rent out the villa for ₹30,000 per night to avail free breakfast, Wi-Fi and airport pickup services. This is one of the best villas you can rent out in Goa.
Address : 286 Boa Viagem Road, Naikavaddo near St Alex convent, Calangute, Goa 403516
Contact : 0832 227 6941
Cost: ₹ 30,000 per night approx
Book here
With these luxury villas just a click away, you can't miss out on holidaying in Goa. This seaside city may be small, but its got lots to offer. Don't you agree? Until you can visit Goa next, go on this virtual tour with us with this video below.