Chocolate is sin and chocolate is heaven. If you're not indulging in chocolate, you're definitely missing out on a lot. But if you are, we've got some chocolate packed dishes for you right here. Mumbai serves some of the best combinations of chocolate that you will find. We've shortlisted 5, but you're welcome to recommend some more. So here goes –
1. Candle Dessert, Quattro Ristorante
Quattro Ristorante in Lower Parel has a new 'candle dessert' for all the chocolate lovers out there and it will simply melt in your mouth. A Magical Candle dessert at Quattro Ristorante is a treat you can't afford to miss! The new craze in town is this candle dessert that is made up of various types of chocolate. Being a white chocolate candle on the outside, it is filled with chocolate mousse, chocolate chunks and molten chocolate on the inside. Not just that, it is served with an edible flower at only ₹345. 
Also read: Quattro Ristorante's 'Candle Dessert; Will Simply Melt In Your Mouth
2. 24 Layered Cake, The Bake Room
Your dream cake just arrived and it's available at The Bake Room in Mulund. The 24 Heaven cake certainly takes the crown. A 24 layered chocolate cake will delight your taste budslike nothing ever has. Food bloggers from all over town are going ga-ga over this one and they just can't stop talking about it. The reviews indicate that it is a must-try for all chocolate lovers out there.
Also read: The 24 Layered Cake Served At The Bake Room Is A Must-Eat
3. Riverdance, The Irish House
For all the sweet & tipsy tooth out there, The Irish House outlets all over Mumbai are serving The Riverdance with the goodness of chocolate and beer. Here's for all of you who would like to get high with chocolate. The Irish House outlets in Mumbai serve the Riverdance. A sinful dessert with the goodness of chocolate and a shot of beer along with it. It is served in a beer glass with gooey brownie, brownie crumble, and vanilla ice cream. There's also dark chocolate bites chocolate truffles & chocolate coated cookies. This is now topped with caramel sauce and caramelized nuts.  But we're missing out the secret ingredient! It is then topped with fresh lager beer! All of this makes the sinful and boozy – Riverdance (₹545).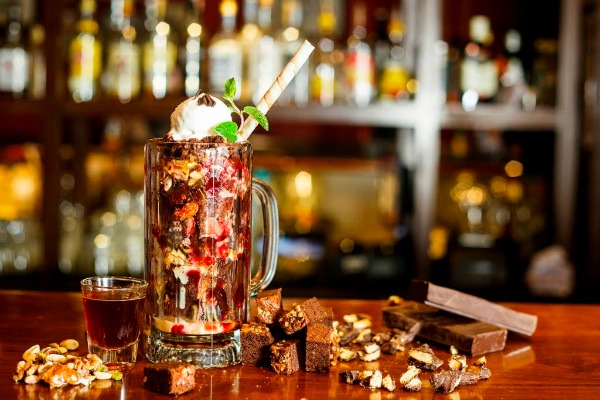 Also read: The Irish House In Mumbai Is Where Beer And Chocolate Come Together
4. Molten Espresso Mug, Country Of Origin
What we love here is "Country Of Origin's Molten Espresso Mug" which is a shot of freshly brewed expresso with their signature Molten Chocolate Cake in a COO Coffee Mug. You can microwave the cup for 20 seconds and taddaaa!!! Enjoy the delicious combination of coffee and also chocolate in a mug. The chocolate oozes out as you put the spoon in the cup and oh! what a sight it is for the eyes and what a delight it is for the taste buds. This beauty costs ₹550 and is totaly worth every rupee!
Also read: Country Of Origin's Molten Espresso Mug Is What You Want When You Crave For Chocolate & Coffee
5. Death By Chocolate Fries, The Pabulum
The Pabulum in Mumbai serves Death By Chocolate fries loaded with the goodness of all things chocolate to take you to an ultimate chocolate heaven. What happens when the love of fries and chocolate gets combined into one? Yummy and chocolate-y 'Death By Chocolate' fries are born at The Pabulum in Santacruz. It might be a small eatery, but it sure as hell gave us a food-gasm with their lovely selection of fries and shakes!
Also read: We Tried The 'Death By Chocolate' Fries At The Pabulum In Santacruz And We're In A Chocolate Heaven!
LIKE Curly Tales on Facebook | Instagram| Twitter
You can subscribe to our newsletter