All Mediterranean food lovers here's some good news for you if you are in Sharjah. We have compiled a list of the best spots in Sharjah to savour Baba Ghanoush. It is one of the best dips that Mediterranean cuisine has to offer. A velvety, rich, and smokey eggplant dip usually made by combining garlic, lemon, and seasonings with tender, roasted (or charred) aubergine and nutty sesame sauce(tahini).
5 Restaurants To Have The Best Baba Ghanoush In Sharjah
1. Al Amoor
Al Amoor is an Egyptian-style restaurant famed for family dining experiences at affordable prices. They believe in providing a feeling of home-cooked food at their eatery. Their ingredients are sourced explicitly from UAE and Egypt. Like many other Mediterranean dishes on their menu, Baba Ghanoush has particularly attracted a lot of customers.
Where- Al Majaz
When- 7:30am–2am
Cost-AED 60
2. Sharjah Dhow Restaurant
Dhow restaurants are well-known for two basic reasons. Good food and beautiful vistas make them sail through people's attention. Sharjah Dhow Restaurant is true to these conditions. Anchored near Hotel Holiday Inn, Corniche, this restaurant serves Arabic, Lebanese and International cuisine. But their Baba Ghanoush is quite the talk of the town.
Where-Corniche St, Corniche Buhaira – Sharjah
When-12pm–12am
Cost-AED 160
View this post on Instagram
3.Beit setti Restaurant
Beit Setti is a Syrian restaurant serving the city's finest Shami cuisine. Beit Setti will surprise you with a bomb of flavours, from dips and mezze to wraps and grilled meats. It also has an alfresco setup to enjoy your food with views of skyscrapers. Their extensive menu overshadows their best dip Baba Ghanoush but people are still hooked on it.
Where-Qasba Canal – Sharjah
When-8am–1am
Cost- AED 180
View this post on Instagram
4. Gusti Restaurant
Sheraton in Sharjah has a few of the best eateries. One such name is Gusti restaurant which is an all-day dining restaurant. Also, it's a food with ocean view experience. Their staple dishes like hummus and Baba Ghanoush are delectable to club with your meal.
Where-Sheraton Sharjah
When-6:30am–11am, 12:30–3pm, 6:30–11pm
Cost-AED 375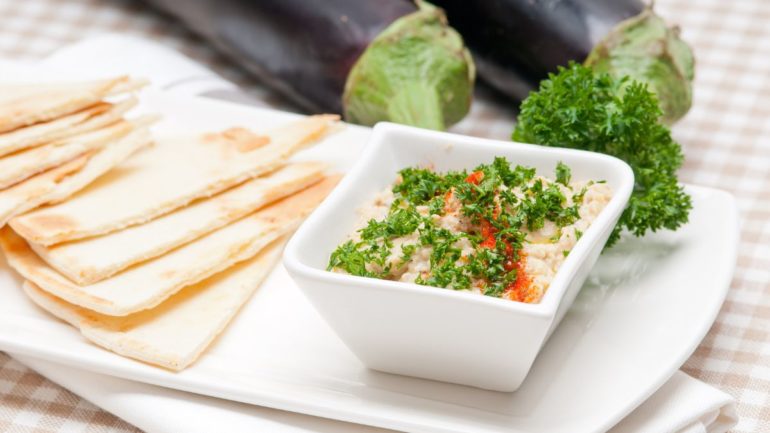 Also Read: 5 Mediterranean Restaurants In UAE
5. Baba Ghanouj
The restaurant at Al Khaildia Suburb specialises in Arabic, Lebanese, and Middle Eastern food. True to its name, Baba Ghanouj serves the yummiest dip called Baba Ghanoush at affordable prices. The other dishes on their menu are also appealing. You should definitely try their combos.
Where- Al Khan St – Al Majaz – Al Majaz 3
When- 7am–2am
Cost- AED 75
If you want to tame Baba Ghanoush's cravings then you can't afford to miss these spots in Sharjah.
Cover Image Courtesy: Canva Image