Established in the 1950's Chanakyapuri is one of the most affluent neighborhoods in New Delhi. Named after Chandragupta Maury's advisor Chanakya, the area is home to a number of foreign embassies.
The area boasts of numerous open spaces, parks, shopping areas, hotels and some of the best restaurants. Located in the heart of the city, Chanakyapuri offers quick access to all parts of the city via road, and public transportation. It is in close proximity to the airport, and railway station as well.
Being one of the most developed and posh localities in Delhi, with having both recreational as well as residential areas, Chanakyapuri is the perfect place to hang out and catch up with the squad. Here is a list of five things you can do in Chankyapuri.
Also Read: The National Rail Museum In Delhi Will Take You Back To Your Childhood Days
1. Have Coffee At Taj CCD
While Cafe Coffee Day has turned into an over rated coffee shop, there is something about the ambiance of Taj CCD that manages to attract crowd of all age groups. Located opposite the Taj Palace Hotel, Taj CCD offers outdoor seating and is open till late night. The place is crowded with people at all times of the day and has an extremely cheerful ambiance.
Address: Cafe Coffee Day, Pallavi Awwa Complex, Opposite Taj Palace Hotel, Chanakyapuri, New Delhi
Timings: 9:00 am to 12:00 am
Price for two: Rs 700 (Approx)
2. Go For A Stroll In Nehru Park
One of the biggest and best maintained parks in the city. It is the perfect place to go to for morning runs, long walks, and picnics. They are also known for hosting food and music festivals from time to time. Nehru Park is also a great place to hang out with your dogs and puppers during the weekends, who are sure to go crazy in all the open space.
Address: Nehru Park, Near Ashoka Hotel, Chanakyapuri, New Delhi
Timings: 5:00 am to 8:00 pm
Also Read: Delhi To Get Biggest Eco-Park In The World
3. Shop Products From Across The Country At Tribes India
Tribes India is a store that is known for selling some of the best handcrafted art and crafts products from all across India. This is an initiative to empower the artisans. They source products from all the Indian states that have some tribal populace like, Warli paintings from Maharashtra, Gont paintings from Madhya Pradesh, Katha saris, Batik kurtas from West Bengal, brass jewellery from Orissa and more.
Address: Tribes India, 50-B, Diplomatic Enclave, Chanakyapuri, New Delhi
Timings: 10:30 am to 8:30 pm
4. Have Brunch At Olivia's Cafe And Patisserie
Olivia's Cafe and Patisserie is a quaint cafe that gives out perfect Victorian Era vibes. The cafe makes their own ice creams and whip up some incredible waffles, pancakes, shakes, brownies, and froyos. The outlet looks like a Victorian tea room in the center of the garden. Some of their home made ice cream flavours include Coffee Oreo, Toffee Caramel, and Oreo Cheesecake.
Address: Olivia's Cafe and Patisserie, Santushti Shopping Complex, Shop 23, Panchsheel Marg, Chanakyapuri, New Delhi
Timings: 10:00 am to 9:00 pm
Price for two: Rs 500 (Approx)
Also Read: Have You Been To The Space-Themed Bakery In Delhi Yet?
5. Watch A Movie At The Revamped Chanakya Movie Hall
During the 90's, the Chanakya Movie Hall used to be one of the most iconic movie halls in the city. After being shut down for almost a decade, PVR has revamped the theater to it's old glory. The cinema has three screens where each of the halls can accommodate 140 people and offers the best cinematic experience.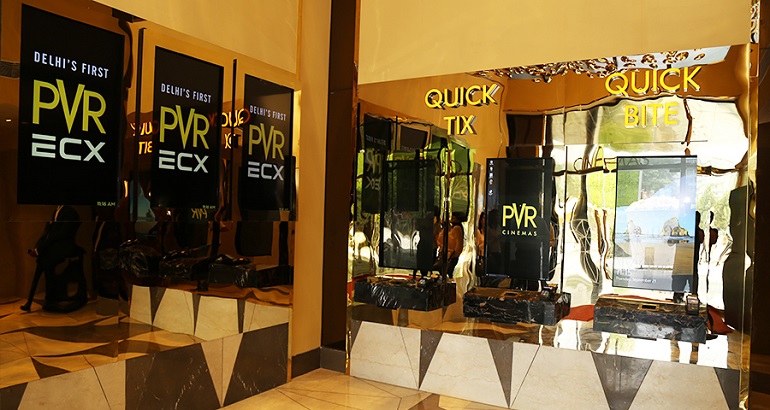 Address: PVR ECX, The Chanakya Mall, 13-A/16-D, Tikendrajit Marg, Chanakyapuri, New Delhi