Under 140 Characters
The romance of dining at a rooftop restaurant gets infinitely heightened when you have views reflecting Delhi's rich heritage.
Welcome On The Roof
Luxurious ambiance, scrumptious food, the sky as your roof, gentle breeze, heritage views and the company of your loved ones. Now isn't that the perfect setting for a dining experience that will go down as one of the most unforgettable ones? You can enjoy such an experience at any of these 6 rooftop restaurants that make you go wow.
1. Le Belvedere
Located high up on the 20th floor of the renowned hotel, Le Meridien, this charming restaurant offers you sweeping views of Lutyens, Delhi. Take in the grandeur of the Parliament, Supreme Court and Rashtrapati Bhavan as you relish the finest flavours of Chinese cuisine and sip on the best wines, cocktails and more. For sure, sample the crispy lotus stem and chicken dim sums that come with amazing sauces. Next time you wish to celebrate a special day with fine dine Chinese, you know in which direction to get your swanky car steered.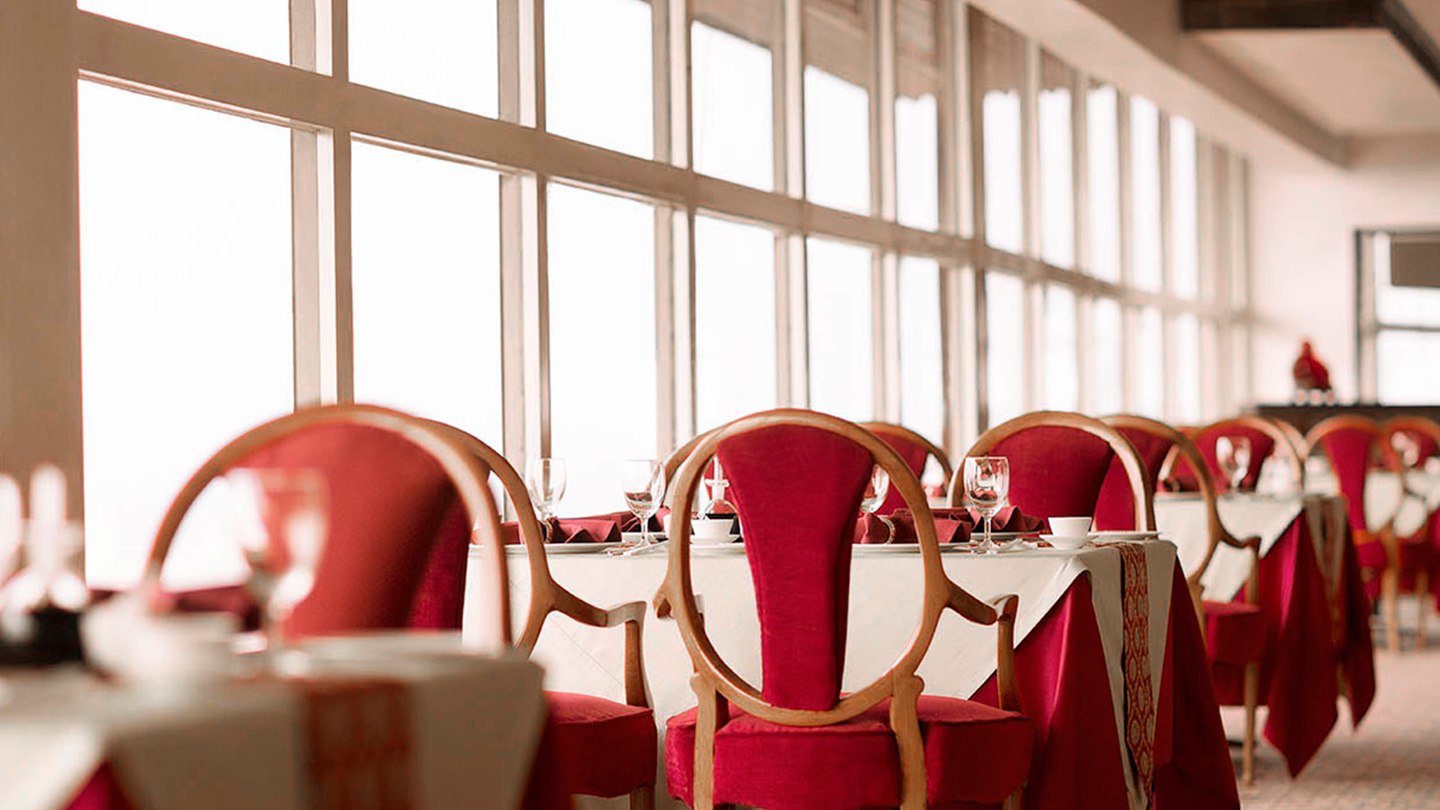 Address: Le Meridien, Windsor Place, Janpath
Meal For Two: Rs. 5,000
2. Haveli Dharampura
Journey back in time at this glorious hotel that was once a haveli. Its Mughal era architecture including the carvings on its walls and doors speak of the time when the walled city was ruled by kings. Perched like a cherry on the cake, is its rooftop restaurant where you can enjoy delicious food, as your eyes feast on the enthralling views of Jama Masjid, Gurudwara Sis Ganj, Lal Mandir and Red Fort. Feel like royalty as you relish the tikkas and kebabs here.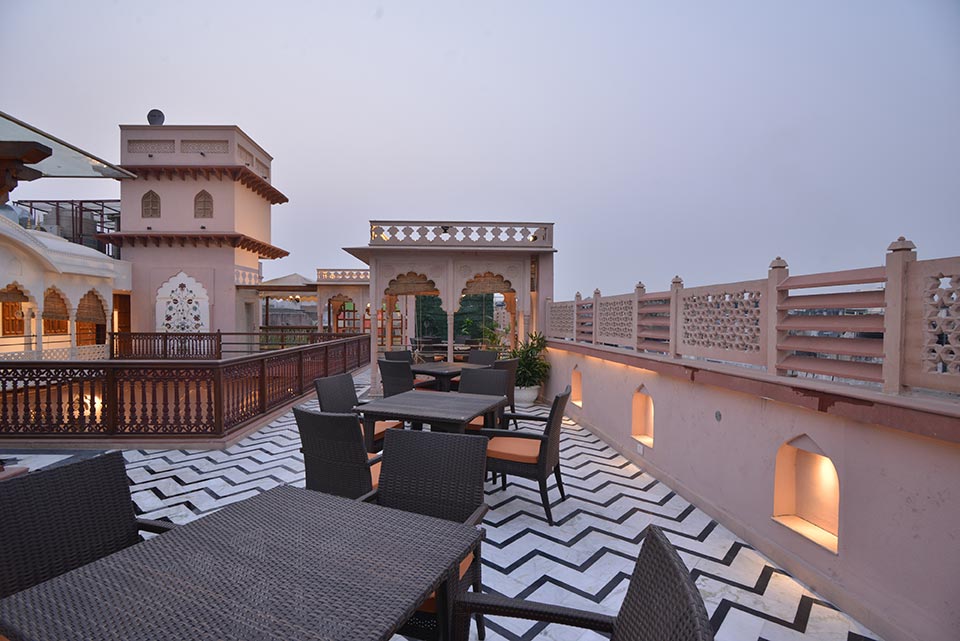 Address: 2293, Gali Guliyan, Near Jama Masjid, Chandni Chowk
Meal For Two: Rs. 2,000
3. Lavaash By Saby
Standing tall and proud, in the line of your view from this restaurant, is Qutub Minar. While its magnificence infuses the air with historic value, the food brings you the lip-smacking flavours of Armenia. The menu is a good mix of authentic Armenian cuisine as well as fare that originated in Bengal with traces of Armenian influence.  Their Mutton Railway Curry and Lavaash Fish come highly recommended. Tempted to dine here pretty soon, aren't you?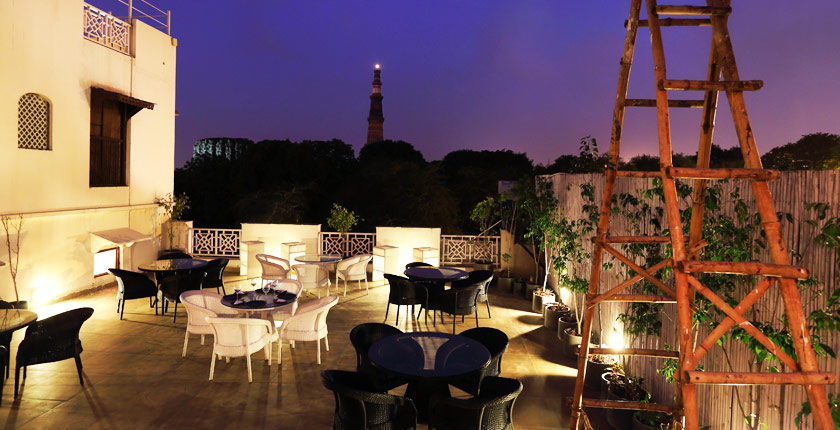 Address: H5/1, Ambawatta No.1, Kalkadass Marg, Mehrauli
Meal For Two: Rs. 2,000
4. Dramz
A chic lounge whose location allows you to take in the majestic Qutub Minar view, while you sip on its finest whisky and enjoy delectable European, Modern Indian and Asian fare. Their Paneer Tikka and Chicken Tikka Pizza will win your heart. And you'll leave this place knowing fully well that you'll be back soon.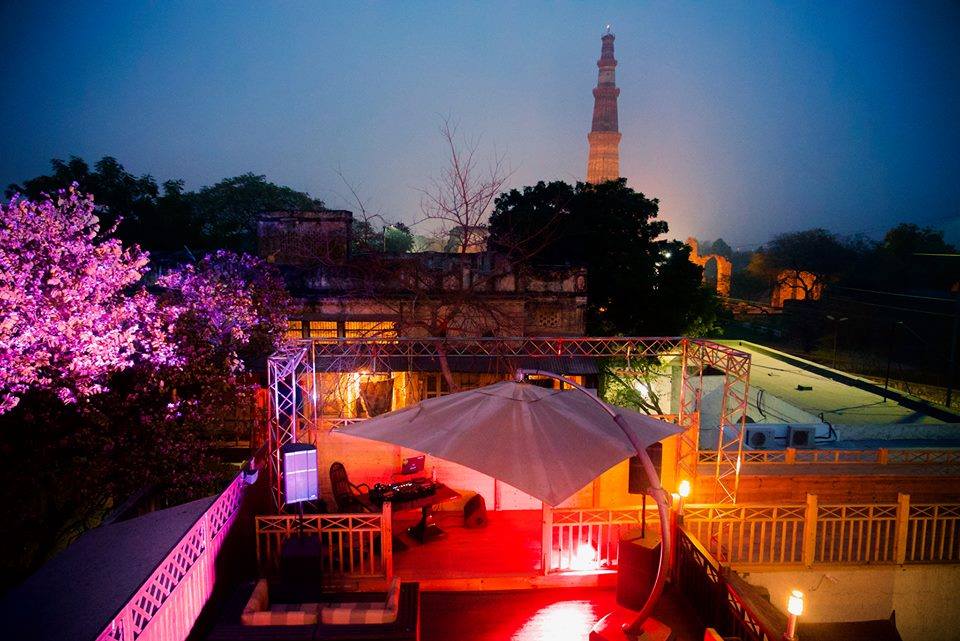 Address: 1580/1, KD Marg, Near Qutub Minar, Mehrauli
Meal For Two: Rs. 2,400
5. HKV's Social Chhat
Overlooking the mesmeric Hauz Khas lake, this Social has a menu that's mostly Indian with touches of European cuisine. Their Awesamosas and Momo Chaat are experimental and the most delicious try-mes. The beds on the rooftop lend a rustic feel and make it easier for you to relax and enjoy the cool vibe of the place. It's one of the best places to chill out with your squad.
Address: 9-A & 12, Hauz Khas Village
Meal For Two: Rs. 1,300
6. Mia Bella – Romantic Kitchen & Bar
With a stunning backdrop of Hauz Khas lake and fort, this lounge which has 'romantic' as part of its name has a lot going for it. Its vibrant décor and delicious European preparations take its appeal many notches higher. Their Chicken and Mediterranean pizzas deserve a special mention. With its mushy set-up and heart-winning food, it's the perfect place where you could pop the question.
Address: 50 E, Hauz Khas Village
Meal For Two: Rs. 1,800