Ever tried dining on seats made out of toilet seats? Or dined in a graveyard? Or even dined in the dark? India has some unique concepts to allow dining for the ones looking for a thrill in life. Here are some unique dining concepts in India that you can't miss out on –
1. Dine With The Dead At New Lucky, Ahmedabad
Rated as one of the weirdest restaurants in the world, New Lucky restaurant in Ahmedabad graveyard restaurant is built around coffins and graves. New Lucky at Lal Darwaja is probably the weirdest restaurant you've ever heard of. Before starting out 50 years ago, it used to be a graveyard where a Sufi saint and his relatives were buried. The owner Krishnan Kutti chose not to disturb the coffins and build a seating arrangement along with tables around them. He believes that dining in the presence of these graves has actually worked out better for their business.
Also read: Dine With The Dead At This 50-Year-Old Graveyard Restaurant In Ahmedabad, New Lucky
Address: New Lucky, Opposite City College, Lal Darwaja, Ahmedabad
Phone: 07925505033
Approx cost: ₹300 for two people
2. Tihar Food Court, Delhi
Tihar Food Court in the periphery of jail complex in Tilak Nagar serves delicious fast food & is a part of jail's rehab programme for prisoners. Managed and run by the prisoners from a semi-open prison situated in the periphery of the Tihar Jail Complex in the Tilak Nagar area in New Delhi is Tihar Food Court. It is situated near the Gate No. 3 and is managed by inmates. Being a part of the jail's rehabilitation programme for prisoners, it is a very good initiative by the jail officials.
Also read: You Can Now Eat At The Tihar Food Court & It's A Heart Warming Experience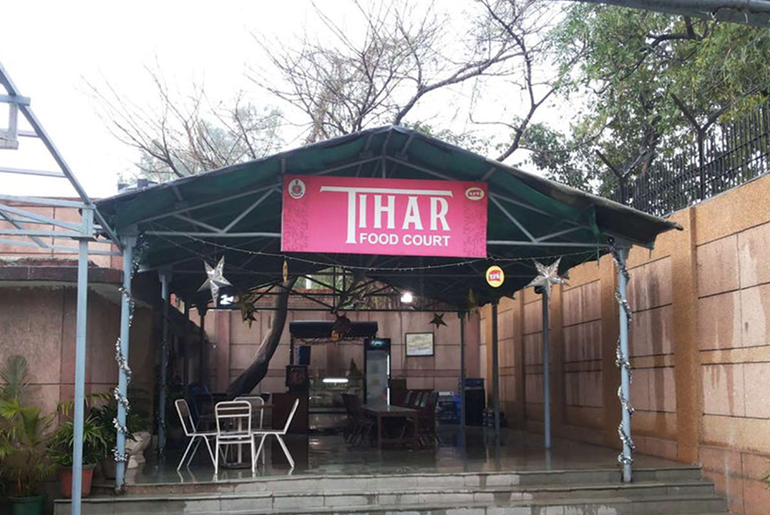 Where: Tihar Food Court, Tihar Jail Complex, Opposite Indraprastha Gas Station, Jail Road, New Delhi
When:  11 AM to 4 PM, 5 PM to 10:30 PM
How Much: ₹300 for two people (approx.)
3. Hang Out At Sheroes – A Cafe Run By Acid Attack Survivors, Agra & Lucknow
Acid attack survivors have found hope to build their livelihood at the Sheroes Cafe in Agra & Lucknow that invites people from all over the world. Most of the customers at Sheroes are foreign tourists and they love the hospitality at Sheroes. This cafe only serves vegetarian dishes mainly North Indian and Continental items. The customers can pay how much ever they like and there's no fixed bill as such. Basically, the cafe makes a good amount of profitthroughout the year, but they also run on crowd funding from time to time. 
Also read: Hang Out At Sheroes – A Cafe Run By Acid Attack Survivors In Agra
Address:
Agra – Opposite The Gateway Hotel, Fatehabad Road, Tajganj, Agra
Lucknow – Opposite Dr. B R Ambedkar Park, Adjacent Lucknow Metro Office, Vipin Khand, Lucknow, Uttar Pradesh 262010
Approx cost: ₹300 for two people
4. A Library Cafe Run By Street Kids – Bombay To Barcelona, Mumbai
Bombay To Barcelona was started by Amin Shiekh who provides a safe and comfortable environment for people from all socio-economic backgrounds. Bombay To Barcelona opened its gates to the public on 15 August 2017 with the idea of acceptance in mind. It is a library cafe where you can relax with a steaming cup of coffee, some snacks and a good book. Founded by Amin Sheikh, who knows a bit too much about a rough lifestyle, she opened this cafe keeping in mind no sense of discrimination against any human being.The cafe is run by volunteers from various groups of people.
Also read: Bombay To Barcelona In Andheri Is A Library Cafe For A Cause
Address: Golden Nest Society Apartments, Mapkhan Nagar, Aashiyana Society, Marol, Andheri East, Mumbai, Maharashtra 400047
Phone: 077384 46788
Approx cost: ₹500 for two people
5. Dine At Cafe Toto Run By Underprivileged Youth, Kolkata
Cafe Toto is Kolkata is famous for its French and Continental food and is run by underprivileged entrepreneurs. Young adults belonging to underprivileged backgrounds are given a chance to shape up their life at this Kolkata cafe. They are trained in a one year course by French volunteers in various sectors of hospitality to run this unique cafe. Cafe Toto started in April 2016 with the idea of raising up the suppressed sectors of society. Currently, they are training 14 individuals belonging to the age group of 18 to 25. They attend training 5 days of the week where they are able to learn English, communication and personal skills, IT skills and micro-management of the cafe. 
Also read: Dine At Cafe Toto In Kolkata Which Is Run By Underprivileged Youth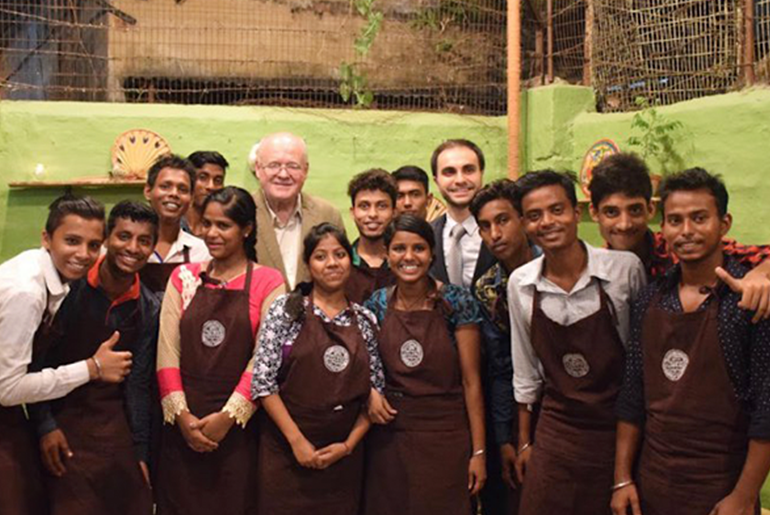 Address:  30e, Gobinda Auddy Rd, Kala Bagan, Chetla, Kolkata, West Bengal 700027
More info here
6. Dine As Your Bill Is Already Paid By The Customer Before You At Seva Cafe, Ahmedabad
Eat at Seva Cafe in Ahemdabad and your bill will have been paid by the customer before you. In this world of hate and violence, Seva Cafe comes with a cause of filling the world with kindness. You can enjoy a wholesome meal at this cafe and learn about giving without any expectations. The best part about this cafe is that you don't have to pay the bill at the end of your meal because it will be paid by the previous customer. You will be expected to carry on the chain and pay for the next customer.
Also read: Seva Cafe In Ahemdabad Is Where Your Bill Is Paid By The Customer Before You
Address: Seva Cafe, Shopper's Plaza, 4th Floor Opp Municipal Market, Chimanlal Girdharlal Rd,Abad, Ahmedabad, Gujarat 380009
Phone: 075672 62737
7. Dine In The Dark With Taste Of Darkness, Hyderabad & Bengaluru
Start awakening your sense of taste, smell and touch while having food at this restaurant in Hyderabad & Bengaluru, 'The Taste Of Darkness' as there will be absolutely no lights while dining. It's time to appreciate food by the essence and not by it's looks! Have you ever had food in pitch dark ambiance without even candle light? 'The Taste of Darkness' in Hyderabad and Bengaluru allows you to have a thrilling, gastronomic experience of having food in complete darkness. Right from the entrance, your whole dining experience won't include even a single ray of light.
Also read: It's Time To Judge Your Food Solely On It's Taste And Flavor But Not Its Looks At 'Taste Of Darkness'
Address:
Phoenix Market City, Mahadevapura, Bangalore, 560048 ,Tel No: 08067266589
Hyderabad: Level 5,Inorbit Mall, Hitec City, Madhpur, Hyderabald, Telangana, 500081, Tel N0: 914064603342, 41
Working Hours: 11:00 AM- 11:30 PM
Average Cost: ₹1300 for two.
Type: Multi-cuisine Restaurant
LIKE Curly Tales on Facebook | Instagram| Twitter
You can subscribe to our newsletter