Social media is full of street food stalls and their unique touches on the dishes they sell. While netizens love some innovative ideas while making or presenting the food and help in promoting the business to a huge extent, on the other hand, some food innovations also get a lot of hatred. Food bloggers have made the job easier for such street food vendors to give them stable recognition in the market in exchange for viral content. Every street stall you visit you will see them doing something unique and adding some extra to gain people's attention and also make a unique name in the market. And this time, the internet is getting crazy over 'Flying Dahi Vada'.
After Flying Dosa, The Netizens Are Loving Flying Dahi Vada In Indore
Only a year back the internet was flooded with a street food stall from Mumbai where the people were literally throwing hot dosas from the skillet to the plate. They named it flying dosa for the way the food was flying into everyone's plate. And now a street vendor in Indore is trending on the internet for serving flying dahi vada. More than relishing a plate of lip-smacking dahi vada, it feels quite good to see how the vendor is coming up with new ideas and serving flying dahi vada.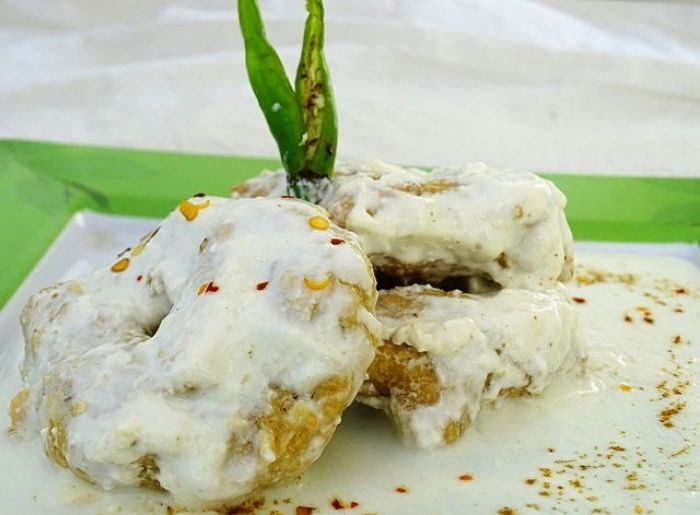 Also read: Indore Street Food Vendor Prepares Noodles Blindfolded & Wows Foodies
Nothing Spills Out From The Plate While Flying
The seller entertains the buyers and the crowd by presenting a different way of presenting a plate of flying dahi vada. He is seen throwing a plate of vada into the air and then catching it. He then adds curd and again tosses it up in the air and catches it to sprinkle masalas and chutney. The most stunning part of his presentation is that not a single ingredient from the plate spills outside. It remains exactly the same as before.
Also read: Chocolate Golgappas In Indore, Mumbai & Kolkata Will Satisfy Your Sweet Tooth Cravings
An Instagram user named 'Our Collection' posted this video of flying dahi vada and it went viral within no time. While some commented on his skills, some also loved the way he sprinkled all the ingredients. While some totally disliked it and felt all these dancing, throwing, flying, and speed moves are unnecessary.