Alia Bhatt shared the news of her pregnancy by posting a really cute picture on Instagram. The picture featured Alia Bhatt and Ranbir Kapoor during their hospital visit for an ultrasound session and took the internet by storm. The actress recently shared a picture of the delicious Italian dessert Tiramisu on her story on Instagram satisfying her cravings in Europe.
Alia Relishing The Italian Dessert
Alia Bhatt was shooting for her upcoming next, Heart Of Stone, her Hollywood debut, and is now in Europe. The actress went on to Instagram to share a picture of a world-famous delicious Italian dessert. She posted a picture of a half-empty cup of Tiramisu on her Instagram story and the dessert picture was accompanied by a Kindle. Tiramisu is an Italian coffee-flavoured dessert. She captioned the picture writing, 'Tiramisu and a book, Such a gram scene.' and we couldn't agree more. The actress knows how to take care of her cravings well.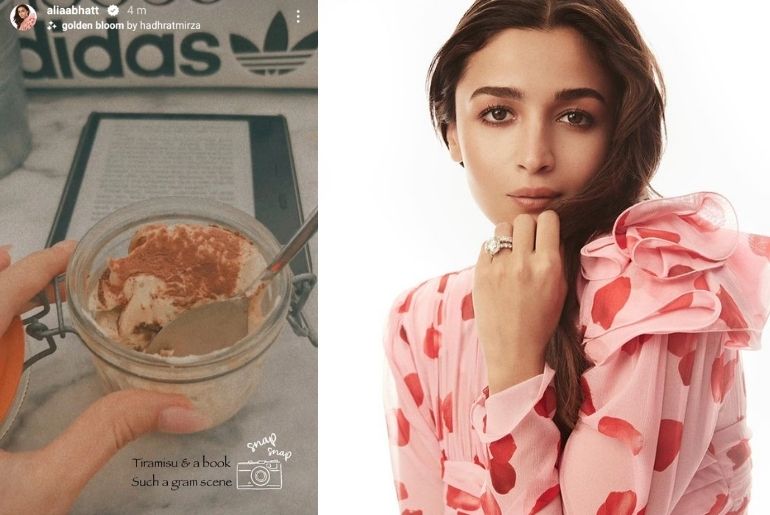 Also Read: Alia Bhatt & Ranbir Kapoor's Pregnancy Post Shows Their Love For Wildlife Safaris
Alia Bhatt In London
Alia Bhatt had left in May for her shoot in London for her Hollywood debut and had shared about her nervousness on an Instagram post. While shooting in London she made sure to catch up with Ranbir's family members like aunt-in-law Rima Jain and her son Armaan Jain and his wife Anissa Malhotra and others for dinner. She also met designer Manish Malhotra and had a reunion with actor Ranveer Singh and director Manish Malhotra. She also met her sister-in-law, Kareena Kapoor Khan in London.
View this post on Instagram
Also Read: Karan Johar Dines In This Iconic Indian Restaurant In London, Spots Ranveer Singh And Alia Bhatt