Ayodhya is known for being the birthplace of Lord Rama. Nestled on the banks of the Sarayu river, Ayodhya is one of India's seven holiest cities. Curly Tales Editor-In-Chief Kamiya Jani takes us to the Ayodhya Ram Mandir virtually and shares its first look with us. Did you know this mandir will be the third-largest Hindu temple in the world after completion? Let's have a first glance at this temple in Uttar Pradesh.
Here's The Exclusive First Look Of The Ayodhya Ram Mandir By Curly Tales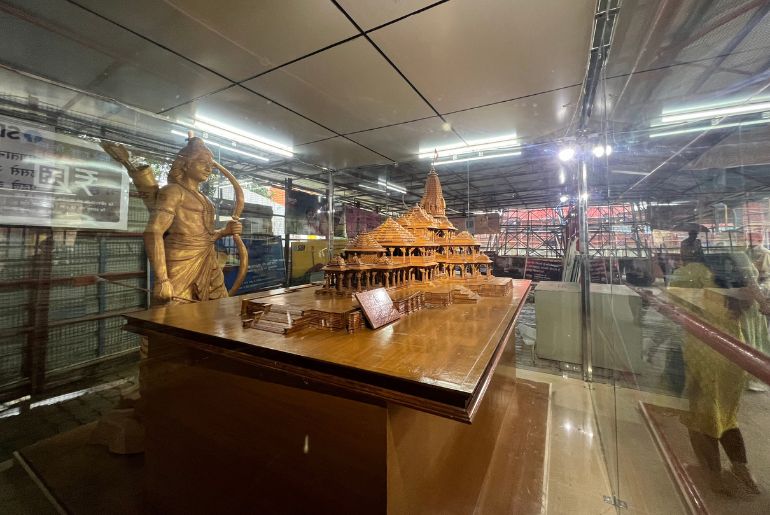 Devotees from different corners of India travel to the city to visit the iconic ancient temples here. Ayodhya is home to over 7,000 temples and with the Ayodhya Ram Temple constructed completely with such advanced infrastructure development, tourist footfall will surely witness a major spike. Dedicated to Lord Rama, the to-be world's third-largest Hindu temple aims to pay respect to Lord Rama.
Also read: Ayodhya Deepotsav 2022 Aims To Create World Record With Over 15 Lakh Diyas
On 5 August 2020, Prime Minister Narendra Modi performed Bhumi Pujan rituals to begin the construction of Ayodhya Ram Mandir in the Ram Janmabhoomi. It has been 2 years since Bhumi Pujan and almost 40% of the development is completed. We will soon get to visit this temple as the mandir will certainly be ready by 2025. The construction is going in full swing and devotees are waiting for the day to visit here. Spread over a humongous area of 2.7 acres, Ayodhya Ram Mandir is being built at a height of 160 feet, 360 feet in length, and 235 feet in width.
View this post on Instagram
The Temple Will Feature A Lot Of Breathtaking Things
Ayodhya Ram Temple has a lot to offer to everyone visiting here. It will house a prayer hall, a lecture hall, educational facilities, and a museum as well. On the first floor, the temple will also have the Ram Darbar. Also, Garbha Griha will be on the first floor. UP Chief Minister Yogi Adityanath laid its foundation stone.
Also read: With 14,000 Kg Heavy Veena, Ayodhya Gets 'Lata Mangeshkar' Chowk Dedicated To India's Nightingale
We just need to wait for some time for the mandir to open its doors. The crowd will surely increase exponentially bringing a massive boost to the tourism sector with an improvement in the income of the locals.
Check out the first look of the temple in this exclusive Curly Tales video.
Cover Image Courtesy: Internal