Bambai aye aur chaat nahi khaye? Don't be that person.
It is the most iconic street food in the city and there is no doubting that. Among other street food like vadapav, samosa, pav bhaji, dosas – chaat has a whole different fan base. There is always a guy standing at the corner of every road with a thela that serves the best combination of flavors. It's the perfect evening snack and we have to bring to you some of the best chaat places in Mumbai.
1. Gupta Chaat, Matunga
Gupta Chaat in Matunga tops the list because this is one place where you will find chaat healthy, crunchy, super delicious and also affordable.  Some of the best things to try here are cheese Sev puri, Pani puri, Dhai puri, Bhel, and Ragda Pattice. Your chaat plate will be loaded with lots of Sev and garnished with coriander and fried daal.
Gupta is located close to Matunga station and is known for its superior taste and quality and it is a must-visit chaat place in the city! They also serve sandwiches and pizzas.
Deets
Address: Shop. No. 3&4, lbs market, SM Jadhav Rd, Matunga, Mumbai, Maharashtra 400019
Approx Cost For Two:₹100
Also Read: Street Food Trail: Top Street Food To Try At India Gate
2. Elco, Bandra
You cannot miss out on Elco if you are in Bandra or are shopping at Hill Road. Hill Road is popular for two things – fancy clothes and mouth-watering Pani puri. At least a hundred people eat chaat here and all beause it is so perfect that you cannot resist. Well, our Bollywood celebrities also couldn't resist eating Pani Puri. Deepika and Ranbir stopped here to take a bite before a shoot for their film.
The chaat here is a little expensive than other places in Mumbai but trust me it's worth a try.
Deets
Address: 2A, Elco Market, Hill Rd, Bandra West, Mumbai, Maharashtra 400050
Approx Cost For Two:₹300 – ₹ 400
Also Read: 5 Restaurants In Mumbai That Serve Food With Nostalgia
3. Guru Kripa, Sion
This little place right outside Sion station is the favorite of a lot of people. People come here regularly for a heavy breakfast and lunch. Chaat here as a different twist, the place is mainly influenced by Sindhi cuisine. Some of the best dishes to try here are Chole Samosa, Dal Pakwan, Chaap or Paani puri. Along with delicious food, you will also notice that the place is buzzing with college students and it leaves a hint of nostalgia.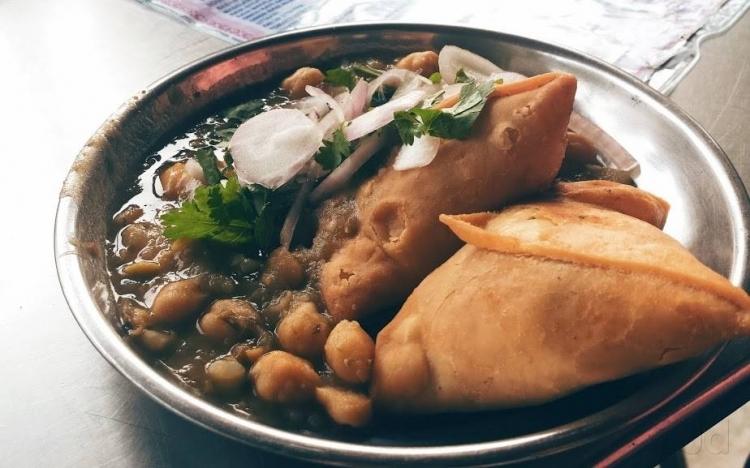 Deets
Address: 40, Guru Kripa Building, Road 24, Near SIES College, Sion, Mumbai
Approx Cost For Two:₹ 200
Also Read: Eat English Gol Gappe At Murli Chaat, Kanpur
4. Kunj Vihar, Thane
Kunj Vihar is the best place to munch on healthy chaat in the suburbs! This is a must-try chaat place and you not be disappointed, take my word for it. Some of the best dishes to try here are the ice-cold Pani puri, Sev Puri in which you will find sprouts instead of aloo and ragda, Dahi Puri and end it on a sweet note with lassi. They also serve Vada Pav, Samosa Pav, and Misal which are pipping hot and super fresh.
Deets
Address: Prabhavati Bhawan, Station Rd, Opposite Ashok Talkies, Thane West, Thane, Maharashtra 400601
Approx Cost For Two:₹ 200
5. Kailash Parbat, Andheri
Kalash Parbat is one of the places that serve delicious vegetarian food and you can find a Kailash Parbat outlet in all the famous places. The best things to try here are Paani Puri, Sev Puri, Corn Chaat, and Bombay Basket. If you are a Chaat Tokri person then you must come here! Some of the other things to try here are Aloo Tuk and Chole Bhature. If you're willing to be adventurous, try out the Bhughal Bhee Aloo (lotus stem and potato).
Deets
Address: 7A, Crystal Plaza, New Link Road, Lokhandwala, Opposite Infinity Mall, Andheri Lokhandwala, Andheri West, Mumbai
Approx Cost For Two:₹1,000
6. Girgoan Chowpatty, Girgoan
Girgaon Chowpatty is a small, sandy beach located in South Bombay, adjacent to Marine Drive. The beach is also buzzing with people as it is the most preferred location in the city where you can enjoy sunset away from the hustle-bustle of the city. The beach also offers a variety of food items, the best among them being chaat items. You must try Sev Puri, Aloo Chaat, Papdi Chaat, and Dahi Sev Puri.
Deets
Address: Girgoan, Girgoan Chowpatty, Mumbai, Maharashtra, 421501
Approx Cost For Two:₹ 100
7. Jalaram Snacks, Mulund
Jalaram Snacks in Mulund is one of the best chaats in Mumbai and the reason being the unique ingredients the add in their dishes. The best dishes to try here are -the big Dahi Kachori, Samosa Cheese Bhel, Bhel Puri, Sev Puri, and Pani Puri. People make it a point that they try chaat here at least once! Make sure you try it too. You will find the chaat topped with pomegranate and garnished with coriander and sev.
Deets
Address: Panch Rasta, Mahatma Gandhi Road, Chandarshan Society, Jagjivan Ram Nagar, Mulund West, Mumbai, Maharashtra 400080
Approx Cost For Two:₹ 200
Also Read: Top 10 Street Foods Of Mumbai In 2019
8. Ram & Shyam Chaatwala, Santacruz
Ram and Shyam Caahtwala in Mumbai is the most underrated place because it has been running for almost 58 years and the food here is lip-smackingly wonderful. Ram and Shyam chaat store was started by two brothers and for years together they have been people's favorite. Some of the must-try dishes here are Sev Puri, Pani Puri, and Bhel Puri.
Deets
Address: North Ave, Santacruz West, Mumbai, Maharashtra 400054
Approx Cost For Two:₹ 200
There are people who are very particular about how their chaat is made. Take a look at this video and you will know what we are talking about.
Do let us know in the comments below if we missed out on any chaat places in Mumbai