Nothing says comfort food better than a steaming, hot plate of Rajma Chawal. The simple dish has the power to turn a bad day into a good one. One of the most commonly found dishes on the streets of Delhi, the dish has made its way all over the country where it is enjoyed by one and all. How can you ever say no to something as delicious as rajma chawal. It's practically a match made in heaven. Add curd into the mix and you'll most likely attain nirvana. We set out to find the best rajma chawal in Mumbai and these places topped our list!
1. Rajma Chawal At Guru Da Dhaba, Andheri
Blink and you might just miss this little eatery that is tucked away in the lanes of Lokhandwala. If you are not from the city and ever crave for 'ghar ka khana', then you will love this place. Unpretentious and fuss-free, their rajma chawal is everything a good rajma chawal should be.
Address – Guru Da Dhaba, 1st Floor, Kamdhenu Shopping Centre, First Cross Road, Lokhandwala Complex, Andheri Lokhandwala, Andheri West
Contact – 022 26320440
Cost for 2 –  ₹300 (Exclusive of taxes)
2. Rajma Chawal At Hitchki, Multiple Outlets
You wouldn't expect to find good, homely rajma chawal at a resto-bar but Hitchki will surprise you, pleasantly. And who doesn't feel like getting their moves on after having a plate of rajma chawal? It just manages to put you in a good mood.
Address – Multiple outlets
Cost for 2 –  ₹1600 (Exclusive of taxes)
3. Rajma Chawal At Papa Pancho Da Dhaba, Bandra
A Punjabi can never go wrong with rajma chawal and Papa Pancho Da Dhaba doesn't disappoint. Served with cool and tangy dahi and a crisp papad, this is a dish for the ages!
Address – Papa Pancho Da Dhaba, Gasper Enclave, St John's Road, Near Rupee Bank, Pali Hill, Bandra West
Contact – 022 26518732
Cost for 2 –  ₹750 (Exclusive of taxes)
4. Rajma Chawal At Amritsar Express, Malad
The best way to describe their rajma chawal is to say that it tastes like Amritsar on a plate. It really doesn't get better than this. And the sourness from the pickle served with the meal is just the perfect addition!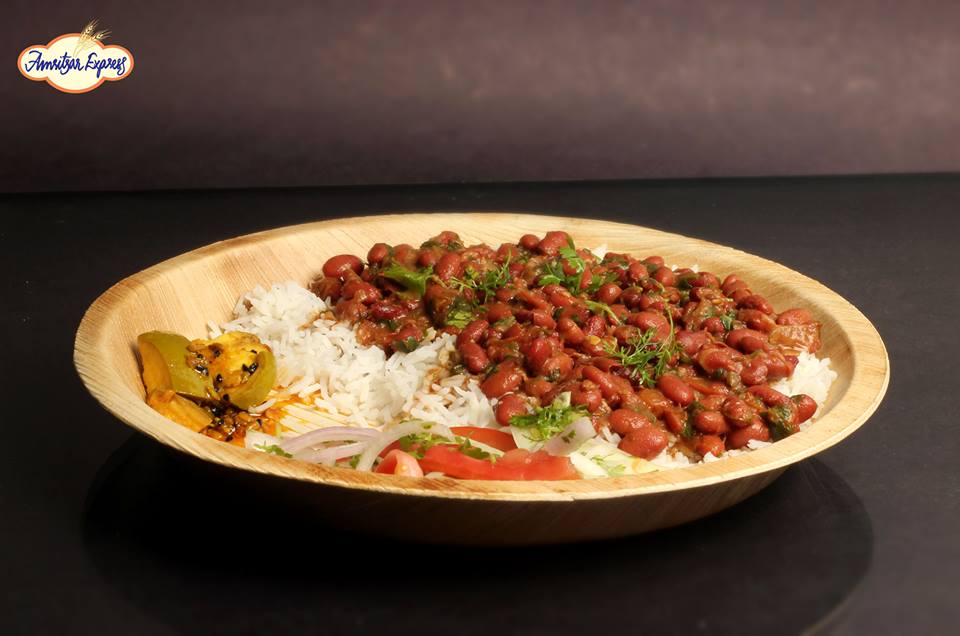 Address – Amritsar Express, Ground Floor, Nirllok Estate, Near Bombay Talkies Compound, Somwari Bazar, Harron Khan Road, Malad West, Mumbai
Contact – 022 68493424
Cost for 2 –  ₹600 (Exclusive of taxes)
5. Rajma Chawal At Goila Butter Chicken, Multiple Outlets
They might be famous for their smoky and flavoursome butter chciken but Goila's makes really good rajma chawal. And the best part is that it is made with desi ghee, a taste that is unbeatable.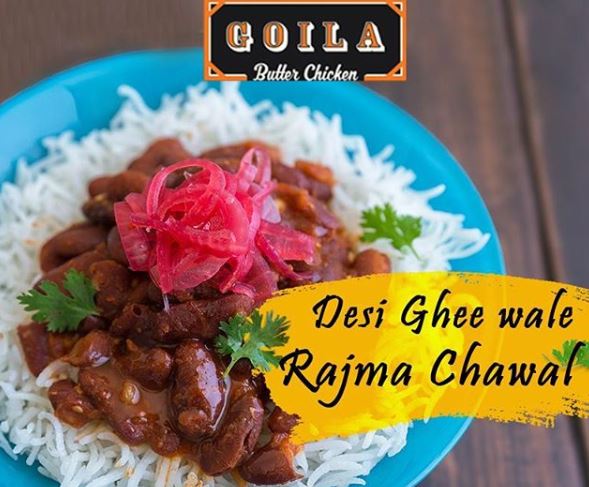 Address – Multiple outlets
Cost of Butter Chicken –  ₹500 (Exclusive of taxes)
6. Rajma Chawal At Only Parathas, Multiple Outlets
Nuh uh, don't go by the name of the place and think that they just whip up parathas (which are amazing btw). Their rajma chawal is a force to be reckoned with and it would be safe to say that we slept like babies after a great meal there.
Address – Multiple outlets
Cost for 2 –  ₹900 (Exclusive of taxes)
7. Rajma Chawal At Urban Tadka, Multiple Outlets
Curd and papad go perfectly well with rajma chawal but do you know what else tastes divine with it? A nice, chilled beer. Yup, you heard it right. And you have to try it to believe it. But once you do, there is no going back. If you are intrigued then head over to the Urban Tadka closest to you to know what the fuss is all about.
Address – Multiple outlets
Cost for 2 –  ₹1100 (Exclusive of taxes)
8. Rajma Chawal At Pot Pourri, Chembur & Vashi
Another one of those places where you wouldn't expect to find good rajma chawal is Pot Pourri. Their perfectly cooked rajma comes with a generous portion of jeera rice. And we all know that jeera rice is a pretty great upgrade from plain steamed rice.
Address – Pot Pourri has 2 outlets
Chembur: 2nd Floor, Cubic Mall, Vasant Vihar Road, Chembur, Mumba
Vashi: G 51/52, Inorbit Mall, Sector 30 A, Vashi, Navi Mumbai
Cost for 2 –  ₹2000 (Exclusive of taxes)
9. Rajma Chawal At Delhi Highway, Marol
Bombay may Dilli ke rajma chawal ka mazaa is a bit difficult to find. But not when you head over to Delhi Highway where you can indulge in all sorts of delicacies from the north of India. Especially the rajma chawal.
Address – Delhi Highway, A4, Ground Floor, B Wing, Times Square, Andheri East, Marol, Mumbai
Contact – 022 50646758
Cost for 2 –  ₹1200 (Exclusive of taxes)
10. Rajma Chawal At Grandmama's Cafe, Multiple Outlets
The Jack of all trades, Grandmama's has every cuisine under the sun. And they manage to do justice by them all. And their rajma chawal comes with the promise that it will instantly remind you of your grandma's cooking. Can't really pass up on that, can we?
Address – Multiple outlets
Cost for 2 –  ₹1200 (Exclusive of taxes)
11. Rajma Chawal At Craftbar, Bandra
Fancy a whiskey on the rocks while you feast on rajma chawal? Well, this is going to become your adda then. Served with a perfectly roasted papad, you'll keep coming back for more.
Address – Craftbar, Hallmark Business Plaza, Sant Dyaneshwar Marg, Near Chetna College, Kalanagar, Bandra East, Mumbai
Contact – +91 8097401616
Cost for 2 –  ₹2000 (Exclusive of taxes)