Whether you want to beat your mid-week crisis or just looking to catch up over a beer with that long lost friend, here's your go-to list of the best sundowners in Mumbai.
1. For Your After-Work Date/ Meeting
If you can't decide between what you want more, the ambiance or the view, this is your venue. Nestled on the 34th floor of Four Seasons Hotel, this luxe open-air rooftop bar makes for a relaxing place for a champagne or two with a beach view.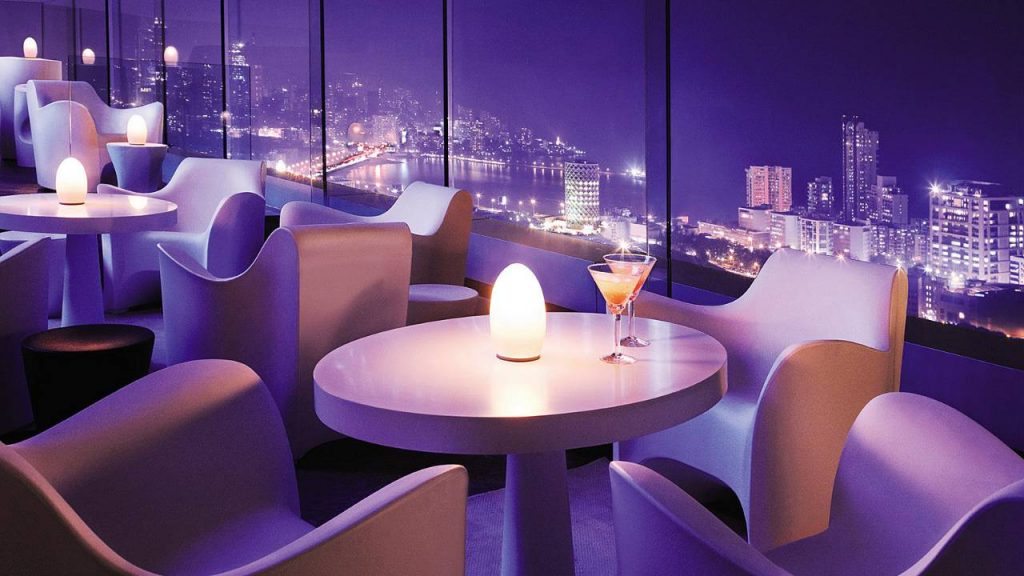 Best of Mumbai's cocktails, music, view, and more up in the Aer! Photo Courtesy: Aer Lounge
Where: 34th Floor, Four Season Hotel, E Moses Road, Worli, Mumbai
Try: Black Martini and Slow Roasted Chicken Wings
How Much: Rs. 4,000 (for two)
2. For Your Pizza Date
Bring in the weekend with a cheesy pizza and a drink, head over to Churchgate. Doesn't matter if you are alone or with company – the view, and the food makes any setting perfect. After your pizza, head over to Marine Drive and soak in some chill vibes by the sea.
Where: Pizza by the Bay, 143, Soona Mahal, Marine Drive, Churchgate, Mumbai
Try: Jalapeno Cheese Poppers
How Much: Rs. 2,000 for two
3. For Bragging Purposes (Most Importantly!)
Apart from being B-town's favourite hangout venue, perched on the 40th floor of The St. Regis (Mumbai), Asilo earns bragging rights for the highest rooftop bar in Mumbai. This plush open-air lounge in Lower Parel serves their grilled food and sumptuous cocktails with a panoramic view.
Also read: Delhi's Tamasha To Now Happen in Mumbai
Where: 40th Floor, St. Regis, Lower Parel  Floor, Phoenix Mills, Lower Parel, Mumbai
Try: Chili Prawns
How Much: Rs. 3,000 (for two)
4. For Some Sick Parties!
Are you a party rocker? Grecian interiors, panoramic views, booze, music, and of course the theme parties are a regular at the Dome. Give your social life an upgrade by making this place your spot for the weekend.
Also check out: Puff! Puff! Sheesha Sky Lounge Now In Lower Parel
Where: Dome, Hotel InterContinental, 135, Churchgate, Mumbai
Try: The Ebi Tempura Rolls
How Much: Rs. 3,500 (for two)
5. For some Sangrias & Quiet
Looking for a drink or two without banging into the Juhu or Bandra crowd? Amadeus offers a hedonist experience with world-class sangrias amidst SoBo-ites. From monthly parties to festive occasions, this place sure knows how to celebrate in high spirits!
Where: Amadeus, Gate No.2, NCPA, NCPA Marg, Nariman Point, Mumbai
Try: The Chocolate Cigar
How Much: Rs. 2,500 for two
These are 5 of my favs, which one's your regular hot-spot?
6. Chill By The Sea At Razzberry Rhinoceros, Juhu
Ten years after its shut down, the iconic Razzberry Rhinoceros has reopened in Juhu. Version 2.0 comes with a coffee-wine bar, an open-air movie club, a view of the Arabian Sea and a delicious menu. It's perfect for a relaxed evening out.
Where: Juhu Hotel, 39/2, Juhu Tara, Juhu, Mumbai
Try: Pink Peppercorn Mousse
How Much: Rs. 1,800 for two
Read More Here: Catch A Movie By The Sea At Razzberry Rhinoceros Juhu 
These are 6 of my favs, which one's your regular hot-spot?
LIKE Curly Tales on Facebook | Instagram | Twitter
You can subscribe to our newsletters