Dubai is not simply a paradise for those looking for an out-of-this-world notion of entertainment or looking for an adventure. Additionally, the city has a warm place for individuals who are in love. Treat yourself to the breathtaking skylines and the breathtaking waves, tickle your taste buds with genuine specialities, or simply experience the fascinating desert. Whether you want to go on a long, romantic stroll at night, have supper beneath the stars, cruise through the blowing winds, or have a campfire in the middle of the desert, there is something for everyone. There is something for everyone! The city features a range of cafés and restaurants with romantic atmospheres and beautiful views, perfect for bringing your date and enjoying a relaxing time.
1. Pierchic, Madinat Jumeirah
Pierchic is, without a doubt, one of the most romantic spots for a date night in Dubai. The atmosphere will bring out pleasant dialogues as well as catch-up sessions. Aside from delivering some of the greatest seafood in town, the vista is breathtaking. Pierchic is located on its pier in The Arabian Sea. Thus its gorgeous position offers a romantic backdrop. Pierchic makes you an irresistible offer with soothing music playing on the deck, the sound of the water washing up against the coast, and the cosy environment. 
View this post on Instagram
2. Date Night In Dubai at Villa Beach
If dining with your loved one practically on the beach seems romantic to you, this is the perfect place for your Date Night In Dubai. Bury your feet on the chilly sand while admiring the seafront scenery from opposite the Burj al Arab! Villa Beach has a cheerful and romantic environment. Add to that delicious cuisine and kind service. Your date night just got better with amazing views of the sea and the hotel! 
Also Read:  Australia's Popular Gourmet Grocery Store And Cafe Is Coming To Jumeirah Dubai
3. Overnight Dubai Safari
Imagine a campfire, a starlit sky, and a romantic dinner all in one place! Tourists and locals enjoy desert safaris, a prominent tourist attraction. You'll enjoy watching belly dance and getting your face painted with henna while enjoying a delicious dinner beneath the stars. If none of this piques your interest, the desert safari offers plenty of action-packed experiences for adrenaline addicts. 
Activities abound, including anything from dune bashing to sand skiing to camel riding to quad biking makes it perfect for the Date Night In Dubai. It is common for nighttime safaris to begin between 4:00 PM and 9:00 AM. However, this is not always the case. You and your loved one may have a delicious BBQ supper beneath the stars while listening to live music!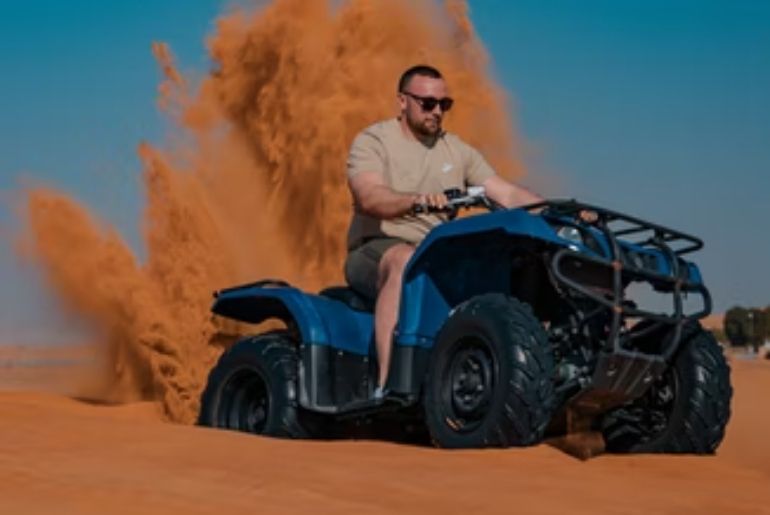 4. Date Night In Dubai On-board
If everything else fails, there's always the old-fashioned romantic supper on a boat option. For a few hours of leisurely sailing around the creeks of Dubai, you may take a classic Arabic Dhow with unlimited soft beverages and onboard entertainment. To see the Marina Skyline and the magnificent architecture of the Dubai Marina's skyscrapers, you may take a boat or a cruise on the Marina Dhow, or, if you'd like, a cruise on the Marina Dhow. 
View this post on Instagram
Also Read: Everything Travellers Need To Know About Dubai Airport Runway Closure
5. Discover A New Sky At The Mighty Burj Khalifa
It's impossible not to be awestruck by the view from the observation deck of the Burj Khalifa. At levels 124 and 125, or at level 148, you may visit the SKY and the very top.
The world's tallest observatory is at your fingertips as you take a personal elevator to Level 148. You'll be amazed by the unique architecture of this amazing wonder. If you're planning a romantic getaway to Dubai, don't leave without seeing the magnificent Burj Khalifa in all its glory. 
Also Read: Party Like The French As This Paris Hotspot Comes To Dubai
Just make sure you're always prepared with a camera since all of these locations are aesthetically appealing and provide a wholesome feed for your social media sites!