Are you also among those people who look for the cheapest possible way to travel to their favorite destination? If yes, then we belong to the gang which is forever broke but still wants to visit the best places in the country. I recently figured out one of the cheapest ways to go on a budget trip –  Avoiding the peak vacation season! Travel off-season which has two benefits, firstly prices of all fights are hotel rooms are slashed and second – the place won't be crowded with a lot of tourists! Win-Win.
Here are some of the cheapest places to travel in India!
Also read: Dining Out During The Pandemic: 5 Safety Rules Everyone Must Follow!
1. January – Dehradun, Mussoorie
Always wanted to see snow? Well, you can do that now but not going on an international trip. Right here, in India, you can see snow-covered mountains, roads, and snow on the top of little colorful houses! It is less likely that there will be snow in Dehradun but since Mussoorie is at an elevation of 2000 feet above sea level it is sure to receive snowfall in winters. The round flight trip to Mussoorie will cost you around ₹11,000 -₹ 11,500 in January and if you book way in advance the nothing like it!
2. February – Lakshadweep Island
You don't exactly need to go to the Maldives for a romantic getaway, Lakshadweep Islands are filled with crystal clear waters, pristine beaches, and lush greenery. Islands of Lakshadweep are just so serene, soothing and perfect for a vacation getaway. Some of the must-visit islands are Agatti, Bangaram, Kadamat, and Kalpeni among others. Visiting Lakshadweep in the months between September to May is amazing, but the best part is that in February the flight prices are cheaper than the rest of the month. The single trip will cost you approximately  ₹ 8,754
Also Read: Visit The 'Niagara Falls Of India' In Thrissur, Kerala
3. March – Cochin
Summers are about to embark and this is possibly the best time to visit Kerala and especially Cochin. Tourists normally visit Kerala between October to December when the rains have washed off and it is a little chilly. But nobody will tell you this, the end of February and the first two weeks of March it is pleasant and you visit the best spots like Cherai Beach, the Kochi Fort and Mattancherry Palace without it being too warm or too cold.
The round trip flight will cost you somewhere between ₹ 4,900 – ₹ 5, 500, which is a very good deal! As compared to the peak months like October to February, the round trip will cost you nearly ₹ 10,000 -₹ 12,000.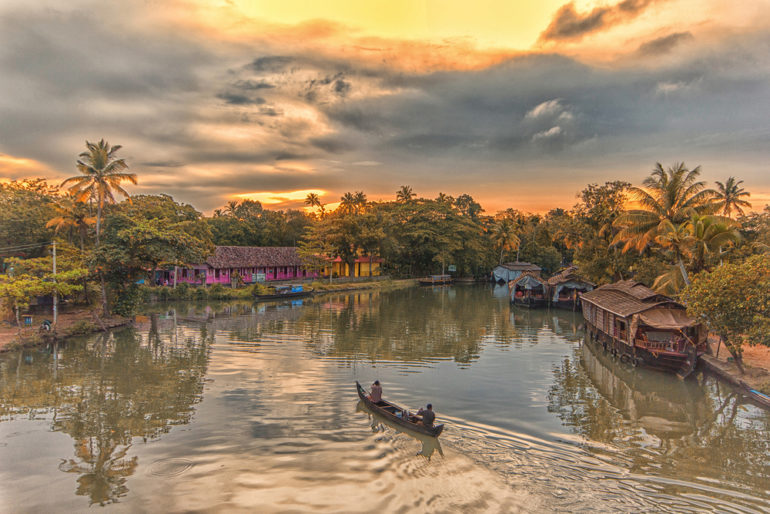 4. April – Rajasthan
Rajasthan is one beautiful state, filled with royal palaces, forts ad for its wonderful cities like Udaipur, Jaipur, Jodhpur, Jaisalmer and many others. To experience a rich culture, vibrant colors on the street and majestic old palaces you must visit Rajasthan. Before the summers hit, April is the month when the flight tickets are the cheapest. Hotel rates and even food at places will not be as high as it is during the peak months of September to December.
One way flight to Rajasthan in the month of August will cost you approximately ₹ 3, 950 – ₹ 4,000
Also Read: Mauritius v/s Maldives: The Most Frequently Asked Questions ANSWERED!
5. May – Varanasi
Right before the monsoons come pouring in, visit to Varanasi is a must. In the month of May, the temperature is at the highest pretty much everywhere. So in Varanasi, you can take a stroll in the evenings, eat some of the best street food in the city, experience the majestic Ganga Aarti, touch down to the most beautiful temples in the country. Visit the beautifully lit ghats of Banaras in the evening. Well, you can go silk saree hunting here, pick some traditional jewelry and a lot more! The one-way flight ticket to Varanasi in May is between ₹ 3, 500- 4,000, which is one of the cheapest prices to fly there!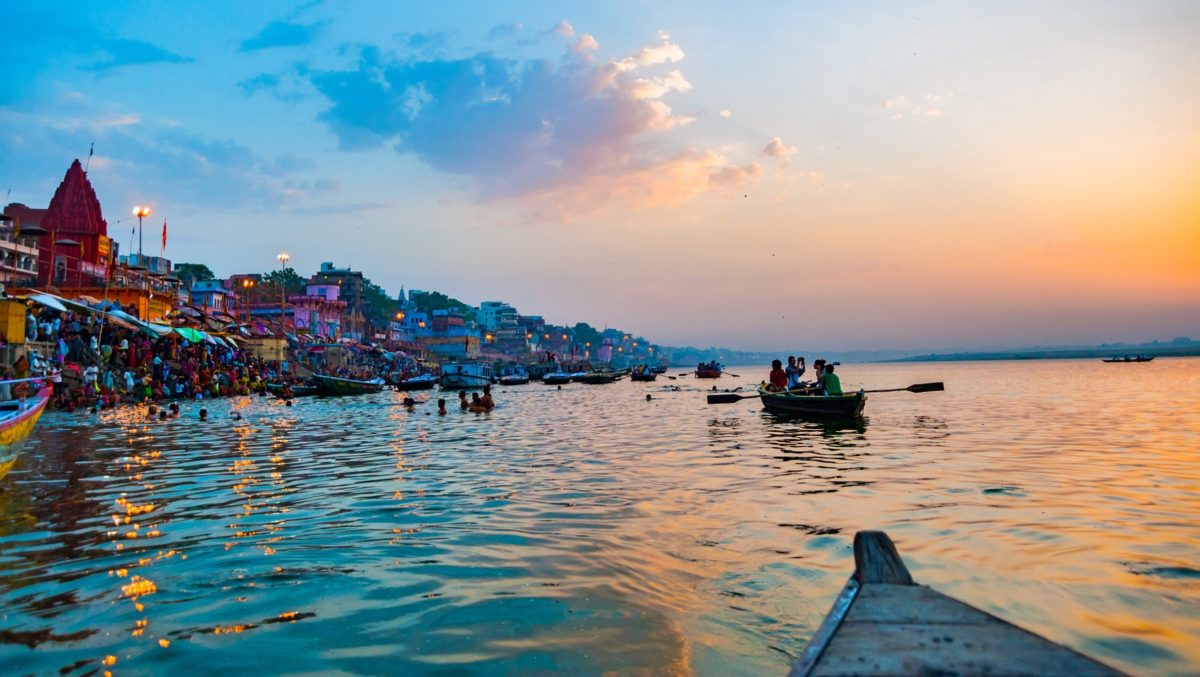 6. June – Mahabaleshwar
Mahabaleshwar is a hill state in Maharashtra which is the cheapest place to visit. It is also one of the go-to spots for Mumbi and Punekar for a quick getaway. It is just 3 hours from Mumbai and is famous for its strawberry farms, scenic view, iconic tourist attraction points, trekking spots and to top it all off, the pleasant weather in the monsoon! The closest way to reach Mahabaleshwar is via a car ride from Mumbai or Pune! These are some of the best places to stay in Mahabaleshwar to make your weekend even better!
Also Read: Here Are 8 Reasons Why You Should Visit Gili Trawangan Near Bali
7. Goa – July
Who said you have to be in Goa only in the winter? Monsoons are great too and we give you not 1, not 2 but 10 whole reasons to visit Goa in the Monsoon! Want to visit the quieter, cleaner and cheaper Goa? And believe it or not, there is more to Goa than beaches! If you like driving, pick a scooty and explore the city in the best possible way. Hit some of the unusual spots! Since it's an off-season time, you will find cheaper travel tickets, cheaper stay in hotels and even cheap food.
The flight prices during monsoon are slashed and you can grab yourself a crazy deal! Round trip will cost you ₹ 4,400 – ₹ 4,600 which is super cheap.
8. August – Coorg
Coorg is located in Karnataka and is a heavenly place to visit around the year. The reason I picked August is that the place will be filled with rich greenery all over as the rains would wash off all the dust. Some of the must-visit places in Coorg are Raja's Seat, Madikeri Fort, Omkareshwara Temple, Abbey Falls, and Raja's Tomb. The one-way flight ticket to Mangalore in August is approximately ₹ 4, 173
9. September – Havelock Island
Many may not be aware of Havelock Island in Andaman, because it is a little paradise that is underrated. It is one place that you must visit in September as the weather is super pleasant, even if the days are shorter, they are absolutely beautiful You can take a stroll on the beach, sit there during sunset and admire the beauty of it and since the nights are longer you can stare at the beautiful sky for hours with your loved ones! And there cannot be a better tie to visit the island as the flight tickets are super cheap! Some of the must-do things are Scuba Diving in the clear waters if Havelock, snorkeling, go beach hopping and even trekking!
The one-way flight tickets for September starts from ₹8,000
10. October – Kanyakumari
Kanyakumari is the southernmost tip of the country and is located in Tamil Nadu. Now Kanyakumari isn't just another destination, this is the beautiful place where you see three oceans-the Bay of Bengal, the Arabian Sea, and the Indian Ocean merging. Some of the places you must visit are Vivekananda Rock Memorial, Thiruvalluvar Statue, Kanyakumari Beach among other places. October is the best time since it is not raining too but and just the perfect pleasant weather to be in Kanyakumari.
The one-way flight ticket to Kanyakumari is approximately ₹ 4, 140
11. November – Pondicherry
Pondicherry is located in the state of Tamil Nadu and it is also known as Puducherry or even Pondy! A part of Pondicherry is known as 'The White Town', as the French people lived here and the beautiful city has an influence of French architecture. Some of the best places to visit in Pondy are Promenade Beach, Auroville, Paradise Beach, Immaculate Conception Cathedral among other places.  Here is our guide from Mumbai to Pondicherry 
One way flight prices to Pondicherry are around ₹ 6, 700
12. December – Hampi
Hampi is a small town in the state of Karnataka and if you are a sucker for temples from the 14th-century, places that are filled with beautiful stone cut architecture and ruins of many other temples, then this is your place to be. Interestingly, Hampi is a UNESCO World Heritage Site but only few know about its beauty. But, if you are not a sucker for temples are architecture, even then it is the best place to visit because there is a whole different side to Hampi! Hippie Island is where all the magic happens, you will find a lot of foreigners, bag packers and people who are just here o chill. To find out what all you can do at this hippie island, watch this video below.
The flight tickets to Hampi are the cheapest in December, they are around ₹ 3,500- 5,500 0ne way!