To all you beautiful married people out there, we know how much your honeymoon means to you. It's not just a vacation for you newlyweds, but it's a memorable time of happiness, adventure and romance as you step into your journey of togetherness. If you're planning on your honeymoon destinations, then let's tell you that India has plenty to offer. Picturesque scenery, majestic mountains, gorgeous beaches, heritage spots, adventure sports and much more. So here's our list of 20 Romantic Honeymoon Destinations in India that are sure to take your breath away.
1. Udaipur
If you've watched Yeh Jawaani Hai Deewani and got wanderlust looking at the scenic spots in Udaipur, then let's tell you that the 'City of Lakes' has plenty to offer. You can have an exotic honeymoon here visiting the marvellous palaces and Havelis, taking a boat ride across the serene waters and just spending some quality time together watching the sunset at the Lake Pichola. Udaipur also referred to as 'Venice of the East' is one of the honeymoon destinations in India that is a must-visit for newlyweds.
2. Pondicherry
Plan your honeymoon to India's French City Pondicherry or popularly known as Pondy. You and your bae can take a romantic walk down the French quarters here which houses charming yellow colonial architecture with bougainvillaea laden walls. Pamper yourself to delicious French cuisine at the cosy cafes and chic boutiques. The spectacular seaside promenade, dreamy French vibes will give you a romantic fairytale-like feeling here in Pondicherry.
3. Coorg
When it comes to honeymoon destinations, what better than a picturesque hill station? Enj0y blissful romantic moments in this beautiful hill station located in Karnataka. You can witness sprawling coffee plantations and gushing waterfalls here. The 'Scotland of India' will surely give your romance the old world charm. Give your romance the adventure spin by going on outdoor activities like trekking, white-water rafting and angling together. We're sure you will fall in love with this hill station.
4. Andaman
If you and your bae are total water babies, then Andaman is an amazing honeymoon destination in India which you must visit. This Union Territory in India offers you secluded islands, gorgeous beaches, historical sites, museums luxurious resorts and a plethora of water activities like snorkelling, water sports, scuba diving and much more. You'd wish your honeymoon never ends.
5. Srinagar
A timeless honeymoon destination right out of the wanderlust postcards, Srinagar is all things romantic. From spending quality time together in the beautiful houseboats, taking a stroll down the Mughal gardens to shopping for traditional Kashmir handicrafts and dried fruits, you can create memorable moments together.
6. Lakshadweep
Lakshadweep is a tropical archipelago of coral reefs and 36 atolls off the coast of Kerala. It is a perfect destination for honeymooners looking to explore secluded islands, exotic aquatic life and going on adventurous water sports. Newlyweds can add a splash of romance and relaxation on their honeymoon here in Lakshadweep. The mystical islands are beautiful even housing majestic mosques like the Ujra mosque.
7. Agra
Immortalize your love by admiring the global embodiment of love, the Taj Mahal in Agra. With Mughal grandeur at its best like ancient forts, palaces and luxury resorts you can actually have your own 'shahi' honeymoon. Agra is definitely one of the most romantic getaways in India. Enjoy a serene holiday with your beloved here.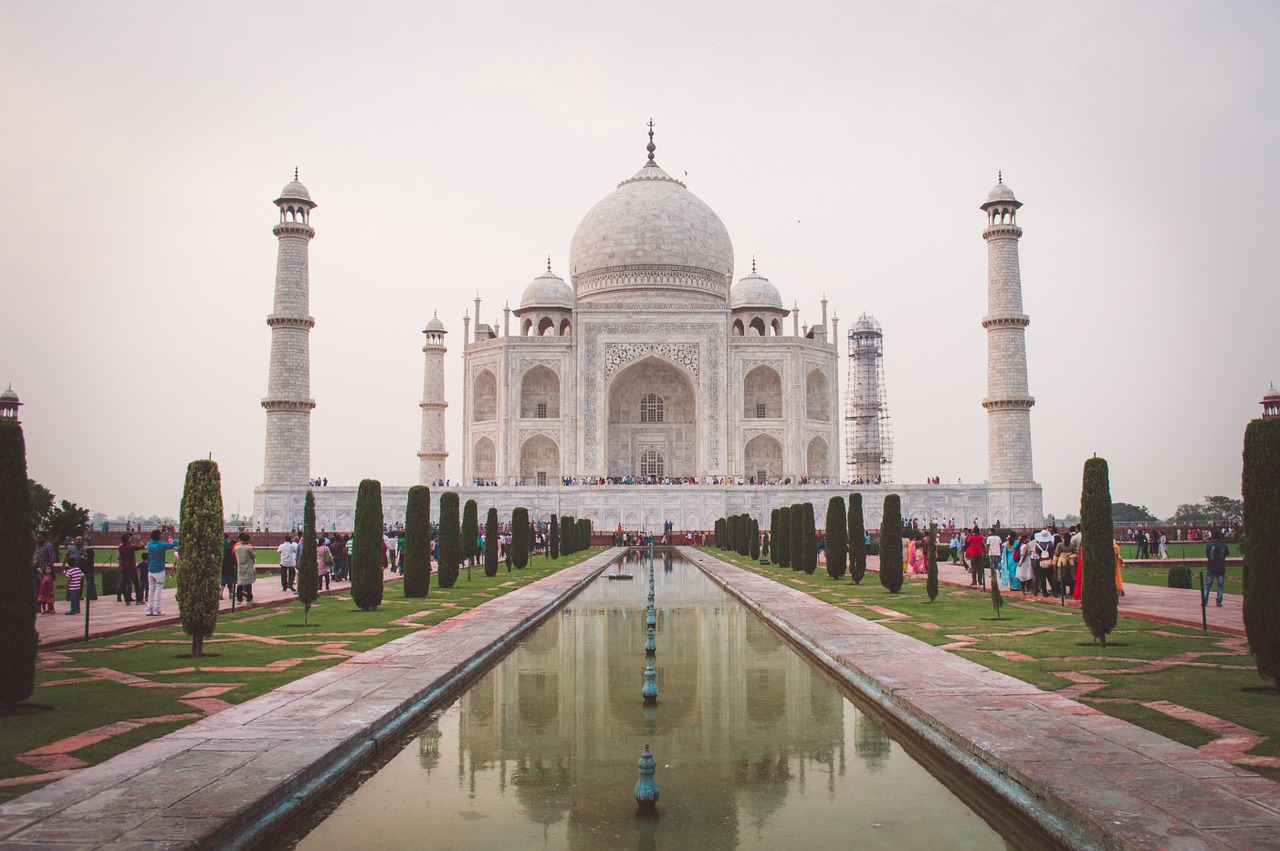 Also Read: Taj Mahal, First Indian Monument To Provide Breast Feeding Room
8. Alleppey
Alleppey backwaters in Kerala is a popular romantic getaway for travellers across India. You and your soulmate have a one-of-a-kind experience here. When you're here, toss that resort stay for a houseboat experience at the backwaters. The beaches, lakesides, palm fringed canals, and quaint villages here make this a wholesome romantic honeymoon destination in India.
9. Manali
Located at an altitude of 2050 metres above sea level in the picturesque state of Himachal Pradesh, Manali is a popular vacationing spot amongst travellers and newlyweds. The sown filled mountain ranges, lush green pine trees, and amazing weather will give you total romantic feels. You will feel like you're having your own romantic moment in a Yash Raj film. When you're here, do opt for adventurous activities like skiing and trekking across the Himalayan ranges here. Honeymooning in Manali will be one experience you will never forget.
10. Tawang
Tawang is one of the less explored honeymoon destinations in India. Nevertheless, it is one of the most beautiful places in the country. Located in Arunachal Pradesh, Tawang is a breathtaking town that perfectly combines natural beauty to spirituality. Start your marriage on an auspicious note by visiting the glorious Buddhist monasteries here. You can also visit the Tipi Orchid Sanctuary and indulge in the delicious local cuisine while you're here. Express your love for your beloved under the sweet cherry blossoms here and capture beautiful moments of togetherness.
11. Ooty
A popular honeymoon destination in India, this hill station in Tamil Nadu must be on your bucket list. Witness tiny cottages, lush greenery, vast Ooty lake and gorgeous pleasure boats here with your beloved. When you're here spark the romance by visiting the iconic Rose Garden which is home to over 2000 varieties of roses. The Nilgiri hills and the beautiful Nilgiri Mountain Railway will surely give your marriage the hill station chills.
11. Mysore
When you think of Karnataka, the capital city, Bangalore would definitely come to your mind. But have you visited the historic capital Mysore yet? Ruled by the Wodeyar dynasty, this is the largest and one of the cleanest cities in Karnataka. What makes this a popular destination, is the quiet serene atmosphere here. It's known for the extravagant palaces, churches, waterfalls, gardens and gorgeous lakes here. It's the perfect romantic setting for honeymooners.
Also Read: Plan Your Next Date With Your Bae At These 10 Romantic Places In Bangalore
12. Matheran
An iconic honeymoon destination in India, Matheran is a favourite amongst couples. What's interesting about this hill station is that it's a vehicle-free city in India. You and your beloved can go on a romantic journey on a horse carriage or a cycle rickshaw here. And while you're here visit the majestic forts, scenic viewpoints, gorgeous colonial houses and exotic species of flora and fauna.
13. Puri
A spiritual romantic honeymoon destination in India, Puri has soulful experiences to offer. A world-famous Hindu pilgrimage site, the Jagannath Temple is a must-visit place for newlyweds to pay reverences to the Lord. While you're here visit take a stroll down the beautiful beaches and go shopping with your loved one. You will be lucky to catch up on some of the vibrant fairs and festivals here.
14. Leh and Ladakh
One of the most surreal and romantic honeymoon destinations in India, Leh and Ladakh is perfect for you and your partner if you both are adventure fanatics. Go trekking along the rustic mountains, sit by the gorgeous lakes and immerse yourself in the Buddhist culture here. This would be you and your bae's honeymoon paradise.
15. Goa
What happens in Goa, stays in Goa. A honeymoon in Goa with your bae would be a crazy one. From water sports, drinking adventures, lazing by the picturesque beaches, relaxing at the luxury resorts, gorging on scrumptious continental cuisines, you can tick off your wishlists at this one spot global favourite destination.
16. Rann of Kutch
If you're up for a magical honeymoon, then do visit the Great Rann of Kutch, a salt marsh in the Thar desert of Gujarat. This is one of the largest salt deserts in the world. The twinkling stars on a full moon night here at this glittering sal marsh desert is truly nature's wonder. You can also visit cultural and historical spots like the 4500 years old Dholavira, which is one of the largest excavations of the Indus Valley civilization. Explore the Kutch Museum which is one of the oldest museums in Gujarat, you will be spellbound to witness beautiful tribal artefacts and ancient coins here. Rann of Kutch offers you natural and historical beauty like no other.
17. Shimla
One of the most iconic honeymoon destinations in India, Shimla is a must-visit place for honeymooners. While you're here kindle your romance by trekking along the snow-clad mountains and go for mountain activities like ice skating and skiing with your better half. You can also visit the famous church in Shimla where people believe that all your prayers will get answered. So what better way to start your married life right?
Also Read: Honeymoon Experience: Get Super Romantic & Cozy in an Igloo!
18. Kumarakom
If you're looking for a secluded honeymoon spot so you can spend quality time in the arms of your beloved, then Kumarakom in Kerala is just the place for you. You can have a relaxing honeymoon experiencing the beauty of the lagoons and backwaters of Kerala in your own little houseboat. Go bird watching with your partner at the Bird Sanctuary here and watch the sunset at the Vembanad Lake to experience true serenity and tranquillity.
19. Alibaug
Famously known as 'Mini Goa' this coastal town in the Konkan region of Maharashtra is famous amongst honeymooners. Adventure enthusiast couples can spend an exciting time visiting historical sites like the Kolaba Fort, Portuguese built Korlai fort and the island fort of Janjira which has high walls and turrets. Apart from this honeymooners can have a romantic time at the gorgeous beaches here and even go for adventurous activities like scuba diving, kiteboarding, jet skiing and kayaking.  A little spark of adventure can do wonders to your honeymoon!
Also Read: Romantic Stay In Goa With A Jacuzzi In The Balcony At Adamo, Goa
20. Hampi
The UNESCO World Heritage Site, Hampi situated in Karnataka is one of the best honeymoon destinations in India. Create innumerable special moments here with your bae as you explore the historic ruins, cycle along the breathtaking township, stay at the quaint homestays, gorge on delicious global cuisine and immerse yourself in the wonders of this ancient forlorn ruins. Hampi offers you the space to discover the beauty and romance in one another amidst the background of rich picturesque ruins. This place must be on your bucket list of romantic places to visit in India.
Now that we've given you our list of amazing honeymoon destination in India, do check these out and make your plans with your bae.