The long weekend is just around the corner, but we have some 'not so great' news for you! In case you're planning to pitch a tent at RAK or Fujairah, you might have to make alternate arrangements. Authorities have announced a camping ban over the weekend in Fujairah, covering all parts of the emirate.
The Emergency Crisis and Disaster Team in Fujairah has banned camping in the emirate this winter. The move comes as a precautionary measure to curb the spread of Covid-19. The ban includes tents, caravans and other types of camping in the emirate, over the winter. However, UAE Residents & Citizens Can Now Camp On Jebel Ali Beach; Permits Required.
Fujairah's scenic sights are a popular camping site in the UAE. And with the 5-day long weekend around, the new ban will affect camping plans of residents. Violators will face stringent fines and penalities. Any tent, camp or caravan will be demolished or removed with immediate effect.
In addition, camping is also banned in Ras Al Khaimah. The northern emirate put out a ban in back in September. However, as per the Ras Al Khaimah Tourism and Development Authority, the ban is still in effect.
Besides, ahead of the long weekend, Christmas and New Year, UAE authorities have issued strict ban on gatherings. As per the new rules, all celebrations must be held virtually, no gifts or food must be exchanged and concerts that last for more than three to four hours cannot be held without prior approval.
Hassle-Free Camping Experience In the UAE
While camping is fun, the planning and the leg work that come it can bog you down. Not anymore! Campr in UAE is here to let you experience a hassle-free camping, so you can just focus on the good bits. Just be sure to keep the latest Covid-19 restrictions and testing requirements in mind.
Started by South African couple, Christine and Schalk in September 2020, Campr is the answer to a hassle-free camping in UAE. The process is super simple. You just have to book online a few days in advance, you can pick the place you'd like to camp in. This can in the desert, the wadis, or the beach and Campr will take care of the rest. All you need to do is show up with your food, bevvies and your bedding!
Also read: Camp In A Quirky Caravan, With Your Very Own Terrace & Barbecue In This Picture-Perfect Beach In UAE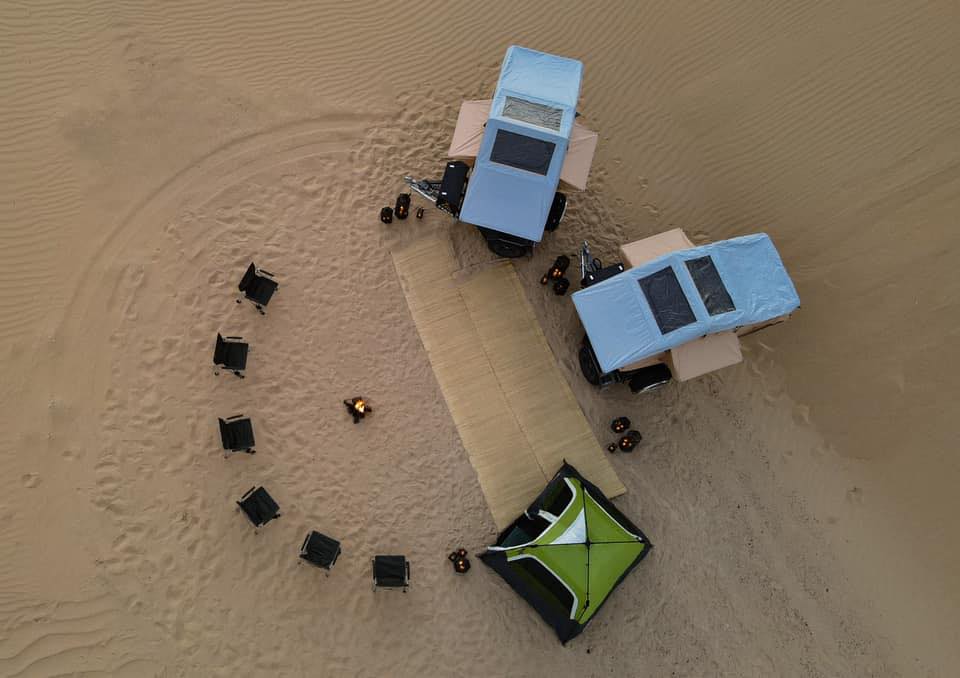 How Does It Work?
Once you pick your location, Campr will do all the leg-work for you. The tents can sleep two or four people, for a one night's stay. The team will pick the location and also set up everything you need for a perfect camp night- from tent to barbeque and more. They will then send you the location and you can arrive with your gang for a perfect evening in your favourite location.
https://www.instagram.com/p/CGHi7ohJYBB/?utm_source=ig_web_copy_link
What's The Cost?
This completely depends on what you pick. Tents can be set up for two, four, six or even groups of up to 12 people. The CAMPR 2- 1 NIGHTR is priced at AED 950 and goes all the way up to AED 2000, depending on how many people you want to camp with,  and for how long. Read on for more details. 
Also read: A List Of All The Camping Sites Now Open In The UAE