'Age is just a number' – we've heard about this phrase quite often. But not everyone believes in it. So we recently met a lady in Delhi's Karampura area, Dalbir Kaur who is 65-years-old. And she is a walking example of the fact that age doesn't define what you can do and what you can not.
What Is It
Dalbir Kaur, popularly known as 'Aunty ji' by many, runs her own dhaba which was initially called 'Punjabi Food'. Recently, we were passing through the lanes of Karampura and spotted large number of people eating at a roadside dhaba but there was no board where we could find the name of the place. So we decided to go there and see it ourselves. We saw an old lady making paranthas in a kadhai with a bright smile on her face and serving it to people.
Also read: Ghar Jaisa Khaana At Supermom Rajni Stall In Ashok Vihar, Delhi
We've never seen anyone before who makes parantha in kadhai so we asked her about the reason behind this unique cooking style. She said that when we make it on regular tawa, then there are chances that the corners of the parantha remain hard. While in kadhai, it cooks well. Also, when we make parantha in kadhai, it creates almost zero smoke unlike tawa.
By hearing this, we couldn't resist asking her that if she's doing it to run her family or some forcedness, and to our surprise, she told us that I'm doing it out of my passion for cooking and feeding people. Here, she melted her hearts.
This Is Her Story
At the age of 65, where people are usually dependent on their children, Dalbir Kaur is earning her bread by working day and night. She has two sons who work with Uber cab service and are earning well for their family but it was her wish to cook and feed people at this age instead of sitting at home and doing nothing.
Around 4 years ago, she told her sons that she wants to do something of her own. And fortunately, they supported her and helped her in setting this dhaba. Earlier, she used to cook everything herself from paranthas, chapatis to other vegetables like – Rajma, Kadhi, Mix vegetable etc. But with time, people from nearby offices and college students started coming every day and her dhaba became quite popular in the area. Today, she has 2-3 helpers who help her out with the work.
This dhaba is setup with two tables and wooden benches where people sit and eat the thali lovingly made by their aunty.
Dalbir Kaur handles everything by herself, from buying vegetables every day to chopping them, deciding the menu and finally preparing it all. She is a one-man army.
Interesting thing about her menu is that it keeps on changing on daily basis, since she has many regular customers now who come by every day. Most of them are people who stay away from their family due to work or some other reasons. They come here to have home-cooked meal which reminds them of their homes.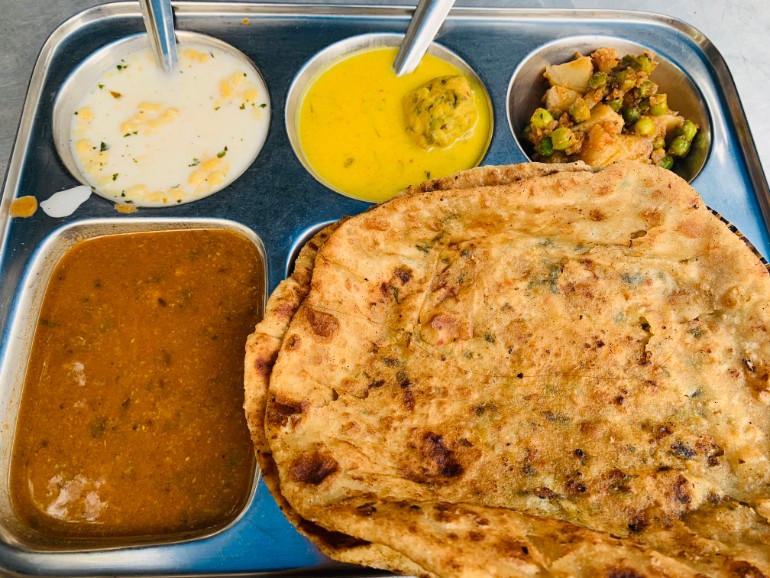 Also read: 5 Garma Garam Street Food Dishes In Delhi To Indulge In This Winter
Talking about the cost, Dalbir has kept the cost of her thali very low starting from ₹40 which has 4 chapatis, 2 vegetables and raita. And trust us, it's so fulfilling and satisfying that it will make you call your mom instantly. Yes, the food is THAT tasty.
Every day, she comes here around 9 am and starts her day with chopping vegetables. And from then on, she stands there, cooks food till 11:30 pm without taking a break. The one thing that surprised us was that she had multiple surgeries and operations in past and today, she doesn't even have a gallbladder but it was her will that made it all work.
What Do We Think
Meeting Dalbir Kaur changed our perspective about passion. She is a free-spirited happy woman who doesn't care what people think or say about her. It's her passion and love for cooking that comes first. It takes a lot of courage to pursue your passion and do something for yourself at this age.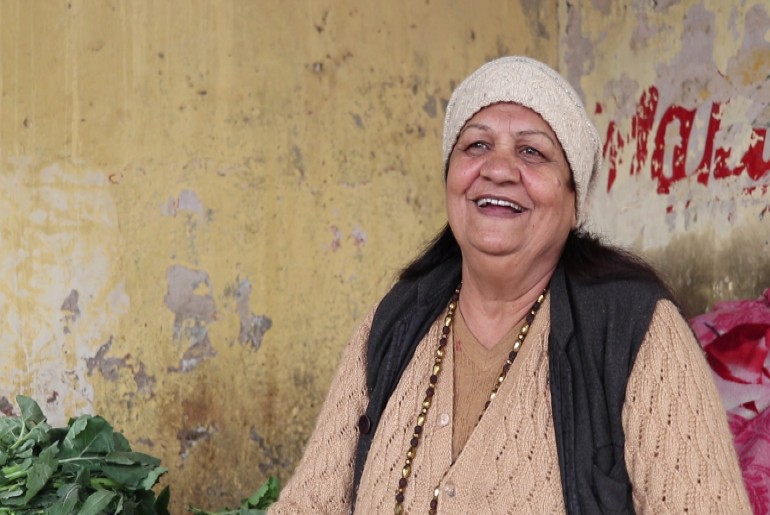 Also read: Anna Cafe Opposite NIFT In Delhi Serves The Best South Indian Street Food In ₹30!
It's women like Dalbir that we need in our society, who stand up for themselves and do it any way.
The size of her dhaba may not be that big, or have cozy seating but it's her happy face, kind nature and tasty home-made food that wins everyone's heart.
Deets:
Address: Milan Cinema Rd, New Moti Nagar, Karampura, Delhi 110015
Timings: 10:30 am to 11:30 pm
Cost for two: ₹80/-