Delhiites, you can now dine on gourmet food inside an Insta-worthy double-decker bus. The bus named Food Bus India has come up in Delhi's Rajendra Place and it is rolling out a plethora of mouthwatering dishes from all over the world. This is the first-ever double-decker dining bus in India. To ensure the safety of the customers, the bus has separate booths that are spacious enough to fit in a large group or a family. You can board on this bus and tuck into a variety of street food from Europe and Asia. The menu also features handmade pizzas topped with freshly ground spices and vegetables. Excited already? Read on to know more.
Gorge On Delish Food On The Go In A Quirky Double-Decker Bus
The double-decker bus, Food Bus India is bringing a unique dining experience with multiple cuisines under one roof. While the concept is already popular in foreign countries like the UK, restauranter Surajit Singh has now launched it to India too. Speaking about the concept, Singh said, "To bring this new age double-decker dining in the Indian market it took all about 12 months of planning and 12 months of execution. It started from the days my son Sukhraj Singh went for his post-graduation studies in the UK, where he saw this unique concept booming in their market." Singh added that his son inspired him to introduce the concept in India. Diners need to purchase tickets for ordering food inside the bus.

Also Read: This Cool Food Truck In Gurgaon Has A Rooftop Seating To Devour Mughlai & Rajasthani Food
New Age QSR Format Will Ensure Smart Serving Of Orders
This brand new concept can be a game-changer for the hospitality sector in India. The bus will also be equipped with a new age QSR format, where the family and friends coming won't be waiting for long hours to get their first meal or snack. It will have a new way of giving food or starters which will be served quickly and smartly without killing customers' time and moment. The fascinating concept can soon become a major crowd puller in the city and set a benchmark for other cafes too.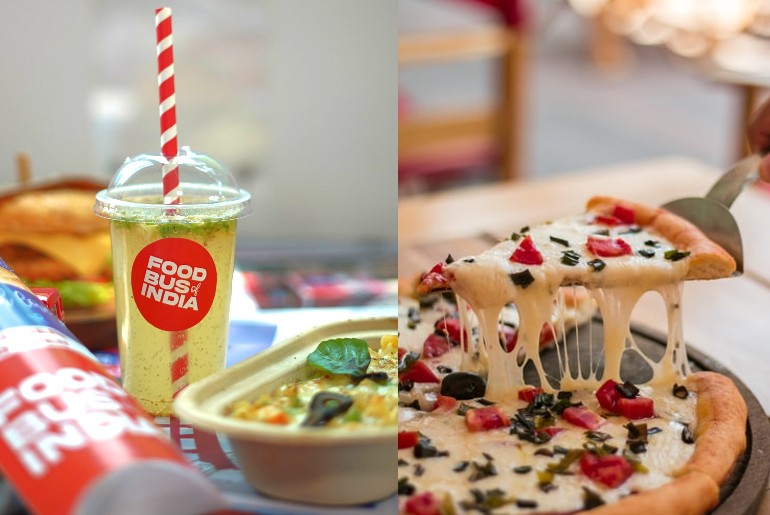 Also Read: Namaste Asia Offers Hidden Flavours Of Asia Like Truffle Mushroom Bao & Fresh Prince Sushi In Delhi
Dining on wheels never got better than this. Agree?