We've heard about kaju barfi, besan ki barfi, badam barfi, ghiya ki barfi and even chocolate barfi. But have you ever come across a  Bournvita Barfi? Bournvita instantly evokes nostalgia. And while we all love the chocolate-flavoured drink, a Delhi vendor has decided to give it a twist with dry fruits and ghee and whip out Bournvita Barfi. The fusion mithai was shared on social media by Arjun Chauhan. He shared a 15-second-long clip that showcases the preparation of barfi. The vendor adds cashew paste and then blends it to the Bournvita. He then adds ghee and dry fruits to the concoction and cooks until it takes shape. The vlogger wrote, "Ever tried Bournvita Barfi?"
View this post on Instagram
Another Street Vendor Whipped Parle-G Barfi
A food blogger from Delhi named Karan Singhal recently went ahead and made this unique barfi variety by frying Parle-G biscuits in desi ghee. He uploaded a video, unveiling the procedure to make the barfi using ingredients like Parle-G biscuits, sugar, water, milk powder and dry fruits. The video grabbed mixed reactions from the internet.
Also Read: Inspired By MBA Chaiwala, This Masters Graduate In English Opens Tea Stall In Kolkata
Parle-G Barfi Topped With Dry Fruits Grabs Mixed Reactions From The Internet
Food blogger Karan Singhal with Instagram handle 'Thefoodattacker' keeps uploading recipe videos of quirky snacks and sweets. Thanks to his mind-boggling recipes, he has garnered over 186K Instagram followers. While most of his preparations make foodies drool, his Parle-G barfi creation is not going well with some netizens. To make the barfi, Karan used desi ghee, biscuits, sugar, milk, milk powder, water and dry fruits. While some netizens expressed displeasure over the recipe, some others wanted to give it a try.
View this post on Instagram
How To Make Parle-G Barfi Recipe?
To make the dessert, Karan first fried Parle-G biscuits in desi ghee. He then made a paste by grinding the fried biscuits. He then took another bowl and poured milk and milk powder into it. Karan then made sugar syrup and added the milk powder paste and Parle-G paste to it. He gave a good stir to everything in a cooker until the ghee started oozing out. In the next step, he transferred the mixture to a plate and garnished it with dry fruits. Cutting the semi-solid mix into square pieces, Karan made 16 pieces of the special barfi. While the making process might seem wacky, we must admit that the end product looks gorgeous.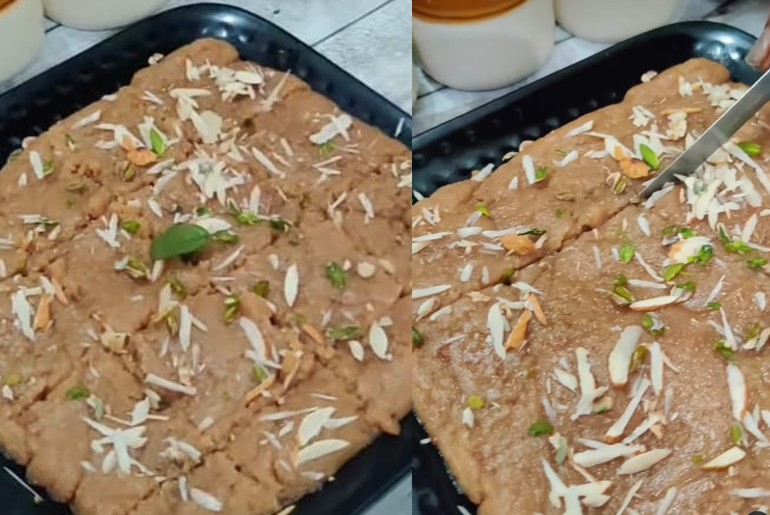 Also Read: Woman With Sweet Tooth Travels 200km Just To Try Viral Dessert & Foodies Can Totally Relate
Would you also try this recipe at home? Let us know in the comments section below. Meanwhile, This Chai Biscuit Popsicle Made With Parle-G Biscuits Had The Internet Brimming With Curiosity.