We are on the hunt to compile some great winter spots in Dubai to explore. And to our revelation, we have found our next destination. Dubai is called a bustling city but after a certain point, you want some solace. So if you are someone searching for something similar we have a plan. It's time to sport your walking shoes and set strolling towards Nad Al Sheba's mini forest trail.
Escape In The Forest Trail Of Nad Al Sheba
View this post on Instagram
Nad Al Sheba is a family favourite destination in Dubai. The mini trail that resembles a forest is not a major area. It's just a 2.5 km approx area covered with long trees to transport you to an ideal nature escape.
Every year, the local government works to make this desert metropolis greener and more environmentally friendly. In Dubai, winter is a great time of year with beautiful weather, flowers lining the streets and public spaces, and sporadic light showers.
Visit a remote, little area that was utterly naturalistic right in the centre of the city.
Also Read: Dubai Has An Indoor Tropical Rain-Forest
This Is The Closet Forest In The Desert Land Of Dubai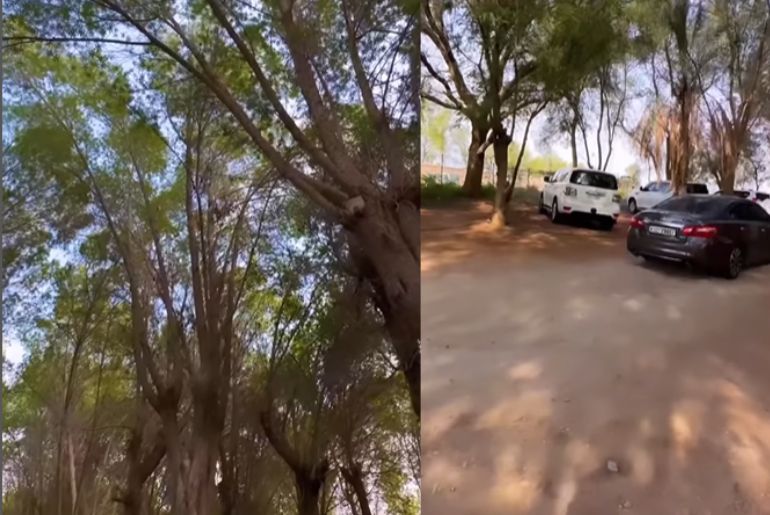 Just park the car at the entrance and get going towards the trail. We suggest wanderers take their family and friends here for a picnic. It's hardly 30 mins far from the city centre and makes it a convenient one-day trip.
There are many things to explore through the trail like puddles, mushrooms, trees, butterflies and more.
So if you are planning on visiting any picnic spots in Dubai then this could be it!
Cover Image Courtesy: Wikiloc