Disneyland Paris announced a phased reopening of the theme park from 15 July. As part of phase one, Disneyland Park, Walt Disney Studios Park, Disney's Newport Bay Club Hotel and Disney Villages will reopen. However, only visitors above 11 years will be permitted entry and all guests must wear facemasks at all times.
Meanwhile, here's when the Eiffel Tower will reopen.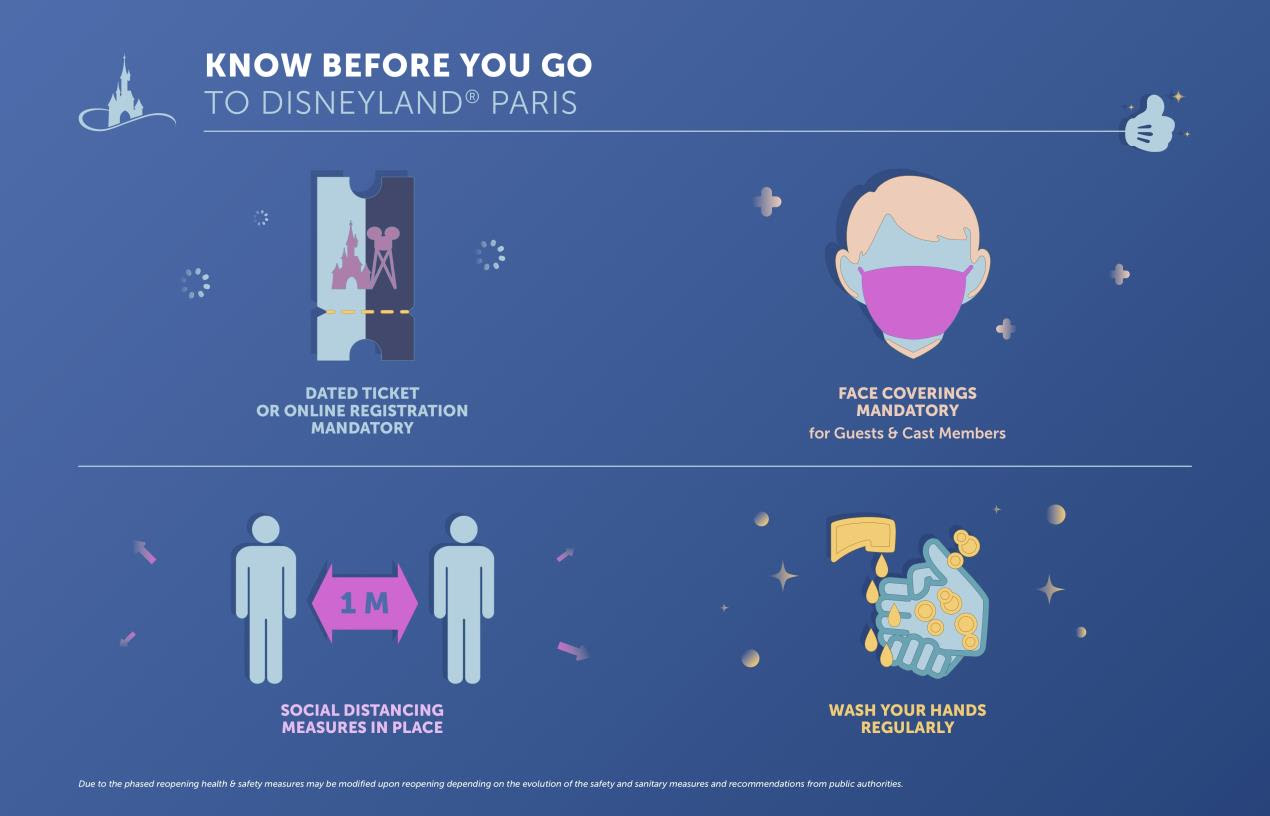 As for the Disneyland resorts, the first batch of resorts will reopen on 15 July and the rest will be spread across the summer months. Here's a list of hotels and their reopening dates:
Disney's Hotel Cheyenne- 20 July
Disney's Hotel Santa Fe – 3 August

Disneyland

Hotel- 7 September
Disney's Sequoia Lodge Hotel and Disney's Davy Crocket Ranch will remain closed during the summer with reopening dates announced at a later time.
On that note in case you plan a trip to Paris, take a look at how Kamiya Jani Visited The World's Most Romantic City – Paris In 4 Days.
Safety Measures And Experience
Same day tickets will no longer be available. There will be limits on attendance and guests must make advanced reservations. Some experiences, shows and events will not be available or may be modified upon reopening.This includes offerings such as Disney Stars on Parade and Disney Illuminations night time spectacular which will return at a later date.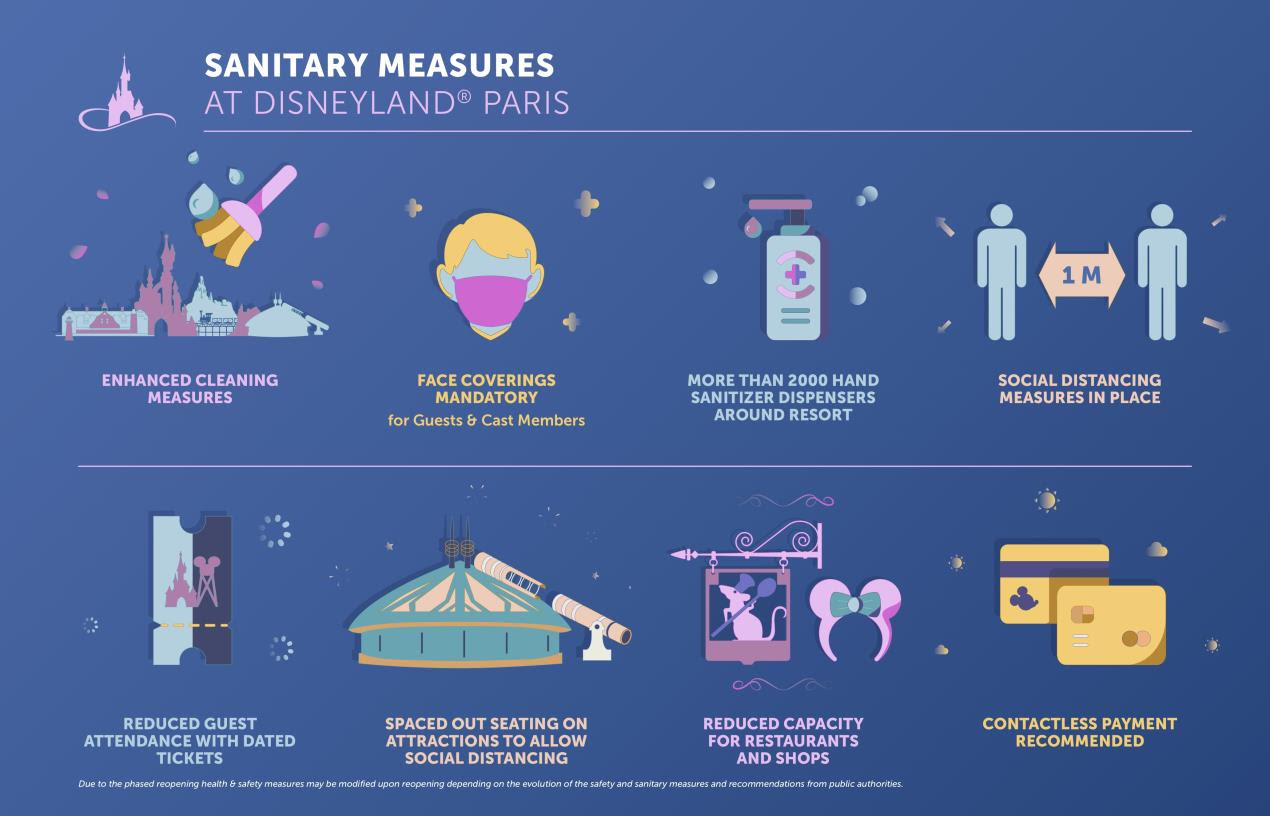 Besides, top entertainment shows like The Lion King: Rhythms of the Pride Lands and Jungle Book Jive will return later in the summer. While Character meet and greets will be temporarily unavailable, characters will be in the parks in new ways to entertain and delight guests.
Other experiences such as playgrounds and makeover experiences will remain temporarily unavailable.  Additionally, FASTPASS services will be suspended in order to allow for the necessary queue management on attractions.  Cast Members and guests ages eleven and older will also be required to wear face coverings while at the resort.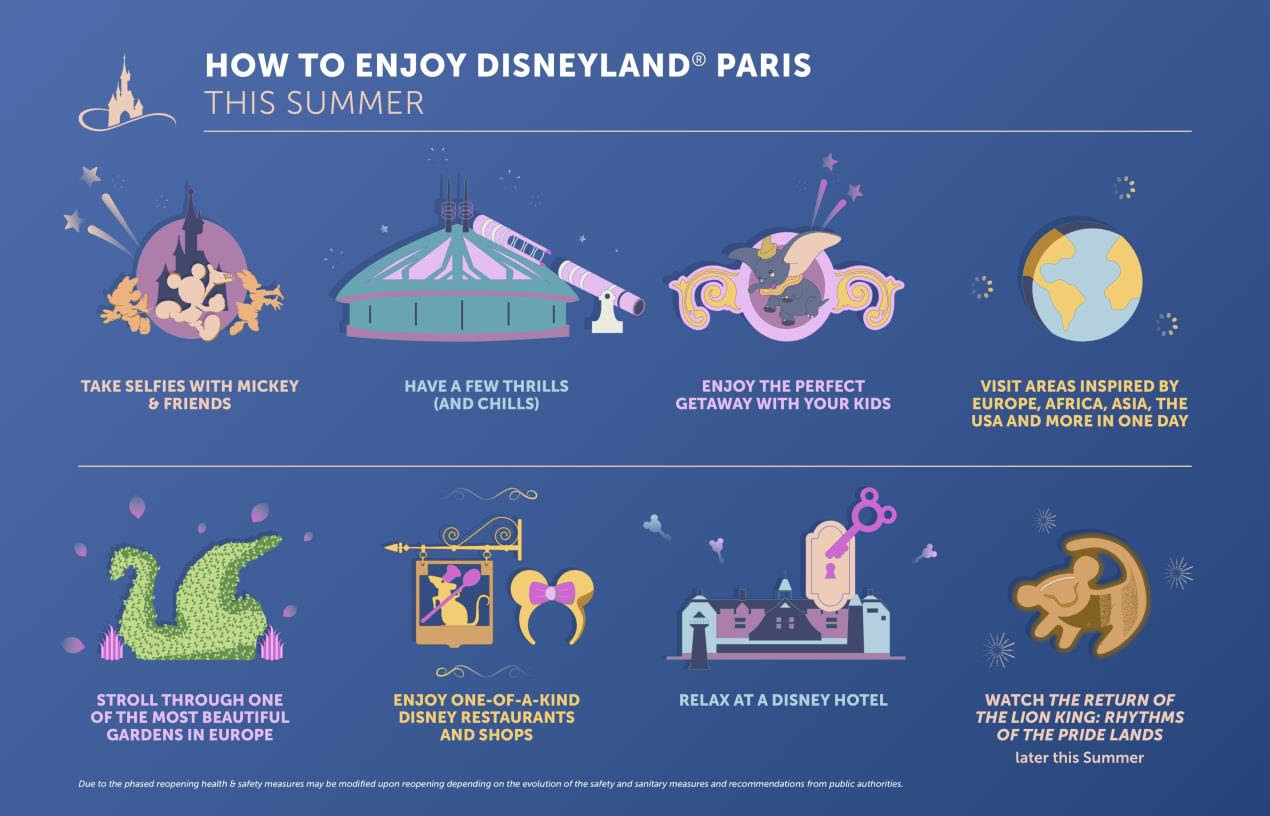 Ticketing And Reservation System
Disneyland Paris welcomes guests back with a limited number of tickets available each day during the initial reopening. A new online reservation system will be available in early July. To ensure admission, guests in possession of or buying non-dated tickets, and Annual Pass holders, will need to register on a new online reservation system to obtain a reservation for park entry prior to their arrival.
Guests who already have a dated ticket, do not need to register and reserve a date.  Likewise, guests with packages that include park admittance will receive admission for the duration of their stay and do not need to use the new online reservation system.
Tickets and packages are now on sale on the resort's website, with a limited number of tickets available each day during the initial reopening phase. Ticket sales will not be available on site.
To provide guests with maximum flexibility, new booking conditions are now available to include cancellations and modifications without fees (excluding transport), on stays in the Disney Hotels anytime up to seven days before the arrival date. Specific details are available on disneylandparis.com.
Other Precautions In Paris
Apart from social distancing and constant sanitization, restaurants in Paris are also leaving no stone turned in providing tourists a safe experience. In one such attempt, a Parisian restaurant has suspended plastic shields over individual diners for a safe and futuristic-looking dining experience.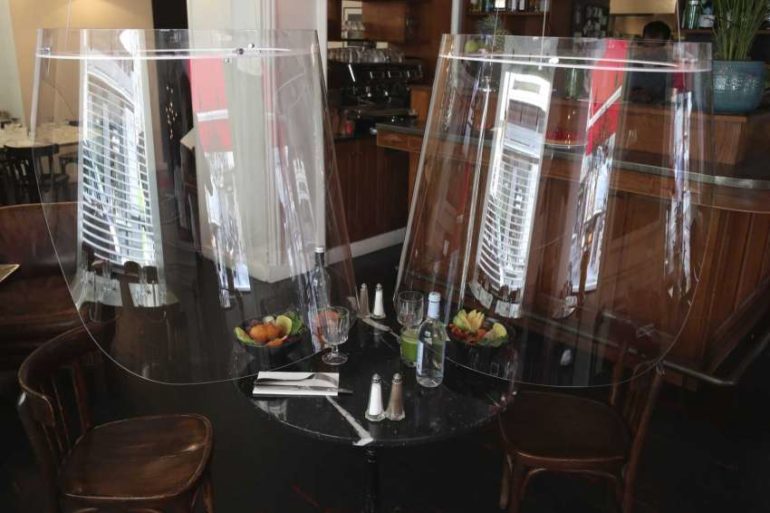 Parisian restaurant H.A.N.D. has come up with a rather unique solution to keep its patrons safe. The restaurant has installed clear plastic shields around the dining table. These shields hang from the ceiling and surround each diner, thus ensuring a safe and social-distancing-approved dining experience.
The plastic shields are a prototype called Plex'Eat and are made of plexiglass. They've been specially created by French designer Christophe Gernigon. Gernigon was inspired to create the design after he visited a store in Bangkok where 'people would sit and listen to music in three individual chair domes'.
Mathieu Manzoni, director of H.A.N.D., thinks that the plastic shields are "pretty" and "more poetic" compared to other solutions to keep diners safe. According to him, this model is not just aesthetically pleasing but will also allow restaurants to maintain existing capacity.
Currently, the Parisian restaurant is just testing the design and is the only restaurant showcasing it. However, according to The Sun, other restaurants have been intrigued by this model too. So we might soon end up seeing this design in other places too.
Meanwhile, here's how restaurants across the world have changed their dining trends to suit the situation: