The future of coffee is here in Dubai! A cool new robot cafe now attracts diners at Dubai's Festival city mall. Aptly named the Robocafe, the store does not have any human intervention and is run by robots. How cool is that! Also, did you know Singapore Uses 'Robot Dogs' To Follow Social Distancing Guidelines In Parks & Gardens.
How Does It Work?
Coffee lovers can now drop by to grab their favorite cuppa from robots. However, don't imagine too far! Unlike what we imagined, the cafe does not have robotic humans walking around to deliver food.
The cafe is run by three robotic arms, efficient enough to operate in fixed directions to deliver food and beverages to the customers.
So how does the whole thing work? Its simple! The whole concept is completely contactless and has zero human intervention. All you need to do is enter he cafe, grab a seat in one of the futuristic furnitures, and place your order through the tab. The robotic arm will then pick and prepare you food. Once your food is ready, a smaller robotic arm carefully brings it right to your table. On the menu, diners can find all the regular stuff that a cafe sells. Coffees, hot chocolate, wraps, pastries- the robots can prepare it all!
And that's not all! The robotic arms are also trained to perform dance and musical shows to entertain foodies while they binge.
We are as curious as you are, so watch out this space for more details in the near future. On that note, Cavalli Club Has A Plush New Bar Fully Operated By Robots.
Also Read: Swiggy, Zomato, Dunzo Get Permits To Test Drone Delivery
Robots Make Cocktails And Carve Ice Balls In South Korea
As South Korea transitions from intensive social distancing to 'distancing in daily life', its bars and cafes are using bots as a means to reassure as well as attract customers. These robots are making cocktails and are carving perfect ice balls, all in the fraction of the time it takes a human to do the same things.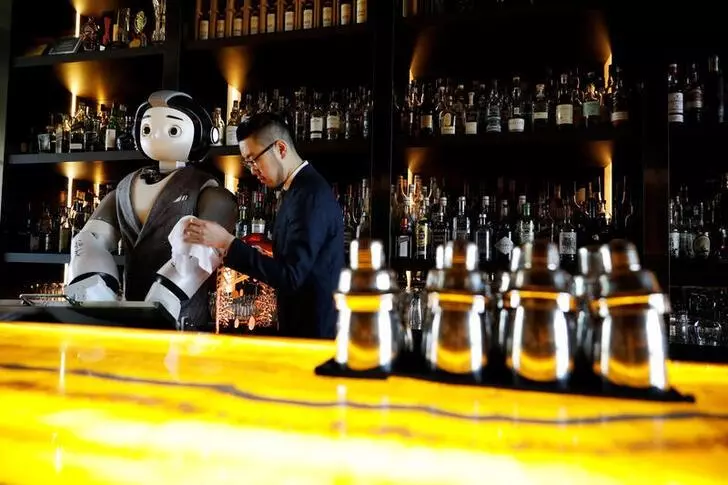 According to a Reuters report, in Coffee Bar K in Seoul, Cabo, a 6-foot-tall robot has taken over as bartender. Not only does he work efficiently, but also describes his actions to the patrons. Carving ice for a whisky on the rocks behind the bar, he says in Korean, "Do you see this? A beautiful ice ball has been made. Enjoy some cold whisky."
While the robot made his debut in 2017, his presence is acting as a reassuring factor for customers. As bars all over South Korea look to encourage customers to return to entertainment facilities after the COVID-19 outbreak, these robots make for a comforting sight.
Also Read: Bangalore's Robot Restaurant Will Take You To The Future
At another coffee bar in Seoul called Cafe Bot Bot Bot, a robotic arm shakes up mojitos and other cocktails. It's manager Kim Tae-wan points out that this robotic arm, called the 'drink bot', can provide a consistent quality to their mixes. Something that human bartenders can't do.