The Air India Express flight IX 1344 from Dubai to Kozhikode had 184 passengers along with 6 crew members. There weren't just people on the flight on July 7. There were pockets of dreams, stories, struggles all cooped up together, with no knowledge that a perfectly functional flight, in a flash of a second, could end up in debris. Stranded tourists, people who lost their jobs, residents with expired visas, infants, people who were to get married were among those who got caught in the tragic crash in Kozhikode. A crash that shook the country.
Pilot Deepak Sathe Was Proud To Be Part Of The Vande Bharat Mission
The Kerala government announced that the death toll of the Air India Express Dubai to Kozhikode crash stands at 18. Pilot Deepak Sathe and co-pilot Akhilesh Kumar are among the deceased. Air India pilot and retired IAF Wing Commander Deepak Sathe made three rounds of the airport to empty the fuel. This saved the plane from catching fire. He bravely turned off the engine right before the crash and belly-landed after the 3rd iteration. The pilot martyred but saved the lives of his co-passengers.
When he partook this Vande Bharat Mission to bring back stranded Indians from Dubai, he was proud of what he was part of. He even mentioned to his cousin, Nilesh Sathe that he was honoured to bring back his countrymen from stranded in Arab countries. If everything had gone right that day, Deepak Sathe would have called his mother to wish her on her 83rd birthday. But unfortunately, the conversation where he told his mother to take care of herself and not venture out due to the coronavirus, remained their last.
Co-Pilot Akhilesh Kumar Would Have Been A Father Soon
His co-pilot Akhilesh Kumar would have been a father within the next few days. He told his wife, Megha to take care and that he'd call her once he reached Kerala. Well, he did reach Kerala, but as a martyr, that saved many lives but during the course, lost his own. A death, a tragedy doesn't just amount to one person's loss. It's the loss of a family, a community, and even the entire nation.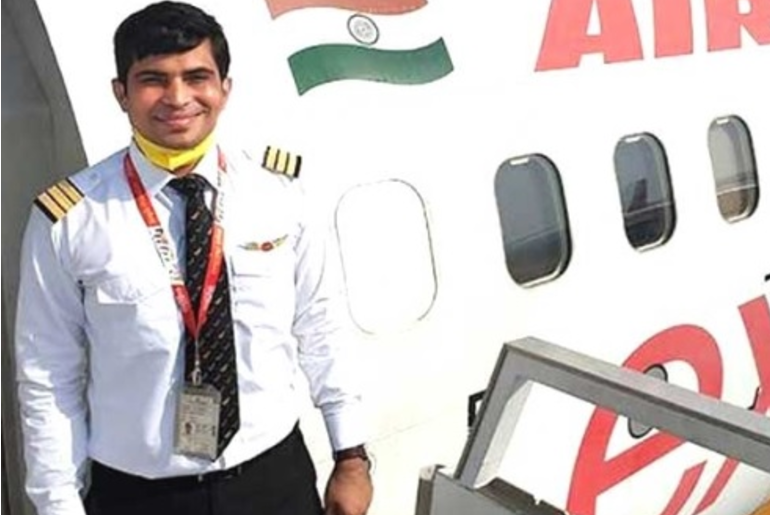 Also Read: People Must Not Pay Higher Fares For Vande Bharat Flights When Booking With Travel Agents: Govt
The pilots were proudly part of the Vande Bharat Mission that helped bring back stranded tourists, people who lost their visas, jobs, those returning for marriages and even medical reasons from Dubai to Kozhikode. ThePrint reveals that 16-year-old Abhinandan's father worked as a tailor in Abu Dhabi. For the safety of his health amid the pandemic, the family wanted him back home. Right now, they are in shock with what happened, but since his father isn't seriously injured and is receiving treatment for fractures in his leg and injuries on his hands at the Maitra Hospital in Kozhikode.
Ravishankar, His Wife & 3-Year Old Daughter Tara Are Left Injured After The Plane Crash
Mohammed Mustafa, 28 years old, worked at a juice shop in the Middle East. He lost his job due to the pandemic and couldn't get a salary for the past 9 months. Today, he undergoes treatment for multiple fractures at Baby Hospital. Parameshwaran, his brother, Ravishankar his wife, Tara and daughter Ayana were also on the flight returning back home from Abu Dhabi. The 30-year old Parameshwaran was returning home for his marriage on September 10. The flight crash injured his spine, leaving him to undergo spinal surgery. His brother, Ravishankar has to undergo thigh bone surgery. Ravishankar's 3-year-old daughter, Tara has to also undergo surgery but fortunately is not in a serious condition.
CP Rajeevan's Sister Kept His Favourite Food Ready, But Alas He Passed Away Due To The Crash
When we know our loved ones are finally returning home we'd do everything to make them feel special. Cook their favourite food, keep their room neat and cosy. Well, that's exactly what Rama, C.P. Rajeevan's sister did, awaiting his return from Dubai. She kept his room ready and even cooked his favourite food awaiting his return. Alas, he never returned. He was one of the deceased from the Dubai-Kozhikode plane crash. C.P. Rajeevan, a 61-year old welder in Dubai was returning back to look for a groom for his elder daughter.
Also Read: Indian Student On Tourist Visa Who Was To Join Family In UAE Offloaded From Flight To Dubai
His alarming blood sugar levels, salary cuts were some other reasons why he decided to board the flight and return back home to his family. His sister, Rama sobbed uncontrollably and spoke to ThePrint. She revealed that her brother called from the airport and told her that he would reach by night. He asked them to keep a room ready for his as he'd have to undergo quarantine.
Also Read:Expat In Dubai Pays AED 68,000 For Flight Of 61 Indians In Memory Of Late Son
 Passengers Were Returning Back To Kerala From Dubai Due To Marriage, Job Loss, Expired Visas & Health Problems
Rajeevan told his family to stay safe and keep their surroundings clean to fight the virus. She remembers him to be a kind and caring soul who always looked out for his family. Rama and her family even kept Rajeevan's favourite food ready for him. And when the flight crashed, it took away the lives of 18 people, leaving many others injured and their families in complete shock. Job loss, marriage, expired visa, medical conditions, every passenger on that flight had a reason to be there. They had their own stories, struggles, dreams and goals. We sincerely pray and hope for the peaceful depart of their souls and the speedy recovery of the injured passengers who survived the plane crash.