Running out of data? No worries! Soon, Dubai taxis will provide free wifi fo riders, thanks to RTA's new scheme. The Dubai RTA has now announced that all Dubai taxis will be equipped with free Wifi, so riders don't worry about being stuck anywhere around.
What's It?
In a bid to make Dubai taxis digital, the RTA has kicked off a new 'Tech Taxi' initiative. The new wifi implementation is part of this initiative. Along with browsing on social media and staying in touch with family and friends while commuting, passengers also get to benefit from other digital services including:
Market exchange rate
Tracking and rating your ride
Improving communication with your driver
In order to enjoy the free wifi onboard, all you need to do is log onto taxiconnect.ae and connect to the free wifi, using your phone. Much like Uber and Careem, Dubai taxis will allow you to track and rate your ride, and also grab a screenshot of the taxi meter.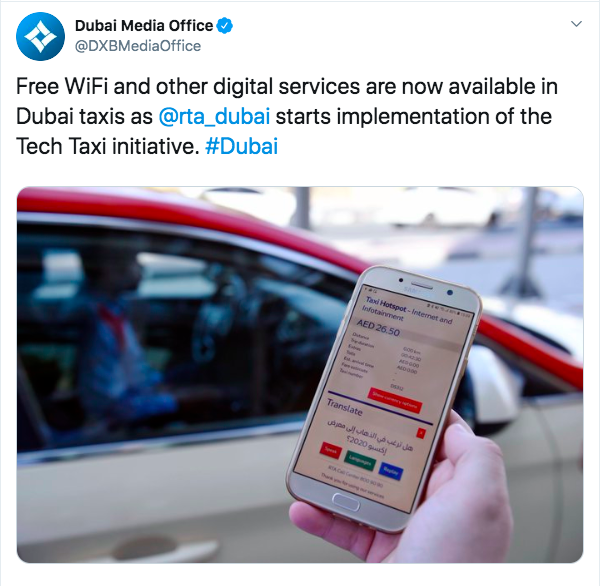 Khaled Al Awadi, of the RTA, said "The initiative highlights RTA's efforts to rank Dubai the smartest city worldwide. 'Tech Taxi' initiative provides free WiFi in all taxis enabling riders to connect to the service via WiFi UAE network using their smartphones."
What Else?
Meanwhile, did you know you can now use an RTA taxi using the Careem app? The new service also allows guests to pay using credit or debit card. The new initiative is Careem's effort to make RTA taxis more accessible to residents.
In order to make a booking, you just need to open the Careem app, choose RTA Taxi as your car option. The payment will be automatically be deducted from your mapped credit or debit card.
That's not it! The RTA has now installed card machines in taxis, encouraging payment by just a tap or touch. Riders can also pay through smart phones using Apple pay, or Samsung pay.