If you are planning to travel soon, you must note that responsible and safe travel is the only way ahead. And to make you comfortable and ensure your safety, Emirates Airline has now launched contactless check-in at Terminal 3 of Dubai International Airport. Here's everything you must know.
Also read: Emirates Airline Schedules Flights To Bring Stranded UAE-ites Back Home From UK
Emirates Launches 16 Contactless Kiosks At DXB Airport 
Dubai's national carrier has launched 16 contactless kiosks at the DXB airport. Each counter offers a smooth check-in process, and you can control everything with your phones. You don't have to touch the screens to confirm the check-in, you can manage your details through your phone.
The airline has also launched 32 self-service bag drop machines. Each machine will provide you with a luggage tag, which you can strip and stick to your suitcase yourself and send it off for scanning. Furthermore, you will also have the option to choose your seat and print your boarding pass. People who may have to pay extra for baggage allowance can do it there itself.
The Airline Also Has 32 Self-Service Bag Drop Machines
Well, the new kiosk hasn't replaced the regular desks, it is just an addition to ensure a smooth process for the passengers. These desks will also decrease the wait time- thereby, avoiding overcrowding at the counters.
Also read: Emirates New 'TrustOne' App To Offer Flyers RT PCR Test At Discounted Rates
Once you finish the check-in, you will receive boarding gate details on your phone. You will also be able to access your in-flight menu through the app. Besides this, Emirates had also launched biometric check-ins a few months ago. You can use that to check-in for your flight, complete immigration formalities, enter the Emirates Lounge, and board the flights, simply by strolling through the airport.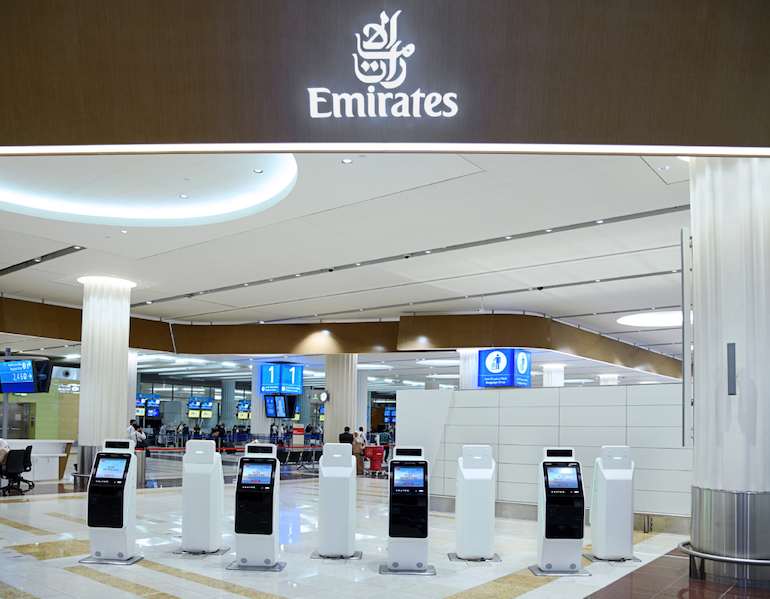 Also read: Oman Bans Public Gatherings Till Further Notice Amid Rising In The Covid Cases
Emirates is taking all the necessary efforts to make travel safe again, and as citizens, we urge you to follow all the rules too.