With countries beginning to reopen responsibly, airlines across the world have also gradually resumed services. Dubai reopen borders to tourism on 7 July and in line with this, a host of airlines have hit the sky again. From Emirates to Gulf Air, Etihad and Air Arabia, here's a roundup of all the flights operating to and from the UAE in July.
1. Gulf Air
Bahrain's national airline resumed flights to Dubai and Abu Dhabi on Sunday, July 5. This marked the airline's return ever since it suspended services in March. Gulf Air will operate between Bahrain and Dubai six times per week until Monday, July 13. The service will be provided via two flights per day. Gulf Air flights will operate out of Dubai International Airport's Terminal 3. Besides, Gulf Air will also fly five flights per week, starting this week. From next week, it will launch a daily service to the capital.
That said, could The Future Of Airplanes Be Double-Decker Seats? Read on to find out.
We are saying Hayyakom حيّاكم to @GulfAir as they resume flights between DXB and Bahrain this week. With more airlines resuming operations at DXB every day, we're excited to welcome customers from across our global network. #DXBReady pic.twitter.com/F4ISVmFfhY

— Dubai Airports (@DubaiAirports) July 6, 2020
Gulf Air is currently operational to and from London, Paris, Frankfurt, Manila, Athens, Cairo and multiple destinations in Pakistan. On another note, entry to Bahrain is still restricted for travellers. Only Bahrain nationals, residents, and travelers from GCC countries who do not require a visa will be permitted entry into the Kingdom. Gulf Air has also introduced safety measures while aboard. These include compulsory face masks for travellers, cabin crew wearing PPE and a reduced food and beverage.
2. Air Arabia
Air Arabia is set to start flights from Abu Dhabi from July 14. As of now the airline has confirmed services to Alexandria and Sohag in Egypt. However, more destinations will be added in the coming weeks. Air Arabia's inaugural flight will operate from Abu Dhabi to Alexandria on July 14. The service will be operational thrice a week on Tuesdays, Thursdays and Saturdays. Flights tickets are now on sale on the Air Arabia Abu Dhabi website for the first flights. On that note, did you know Air Arabia Is UAE'S National Airline? 
3. Wizz Air Abu Dhabi
Wizz Air Abu Dhabi is now operating regular fights out of UAE capital. As of now, operations have resumed for flights connecting Abu Dhabi and Europe. The service will be functional twice a week, providing flights to Bucharest and Budapest from the capital city. In addition, Wizz Air will also add twice-weekly flights to Cluj-Napoca, Katowice and Sofia from September. One way tickets start from AED 245 per passenger.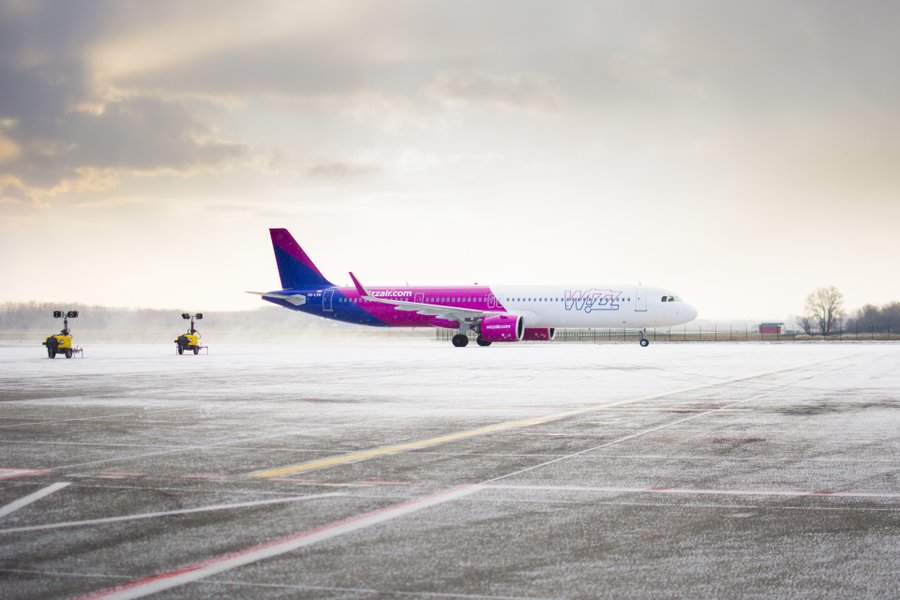 4. Lufthansa
Lufthansa resumed its first flight from Frankfurt to Dubai on July 5. The German airline will operate three return flights to Dubai per week from Germany. Lufthansa flights will leave Dubai on Tuesdays, Fridays and Sundays and return to the UAE on Wednesdays, Fridays and Sundays. Economy class return fares from Dubai to Frankfurt start from AED 2,295.
5. Etihad
Etihad is all set to begin services to 15 new cities from 16 July. The airline will now fly to 40 destinations across the globe. Here's the list:
Bengaluru
Mumbai
Delhi
Manchester
Munich
Istanbul
Amman
Jordan
Cairo, Egypt
Dusseldorf
Belgrade
In addition, Etihad also plans to resume services to 58 destinations across including Middle East, North America, Europe, Asia and Australia. Check out the complete list here. Meanwhile, we spoke to Neerja Bhatia, the India Vice President of Etihad Airways, on how to inspire confidence in the passengers for travelling, once the travel bans are lifted. Read the full interview here.
6. Emirates
Emirates will resume services to 50 destination in July. The recent update is that the airline will re-start passenger flights to Glasgow and Malé. The airline has already resumed services to Cairo and Tunis. Check out the list of Emirates Flight Routes Now Operating. Besides, Emirates Also Refunded AED 1.9 Billion To Passengers In Two Months.
This will bring Emirates' network to 52 destinations in July, offering travellers convenient connections between the Middle East, Africa, Asia Pacific, Europe and the Americas through its Dubai hub, while ensuring the health and safety of customers and employees on the ground and in the air.
These flights can be booked online at www.emirates.com or via travel agents. However, from the UAE, only Tunisian nationals and permanent residents of Tunisia are currently able to travel to Tunis. Travellers originating from certain other countries may enter Tunisia with/without restrictions, and the return flight from Tunis to Dubai and onwards is open to all customers as long as they meet the travel requirements of their destination.
In other news, Emirates's A380- The World's Largest Passenger Plane Is Returning To The Skies.  Also, know Emirates' New Safety Procedure before you book your tickets.
7. British Airways
British Airways is all set to resume passenger flights from July. The airline announced it will resume services from Dubai to Heathrow from 17 July, as well as add additional flights from August. Starting 1 August, the frequency of flights will be increased to daily.
All passengers must follow the airline's updated travel rules. This includes wearing facemask at all times, self-service check-in and restricting movement when aboard. Besides, the airline will also provide travellers with a personal protection packs containing antibacterial wipes and hand sanitiser gel.
The airline also advises passengers traveling to Dubai to check regulations to be followed on arrival. Upon arrival, all travellers must undergo thermal screenings at the airport. Besides, suspected cases will also be sent for a re-test. Covid-positive tourists must isolate themselves at an institutional facility provided by the government for 14 days at their own expense.
8. Fly Dubai
Dubai's low cost airline hit the skies from 7 July. The airline announced to resume services to Europe, Central Asia, Middle East and Africa. In addition, Fly Dubai is also planning to extend the number of destinations to 66 over the course of the summer, subject to easing of international travel restrictions. The list of destination include:
Africa: Addis Ababa, Juba, Khartoum
Central Asia: Almaty, Kabul, Nur-Sultan
Europe: Belgrade, Bucharest, Dubronvik, Kyiv, Krakow, Prague, Sarajevo, Sofia
Middle East: Alexandria, Amman, Beirut
9. Air India
India's national carrier has started ticket bookings for five new repatriation flights from Dubai and Sharjah between July 11 and July 14. This is part of India's Vande Bharat Mission. The first three flights are scheduled from Dubai to Delhi on 11 July, at 4 pm. The remaining flights will be from Sharjah.
#FlyAI : Air India Operating flights from Dubai and Sharjah under Vande Bharat Mission. pic.twitter.com/nlM9jxXz9u

— Air India (@airindiain) July 7, 2020
On 12 July, there will be two flights from Sharjah to Indore and Srinagar. On 13 July, there will be one flight from Sharjah to Chandigarh and one more from Sharjah to Ahmedabad on 14 July. Indian nationals who wish to travel must fulfill entry conditions. Tickets can be booked on www.airindia.in.
10. Air France and KLM
Air France and KLM will be among the first non local airlines to resume services from July. KLM has resumed daily flights to and from Dubai from 1 July. Air France will fly to Dubai thrice a week, with return flight to Paris on subsequent days. The first flight from Paris to Dubai resumed on 1 July. Flight from Paris to Dubai will operate on Mondays, Wednesdays and Saturdays with return flights to France on Tuesdays, Thursdays and Fridays.
Air Blue, Cebu Pacific, EgyptAir, Ethiopian Airlines, Mahan Air, Pakistan International Airlines, Philippine Airlines and Royal Jordanian are the others resuming services from Dubai.