In case you need to travel between Abu Dhabi and Bahrain, this one's for you! Etihad Airways is resuming flights between Abu Dhabi and Bahrain. Starting 19 June, Etihad will connect Abu Dhabi with Bahrain International Airport in Manama. Anyone who wants to book a flight between the two places need to visit the Etihad website. In April, Etihad Announced Special Flights To More Than 10 Destinations Across The World.
What's It?
Flights from Abu Dhabi will depart on June 19, 21, 26 and 28 at 1.30am. The flight lands in Bahrain at 1.45am. Return flights operate from Bahrain at 3.15am and land in Abu Dhabi at 5.25am.
On that note, Abu Dhabi airport is doing every bit to ensure safety of travelers. The capital's airport has introduced contactless elevators, as a precautionary measure. The elevators don't require human touch for operation. "The installation of the new technology across our elevators at Abu Dhabi International Airport is a significant development in ensuring the safety of all our guests and travelers," said Shareef Hashim Al Hashmi, CEO of Abu Dhabi Airports.
In addition, Abu Dhabi airport also released a video on travel guidelines for all passengers. Travellers are advised to arrive four hours before their flight to go through the various safety measures required before boarding. Besides, only passengers with a confirmed ticket will be allowed to enter the airport.
Did you know Etihad Airways Also Provided Meals For People Impacted By Covid 19.
Your safety is our top priority. We are ready to welcome you with a safe travel experience that ensures your well-being from point of entry to departure.#AbuDhabiAirport #AUH #AbuDhabi #UAE pic.twitter.com/2739EUlgWf

— Abu Dhabi Airport (@AUH) June 3, 2020
Furthermore, masks and gloves must be worn at all times and thermal checks will also be conducted. Some passengers might also have to undergo a blood test prior to travel. Also, Etihad Introduces In-Flight Wellness Ambassadors To Help Travellers. 
What Else?
Etihad was the first airline to launch a contactless covid screening system. The new technology screens Etihad passengers, identifying medically at-risk travellers. The technology helps in screening early stages of Covid-19. The system will be installed in the Etihad's hub at Abu Dhabi International Airport. Testing through the new method will begin this month.
The new system is designed by Australian company Elenium Automation, the system scans passengers' heart rates, temperature and respiratory rates. It also permits self-automated check-in and bag-drop facilities. In case a possible illness is detected, an alert is sent to the Etihad staff on-site or via teleconference, who will then take the necessary action.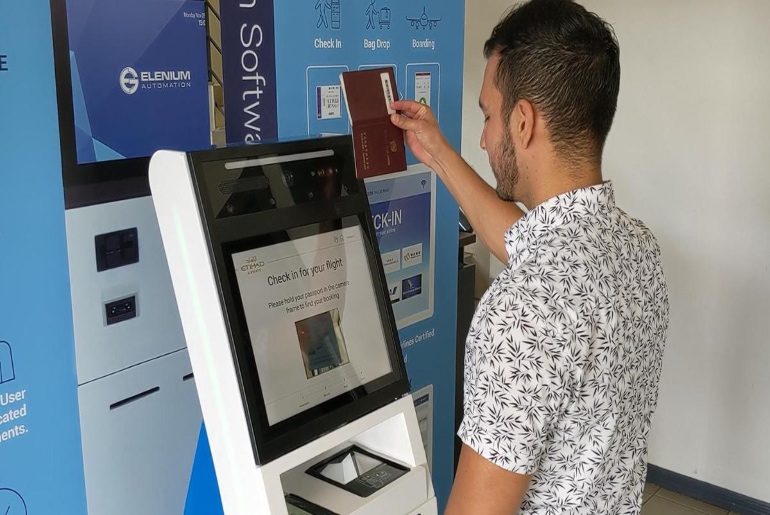 However, Etihad warns that the system is not designed to detect any illness, but is only an indicator to identify people who could possibly be ill.
Jorg Oppermann, vice president hub and midfield operations at Etihad Airways said: "This technology is not designed or intended to diagnose medical conditions. It is an early warning indicator which will help to identify people with general symptoms, so that they can be further assessed by medical experts, potentially preventing the spread of some conditions to others preparing to board flights to multiple destinations."