With less than one month to go, Dubai is gearing up for the World's Greatest Show. The Expo 2020 Dubai is almost here and we can't wait for the mega event to kick off. Besides, there's a lot of last minute info and updates happening as the date gets closer. But fret not! We've got your back. Here's a complete guide to Dubai's Expo 2020.
What Is Expo 2020?
Expo 2020 Dubai is a grand event that brings together the best art, culture, science, innovation, and invention. The event is a platform from different parts of the world to connect, share, innovate and learn new ideas and inventions. Well, that said, it is also a place where families can have fun!
Where Is The Expo 2020 Dubai Site?
Dubai's Expo 2020 site is located Dubai's South district, close to Al Maktoum International Airport. The site is easily accessible from Dubai International Airport, Abu Dhabi International Airport and Dubai and Abu Dhabi Cruise Terminals.
What Are The Dates?
The event will begin on October 1, 2021 and run until 31 March, 2022, featuring pavilions from 192 countries.
What Are The Ticket Prices?
Tickets for the mega event are now on sale. A single-entry ticket will cost AED 95 while a six-month pass will cost AED 495. Entry is free for visitors under 18 and people of determination. Besides, the accompanying person will also get 50% discount. A multi-entry pass is available for AED 195.
Meanwhile, here are 3 Ways To Get FREE Tickets To The Mega Event In Dubai. 
How Can You Reach The Site?
By Metro
The fastest and most sustainable way to get here. The Dubai Metro Red Line takes you from the city of Dubai to the entrance of Expo 2020. First arrivals to the Expo Station are at 06:15 Saturday to Thursday and 09:15 on Friday. Last departures from the Expo Station are at 00:00 Saturday to Wednesday and 01:00 Thursday to Friday.

By Expo Rider Buses
Get to and from the Expo 2020 site via a dedicated public bus service. It's free of charge for Expo 2020 visitors and you can catch it from different locations in Dubai and other Emirates. Just remember where it drops you off as you'll have to take the return trip from the same gate!
By Taxi
Dubai's taxis and car hires are plentiful. Taxis can be booked by phone, but the simplest way is to download the Careem or Uber app. There will be a starting flat fee of AED 20 for rides originating from the Expo site.
By Car
If you're driving to the Expo 2020 site, you can get here from all major roads. Follow the signs for one of the four designated parking zones:
– Opportunity parking zone (from the E77 Expo Road)
– Sustainability parking zone (from the E77 Expo Road or D54 Zayed Bin Hamdan al Nahyan)
– Mobility parking zone (from the E311 Sheikh Mohammed Bin Zayed Road)
– Dubai Exhibition Centre parking zone (from the E311 Sheikh Mohammed Bin Zayed Road)
Parking is free of charge. Entry is from 08:30 to 00:30 Saturday to Wednesday, and 08:30 to 02:30 Thursday to Friday and special days.  Valet parking is also available on a first-come, first-served basis for AED 95. If your ticket came with valet parking vouchers, you can use that instead of paying.
What Is The Theme For Expo 2020 Dubai?
Expo 2020 Dubai's theme is 'Connecting Minds, Creating the Future'.
How Many Countries Are Taking Part?
Guests can explore the power of connections in shaping our world. The one-of-a-kind global event will witness 191 participating nations. And, for the first time in the World Expo history, every participating country will have its own pavilion. Visitors can get engulfed in unique architecture, culture and inspiring innovations as well as get to know what makes each country unique.
What Are The Covid Rules In Place?
Firstly, the event will have thermal cameras checking temperature for all guests entering the event. Besides, all guests must wear facemask at all times. All guests must maintain social distancing of at least two metres. In addition, the venue will be constantly sanitized and cleaned. Lastly, hand sanitisers will be installed at various points in the site.
Dining areas, parks and other venues reserved for activities will have markings on the ground indicating the distance people must maintain. Meanwhile Dubai Expo 2020 Will Host A Futuristic Dining Experience With Glow-In-The-Dark Food & Flavour-Changing Desserts.
Should Visitors Be Vaccinated To Enter Expo 2020?
Covid-19 vaccination is encouraged for visitors entering the site. However, this is NOT mandatory. However, vaccination is mandatory for the Expo workforce.
What Should Visitors Do In Case They Are Unwell?
In case visitors fall ill, they can take help from one of the seven first aid, centres or ask Expo staff for help. The first aid centres will be open on all seven days, and will be equipped high-class nurses and doctors to provide visitors care in case of emergency.
Besides, Dubai Health Authority will set up three world-class medical and Covid-19 testing facilities at the Expo 2020 site. The centres will be open round the clock and will be run by trained doctors and nurses. In addition, there will also be Expo ambulances. Anyone showing symptoms of Covid-19 will be referred to the DHA.
Also read: Celebrity Chefs, Concepts & Home-Grown Brands: Here's What Foodies Can Expect At Expo 2020 Dubai
What Are The Attractions Guests Can Enjoy?
The Expo 2020 team recently unveiled two stunning new attractions you simply cannot miss. Guests at the Expo can spam their gram with pictures of a reverse waterfall as well as a stunning Expo 2020 Water Feature.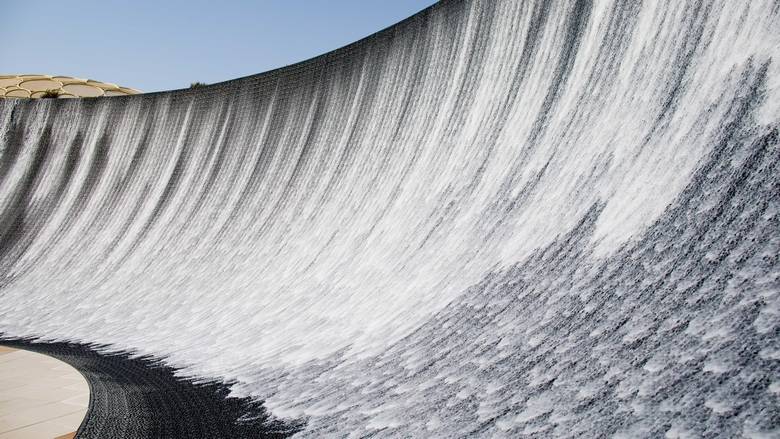 The Expo 2020 Water Feature is docked between the Al Wasl Plaza and Jubilee Park. The special feature of this attraction is that it combines the elements of water, earth and fire. The water feature has water tumbling down a 13-metre high wall. Now, that's something you need to spam your gram with! Visitors can witness 53 individual waves range from glistening sheets to bursts of water that literally leap from the walls, making a dramatic descent.
The true magic happens at night when the water flows in reverse direction against gravity, as they flow up the walls. That's not all! The center of the water feature has a 'mysterious circle of fire', that produces red, green and yellow hues. The flames are made of pure hydrogen, perfectly matching the Expo 2020 theme of sustainability.
The attraction is further enhanced with an orchestral score from the award-winning composer of the Game of Thrones theme music. The surge of water correlates with masterpiece performed by the London Symphony Orchestra.
Expo 2020 also has an observation tower docked 55-metres above the ground. 'Garden in the Sky' is an observation tower and 'flying park', which has cabins that can rotate, offering 360-degree views of the 4.38sqkm Expo 2020 Dubai site.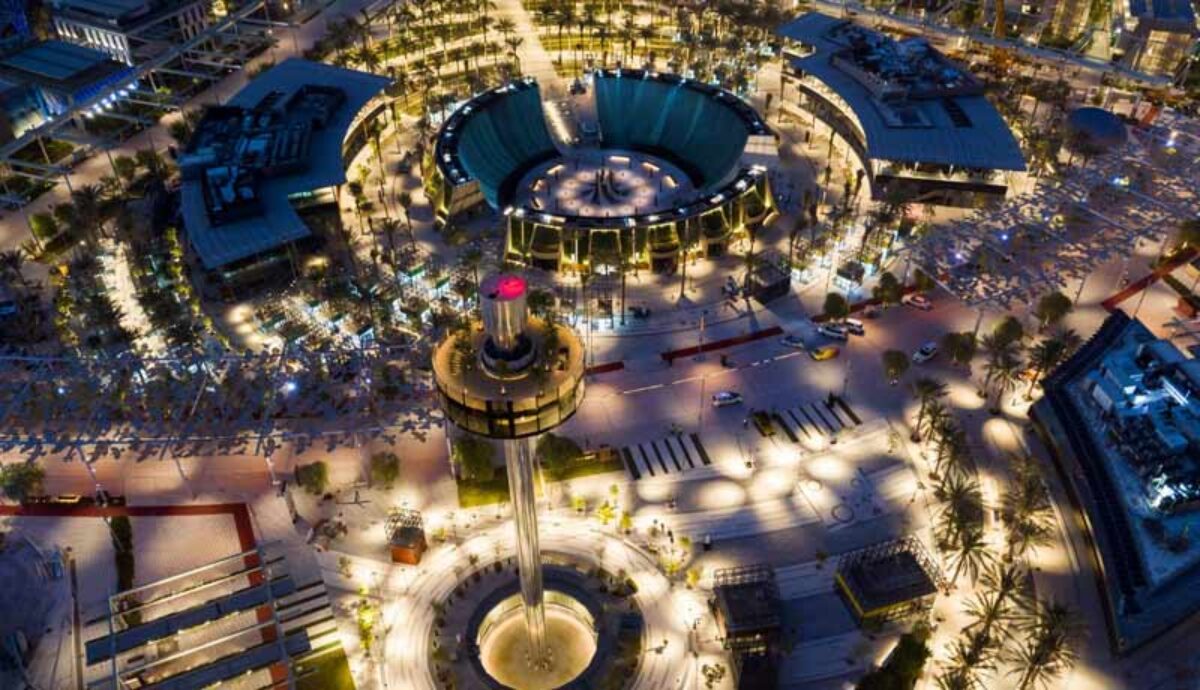 What Can Foodies Expect?
From internationally acclaimed restaurants to regional specialities, superstar Chefs, Expo-exclusive eateries, street bites and food trucks, Expo 2020 boasts more than 200 food and beverage outlets serving 50-plus global cuisines. A foodie's wonderland, you can sample delicacies from celebrity chefs, experience new cooking concepts, binge on authentic delicacies from home-grown brands and much more.
In addition, Dubai will also witness one of the most futuristic dinners by International taste architects Bompas & Parr. Guests can experience a futuristic multi-course, theatre-meets-food experience. With expert techniques, artificial intelligence, creativity, and innovation Bompas & Parr is all set to wow diners over the course of two hours.