The UAE has doing its best to fight the pandemic without closing its doors. Health authorities in the nation have also released a list of the clinic where residents can now go to get a covid-19 vaccine. UAE has already vaccinated 2.5 million of its population of about 10 million, and is now rated the second highest after Israel. And now, the UAE has announced a whole lot of freebies and major discounts for vaccinated residents. From discounted driving classes to free taxi rides and coffees, here's what residents who have both doses of the vaccine will enjoy. 
Also read: Dubai Supplies 12 Critical Oxygen Tanks To India As The Country Struggles To Fight Covid
1. Free Gym Access Until 13 May
Dubai Sports Council launched the #EveryoneResponsibleForEveryone initiative, which gives vaccinated Dubai residents yet another advantage. Fitness freaks who are vaccinated can now head to the gym without paying a penny! Yes, you read that right. As part of the Sports Council's new initiative, Dubai residents who are vaccinated can enjoy FREE access to a number of gyms between Monday, May 3 and Thursday, May 13. Dubai residents who have had both doses of the vaccine can visit top gyms such as Gold's Gym, Fitness First, The Warehouse, Fitness 360, The Sevens, Just Play, and Zabeel Ladies Club. Vaccinated residents visiting the gym must produce a Covid-19 vaccination certificate approved by the Ministry of Health and Prevention or the Dubai Health Authority. https://twitter.com/DubaiSC/status/1388787349543432197?s=20
2. Discounts On Driving Classes
The Emirates Driving Institute is offering a 10% discount on driving courses. Learners can avail of the discount by presenting their Covid-19 vaccination card.
 

 

View this post on Instagram

 
Also read: UAE Announces First Set Of Movement Restrictions For Unvaccinated Citizens
3. Free Coffee
Café Ristretto is offering free black coffee to those who have received both doses of the Covid-19 vaccine. In addition, there is also a 50% discount for coffee with milk.
 

 

View this post on Instagram

 
4. Up To 20% Off At Restaurants
Alpine restaurant Publique, British restaurant Reform Social and Grill and Ultra Brasserie, all of which are run by Gates Hospitality, are sending out fliers the message "Spread love, not Rona". The restaurants are now offering a 10% discount to residents who have taken the first dose of a vaccine and 20% for those who have taken two. Diners must show proof of inoculation, such as a medical certificate, to get the discount. While the initiative received a warm welcome among a few, it did not fail to raise eyebrows on social media. Also read: Covid 19 Vaccine In UAE: Places You Can Get Vaccine In Dubai, Abu Dhabi And Sharjah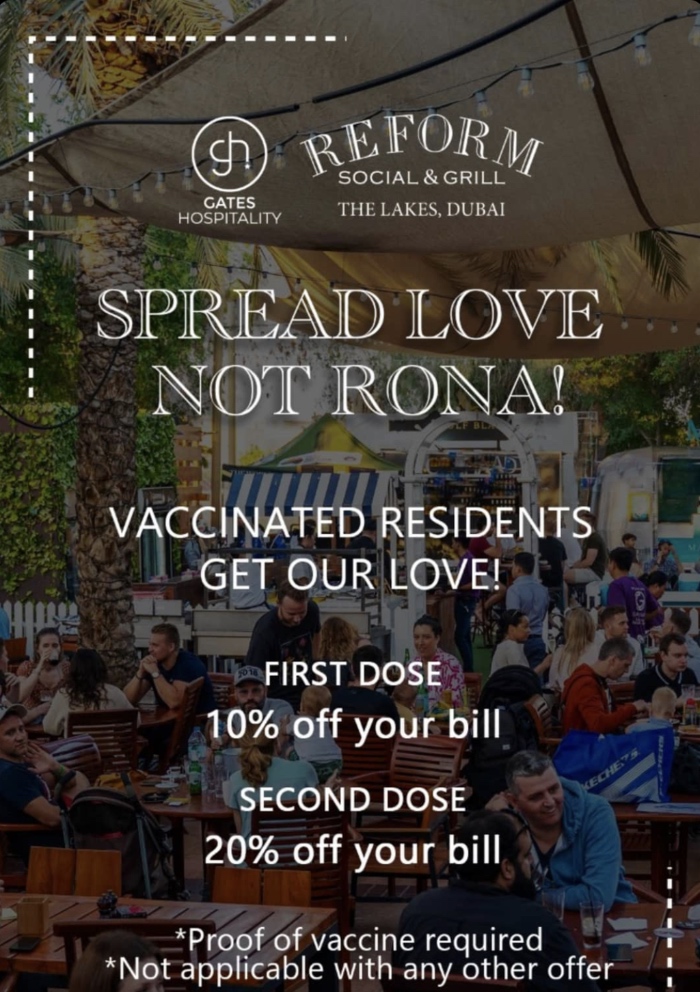 5. Discount On Taxi Rides
If you are planning to get a jab of covid-19 vaccine soon, you can now avail 25 per cent off on two uber rides, which is up to AED 20 each way to and from public vaccination centres across the Emirates. The offer which is now on is valid till Monday, February 8. Customers of all ages and nationalities can avail this offer. The discounts can be availed using the uber app. You can use it while travelling to 43 vaccine centres in Dubai, Abu Dhabi and Sharjah. The list also includes including DHA centres in Dubai. It includes the Seha Vaccination Centre and other select centres in Abu Dhabi, and Mohap-authorised centres in Sharjah.
Add promo code SI2021UAE and get 25 per cent off two Uber rides to and from vaccination centres – up to AED 20 each way. However, you must note that the trip must start or end at a listed vaccination centre.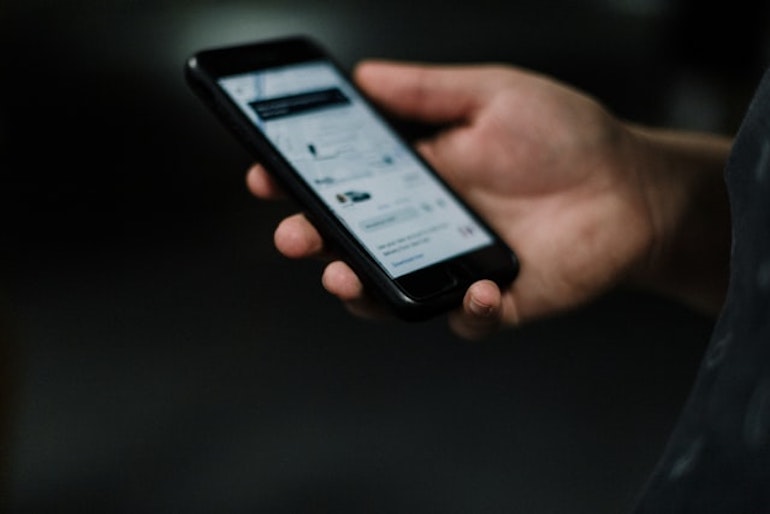 Also read: UAE Residents Can Avail Free Uber Rides To Mediclinic Vaccination Centres In Dubai & Abu Dhabi
6. Free Taxi Rides
The Dubai Taxi (Hala) is offering residents across the Emirate a free ride home from select vaccination centres. The free ride can be booked from 10 vaccination centres by using the promo code 'HALAVAC' when booking a taxi on the Careem app.