Air travel is one of the first things that people immediately cut back on after the World Health Organization declared the coronavirus pandemic. While airlines are taking stringent measures to ensure safety and hygiene, yet it's a risk to take and people prefer avoiding unnecessary travel. Whether it's one of the safest modes of travel or not, if you have to travel by air then let's help you to stay safe amid the pandemic. So, here's what you need to wear to safely fly during the pandemic.
1. Face Coverings Like Face Shields & Face Masks
It's truly a crime to walk out of your home without wearing a face mask. When travelling by air, the first thing that must be part of your wardrobe is definitely facing coverings. Experts state that cloth masks can prevent you from spreading germs to other people in crowded places. Now, N95 respirators can help protect you against splashes and particle droplets. But these must be reserved for medical professionals or people who come in contact with coronavirus patients. But you must wear cloth masks which is the most popular protective gear. Apart from this face shield can also be a good option to block droplets. The clear plastic barriers are less permeable than cloth masks and can also stop you from frequently touching your face. The best ones extend below your chin and ears. Whether you decide to wear a face mask, shield or both, make sure you wear them properly.
Also Read: How Coronavirus Spreads On A Plane & The Safest Place To Sit
2.Gloves
Experts often don't recommend people to wear gloves in their day to day lives. Many people don't know how to safely remove them off. And improper removal can expose you and other people to germs. So it's better not to wear them and sanitise your hands frequently. Use sanitizers that have 62% alcohol throughout your flight journey. However, if you do wish to wear gloves when travelling by air, then you can do so. Sanitise your hand before wearing the gloves. Avoid touching your face when you wear them. When you come in contact with a high touch area, remove your gloves.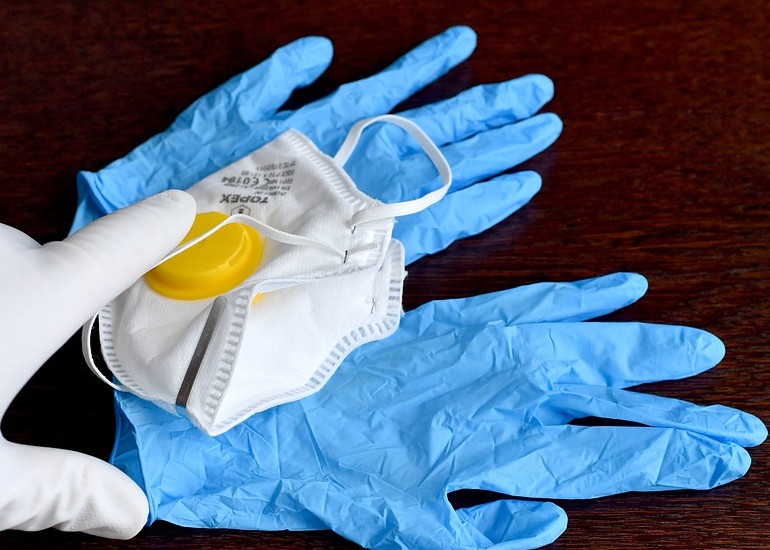 Dr. Dean Winslow, an infectious diseases specialist at Stanford Health Care informed Business Insider about a technique to remove gloves. He said "You should remove your gloves by pinching one from outside with one gloved hand, and using your clean hand to reach inside the glove to remove the other one." He further stated, "Even after you do that, with good technique, practice good hand hygiene. After you take them off, put the gloves in the trash and make sure to sanitize your hands again before putting on another pair."
3.Googles Use By Medical Professionals
Medical professionals wear goggles to keep themselves safe from viral particles. So, this can also protect you on your flight when you sit among other passengers. Linsey Marr is an expert in airborne disease transmission at the Virginia Polytechnic Institute. She revealed to the New York Times that wearing a mask is one of the most essential requirements on your flight. But goggles don't hurt. She states "Goggles aren't a bad idea, especially if they will prevent you from touching your eyes." One of the things to wear when you fly can definitely include goggles.
Also Read: Travel Shaming Is The Latest Travel Trend Of 2020 Due To COVID-19 Pandemic
4. Socks
If you travel abroad then you might have to take off your shoes to pass-through the terminal security checkpoint at the airport. And doing this without wearing socks underneath your foot can be a health risk amid the pandemic. A microbiologist and professor at the University of Arizona, Charles Gerba informed CNBC that people must wear socks to prevent the spread of germs. Once you're done with security, wear your shoes back and sanitise your hands. Even in general, it's always advisable to wear socks when travelling as it provides another shield to your feet apart from your shoes. So it's a little less chance of contaminating your feet.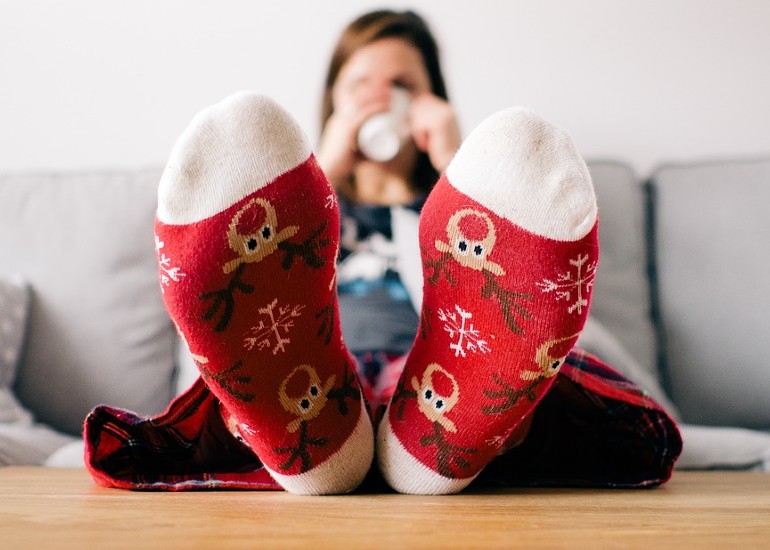 Also Read: 8 Tips For Parents Travelling With Kid Amid The Pandemic
5. PPE Kits
The government mandates PPE kits for all air travellers. But health experts warn that it may be an uncomfortable piece of clothing when travelling. Doctors and health workers treating patients from communicable diseases usually wear Personal Protection Equipment (PPE)Kits. People might tend to sweat a lot and its difficult to handle it inside air-conditioned places. You might also find it very cumbersome to eat or even visit the toilet wearing this. So passengers might face health problems and difficulties wearing this while flying. Nevertheless, it's an effective way to keep the virus at bay. So, if you want to protect yourself while flying you can choose to wear this. Bollywood actress, Rakul Preet wore a PPE kit when travelling from Mumbai to Delhi by flight. 
So apart from face masks, these are some of the things you can choose to wear to stay safe when travelling on flights. Most importantly, do remember to avoid unnecessary travel for the safety of others and your loved ones.