Work, sleep, eat, repeat- the entire cycle has become a monotonous affair for most of us amid lockdown. As eating out in the restaurant isn't a safe option, most of us are relying on home-cooked food now. But if you're living in South Delhi, especially around Malviya Nagar,  you can ditch cooking for a day and order mouth-watering food from FreshMenu. From wholesome meals, salads and biryanis to pizzas, pasta, cakes, juices and more, the delivery restaurant offers a wide array of dishes, that are freshly prepared and delivered at your doorstep. And we're absolutely crushing on their unique Gulab-Jamun Pastry. Read on to know why.
Gulab-Jamun Infused Inside Soft And Creamy Vanilla Sponge
If you've got a sweet tooth, this quirky delicacy from the kitchens of FreshMenu will get you bowled over. The dessert blends the magic of English vanilla pastry with desi gulab jamun. The chefs make the sweet by layering gulab jamun between a vanilla sponge and again topping the pasty with halved gulab jamuns and pistachio flakes. What's more, the amazing pasty comes at just ₹99, excluding the delivery charges.
FreshMenu also serves many other tempting dessert options like Chocolate Mousse Mudcake, Crumble-Blueberry Cake, Rainbow Cake, Tiramsu in a Jar, Chocolate Cinnamon Roll and loads more. And if you'd been missing Shahi-Tukda for long, they make that too!
Also Read: Delhiites! Elma's Bakery & Kitchen Is Now Delivering Fudge Brownies And Pancakes To Your Home
Teriyaki Chicken Hot Pot, Ultimate Burrito Bowl And Other Healthy Meals
Even a simple Paneer Butter Masala in Peas Pulao by FreshMenu tastes profoundly delectable, thanks to the perfect blend of exotic spices and soothing aroma. For chicken lovers, the Peri-Peri Chicken Bowl is a must-try. The combo comprises rice in tangy sauce along with freshly roasted veggies like capsicum, broccoli and tomatoes and delicious peri-peri chicken steak. Other wholesome meals that can be ordered from here are The Mafia's Meal, Teriyaki Chicken Hot Pot, Ultimate Burrito Bowl, Mexican Burrito Bowl and Oriental Grilled Fish, among many others.
Mozzarella Cheese Topped Pizza Baked Inside A Bowl
You might have heard about pizzas inside cones, but have you ever come across a pizza bowl? If not, you can get yourself one from FreshMenu. The guys serve five variants of pizza bowl- Italian Garden, Sloppy-Joe Chicken, Veg Extravanganza, BBQ Chicken and Fiery Chicken. Topped with veggies, cheese, paneer dices, olives and more, these crustless pizzas look drool-worthy and Instagrammable.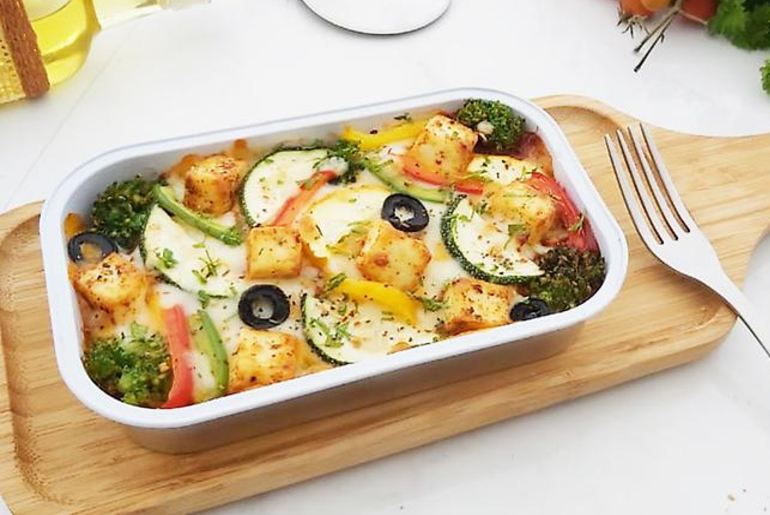 Also Read: Tried The BBQ Fries Pizza At Shake Eat Up, Delhi?
These are only a handful of the long list of scrumptious delicacies that FreshMenu has to offer. What's more? They also deliver Jimmy's Cocktails- Cosmopolitan and Sex on the Beach. You can enjoy them with your favourite spirits. Check out their elaborate menu on FreshMenu website. Alternatively, you can place your order on Zomato or Swiggy. They have a branch in Bangalore as well. Meanwhile, did you know about the Kulfi stuffed mangoes at Kulfiano in Delhi?