Recently, Goa has witnessed a significant dip in COVID-19 cases and hotels have reopened again in the beach state. The positivity rate in the state has gone below 5%. As per the Travel and Tourism Association of Goa (TTAG), hotel occupancy will rise only after the government's clearance on whether or not tourists can come to Goa, according to a Times of India report. Nilesh Shah, president of TTAG said that the state won't see a 'steady flow' of travellers unless a positive message goes around. He added that footfalls are expected in August as the month has some public holidays. But a heavy rush is not anticipated yet.
As per the announcement of the Goa government, the state will not permit the entry of fully vaccinated tourists without a COVID-negative certificate. The high court of Bombay at Goa has however stated that no COVID-negative certificate would be needed for the fully-vaccinated people coming to Goa for work and business purposes and for Goan citizens returning home. The latest order has stated that the state will have to evolve a suitable mechanism to make sure that the benefit of the exemptions is provided to only the exempted categories and not to others.
Curfew Extended In Goa Till July 19; Gyms To Open With 50% Capacity
Goa has extended the COVID-19 curfew till 7 am on July 19. However, the state has announced additional relaxations as well. Now, gyms can operate in Goa with 50% capacity. Sports complexes will be allowed to open, but without spectators. Religious places can also open with up to 15 people. Earlier, Goa had extended the curfew till July 12.
Statewide Curfew in Goa extended up to 7am, 19th July 2021, with further relaxations that will allow the opening of gyms with 50% capacity, sports complex without spectators, religious places with up to 15 people.

— ANI (@ANI) July 11, 2021
Goa Vaccinates 76% Of Population With First Dose; To Reach 100% By July 30
Goa Chief Minister Pramod Sawant has announced that under Tika Utsav, the state has successfully completed 76% of the first dose COVID-19 vaccination. Goa aims to vaccinate 100% of the population with the first dose by July 30 and with both doses by October-November 2021. Till now, Goa has given over 10 lakh doses, both 1st and 2nd, to its population. Earlier, Sawant had hinted at restarting tourism in Goa once 100% population in the state is inoculated with the first dose. Also, with a third wave being predicted, the state is taking necessary precautions by appointing a committee of experts and doctors which has begun focusing on infrastructure, equipment, and manpower training, based on suggestions.
We've provided over 10 lakh doses (both 1st & 2nd) under Tika Utsav. Over 8 lakh 1st doses administered. We aim to complete 100% 1st doses by July 30. We've completed 76% of 1st dose vaccination.Our 100% vaccination target (both) will be completed in Oct-Nov: Goa CM Pramod Sawant pic.twitter.com/mJ07jYTtGG

— ANI (@ANI) July 7, 2021
Goa Reopens Restaurants & Bars With 50 Percent Capacity; Here's Everything To Know
Goa has announced certain lockdown relaxations, which will allow bars and restaurants in the state to operate with 50% seating capacity from 7 AM to 9 PM. Social, cultural, entertainment, sports, academic, political, marriage functions and other gatherings will remain prohibited, except for events with up to 100 people or 50% of hall capacity (whichever is less). Hotels and hospitality sector for in-house guests, staff and residents will be allowed to operate. Home deliveries will be permitted. River cruises, casinos, water parks and entertainment parks will remain closed. Gyms, swimming pools, massage parlours, cinema halls, weekly markets, theatres and religious places will remain closed.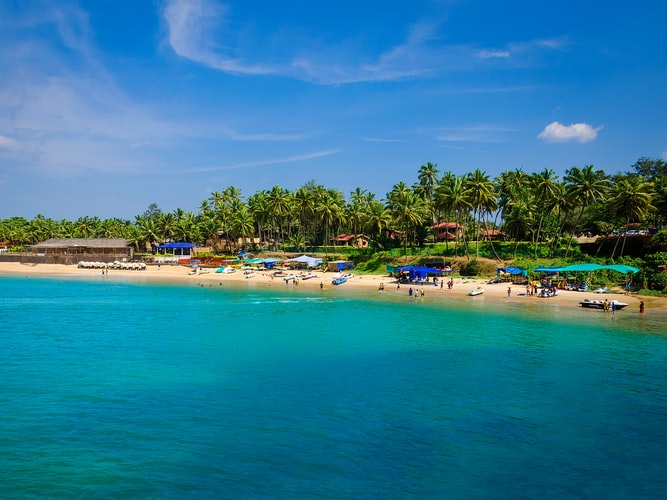 Also Read: Goa's Iconic Club Tito's Shut Down & Sold Off; Marks The End Of An Era!
Goa Curfew Was Earlier Extended Till July 12; Know What's Open & What's Not!
The Goa government had extended the state-wide Covid-19 curfew till 7 am on July 12 due to the possible threat of a third. Announcing the decision, Goa Chief Minister Pramod Sawant said that all shops can remain open in the state from 7 am till 6 pm daily. Goa Chief Minister Pramod Sawant has announced that fully vaccinated travellers will not have to produce a COVID-19 negative test report anymore. If you are vaccinated with both shots, you will be permitted to enter the state without a negative certificate. The CM said, "People who have taken both the vaccination shots and possess a complete vaccination certificate will be allowed to enter Goa. It can be for those who are coming for tourism, business, or other reasons."
Goa Had Extended The State-Level Curfew
With the mounting number of cases, Goa extended state-level curfew till June 28 Goa Chief Minister Pramod Sawant said: "Shops in malls, except for cinema halls, theatres, multiplexes, entertainment zones would be allowed to open between 7 am to 3 pm." He also added that the fish markets can also be open. Recently, Goa CM had also announced that the tourism activities in the state would resume after the population in the age group of 18-44 is administered at least the first dose of COVID-19 vaccine. And now, Goa will make two doses of the Covid vaccine compulsory for tourists to enter the beach destination. A negative RT-PCR report and two doses of Covid vaccine mandatory for tourists in the first three months of reopening tourism in the state.
State Level Curfew will be extended till 7AM, 28 June 2021. Shops in Shoping malls, except cinema halls, theatres, multiplexes, entertainment zones allowed to be open between 7 am to 3 PM. Fish market may also open.

— Dr. Pramod Sawant (@DrPramodPSawant) June 19, 2021
Passengers Travelling To Goa Must Carry An RT-PCR Negative Test
According to the order by the Goa state DC, all passengers visiting Goa now must carry an RT-PCR COVID negative report. The report should not be older than 72 hours before entry to the state. Alternatively, travellers can carry a full vaccination certificate received after two doses of vaccination. The rules will be applicable to people coming to Goa by train as well. Chief Minister Pramod Sawant revealed on June 17 that Goa will only resume tourism after the entire population is vaccinated.
Everyone above the age of 18 years must be administered the first dose of the Covid-19 vaccine. Only by achieving this target, Goa will resume tourism. The Chief Minister further revealed that their target is to achieve this goal by July 31. Moreover, tourists must all be vaccinated with two doses of Covid vaccination. This is mandatory to enter the state in the first three months of resuming tourism in Goa.
Tika Utsav 3.0. pic.twitter.com/xGbzudjBWU

— Dr. Pramod Sawant (@DrPramodPSawant) June 17, 2021
Goa Will Not Allow Nightlife
While Goa is shut for tourism right now, it will open in a phased manner. The government will open only those activities which won't trigger transmission of coronavirus. Guests at hotels will be asked to carry a Covid-19 negative certificate and they should abide by all the protocols. Besides, nightlife in Goa will not be allowed to resume till the Covid-19 situation in India comes under control, said Ports Minister Michael Lobo as he stressed the need to protect the lives of people.
RT-PCR Negative Report Or Full Vaccination Certificate Mandatory For Entering Goa
Following Goa state DC's order, the Railway Ministry has mandated RT-PCR negative test reports for people entering Goa via train.  Travellers coming to Vasco Da Gama, Kulem, Madgaon, Sanverdam Church and other railway stations in Goa from other states need to carry a negative RT-PCR report with them or a full vaccination certificate. Certain categories of people, like Goa residents with proof of residence, people coming to Goa for medical emergency with proof, people coming in ambulance for medical emergency, people entering Goa for work purpose with work ID or proof of letter of the employer, will be exempted from the requirement.
Also Read: Indian Railways Converts Over 3816 Trains Coaches As Covid Care Coaches
Curfew In Goa Till May 23
Taking into account the sudden spike in coronavirus cases, the Goa government has imposed stricter restrictions to combat the infection spread. Taking preventive measures, the Goa government had announced a complete lockdown in the state from April 29 till May 3. Now the government has announced a fresh curfew till May 23. Goa Chief Minister Pramod Sawant said during the lockdown period, only essential services and industrial activities will be allowed.  Guests can check in to hotels but will not be allowed to leave the premises. All tourists activities will also remain shut.
Apart from that, public transport will remain shut. Hotels and pubs will also remain closed during the lockdown but restaurants can operate for home delivery services only. However, the state's borders will remain open for essential service transportation.
Earlier, the government had announced night curfew will be in force in Goa. The curfew started on April 21, after the state reported over 9,300 active cases and around 43 fatalities in a span of two days, including the death of a 27-year-old male comorbid patient. The state has imposed fresh curbs on public gatherings as well as tourist activities. Read on to know more.
Revised Rules For Tourists
Goa has imposed new restrictions amid the alarming spike in COVID cases, along with the imposition of a night curfew till April 30. The rules are as follows:
1. Restaurants, bars, casinos, river cruise, entertainment parks, water parks, cinema halls, multiplexes will remain closed.
2. Swimming pools will remain shut.
3. No social, sports, entertainment, cultural or political gatherings can take place.
4. The authority has asked sports clubs in Goa to cancel the tournaments scheduled in this period.
5. Religious places like temples, churches, mosques and mutts will not allow entry of visitors. The collective prayers should take place at homes or virtually. These places of worship can carry out their daily rituals with the priest or the custodian of the establishment.
Violation of the protocols might lead to simple imprisonment of up to one month or a fine of ₹200 or both, under Section 188 of the IPC . Travelling To Maharashtra? COVID Negative Test Report Mandatory From Delhi, Goa & 4 Other States
Also Read: Uttarakhand Makes Covid Negative Test Report Mandatory For Char Dham Yatra
General Rules
1. Weddings can take place with a maximum of 50 people.
2. Funerals with a maximum of 20 attendees won't require any permission from the district administration.
3. Schools, colleges, educational and coaching institutions will remain shut. This will exclude offline examinations of college students.
4. Class XII and Class X examinations, which were supposed to take place from April 24, have been postponed. The new dates will be announced at least 15 days prior to the examinations.
5. The authority has advised government as well as private offices to encourage work from home.