Dilli wouldn't be dil walo ki dilli without its Sikh community. The protectors have a long and layered history in this secular city. Over time, five of the great ten gurus have turned Delhi holy with visits. They light up our city and bring bhangra vibes to every café, and we completely love it, but there's something we love even more. Our big and beautiful OTT gurudwaras. They're tourist attractions, food hotspots and serene escapes in our bustling Delhi. Here is a list of the 10 most iconic gurudwaras in Delhi will take your breath away.
1. Gurudwara Bangla Sahib
One of Delhi's most famous destinations is this majestic shrine. It runs 24×7 and feeds 180 people every 15 minutes! Isn't that a banger? It is dedicated to the eighth Sikh guru, Guru Har Krishan. Built by prominent Sikh General Sardar Bhagel Singh in 1783, it has a huge water body and beautiful carvings in the domes. The architectural marvel stands tall in central Delhi in close proximity to Delhi's most famous church and Hanuman temple.
2. Gurudwara Sis Ganj Sahib
Chandni Chowk ki shaan is one of the most iconic gurudwaras in Delhi. Another initiative by Bhagel Singh is an ode to the martyrdom of the ninth Sikh Guru, Guru Tegh Bahadur. Aurangzeb asked him to convert to Islam and upon his refusal, executed him. The body was then stolen by his disciple who burnt his house down to cremate his guru. What an unforgettable story!
Also read: Just 6 Hrs From Delhi, You Can Stay At Kaaya Mud Cottages In Dehradun For ₹700
3. Gurudwara Baba Banda Singh Bahadur
With the beautiful view of Qutub Minar, this is one of the most iconic gurudwaras in Delhi. Rabindranath Tagore has documented the martyr's gallantry in his undying verses. The guru's 4-year-old son was murdered among 40 of his followers. He was tortured like Jesus but, nothing deterred his faith. During Vaishakhi, 30,000 people visit the site for a great fair.
4. Gurudwara Mata Sundri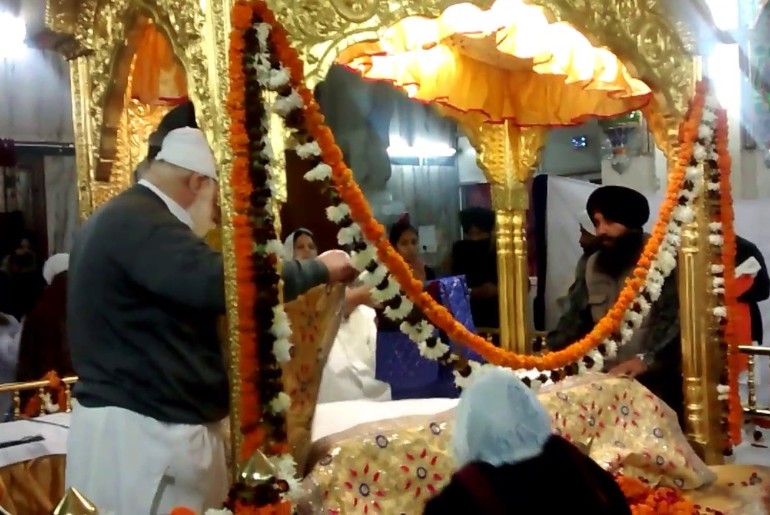 The mother of the Khalsa breathed her last breaths here. After her husband Guru Gobind Singh Ji left, she cared for his followers for 40 years. She carried his five weapons with pride and brevity, to become immortalised at what is now one of the most iconic gurudwaras in Delhi.
5. Gurudwara Bala Sahib
This iconic gurudwara is the cremation ground for Mata Sundari and the 8th Sikh guru, Guru Harkrishan Singh Ji. Legend has it, his healing touch saved people from Cholera in Delhi. Irony runs deep as he died of smallpox before his 8th birthday. The old and new buildings of the gurudwara colour Maharani Bagh in a special hue.
6. Gurudwara Moti Bagh
Thousands of people visit one of the most iconic gurudwaras in Delhi. It marks the spot where Guru Gobind Singh Ji's army camped on his first visit to the city. History narrates an interesting story of the guru in 1707. It is said he shot an arrow at the foot of the throne in Red Fort from this camp covering a distance of approximately 15 km.
Also read: Rethink Your Travel Plans As Delhi Air Quality Hits 'Emergency' Levels!
7. Gurudwara Damdama Singh
Nizamuddin is not only home to the soulful Darga but also one of the most iconic gurudwaras in Delhi. It was built near Aurangzeb's tomb in 1783 but the monumental structures were added in 1984. It is a tribute to the 10th guru, Guru Gobind Singh Ji. Hola Mohalla is a huge deal here, usually celebrated the day after Holi.
8. Gurdwara Rakab Ganj
Guru Tegh Bahadur Ji urf 'Hind di Chadar' or 'The Shield of India' died protecting the Kashmiri Pandits in 1675. Aurangzeb beheaded him for refusing to convert to Islam. His disciples burnt their own house down to cremate his headless body where Gurdwara Rakab Ganj stands now. His head was taken to his son Guru Gobind Singh Ji.
9. Gurdwara Majnu ka Tilla
Abdullah was known as Majnu when he met Guru Nanak Dev Ji in 1505. He used to ferry people across river Yamuna free of charge in the name of God which moved the guru. He decided to stay at Tilla during which time Majnu turned disciple. One of the most iconic gurudwaras in Delhi marks the stay of the 1st and 6th gurus. Its unique location opens doors to Delhi's cultural heritage and makes for a great day of food and discovery.
10. Gurdwara Nanak Piao Sahib
The founder of Sikhism, Guru Nanak Dev Ji camped at a garden serving free food and water while preaching sermons to fellow travellers and passers-by in 1505. The owner of the garden felt that spot to be holy and established a gurudwara there, originally called Pau Sahib.
Also read: Why Virat Kohli Says Street Food of Delhi is Unmatched!
The ten iconic gurudwaras in Delhi are not only historically rich but carry the weight of history in the air that occupies its holy walls. People flock to the rescuers when life gets too hard. Rich and poor eat side by side, share food, music and love under the blessed domes. Fish flourish in their waters and people quench their thirst for meaning in the lands of the Sikhs. Take a break from daily stresses of mundane meaninglessness and find serenity at Delhi's dreamboats painting its skies.