There was no way this would have been possible. I had booked my flight accordingly, made sure that I left my office on time, even did a web check-in so that all corners were covered. I did factor in the traffic as well, and the extra time that could possibly be taken. But NOPE… when you are travelling from Gurgaon to Delhi, anything can go wrong.. just like that day!
What I Was Prepared For
I had recently read that the road that leads you to the airport will be shut due to the airport expansion and construction. My flight was taking off from Indira Gandhi International Airport Terminal 3, so I was aware that there would be a very high possibility of me getting stuck there.
Over and above that, it was a Friday, so it wasn't just me but many others like me who would be on their way for weekend trips, hence the long queue of cars while getting into the airport was also expected. The traffic on the highway at the toll booth was also accounted for. So I had made sure that I leave my Gurgaon office by late afternoon to make sure that I reach the airport on time, enjoy my coffee ritual and then board the flight.
Also read: These Lady Taxi Drivers Are Offering 24×7 Services For Women From Delhi Airport
The realisation of how bad I am at Mathematics struck when I checked the time to the IGIA on Maps! Within the next 10 minutes I was in my cab and on my way.
What I Was Not Prepared For
THE TRAFFIC! My cab driver did manoeuvre his way around the traffic until we reached the toll booth, and then we were stuck, just like all the others. We then took a detour to Udyog Vihar and my driver suggested that we take an inside route to reach Rajokri, that would save the time. I was not in the driver's seat so I let him take the lead on that one.
Just before the turn that leads to the airport, from under the Mahipalpur flyover, I could make out that vehicles were trying to criss-cross their way through to find their way. Blame it the road blocks, or the new detour that wasn't showing up on the map, there was genuine confusion and chaos.
Also read: Delhiites! Prepare Yourself To Leave Early For Airport As Key Road To Shut For A Year 
There is a separate route that now needs to be taken if you want to reach Terminal 3 of IGIA. Those heading to the domestic Terminal 1, needn't worry about that. The road from where it barely takes you about 10 minutes to reach the airport, was now showing 30 minutes and I had already started looking at alternatives for the next flight.
That Feeling Of Relief!
While I was stuck in traffic, I peeped into other cars. I wasn't alone. There were fellow passengers who had the same look of worry on their faces. Forget that! I could see the crew being stuck too. That sparked some hope that the flights might get delayed too, and some of them did.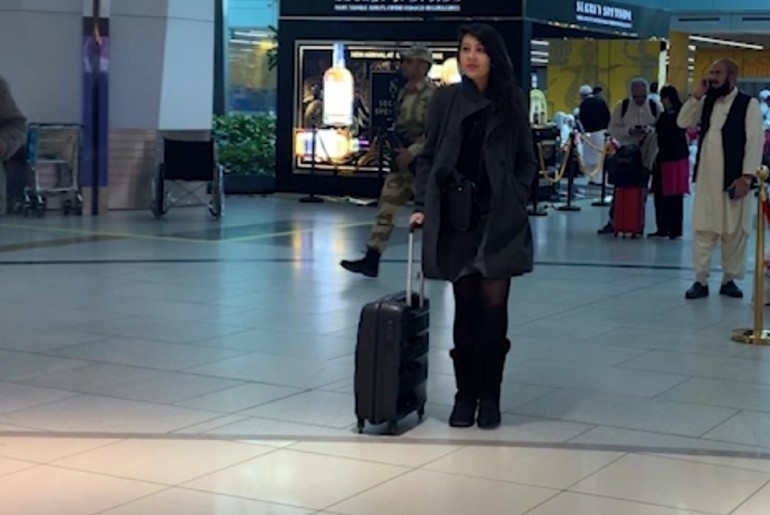 Also read: Delhi's International Airport Becomes First In India To No Longer Have Single-Use Plastic
Once I reached the airport, it wasn't just me who was running with the bags. Everyone was losing their patience. The passengers, the airline executives, the airport staff even. I was too, until I ran up to the security queue and requested a gentleman in front of me to pass through, because I was running against time and the "boarding had already started". He said people didn't let him through, so I could try my luck. I knew I had already exhausted it, by making it to the airport before the boarding gates shut, but I still tried to push it a bit.
Also read: Now Get Access To Free Wi-Fi In Delhi's Airport Express Metro Line
I requested the CISF personnel if I could pass though. He said, "Madam, abhi to boarding shuru hui hai. Abhi 40 minute lagengey. Aap line mein hi khade raho!" (Madam, the boarding has just started. It will take about 40 minutes. You wait in the queue) That moment, for the first time in the last 3 hours, my heart beat would have fallen below a 100BPM. I looked at the gentleman, who had let me pass through, and said, "I tried!" He smiled, "I know you did."