Chadar Trek is an 8-day trek on the frozen river of Zanskar which connects the Zanskar village with Leh, the small town of the Ladakh region in the state of Jammu and Kashmir.
Every year, there is a narrow window of about a month (mid-Jan to mid-Feb) when the powerful river Zanskar freezes creating a thick sheet or 'chadar' of ice. During this time, it is the only way that connects the Zanskar village with the city of Leh. Surrounded by mountains on both sides, this route became famous and one of its kind with trekkers who walked on the frozen sheet from Leh to Zanskar and back, over a course of 7-8 days. It is not uncommon for the temperatures to go below -35 degrees in the night.
Once upon a time (just adding a dramatic touch!), somewhere in 2017, me and a friend of mine were sitting in a restaurant discussing our to-do lists. Up until then my to-do list had some really crazy stuff like buying a bike, bungee jumping, skydiving, eating an octopus (yeah, I am weird!) and it went on and on. My friend told me that there is one trek he really wants to-do – the Chadar Trek. He told me that trekkers trek on the sheet of ice formed on the Zanskar river during freezing temperatures in winter and also willingly dunk themselves into the freezing water. I was totally blown away by the idea. The next day at the work I dedicated myself to watching pictures and videos of the Chadar trek and the final dip. That was the moment I decided to sign up for it, no matter what. I bookmarked the Chadar trek link on my server as a daily reminder of what I really wanted to do.
How Did I Plan And Book The Trek?
I saw a lot of travel companies offering the Chadar Trek experience but I wanted to go for a popular firm as this was my very first Himalayan trek. A friend recommended 'Adventure Nation', although, later I found out later that all companies offering this trek whether big or small, outsourced it to the local groups based in Leh.
When to Book?
Choose any slot between the end of January to the first week of February. My recommendation is that you book through some local trek guide to save yourself up to Rs 2000-3000. Nowadays, there are a lot of local organizations which directly offer the Chadar trek. For this particular trek, I paid to Adventure Nation Rs 22,000 with additional charges of Rs 2,500 for the permit that I availed from the local trek guide.
Flight Bookings
If done well in advance the flight bookings are not crazy expensive but the flight options to Leh are limited. I would recommend you take a morning flight from Delhi and then a connecting flight to Leh. I was traveling from Ahmedabad and had a similar commute option (AMD-DEL-IXL and return). I bore a cost of Rs 9,000 for a roundabout trip.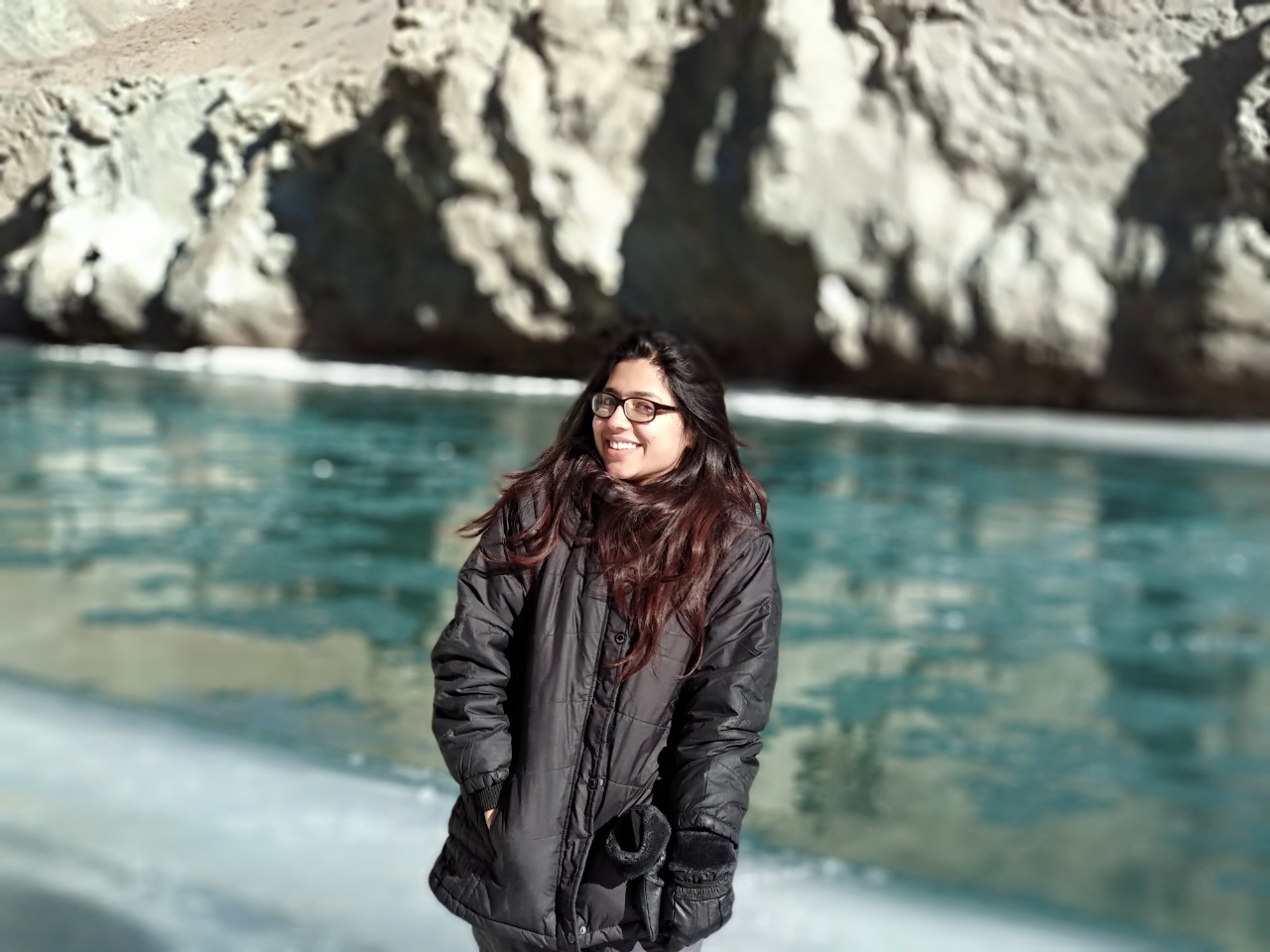 Convincing The Parents
Let's just say my parents are your typical, orthodox Rajasthani parents and I am their stubborn rebellious daughter; though my dad did have a travel bug when he was young, so he does understand it sometimes. But wanting to not risk my trek, I booked it and then sought permission banking on the knowledge that Marwaris hate wasting money and they would let me go only if there is a "money waste" threat involved! My mom was freaked out by the very idea of trekking on ice; the only safe snowy places for her were limited to the freezer and of course, she said a clear NO. Dad, on the other hand, asked me if any of my friends are accompanying me and I responded with a, "No, it's my solo trek." I was proud and they were scared. After lots of convincing, my dad gave me the okay signal and after a lot of melodrama, my mom caved and gave in with a "go-ahead" too.
Tip
If you are opting for Chadar make it a point to inform your parents, because there are high stakes and risks involved and there is very poor network once you're there.
The Preparation
Decathlon was my shopping destination for Chadar and the staff there really helped me pick out the right stuff. Still, I ended up buying a few things which were unnecessary, especially the snow trekking shoes.
Following are the list of items that you'll be needing for the trek:
Rucksack: 40-60 litres bag would be enough (Decathlon/ Wildcraft bags are good)
Thermals/ Warmers: 2 Pairs (Decathlon or any other brand, check the temp for which they are good, there are thermals available for 0-degree temperature.)
T-Shirts: 3-4 High neck t-shirts recommended
Track Pants: 2-3, they must be lightweight and waterproof (Decathlon has a good collection of track pants that cost around 700-1500Rs.)
Fleece and Sweater: 1 or 2 depending on how much cold your body can endure.
Poncho/Rain-cover: 1 is a must as you can never trust the weather.
Windcheater (Optional): Can be bought from Leh local market
Down Jacket/Puffer Jacket: 1 is a must and it should be of good quality
Hand Gloves: 2 pairs (1 woolen and 1 waterproof), these are to be worn in layers so buy the waterproof one in a size bigger than the woolen one.
Woolen Head Scarf and Muffler: 1 each
Head cap, Balaclava, Neck gaiter, Military woolen socks (2 pairs): Buy them from Leh's the army shop. It's the best quality and it is budget friendly.
Gumboots: 1 Pair from Leh Market, costing around Rs 300-400.
Sunglasses (UV Block), Trekking Pole, Torch/ Headlamp, Thermos Bottle (Milton recommended) as the water will freeze in the normal ones and a few quick Dry Towels.
Sunscreen SPF 50 or above and Moisturizer (Choose according to your skin type)
Small Medical Kit
Energy Bars, Chocolates, Dry Fruits, etc. (Carry a pouch to collect wrappers)
Toilet Paper and Tissue paper.
Wet wipes.
Warmers (A fellow trekker brought them, you can find them on Amazon, they are small pouches of ores which generate heat when shaken). They are very helpful at night time when your hands and feet are freezing.
Don't buy Trekking shoes as they won't be useful on the trek as you will be wearing the gumboots, carry normal shoes.
Packing Tips
The most important thing? Pack light. Simply because you will have to carry your bag unless you want to avail the porter service. Pack enough clothes to keep yourself warm and wear clothes in layers. Your bag will be lighter as you will be wearing most of the clothes you carry during the trek. Take help of YouTube videos on how to pack your bag, so that you can evenly distribute the weight in the bag.
Porter service: The trekking guide will offer this service on additional charges which are between Rs 500-1000 per day to carry your bag throughout the trek. I would recommend you pack light and carry your own bag, because after all, it's a trek.
My journey started on the 17th of January. I still remember feeling dread and excitement at the same time; I was not sure if I would survive it out, as it was to be my first time in such cold temperature spanning -20 to -30 degrees. So, before the trek, I drafted my will (I have nothing in possession except my bike, but the drama was fun). Taking my first steps on that airport I felt a rush I had not yet experienced; I and my backpack were ready to board. The feeling was incredible.
From Ahmedabad to Delhi, I have no memories from the flight as I fell asleep (I am gifted with the power to sleep at unusual places for unusual periods of time). I was accompanied by a friend who was also going for the Chadar trek too, and we had connected on Instagram even though he booked a different trek group. From Delhi to Leh, the flight was delayed because of the brilliant smog problem and we reached Leh about 2-3 hours late, but that was just the arrival day so I wasn't particularly freaked out. It was magic when I first witnessed the majestic beauty of Himalayas. For the very first time in my existence so far, I was awestruck and spellbound: It felt like I was in a whole new world.
Leh Airport
The announcement was shocking for me when a flight attendant informed that the temperature outside was -4-degree Celsius, I was like "Woah! That's gonna be like sitting down in a refrigerator!"
All excited I stepped out –  it was a heavenly feeling. Luggage claim was a pain as I lost my trekking pole; there were so many people with the same trekking poles and backpacks. (Someone took mine; I still think it was that strange looking guy, who later became a friend on the trek — of all the gin joints in the world, we landed up having the same trek group! I am yet to discuss this with him.)
After losing the trekking pole, we headed to Leh and cold was just enraging my hunger and the tiredness wasn't helping. After we dropped our bags, we headed out for Leh Market. Holy gods, what a beautiful place it was! I might have been behaving like a blind person who's witnessing the colors of this world for the first time; everything around me was just so pretty. We headed to a restaurant and had an amazing hot lunch. After that, we looked up for stores to buy woolen socks, boots, and the trekking pole. It was, surprisingly, very cheap. At the military store, the socks cost around Rs 80 per pair (I got a couple of pairs) as I already had a few pairs so that I could layer them up. Boots cost around Rs 400 and the trekking pole was Rs 650. The one thing I realized was that I could have shopped for most of stuff at a much cheaper rate from Leh itself.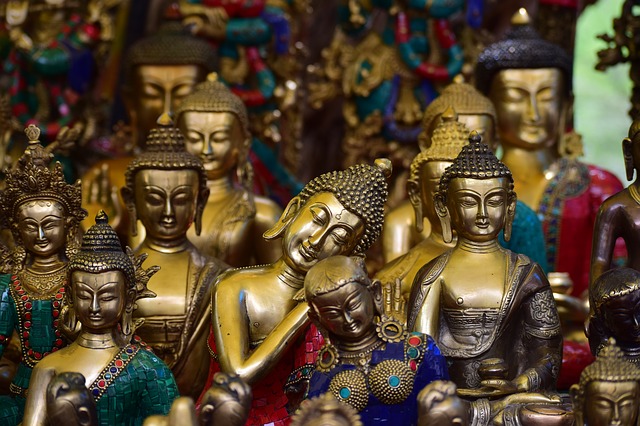 It was 4 PM in the evening by the time we were done shopping, so we went to a tea shop. Ah! That one hot cup of tea! When I connected my phone to the Wifi (There are no signals in Leh, Local Sim or Airtel Postpaid worked and I had neither), there was an email from my trek guide that I should report to my respective assigned hotel. I rushed to the Hotel and bid my friend goodbye.
I was at the hotel reception and I was not aware of my room number, the only information I had was that my roommate's name was "Priya". As I was inquiring the receptionist regarding the whereabouts of some lady named Priya staying there, she passed by; a tall lady in a pink jacket. "Hi, I am Priya. Are you looking for me?". I was thrilled to meet her. Our conversation in the room was exactly like the initial conversation that "Geet and Aditya" have on the train journey in the movie Jab We Met.
Obviously, I was "Geet", so excited that I kept on blabbering on and I didn't even realize the moment she had gone quiet. She wrote her experience of our first meeting in her blog, here it is: "Chutki is a real-life personification of the Bollywood character 'Geet Dhillon' from the movie 'Jab We Met'. Bubbly and hyper-energetic, she was non-stop entertainment and my partner-in-crime-and-whine during the trip."
After a long chat, we headed for dinner and got these instructions "No drinking and carrying liquor during the trek" (Which no one followed, by the way). Next day was to be the start of our trek and so we chose to sleep early.
The first day involved reaching the base camp. We were divided into groups and we sat in the Mini Bus, all strangers to each other. Then one of the guys broke the ice by asking "Who is carrying liquor?", as they were planning to buy some from the local liquor store. They told the driver that they had to buy "sunscreen" which was a really bad idea as the liquor store was not in the market and eventually, they had to tell the driver about the alcohol wherein the man himself ended up buying some local rum. I was made to be the safe player; I had my satchel and was carrying the rum in it.
After 2-3 Hours of the ride, we reached the base camp which was incidentally named Chilling (yeah, the name and temperature of the place were the same.) It was all real, the frozen ice on the river top, the flowing river and we were supposed to trek on this. It was like living a dream.
We were grouped and assigned our respective tents (mine was 3, which I shared with Priya and Lakshmi). Our group was "Special 26", no crazy story behind the name just that we were 26 people in one group. After the photo session and the dinner, we all introduced ourselves and bonded over the bonfire under the crystal clear sky. The night ended with star gazing and I saw shooting stars too, again for the first time.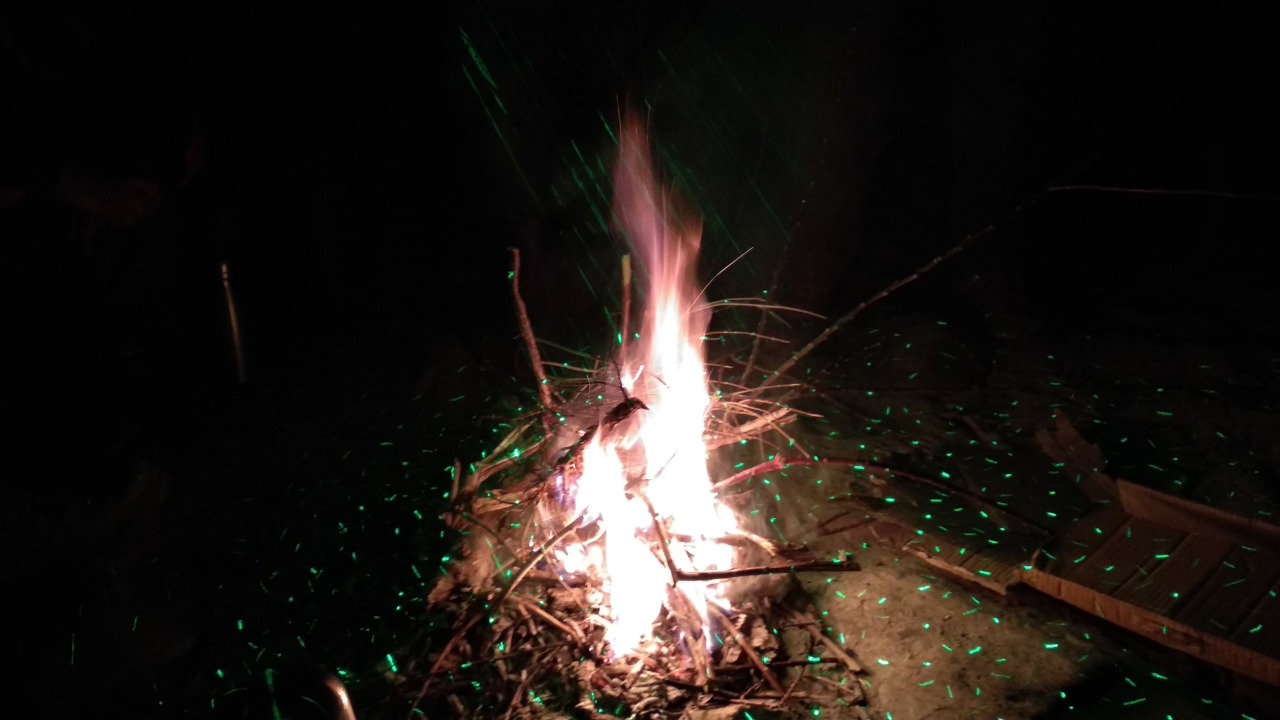 But, the night didn't end for me, I got into the tent and tucked myself into the double layered sleeping bag in the freezing cold. I tried and tried but couldn't sleep and ended up feeling like a restless caterpillar in that sleeping bag. I felt it was a stupid mistake coming on this trek which would end up in me being frozen to death. I hardly slept for 2 hours and was woken up by the breakfast whistle.
Everything was difficult, even my brushing teeth was a struggle as the water was so cold that it would kill your hand. Somehow, we managed to get hot water. After breakfast, we were all ready for our trek. I was all dressed up in layers and layers of clothes.
I wore 6 layers: a warmer, t-shirt, another warmer, a thin sweater/fleece, sweater, and the puffer jacket. Below my midriff, I wore 2 layers of warmers and the trek pants. I was wearing 2 woolen caps and 3 layers of socks. No wonder I looked like a stuffed toy!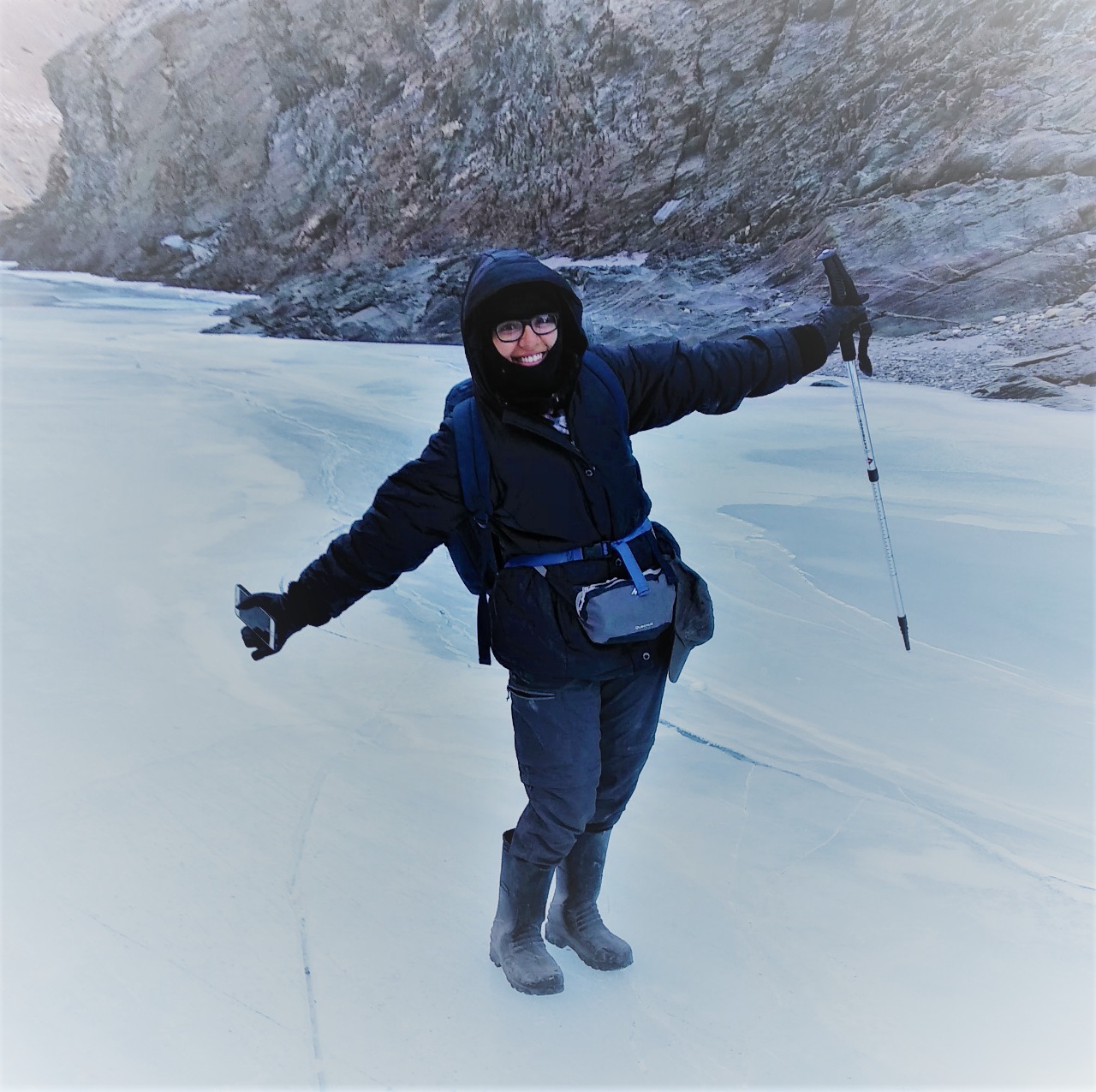 The stuffed toy look. 
The excitement in the air reminded of that first day of school; I could feel the pleasant rush. A little trek uphill and then we landed on CHADAR – the frozen thick sheet. It couldn't have been more than 5 minutes on it when the sheet of ice beneath our feet shifted. Damn that was scary! Felt like an earthquake. We were asked not to panic and we moved forward, a little more cautious though. The ice was so slippery that I slipped seven times the first day! Thankfully, it didn't hurt much as I was falling on my back and my bag was saving me, but it was hard to walk on that sheet of ice. It became funny after a while because someone was falling every now and then from the group. We all eventually learned how to walk on ice… Walking, crawling, skating and falling, we finally made it to the camp.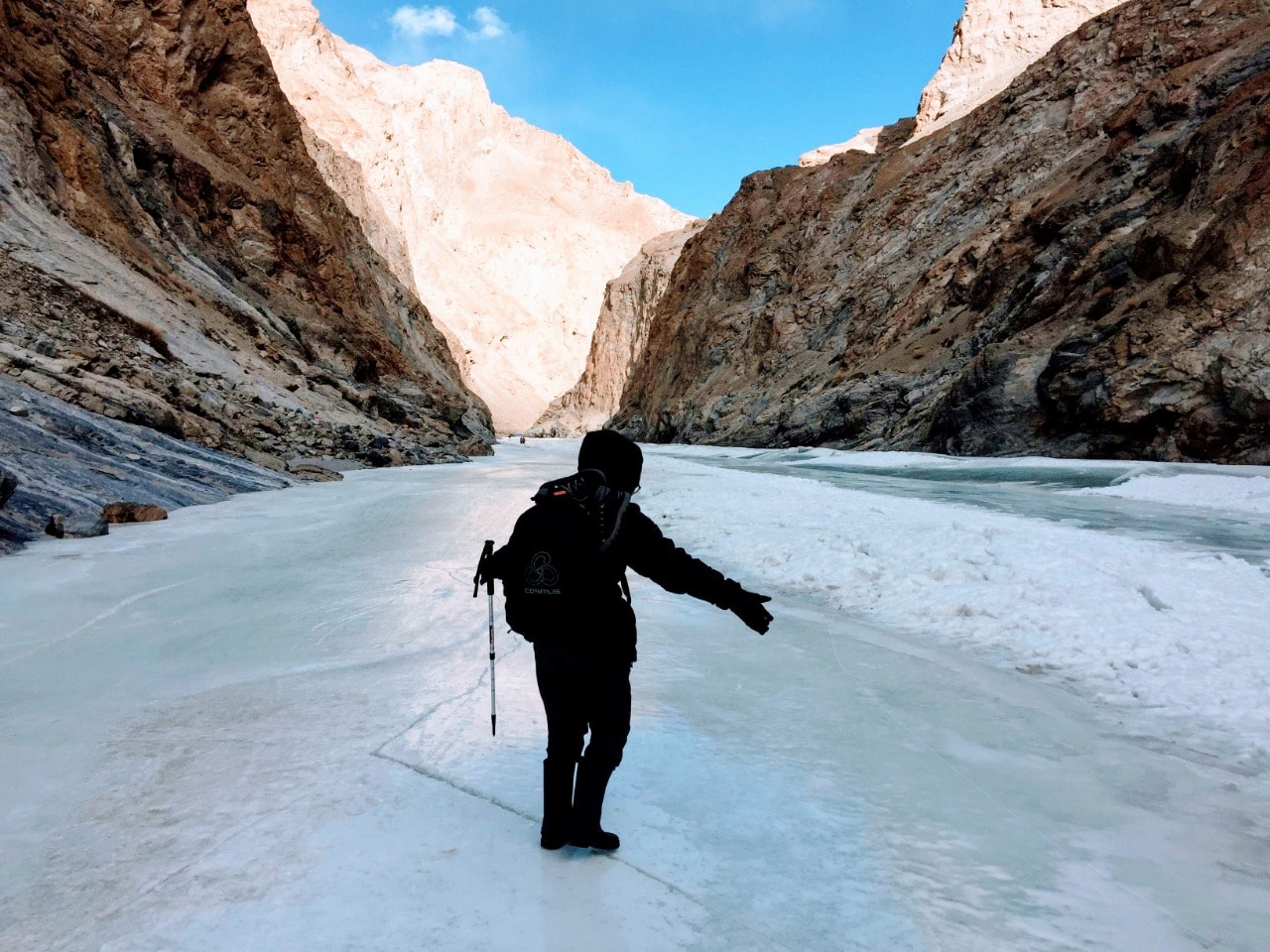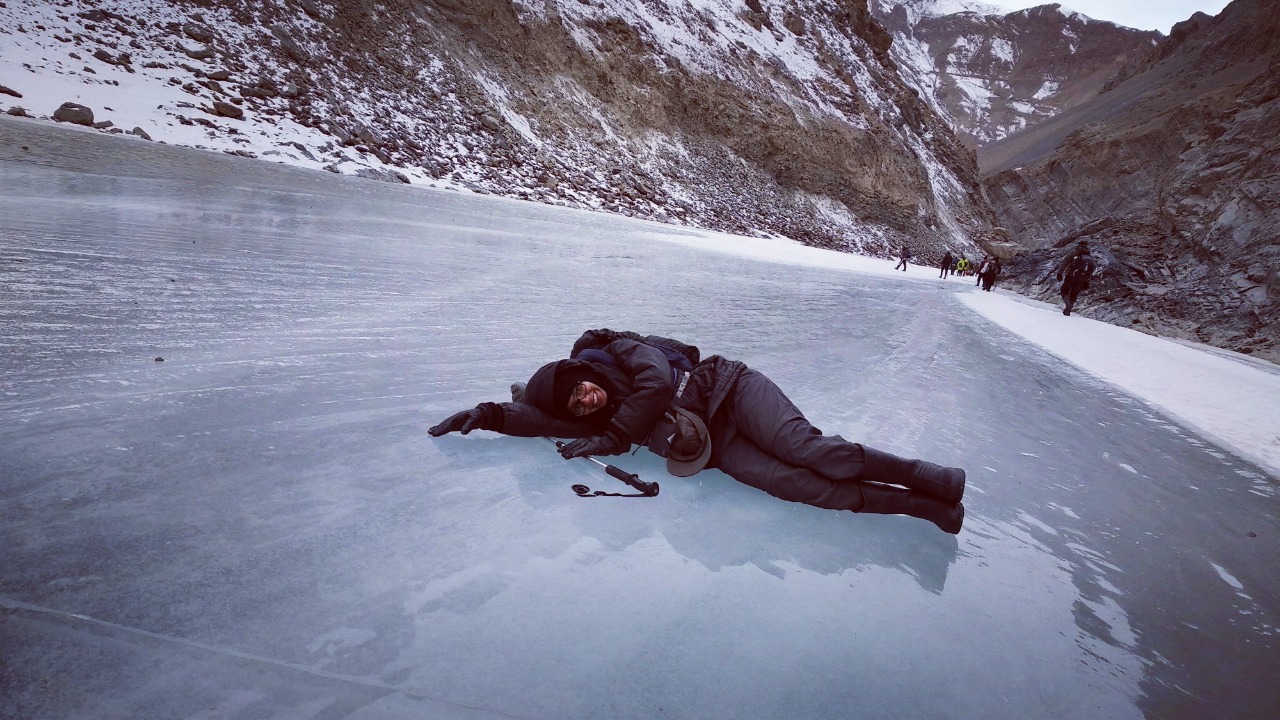 Our lunch was a hot cup of Maggie… a delicacy it was! Shingra Coma was our camping site for the day. We were received warmly with a hot cup of tea. After relaxing, we all gathered for dinner. I never had appreciated simple food before then, and we were served dal chaawal. I enjoyed every bite because I was too hungry and it was served hot. The bonfire was something we all looked forward to for all the talking, sharing stories and the bonding. Back to the caterpillar mode of sleeping but this day I managed to get some sleep.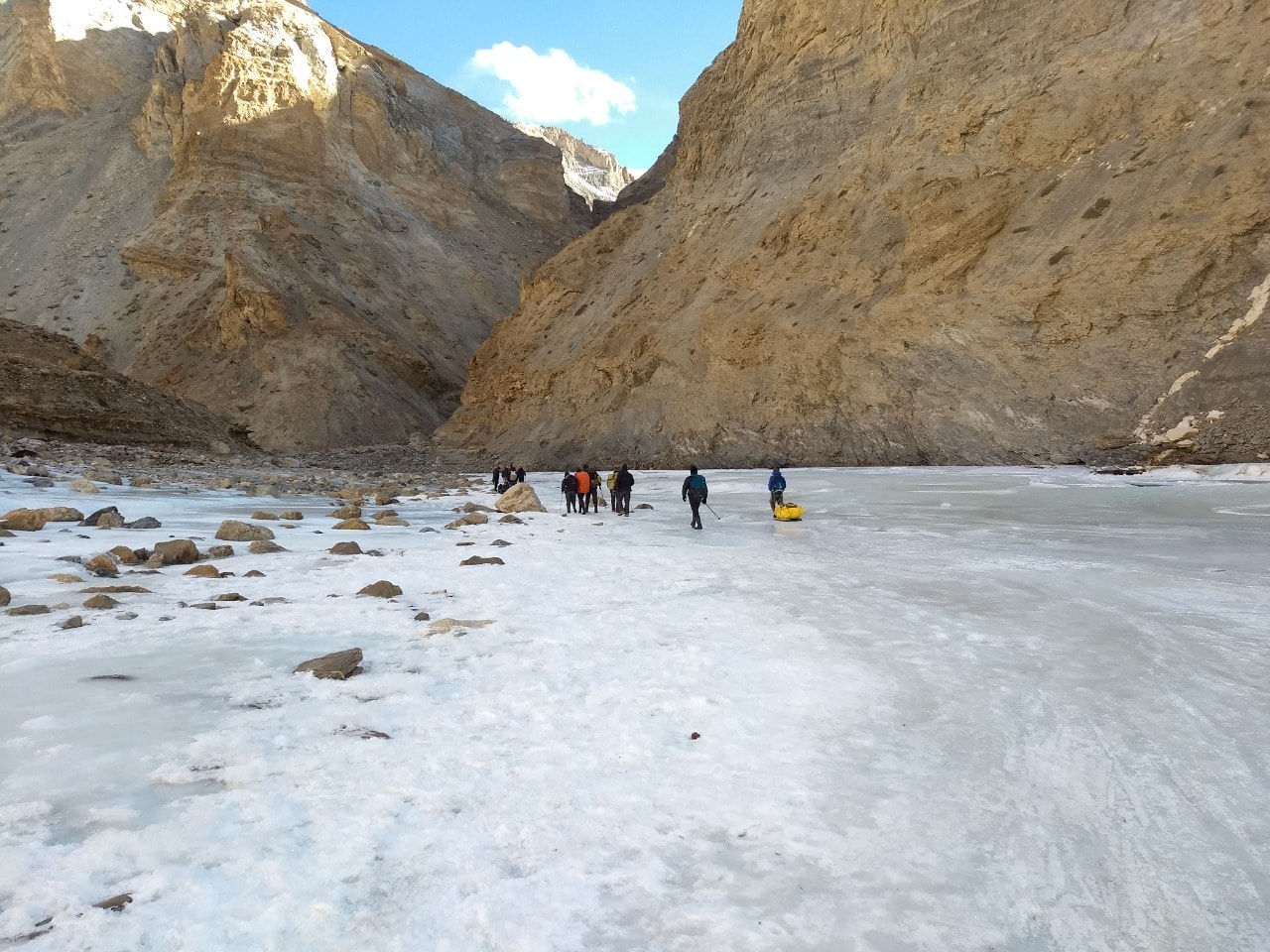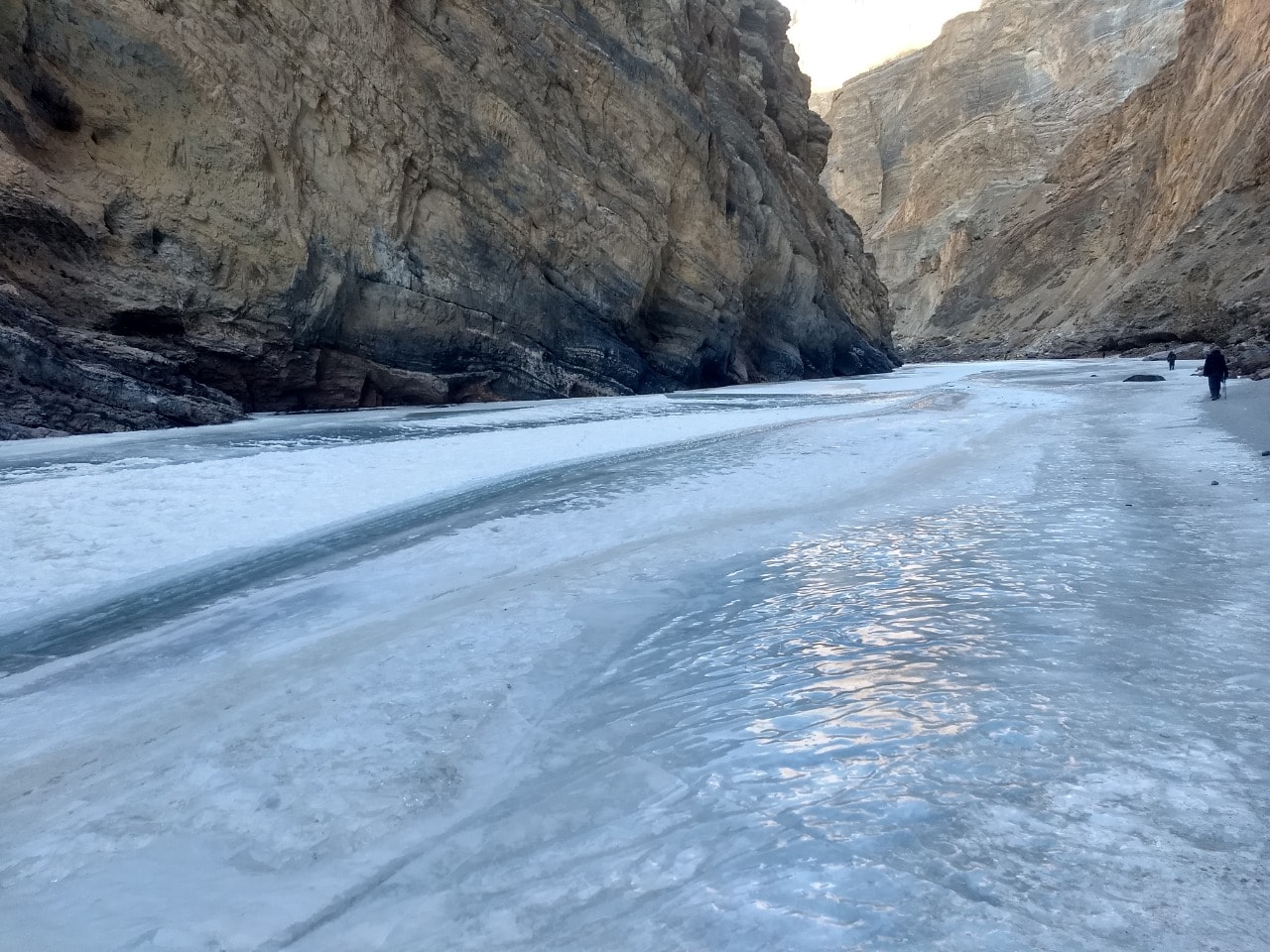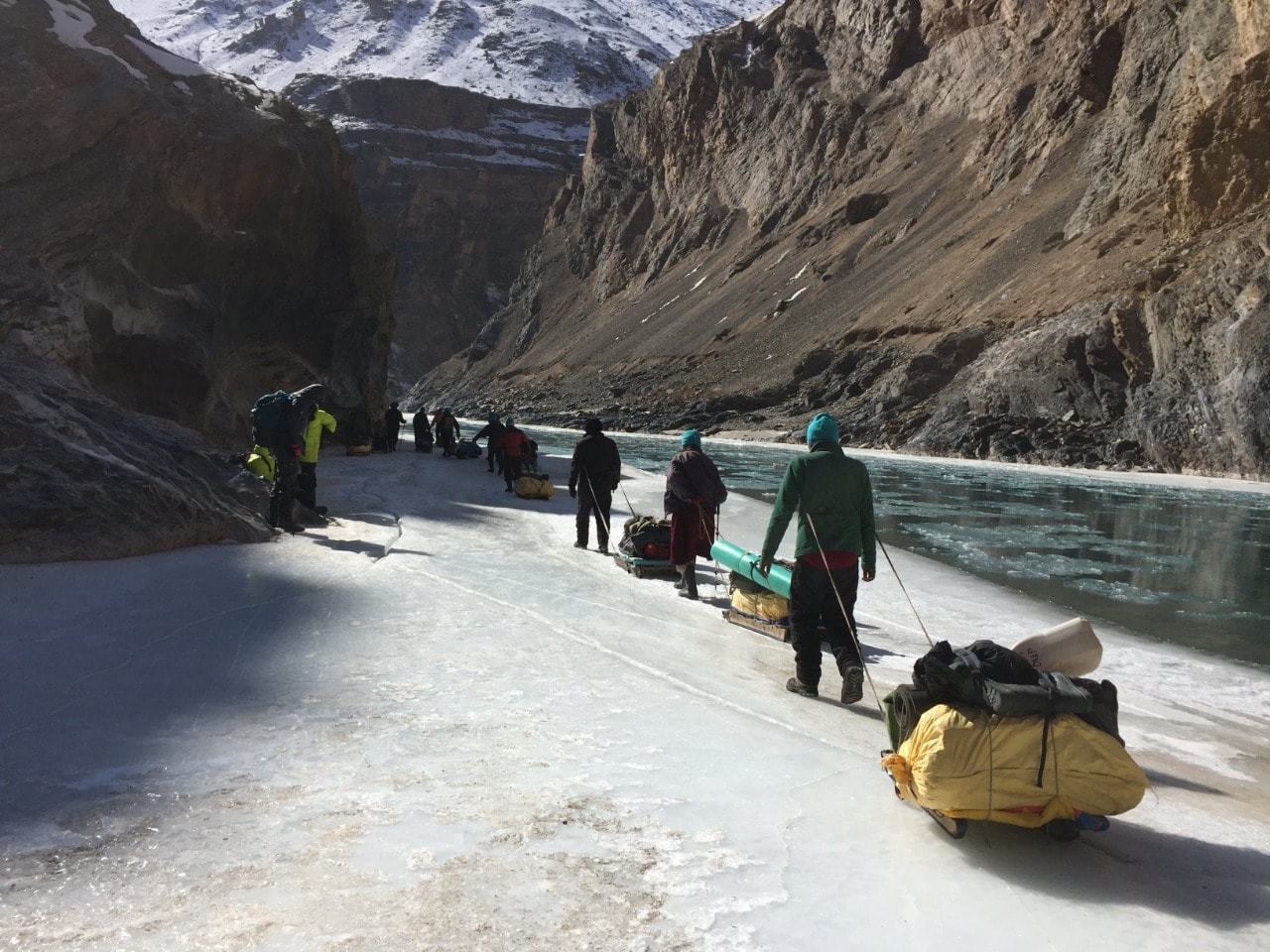 The beauty of ice and the porters carrying the camping amenities. 
The next morning when we came out of our tent we were greeted by snow on the top of it. It was colder but my body was trying to acclimatize though the toughest part was keeping my feet warm. Throughout the trek, I always was worried about getting frostbite as the rubber boots were solid cold all the time, but as I started the trek on the frozen river, my body warmed up and so did my feet. It's very painful when your frozen feet start warming up again, trust me.
The pain however, was worth it, because the beauty which I was witnessing, I still can't believe that it was all real; the long stretched sheet of ice on the river,  the rush and rustle of the flowing water and the mountains on either side of us. It still brings a smile and I feel privileged that I trekked across that sheet. As we walked we realized the difficulties, the broken chadar patch was dangerous but thanks to our trek guides, we managed to clear that safely, though one of our friends slipped and dipped himself, he switched quickly to dried clothes as the body cannot bear that utterly low temperature of water.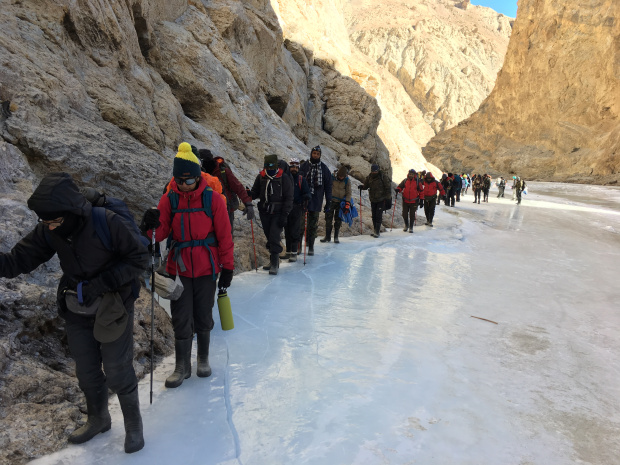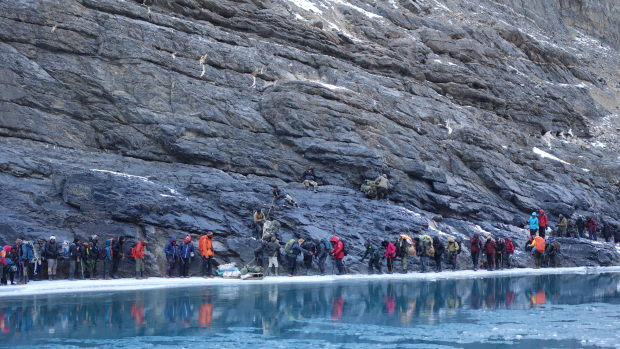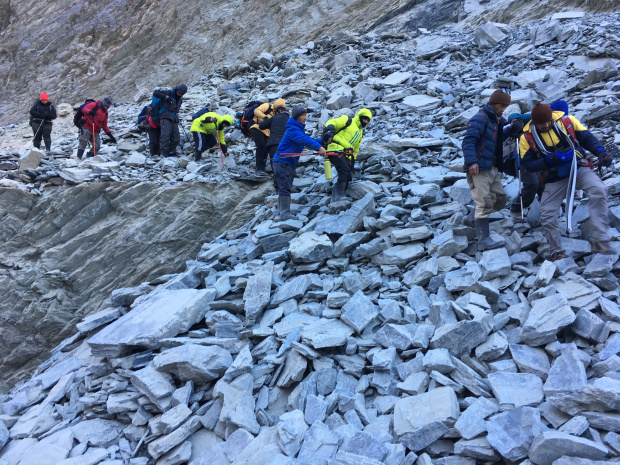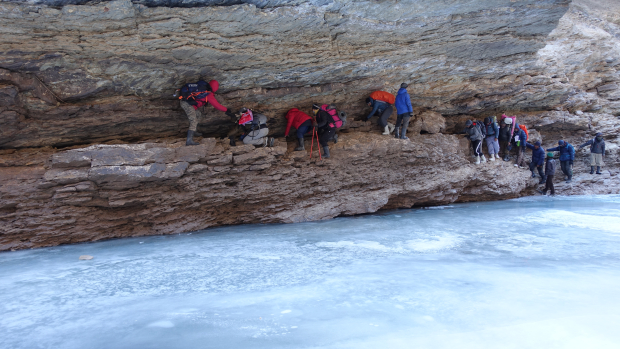 Trekkers trying to cross the rough parts 
We had to climb a mountain on the side of the river where the chadar was not formed properly. We cleared a really difficult patch that day, balancing ourselves on the cuts in the side of the mountain, chiseled by the river. My achievement of the day was I fell just once! Yes, I was counting the falls. We all safely made it to the next campsite, Tibb Cave. Dinner and bonfire was a ritual by now. The temperature was dropping drastically and we finally got the rum out. Bonfire, rum and fellow trekkers who were friends by now (especially Priya, Anuj, Shashank). We were listening to each other's life stories, drinking and gazing at the beautiful night sky. The only thought I had during these calm moments was "What else could I want from life?" I yet again had a sleepless night because of the cold but the next day was worth looking forward. I was really happy that I did this.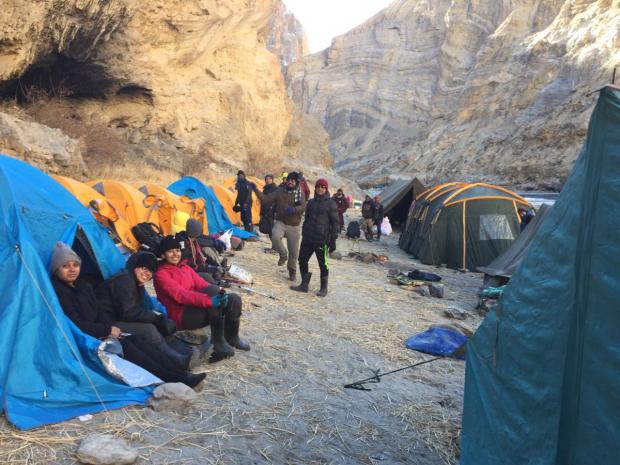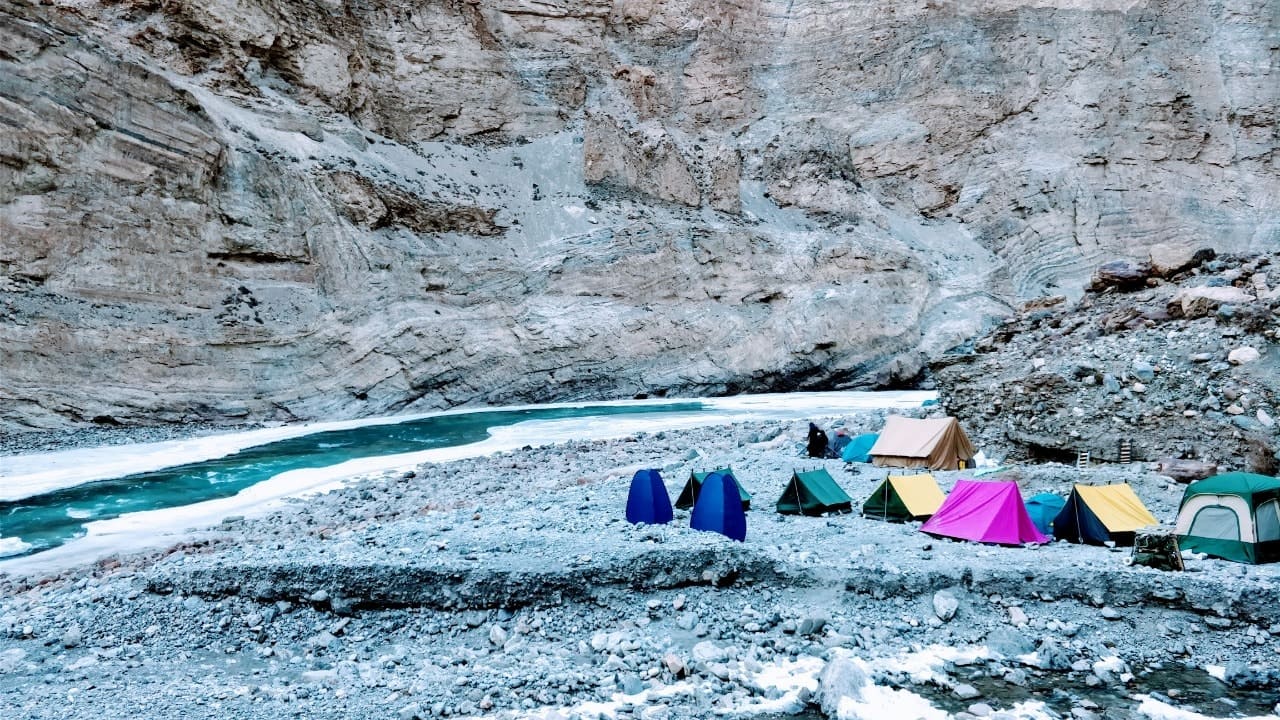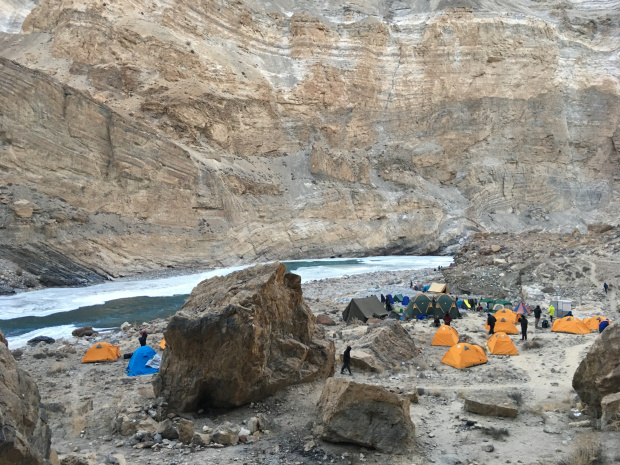 Our campsite and the neighboring campsite at tibb cave.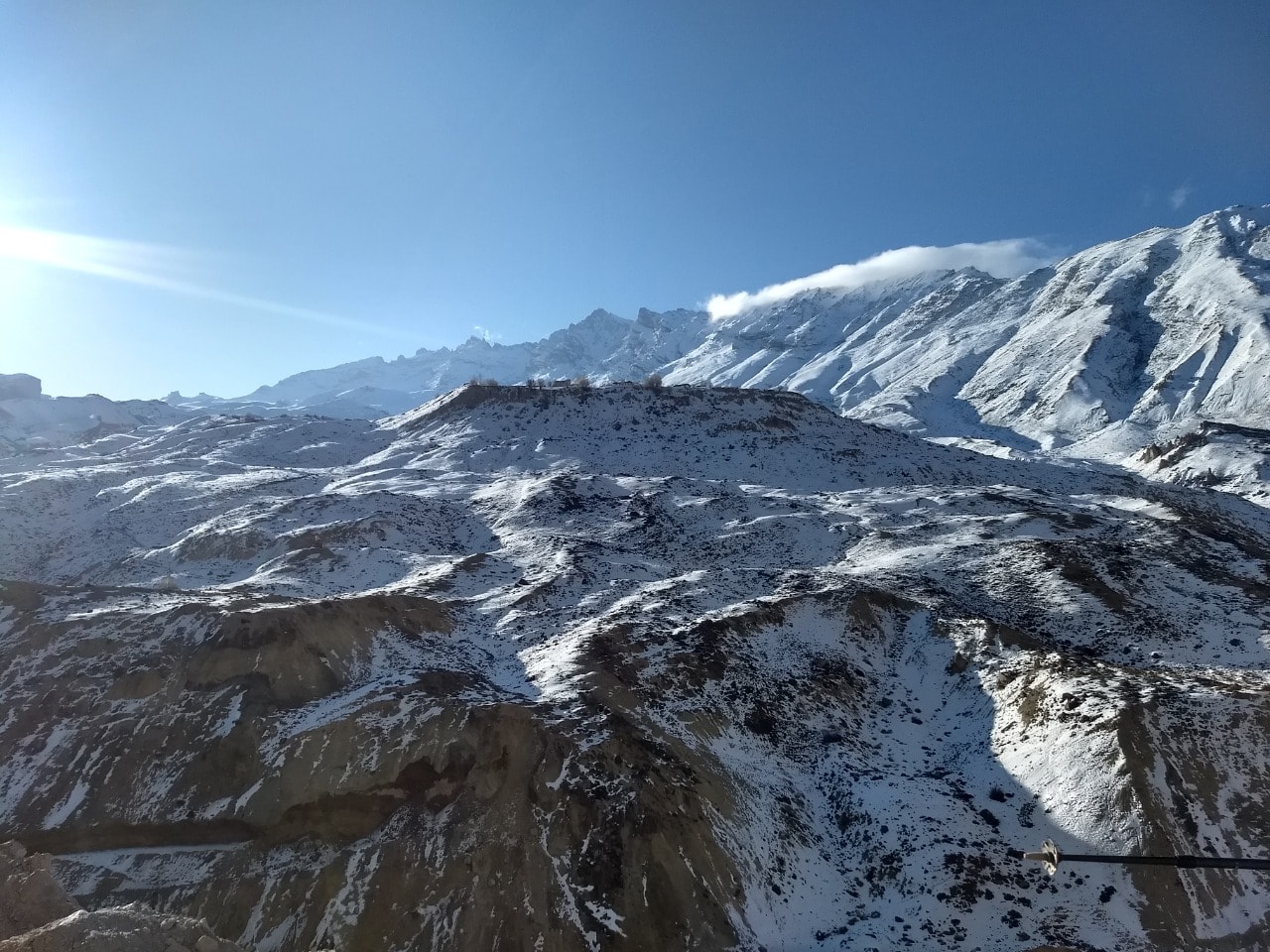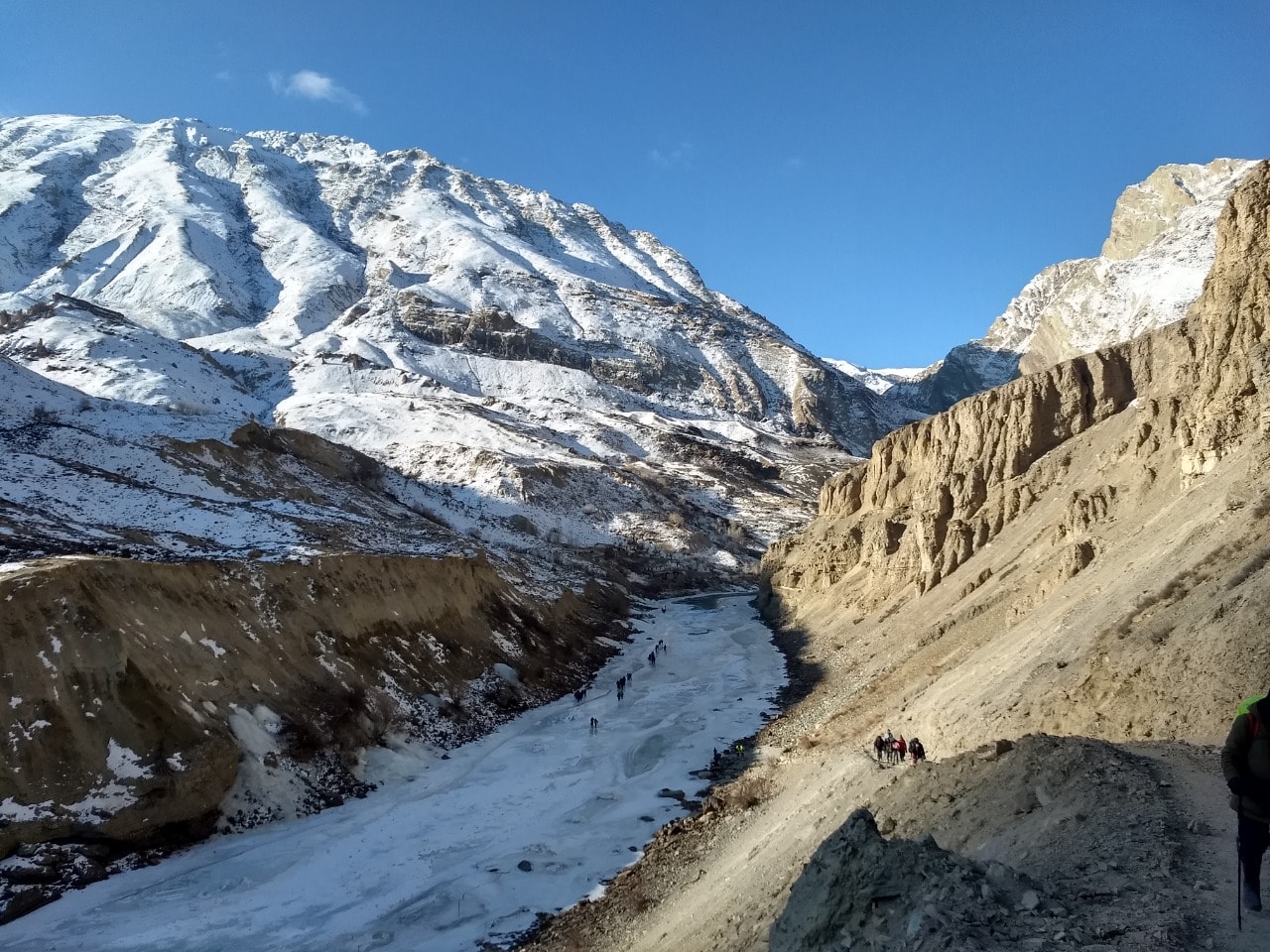 The view of Nerak village.
Journey To The Frozen Waterfall
We started again in the morning and I could see smiles on everyone's faces. Till lunch, I hadn't fallen even once and I thought I had nailed this 'walking on the ice' thing. Maybe I thought it too soon because later the very same day I fell twice and I was lucky enough to have my spectacles broken and not my eyes. Yes, I had fallen face first this time. I did carry a spare pair of glasses so I could compensate for that loss. We trekked the ice sheet and heard a lot of stories, on the way, of the numerous accidents that had occurred here. We even saw blood stains on the ice sheet. That was scary. I was already too cautious and that didn't help.
We reached Nerak waterfall after walking the long way because the chadar was broken; we had to take a longer route through the hill on side of it. We reached just in time. The waterfall was there but there was no water falling… it was all ice. As if someone had commanded the water to stop flowing in its entirety and it lay there in its tracks, frozen, solid. I am short of words to describe how mesmerizing that view was.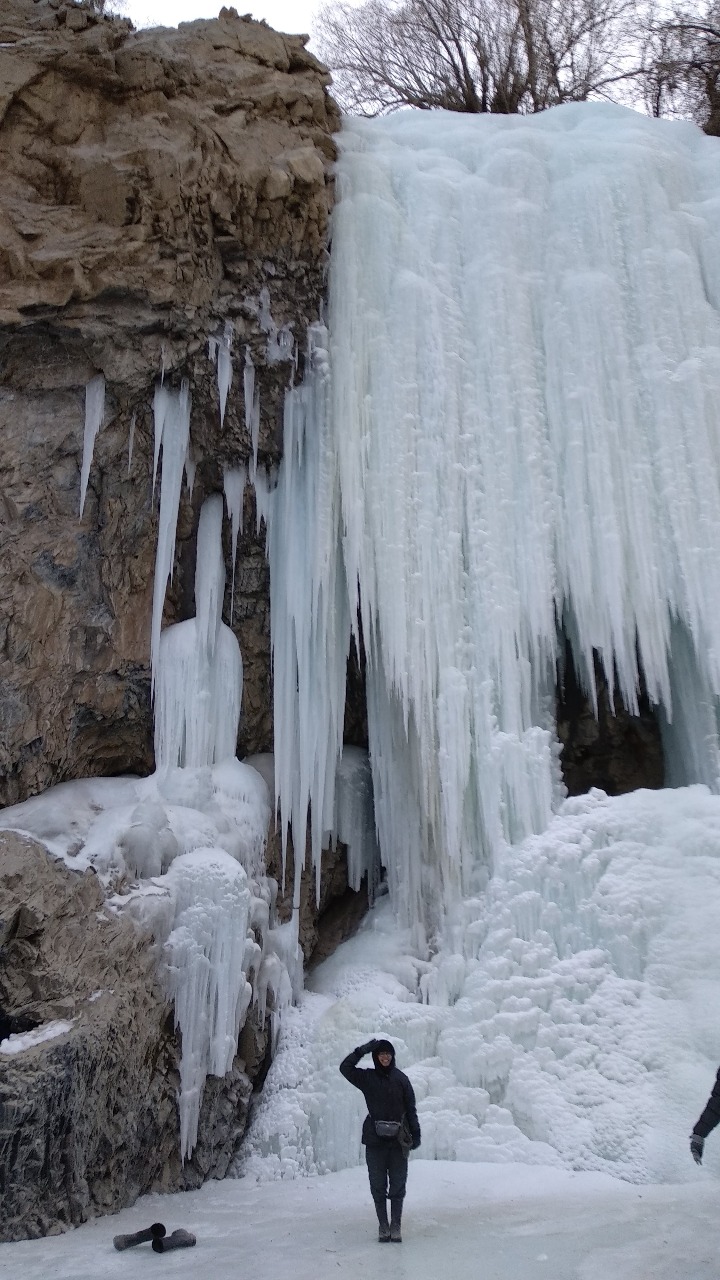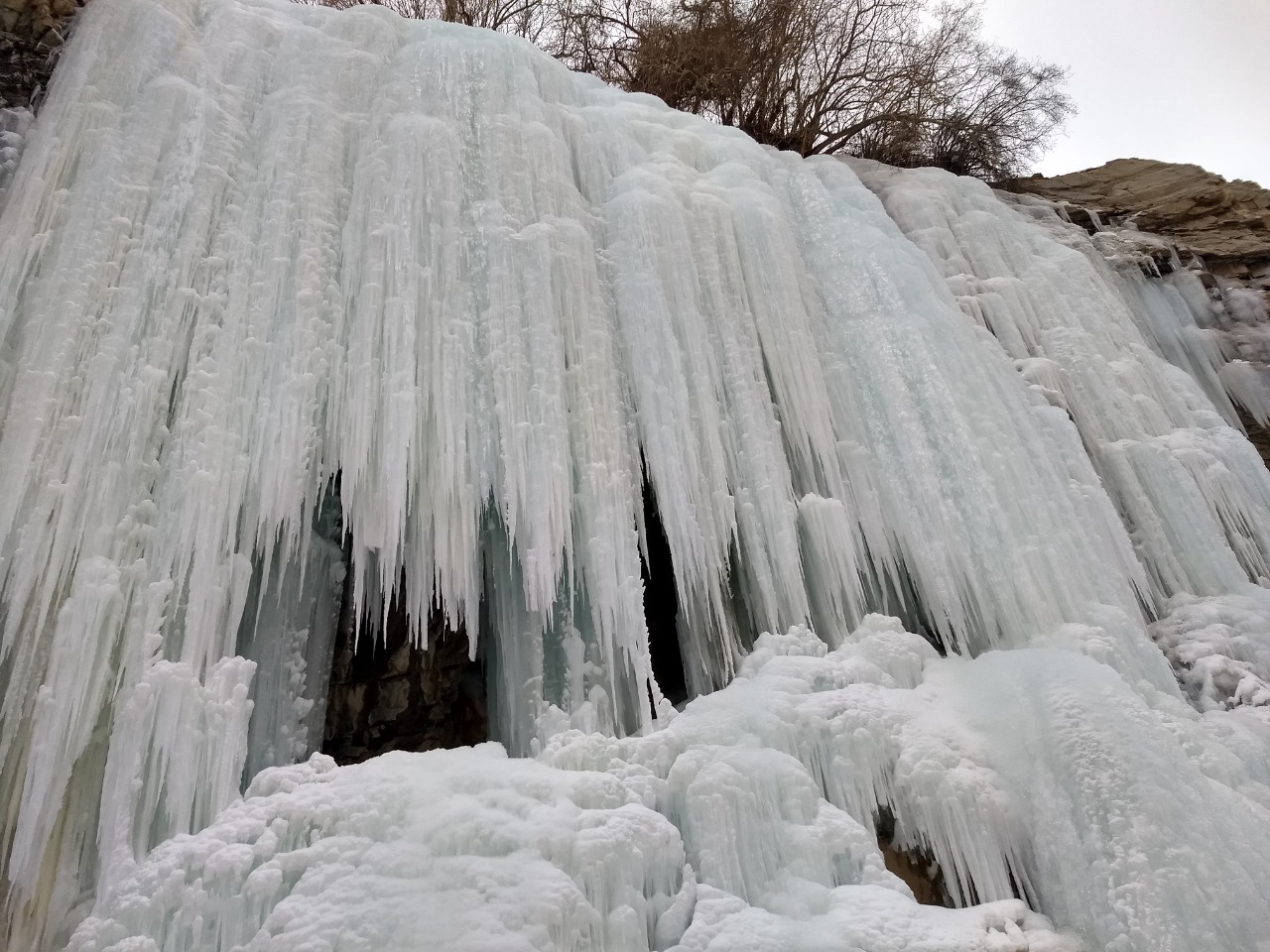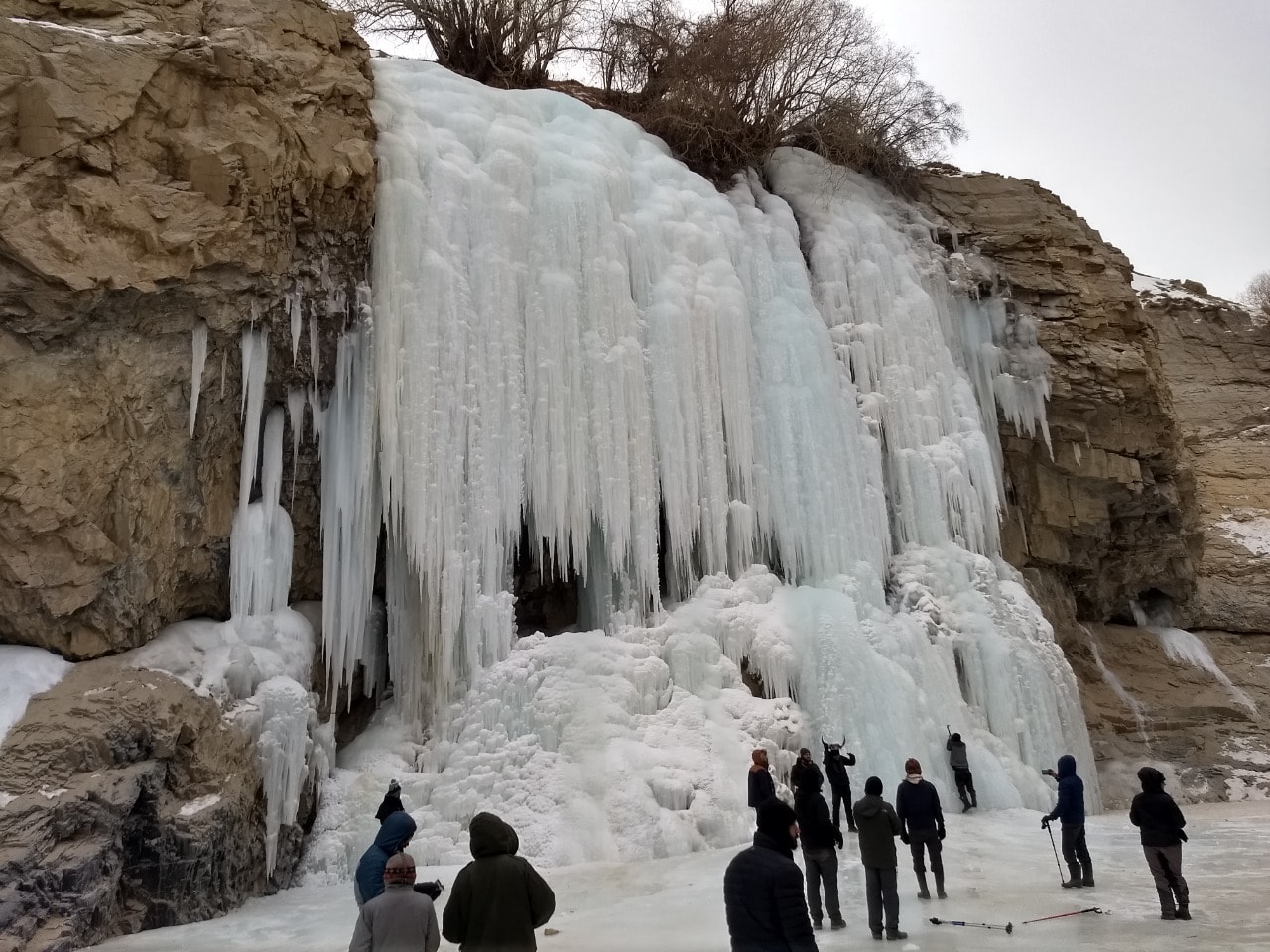 The Famous frozen waterfall of Nerak.
At the Nerak camp, we finally got a homestay (A room which had cement walls with no piece of furniture) at an extra price of 1000-1500 Rs each but it was worth it. They were simple empty, rooms which just had a chimney in the center which made us feel like were in warm version of heaven. That day, we all stayed up late, talked and as the days were passing, I was adding new friends to my life.
Nerak is a small village and has a population of not more than 100 and it was eye-opening to see the people here live in such harsh conditions with hardly any connection to the outer world. The beauty of Nerak was worth the hardships. I even tried the local liquor the people of Nerak made (it was extremely smelly but it was worth a try). I had the best sleep in Nerak, owing to the warmth of those rooms.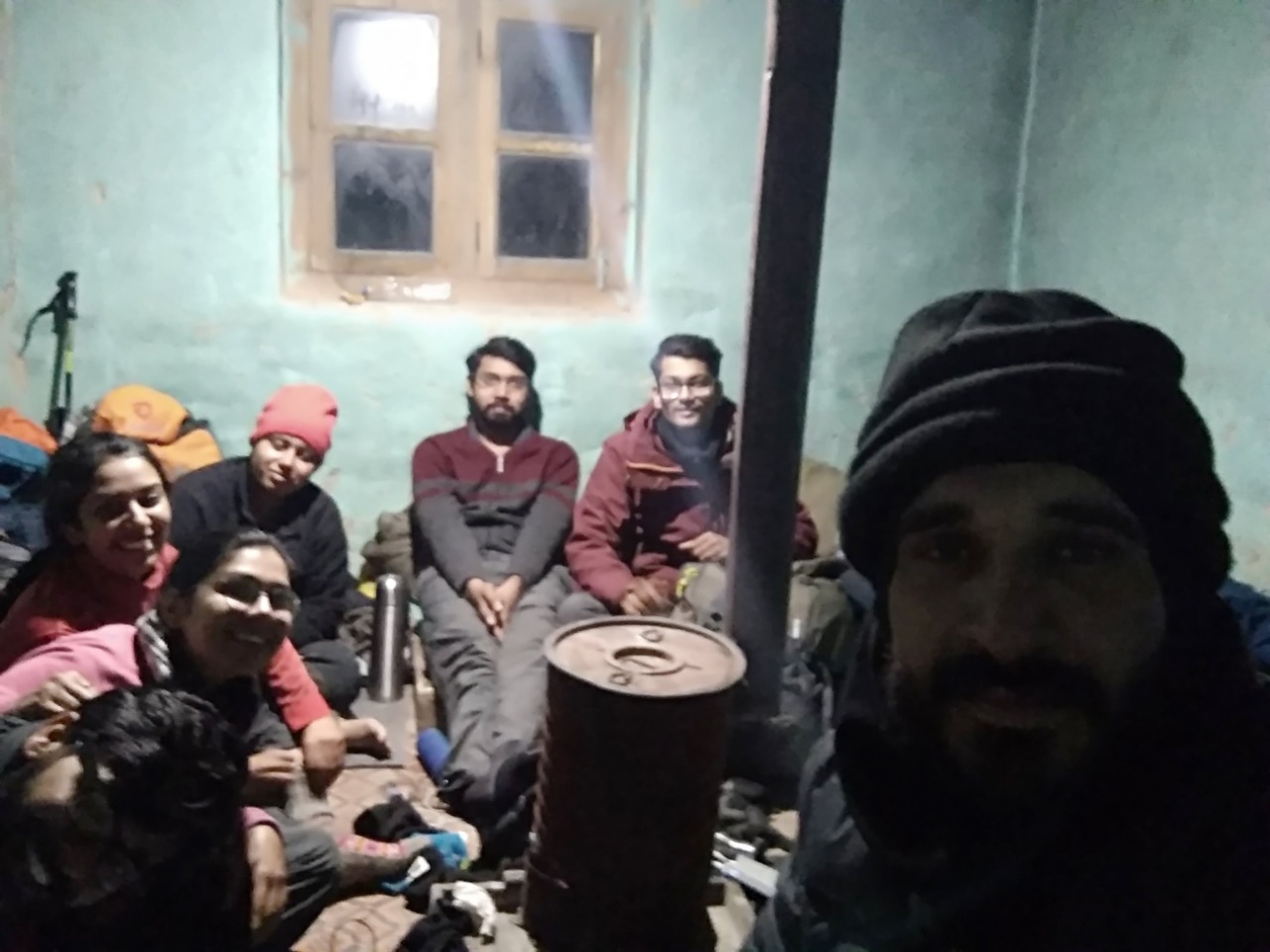 The luxurious stay at Nerak
Next day we began our journey back to the Tibb Cave campsite and by this time I was a pro and had zero falls but one of our friends had an accident and broke his ligament. He was brave enough and chose to keep walking on his own (I am still proud of you Anuj). We all were just spellbound by the beauty and couldn't stop staring throughout. Our galleries were filling up, most of our phones didn't work in the cold but somehow my phone was doing fine. The journey was coming towards the end and our bond was solidifying.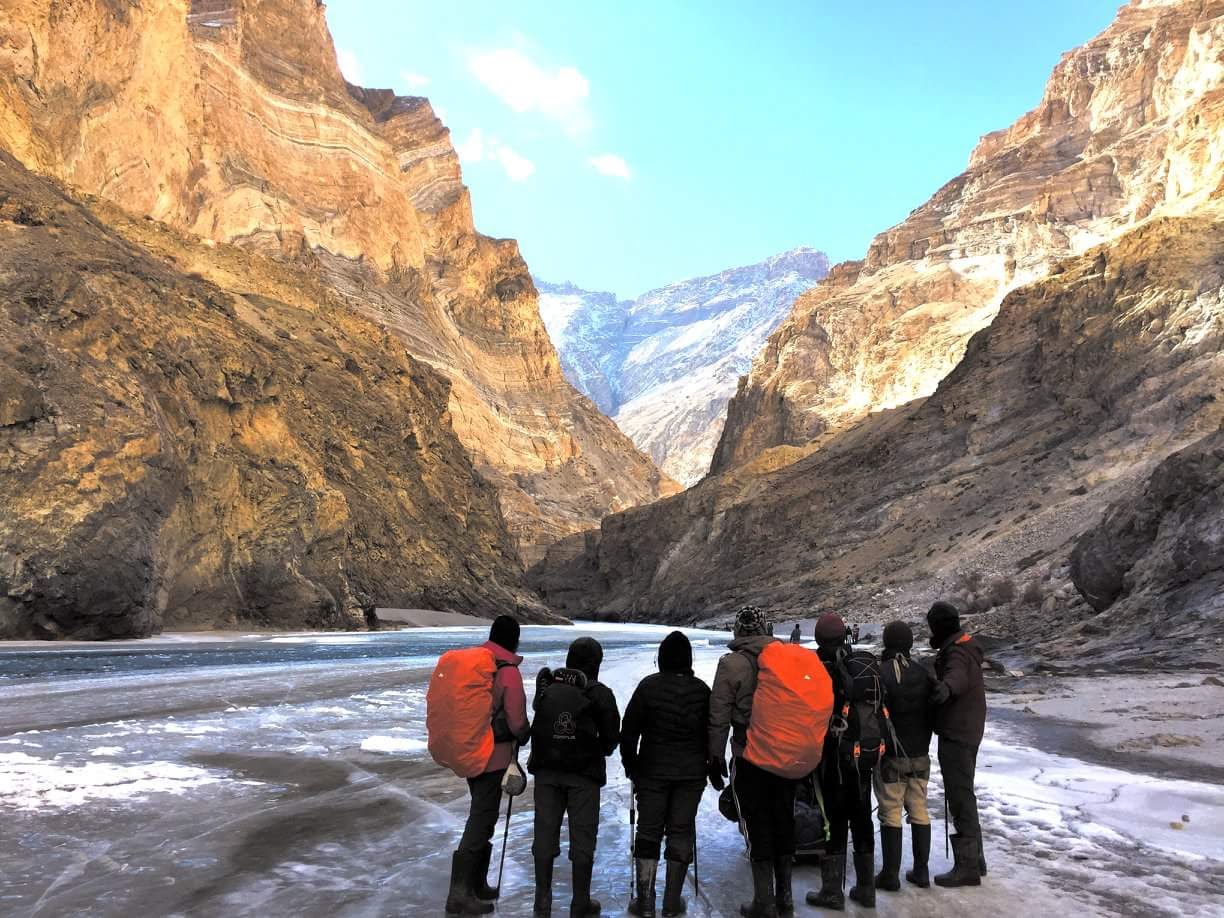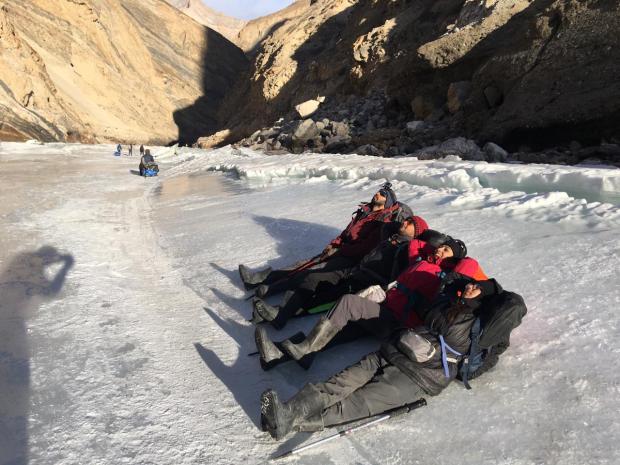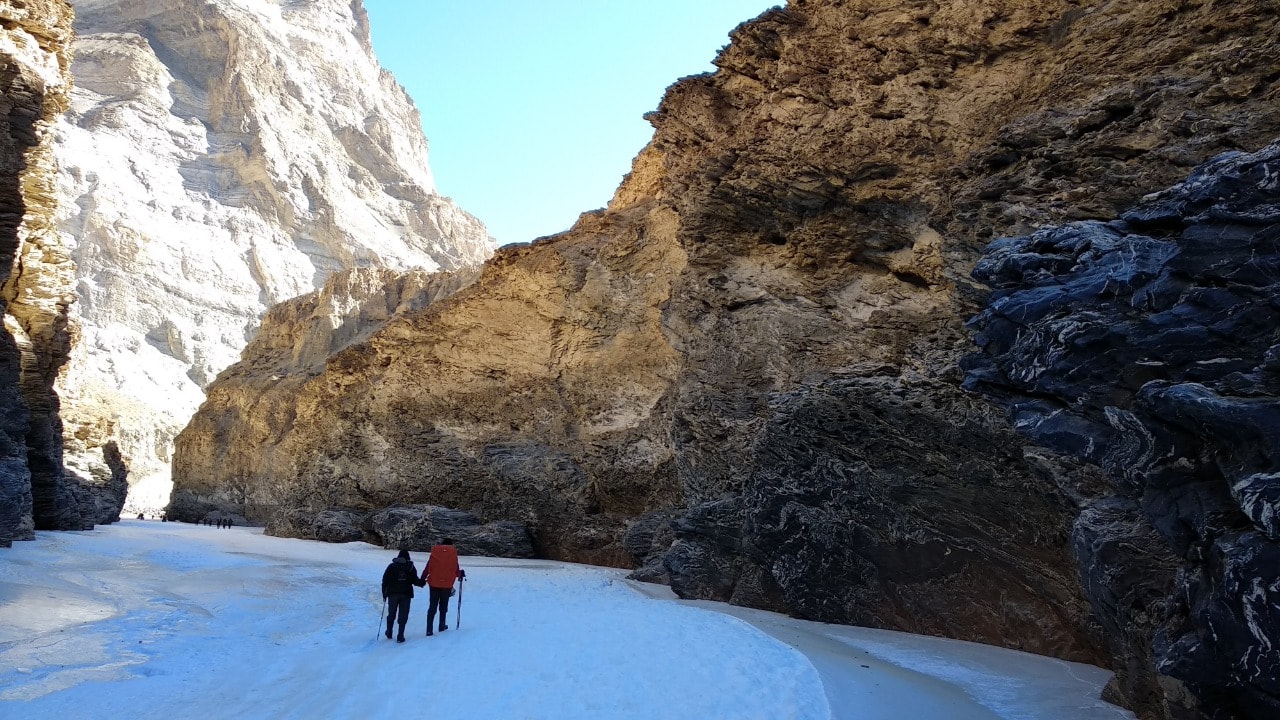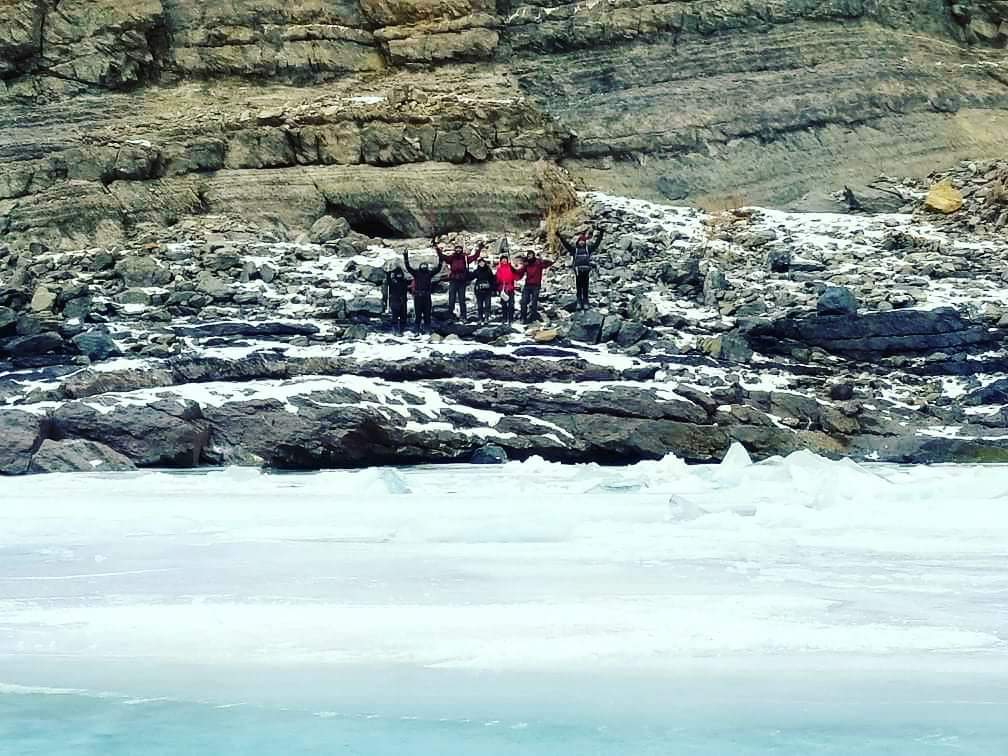 The bonfire was worth it (we all went crazy with the dancing and singing), the antakshari and that beautiful place.
The last day to walk on chadar had arrived and I could not believe that I had gotten so used to the hardships that I was actually feeling bad about the trek ending. We reached the base camp and the discussion started about the famous dip in the ice-cold river. I was like "I can't do it, it sounds crazy".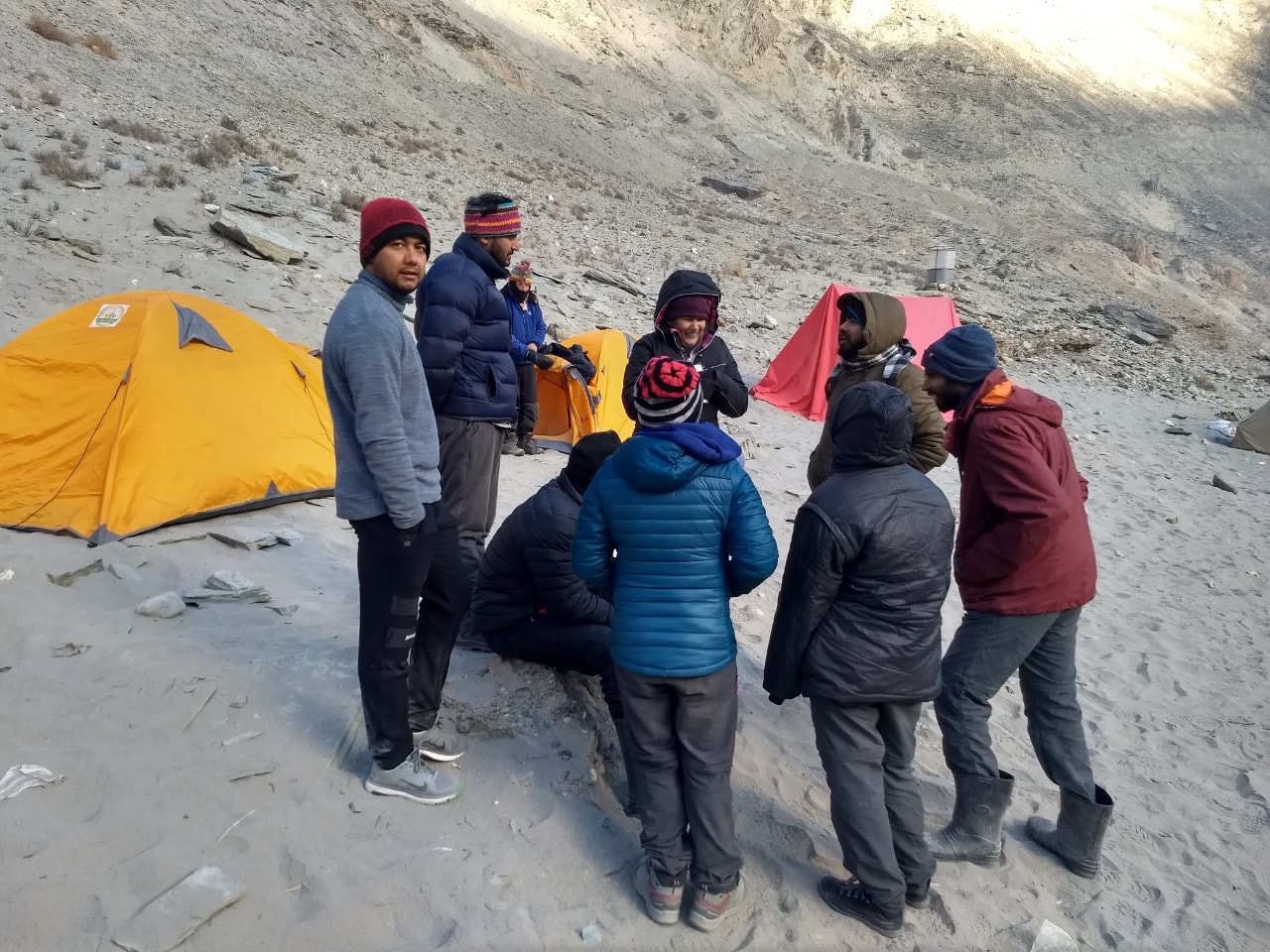 Discussing and deciding whether to take the river dip
The next morning we woke up and few of the friends were ready for their brave dips. My tent-mate Lakshmi gave me the strength to take the crazy decision. I thought to myself that if I wouldn't do it today I would regret it forever. One after the other everyone was getting ready for the dip. Finally, it was my turn. The ice cold water, as it touched my skin felt like millions of poking, cold needles. Surprisingly after that, I didn't feel cold at all.
After this last thrill, we were all ready to go back. All our 26 made it safely, though there was a sad death of a fellow trekker from another group because of cardiac arrest.
We all went back to our routines but I guess this trek changed something in me, I was much happier and realized that I am stronger than I thought I was. I want to give out a big thank you to the trek leaders, the porters, the cooks and of course, Special 26.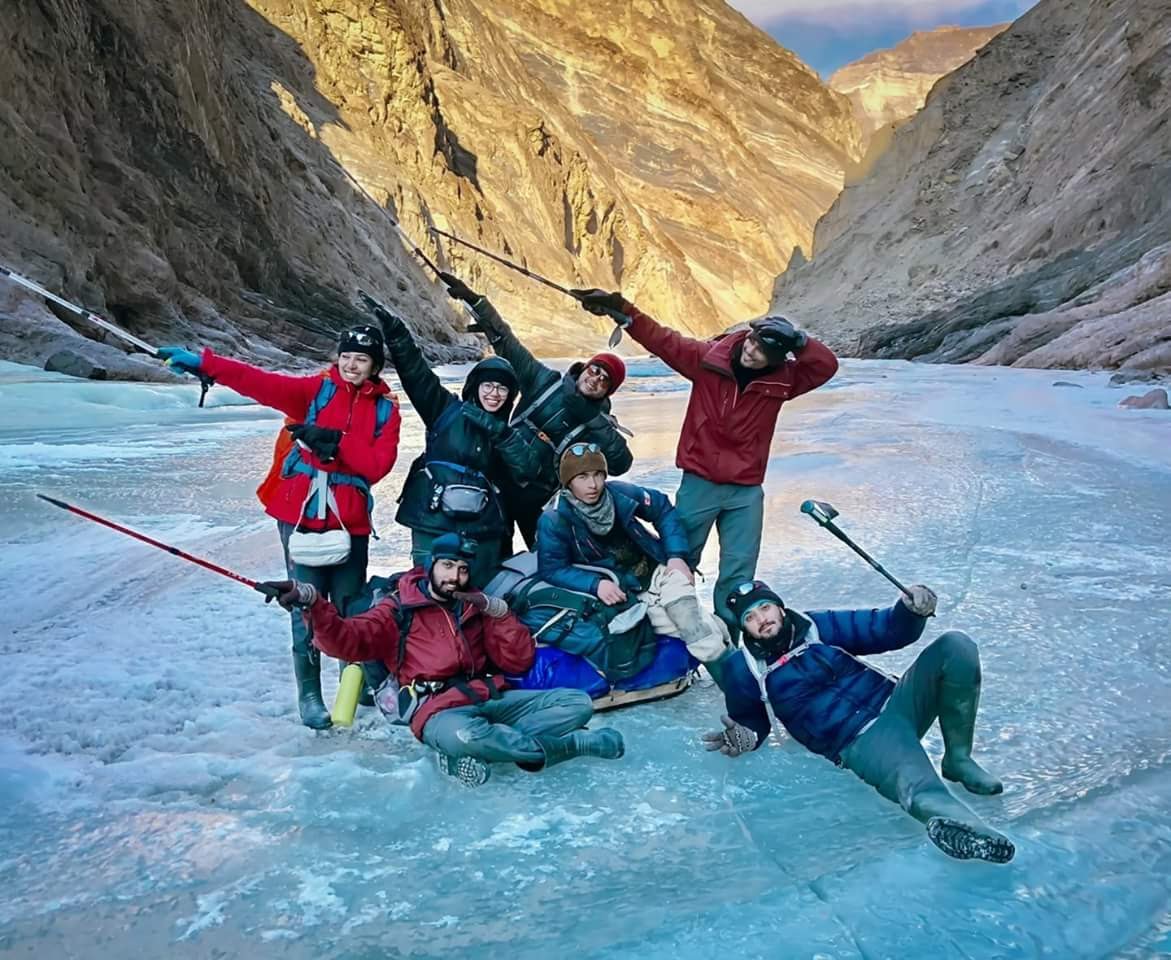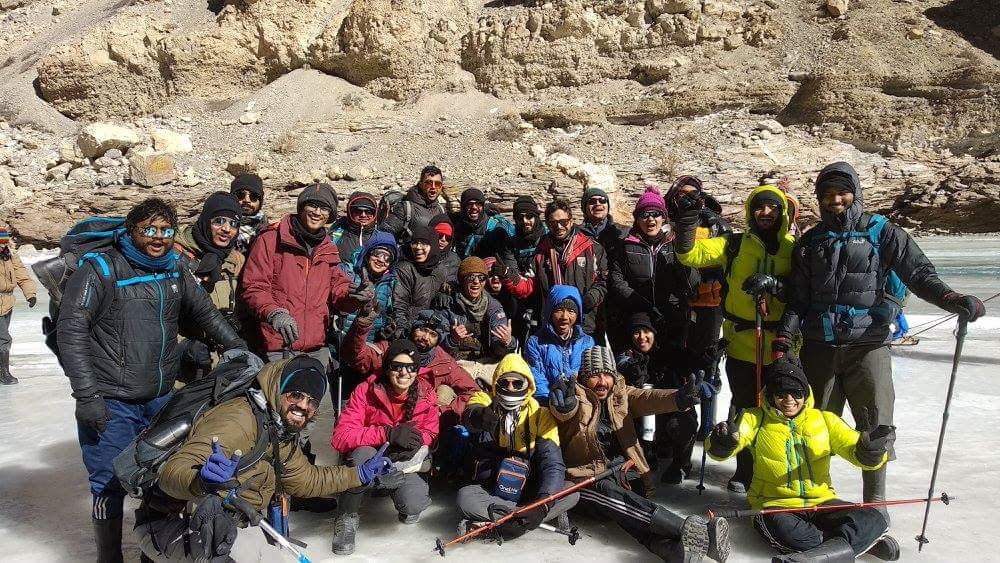 "I urge you to travel. As far and as much as possible. Work ridiculous shifts to save money. Go without the latest iPhone. Throw yourself out of your comfort zone. Find out how other people live and realize that the world is a much bigger place that the town you live in. And when you come home, home may still be the same. And yes, you may go back to the same old job, but something in you will have changed. And trust me that changes everything." 
This article has been contributed by Chitrangda Goswami. If you wish to contribute a travel story to Curly Tales, please write to us here