Samin Parikh, a student studying BBA in Mumbai went on a 15-day trip to Italy in ₹1.35 lakhs including flight tickets. His trip to Italy lasted from October 29 to November 14, 2019. He shared his itinerary and experiences in Italy with Curly Tales. So here's Samin Parikh's story right from the horse's mouth.
Hello! My name is Samin Parikh. I am a student, studying BBA in Sports Management and pursuing a diploma in International Tourism. I am from Mumbai. My hobbies are sports, travelling and music. Travelling for me is freedom. Exploring new countries, meeting new people, making friends, observing and respecting the cultures. I am a happy budget traveller, and I travelled to Italy at a tight budget with my own itinerary. So here's the story of my 15-day trip to Italy in ₹1.35 Lakhs including flight tickets.
Why Italy?
I have been to many places Internationally like Dubai, Singapore, Malaysia. My domestic travels were Kerela, Goa, Himachal Pradesh, Delhi and Punjab. The highlight of my travelling tale is Skydiving in Dubai and Hiking the Hampta Pass Trek in Himachal Pradesh. I prefer backpacking trip where you don't have to follow an itinerary (I believe in making my own itinerary) and also my trip is always a budget-friendly. So I am a budget traveller too. Choosing Italy was a tough decision. We were confused between Spain and Italy. But we chose Italy because it is cheaper than in Spain and mainly for its food. I love Italian cuisine, so yes, we finally decided Italy, while sitting at Starbucks.
Planning Your Trip To Italy
My travel duration was from 29th October to 14th November 2019. I was accompanied by my childhood friend Hritik Sanghavi. We met after months and we decided to take a trip internationally. We both were quite serious about this and soon we started planning. Once Italy was decided, we took it step by step by reserving the flight tickets, then booking our stay and then applying for a visa. As soon as we got our visas we were very excited about the trip.
We booked the flight tickets through an agent. But the stay we did it all by ourselves researching and reading about all the places online. I also curated our itinerary on our own. I decided the places we wanted to see, the restaurants I wanted to visit and the history I wanted to explore. It was easy for me to do this because we researched, read about a lot of things and of course took advice from our family. It was hard for me to believe that we were travelling all by ourselves until we were on the flight. This was a very precious and important trip for me because, firstly, it was my first international trip with my friend, secondly, the trip was completely planned by us.
Day 1- Milan
We landed at Milan Linate Airport in the morning at 10:30 am. The thing was we had the address but didn't know how to reach there using public transport as taxis were very expensive. Soon we sat on the bus where we thought, just like India there will be a ticket collector who will give us the ticket but the system there is different. One has to buy a ticket from a Tabacchi (Tobacco) shop. But we were not aware of it, till we spoke to a local person. He said now that you both have sat, it's okay as many times they do not check. Yes, we did take the risk. Soon we managed to reach the address and Gianluca, who was our Airbnb host was waiting for us. The stay was wonderful and valuable. It was 6 metro stations away from the Duomo (city Centre).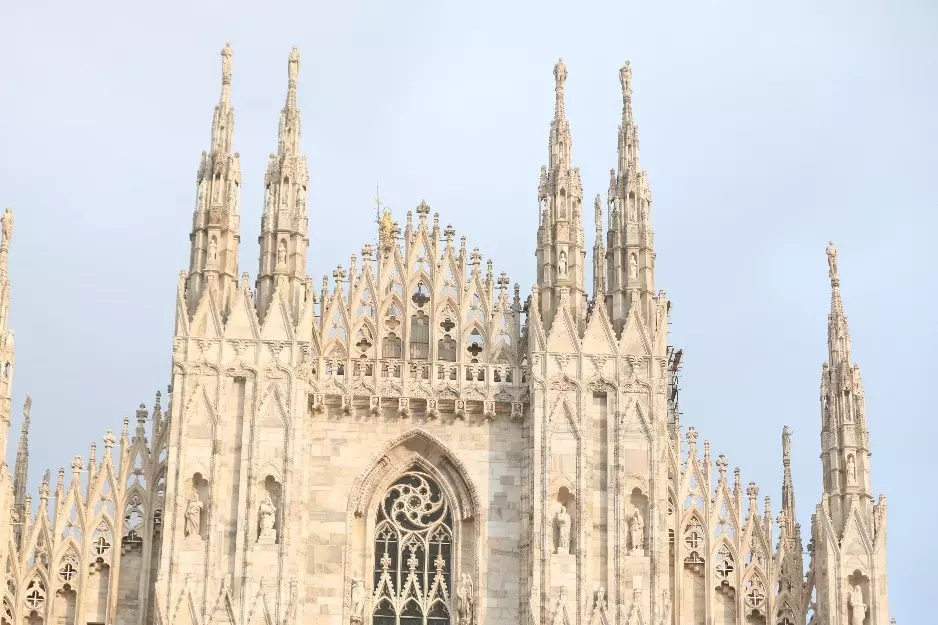 We freshened up and by 1:00 pm we were off for, The Duomo De Milano we were very excited about it since the beginning. Gianluca assisted us and he told us that, "when one is in Milan, one should travel only by metro". Here in Milan, you get a 24-hour day pass which can also be used for metros, trams and busses.
The 24 hour day pass was for about 7€ (₹540 approx). Soon we reached the Milan Cathedral (Duomo de Milano) it is one of the most beautiful cathedrals I have been to, the vibe, the atmosphere was just different and surreal.
I could actually sit for hours there looking at this beautiful piece of art. We decided not to climb up as there was a long queue. Then we headed to lunch and of course we wanted to kick off with pizza. We had our lunch at Spontini Pizza at Galleria Vittorio Emanuele 2, which is right next to Duomo. The pizzas here are so different, we were enjoying its delicious taste and were zapped with the way the pizzas were made. For 5€ (₹380 approx), we had Margherita pizza and a got a bottle of water.
Also Read: I Went On A Solo Trip To Italy After My Breakup And The Experience Was Unreal
Then we spent the day walking around the Duomo, it's the one-stop place for all the brands and shopping and hence it is called the fashion capital of the world. Then we walked to the Sforzesco Castle, it's a citadel in Milan. It was a 15-minute walk and on our way, I bought a gelato ice cream which was mouth-watering.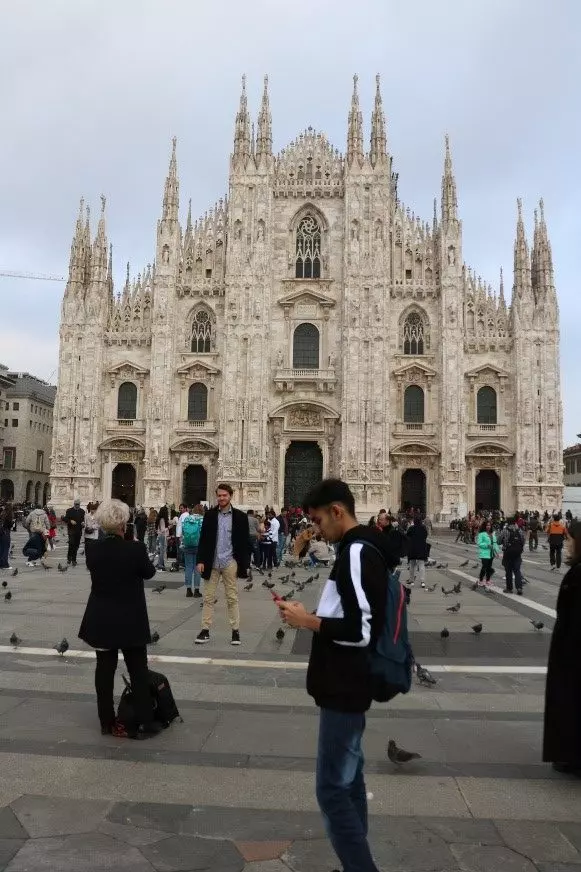 Again for dinner, we decided to go to Spontini Pizza the same meal I had earlier in the day. It was simply delicious.  After dinner, we headed to our Airbnb and slept as we were so tired with all the travelling. Most of the time spent on this day was by the Duomo only.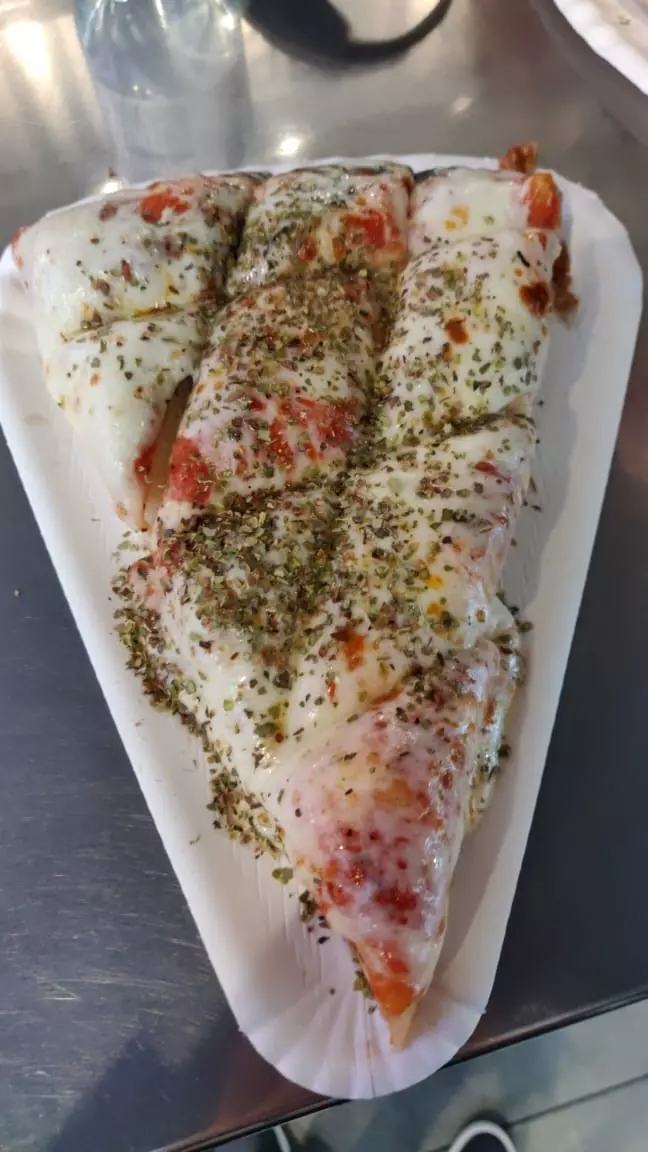 Day 2- Milan
I was up very early and it was the coldest morning of our trip to Italy. Being a football fan I could not miss the largest football stadium in Italy, San Siro. San Siro is home to two biggest clubs of Europe AC Milan and Inter Milan.
I bought the stadium tour pass for 18€ (₹1400 approx).  Did you know Italy Ranked The Most Preferred Holiday Destination In The World?
The stadium tour was amazing, I got to see the dressing rooms of both the teams. It was a dream come true for me to be standing here at the stadium.
We went to Duomo and shopped for some souvenirs for family and friends. For lunch today I had a falafel for from a nearby food joint for 4€ (₹300 approx). Post lunch I went to explore the other part of Milan near Semione Park and after that I booked a train ticket to Venice for the next day. I bought the ticket for 21€ (1700rs). I spent the evening sitting near the Duomo as it was my last day here and the place was beautiful and adored it. At night I went to Milan Navigli, it is a party place surrounded by a canal.
Gianluca told us to visit the place as it served a buffet with any drink (alcoholic and non-alcoholic) for only 10€  (₹791). This buffet offer was available because they were celebrating a festival.
Day 3- Venice
Caught the early morning train from Milano Centrale. I was staying in Marghera a town before Venice. I was staying In Jolly village camping in town (perfect hotel for backpackers). Getting down at the station, we didn't know where and how to go but luckily I met a student who helped us with the route and suggested catching a tram. I had a quick grab from the hotel itself. So my lunch was only french fries for 4€(₹316 approx). Here's The Ultimate Italy Trip: A Detailed 10-Day Itinerary For Rome, Venice & Florence
So basically, Marghera is 15 mins away from Venice and my hotel where I stayed provided shuttle service every hour so I booked 4 pm slot and was on my way to a city where I had only studied about it in my 10th grade (Merchant of Venice). The shuttle service they provided was for 10€ (₹791 approx) with the return. First I grabbed a slice of Pizza for 3€(₹237 approx) from a local food joint.
I walked for around 45 minutes to reach St. Marks Square which was my first stop, went to Doges Palace there was no queue as it was late evening. It was a wonderful feeling seeing Doges Palace, it has all the history of the country. I reached the hotel and ordered some dinner. I decided on having a burger and some fries to go with it for about 6€(₹474 approx).
Day 4 – Venice
Got up, got ready, had coffee in the cold windy weather and we were off for a long beautiful day. The first thing I did reaching Venice was booked the tickets for Murano Burano Islands for 11€ (₹800 approx). Caught my water taxi after a long queue. But the journey was worth all the wait. I got down at Burano wandered around and soon was off to Murano islands. When I reached Murano I was thrilled by seeing the houses they were all so colourful and beautiful.
I planned to have my lunch in a café surrounded by a park and all those beautiful colourful houses. Had a huge slice of pizza accompanied by coffee for 4€ (₹316 approx). I saw the whole island, it certainly was mesmerising. Now I was at the Rialto market followed by the bridge. There were people all around. I saw the Rialto Bridge and bought grapes for 2€ (₹158 approx) from the famous market.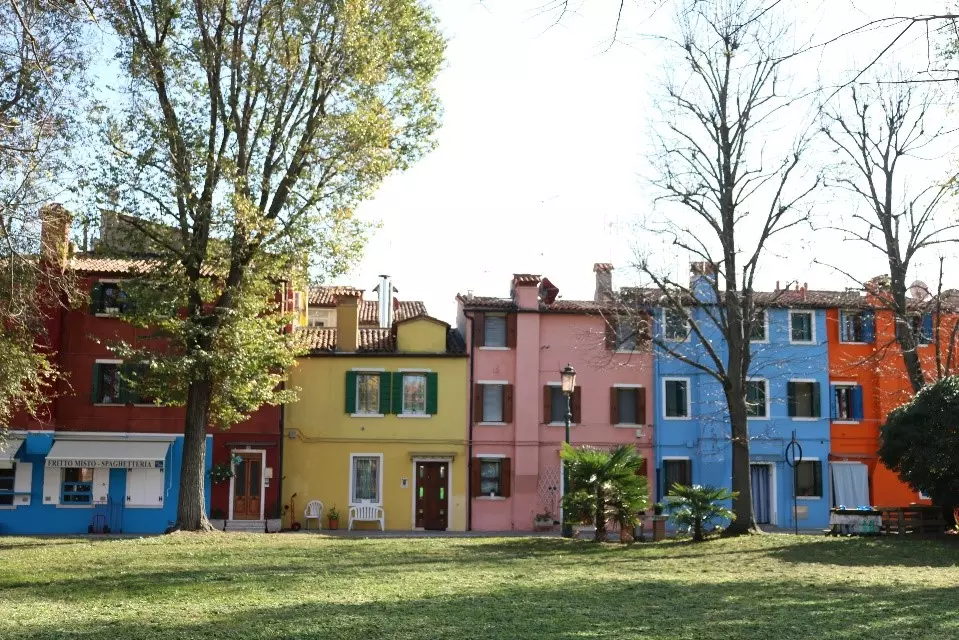 I was just walking through the city of Venice where I saw the Casino De Venezia thought to gamble a bit as it was my first casino experience and I was excited about it.
The minimum buy was of 20€(₹1582 approx) and I had no intention of taking more bank because I was just going in for fun. After the casino, I visited many local stores, spoke to some locals it was fun to learn about them and their culture. Then we went to the Venice station to book my train tickets to Florence which I got for 25€ (₹2000 approx).
I also ended up booking my ticket from Florence to Naples there because I would get a student discount, so I got my tickets for around  31€ (₹2453 approx). Venice is also one of the 13 Best European Honeymoon Destinations For Indians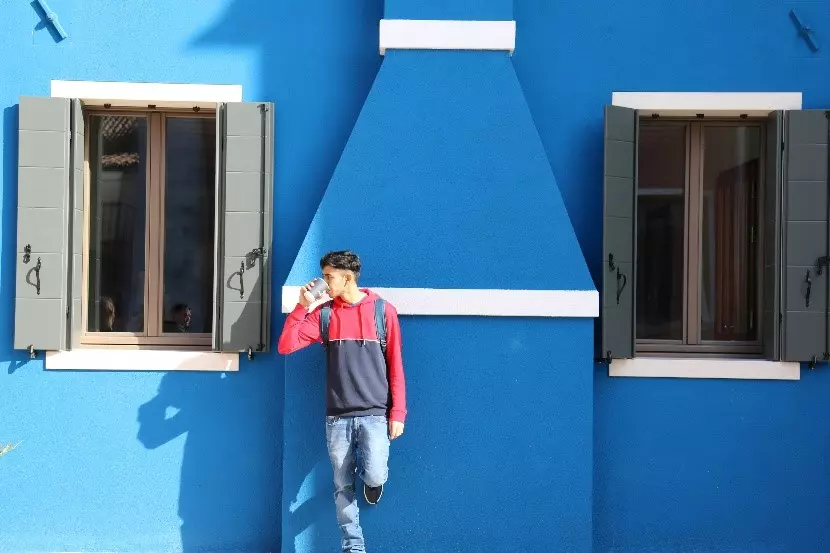 Day 5 -Florence
Our Airbnb host, Felix and Luis guided us and gave us clear instructions on how to reach the place which was only 5 metro station away from the main station Santa Maria Novella and took 13 minutes to reach there. Got ready and I was off to the Florence Cathedral I did not climb up because of the queue there so I was walking in the area went straight pass through Uffizi Gallery and Palazzo Vecchio.
After Palazzo Vecchio, we went to see the famous Ponte Vecchio it is an arch bridge with shops on it (worth a visit). And I knew the next day there was a Serie match Fiorentina vs Parma Calcio (Italian football league). So asked the locals about the AFC Fiorentina home stadium Artemia Franchi and if I would get my tickets for it. I got myself a ticket to watch the match from a store for 20 € (₹1500 approx). I was quite excited as I always wanted to see a football match in Europe, as the Italian League comes in the top 5 league of Europe.
After which, I was off to see the Piazza Michelangelo where I had my dinner sitting on the stairs. The dinner was so good, I had a falafel and for 5€(₹395 approx). I got a full view of the cathedral from the stairs and it felt like I am in heaven. I was In Florence for four days so thought of going back to my stay and to spend some time with our Airbnb host, Felix and Luis.
Day 6- Florence
I remember waking up late on this day. First thing I did was to book my Pisa train ticket for the next day from Santa Maria Novella which was for 17€ (₹1345 approx)  with a return. It was the time to go to Stadium Artemio Franchi for my match, I wanted to reach a little early so I can roam around the stadium, reaching there it was a different experience. I couldn't wait to go inside, there were food trucks selling grilled food, well I don't know about it because I am a vegetarian so did not pay much attention. There were also other trucks selling jerseys and other souvenirs of the home team. It was a dream come true for me that day even though I do not support any of the club, the experience and the excitement was thrilling and it was something I cannot forget in my entire life and I will always cherish it. The fans were truly amazing even though the match ended in 1/1.
I headed back to the city centre of Florence and spent my evening visiting some churches and shops around. While I was going back home I saw an Indian restaurant name Haveli. So planned to have my dinner at the Indian restaurant. It was a little expensive, the dal makhani I can say I have never had such Dal makhani in India ever, it was delicious. We spent 20€ (₹1500 approx) for Papad, Rice and Dal Makhani. Luis and Felix were going for a party and asked us if we would like to join, but unfortunately I couldn't attend it as I had an 8 am train for Pisa tomorrow.
Day 7- Pisa
It was very early, caught my train to Pisa. Everyone knows what Pisa is famous for, the Leaning Tower. I had some biscuits and a packet of chips which I had carried from India. From Pisa station, we walked for 20 minutes to reach the Leaning Tower. We passed many shops, narrow lanes, bridge to reach the leaning tower.
Clicked pictures, so the Piazza Del Duomo too. Had my lunch at Subway for 5€ (₹400). After lunch, I was on my way back to Florence there is not much to do in Pisa, except visit the Leaning Tower and Piazza Del Duomo.
So I would suggest one can do this half a day and head back to Florence, which is what we did.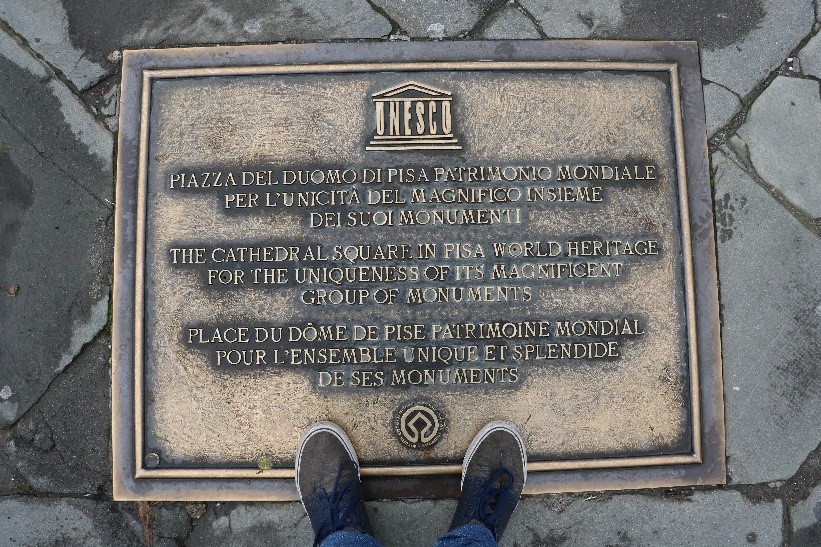 Reaching Florence I booked my bus ticket for Greve in Chianti for 10€ return (₹800) for tomorrow. After booking, I went to the Uffizi gallery it is one of the most important Italian museums and also the most visited in the world. The entry fees was 20€ (₹1582 approx). The gallery gets around 2 million visitors every year. Luckily, I was one of the last year. It has three floors and you need around an hour or two to explore it properly. There are great pieces of art inside and I would suggest one do not miss out on this whenever one travels to Florence.
I had my dinner at Pizzaman, ordered a Margherita pizza with buffalo cheese for just 8€ (₹633 approx).  Pizzaman had a different atmosphere with loud Italian songs playing, it was a delight to have that pizza. Two young women were serving pizza on that day and I did assume it was owned by them. Luis and Felix had suggested this place.
Day 8 – Greve In Chianti
Caught the bus for Greve in Chianti from Santa Maria Novella. It was a 45 min bus ride. The bus ride was stunning, the pictures would say it all. I went to an agency for booking the wine tasting. They gave us an option of two places but we booked Vitticcio Winery, as they were providing wine tasting with lunch for 25€ (₹2000).
The tours were available only at 11:00 am and 3:00 am so I booked the 11:00 am slot. The tour was about an hour and a half long, where we got to see the different barrels where they store wines.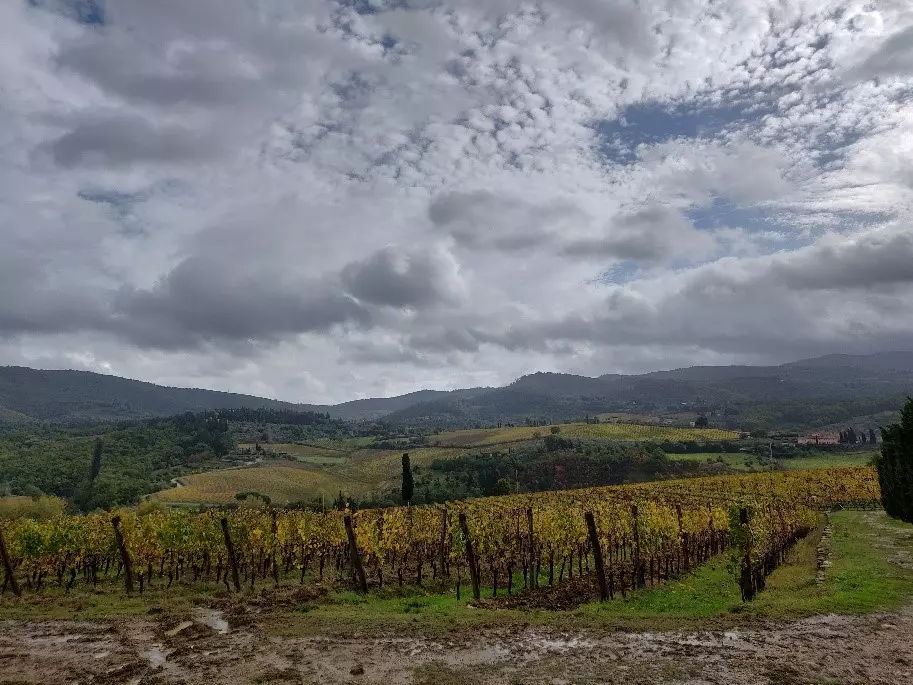 So the place had a pungent smell of wine. We saw some age-old wines and how they make it.  Then we got to taste the wine, where they gave us 4 wines to taste (3 were Chianti classic wines and one was the Toscano wine) they also served local bread with cheese.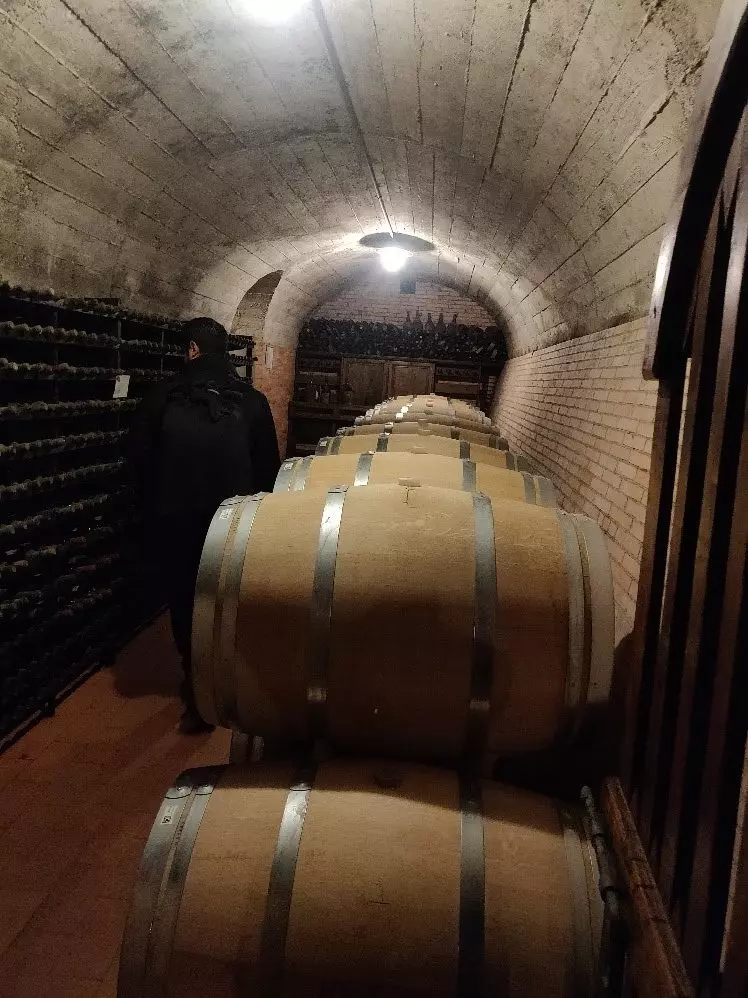 I met a Mexican traveller out there. He was with me in the bus and also in this same tour so while tasting I spoke to him a lot about different things, he was travelling in Europe since a month, so he was telling us where to go, which was his best city till now.
It was good meeting him. (I love meeting new people). It was raining very heavily so our tour guide was going down the town in her car and she offered us and Benjamin a trip till the bus stop which was very sweet gesture by her, otherwise I would have been drenched.
I was back in Florence by 3 pm it was my last day there so thought of going at the top of the cathedral but the queue was too long and skipped it. I decided to shop some souvenirs for my friends and I got them at a good deal from a local shop near the cathedral. I wandered around the city, went to different lanes, clicking pictures, seeing everything around. Did you know Italy Ranked The Most Preferred Holiday Destination In The World?
It was Chelsea Fc match that day against Ajax it was a very important match and being a Chelsea Fan I couldn't miss it so I decided to have dinner at a falafel place right next to Pizzaman. The owner of the shop was watching the match so I thought why not see the match here rather than a pub. The owner thought I am from Pakistan to as soon as I said no I am from India he had a smile on his face and said it is good to see someone like us out here. I had a falafel which was the best falafels I have ever had in my life till now. Even though Chelsea drew that match 4/4 it was a great experience. Never in my life had I imagined I will see Chelsea's match with some random people who turned into family that night and also at a falafels food joint whose owner was a Pakistani and a Chelsea fan. My stay at Florence was one of the best what a city. It was tough to decide which was the best. Certainly Felix and Luis were one of the best host in my whole trip.
Day 9 -Naples
I caught the train from Santa Maria Novella for Napoli Centrale. It was the longest train journey for me in Italy. I reached Naples and Mark, our host came to pick me up which was really sweet. I was staying 45 minutes away from Napoli Centrale Station in a Naples suburb known as Casavatore.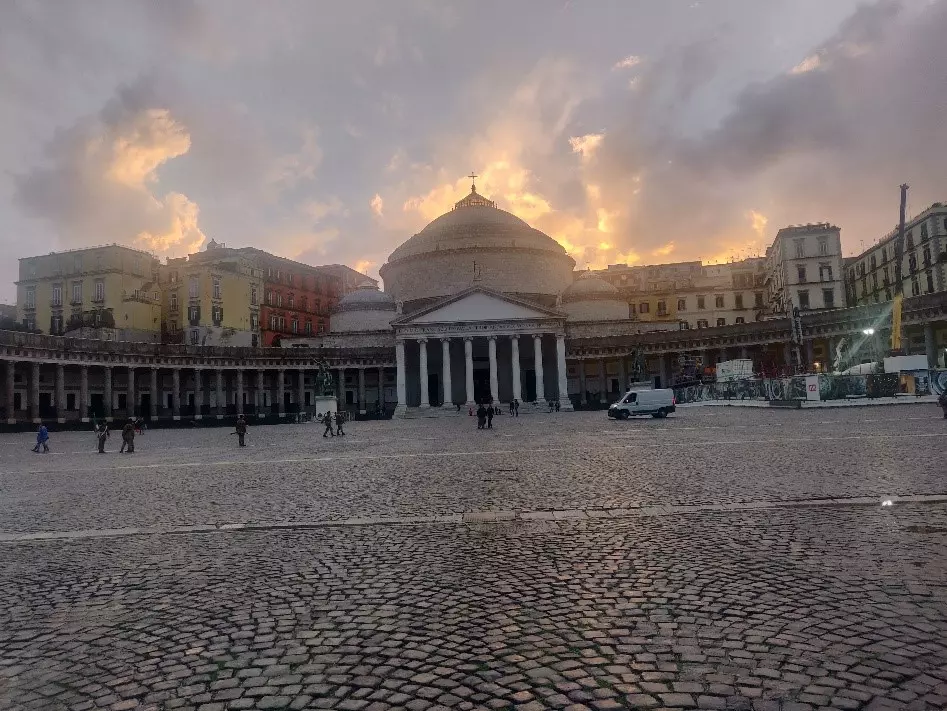 By evening, Mark had told us which bus to catch to reach the city centre so by 4pm I caught that bus, I had my lunch really late all I had was spaghetti in a local restaurant near the station. Walked towards Napoli waterfront it was beautiful maybe the perfect place in Naples to click pictures after Napoli waterfront I walked and went to Royal Palace of Naples (just saw it from outside).
Then I went to the Castle Nuovo. It was a very silent place and gave us a panoramic view of the city and spent my evening sitting there. I was off to Casavatore from Napoli Metro station. The bus which got us here wouldn't go back to Casavatore so I decided why not hitchhike and go.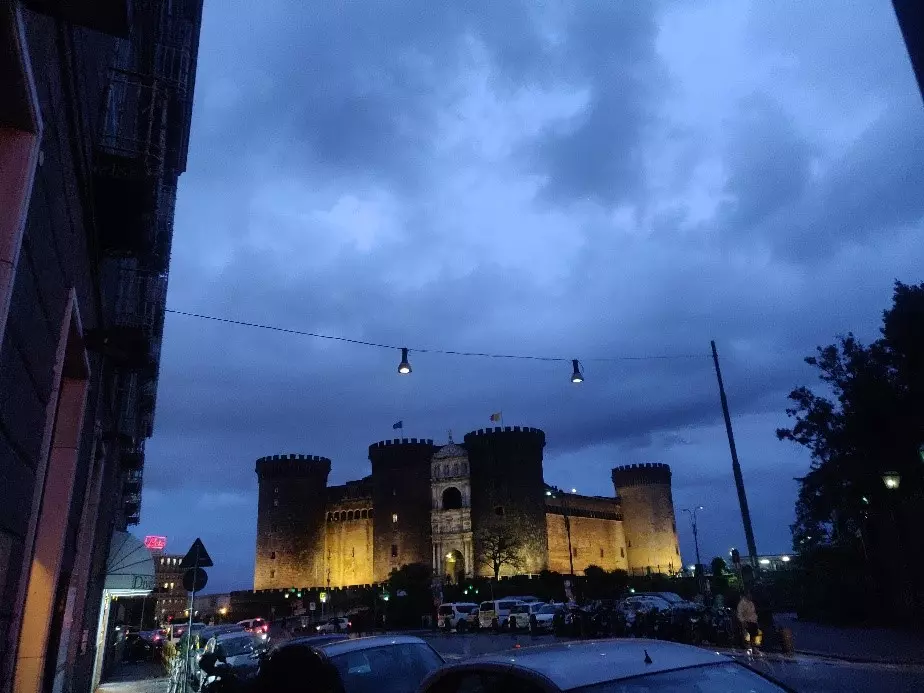 After many tries one couple helped me and dropped us right under our house, they did ask me if I was carrying drugs or any weapon in Italian using my Google Translator I said no way I am a student from India just here to explore your country and this wonderful city. While I was in the car we spoke about a lot of things and I couldn't thank them enough. Bought noodles from the Supermarket for my dinner. Cooked with the help of Mark, our host and ended my day watching soccer Serie A with Mark's brother (who is a true SSC Napoli Fan).
Day 10 -Positano
Should I call the main day? I was most excited about this day as I was going to Positano. It had more impact on my trip because Ghungroo the song from war was shot here since then I couldn't wait coming here. The journey was long because I had to first buy a ticket till Sorrento from Naples which was for 7€ (550Rs). It took about 50 minutes from Napoli central to Sorrento. The train line named Circumvesuviana and Sorrento is the last stop. From Sorrento, there are regular busses which goes to Positano. We bought the bus ticket for Positano from Sorrento for 12€ (940-980Rs) with a return to Sorrento.
The journey from Sorrento to Positano was one of the most beautiful journeys of my life. The whole road was mountains on one side and the Tyrrhenian Sea on the other. The journey should have been endless. It took 40 minutes for us to reach the beach. Getting down to the beach was the most thrilling thing, I legit passed stairs of some houses in between and then followed the roads.
I was very hungry so first I had my lunch at Chez Black right down at the beach had my lunch for 20€ (1600Rs). After lunch, I went to see other parts of the beach and spent my afternoon sitting by the beach. If I would have carried an extra pair of clothes I would've have gone and taken a dive even though it was windy that day. Going up back to where the bus dropped us was a task but somehow we managed to reach in like 45 minutes. The bus was going to come in 45 minutes so I spent time playing Lotto in a Tabacchi shop. Lotto means lottery basically.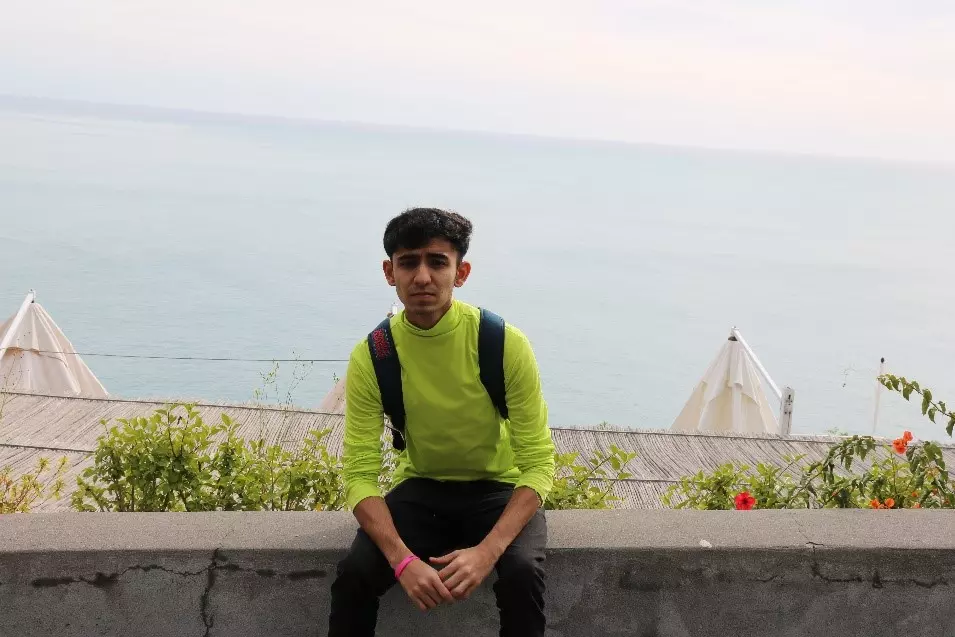 Where you put some euros on a number from 1-90 and if the numbers you choose come in those 15 selected numbers then you win the mentioned euros. It happens every 3 minutes. Well, that day I won a total of 4 euros so I got lucky. I slept during my journey as I was very tired. Getting down at Naples, I couldn't wait to get back home again I had to hitchhike but this time I just asked a man who looked my age and I thought he will help and luckily he said yes, "sit I am going to that area only". Indeed it was a lucky day for me. I slept as soon I was home missed my dinner that day too.
Day 11 -Naples
It was raining a lot this day so I had to cancel my trip to Pompeii. So it was a chill day at Mark's, here our stay was, I ordered some lunch from a nearby place where Mark had suggested as they would deliver fast and the pizza was too good and it was very cheap only 9€ (₹700 approx) for a huge pizza (one couldn't finish it).
Being in Naples I had planned to have how much ever pizza I could because it is the place where pizza was originated and I would not get a chance to be here so why not have pizza for dinner today and tomorrow.
We also visited Antica Pizzeria Port Alba (The World's Oldest Pizzeria). By evening the rains had stopped so I was walking in the suburb itself and for dinner, I had a burger which was for only 4€(₹316 approx)
We were blown away by the pizza so much, that we met and had a chat with the chef and even clicked a photo with him. Dining here at the oldest pizzeria in the world was definitely the highlight of this day.
Day 12 -Naples
It was overcast but nothing was going to stop me from going to the city centre. First I had coffee from the same supermarket I had bought the noodles from. Caught the bus and first I went to San Carlo Theatre to book my ticket for 3:30 pm tour in English. They offer tours In Italian and English (English only at 11:30 am and 3:30 am). After buying the ticket I visited the Ovo Castle it gave a good view of the sea and if one has enough time they should go here.
After Ovo, I went to the Famous Café Gambrinus. I had the Tiramisu cake and it was toothsome, I wish I had the capacity to have one more. Gambrinus café is a must-visit café in Naples. It is right opposite to San Carlo Theatre. As I had Tiramisu cake I wasn't very hungry for lunch so thought of having late lunch and I went shopping. Grabbed a falafel for lunch after shopping and I went to Piazza Dante the area where the oldest pizzeria is there Antica Porta Alba.
Dante is a square in Naples it is usually crowded in the evening and spent my evening there walking, shopping, and exploring new things also played some video games for 4€ and then it was time for one of the most awaited things of the trip. Being a pizza lover I couldn't wait to go inside and have the oldest pizza in the world. Trust me you will never have a pizza like this in your life and it is not that expensive too. I also spoke to the owner and the chef. They showed me the kitchen and there are all pictures that show it is the oldest pizzeria in the world.
Soon after I had to run to Napoli central to book my ticket for the Capitale Rome which I got for 21€ (₹1600). After booking reaching casavatore was a task again so I had to walk for a while until a family was travelling together and I asked them if they could drop me and luckily they said yes and dropped me right under my stay. All the Italians I have had a chance to meet were very friendly, only some of them knew English. I used Google translator to converse otherwise. It was my last day in Naples and I couldn't wait now for my last destination Rome.
Day 13 -Rome
Mark's brother had dropped us to Naples Station. The journey from Naples to Rome was around an hour and 10 minutes. I was staying near Roma Termini only. Roma Termini is Rome's main station. My host was Patricio who had my room ready. I checked in, had bath and left for Vatican City the smallest country in the world.
For Vatican City, I had to catch a metro from Roma Termini metro station and get down at Ottaviano. In Rome too like Milan, you can get a 24 hour day pass which would cost 7€ (₹550). From Ottaviano it is walking distance.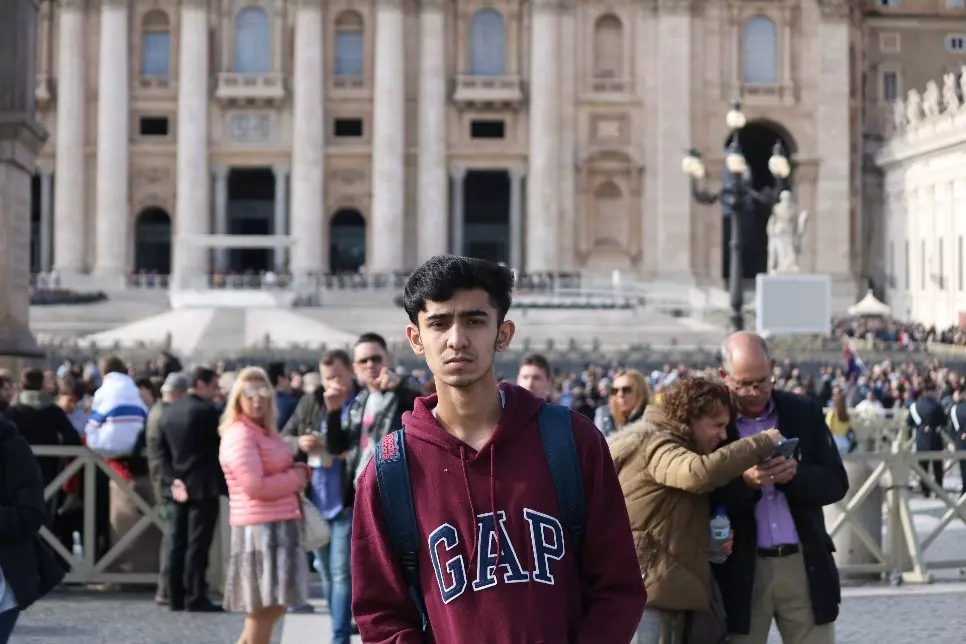 Entering the Vatican was just so easy it is indeed very small couldn't believe I was in another country. I wanted to specifically go on a Sunday so I can see Popes Angelus. I entered the Vatican at around 9:30 Am. I first, visited the Vatican Museums and then the main church which is the St. Marks Basilica. After visiting this two I came outside and obviously huge crowd had gathered for Popes Angelus. The atmosphere was just overwhelming. St. Peters Square was crowded, luckily I got a good view to click pictures and it was something I would cherish all my life (not everyone gets a chance to see the Pope), Pope Francis. The Vatican is also one of the World's Most Googled Monuments
After the Angelus, I walked pass castle St. Angelo and I was out of Vatican City. Rome already sounds fascinating, right?. I knew there was a SerieA match in the famous Stadio Olympico Lazio vs Leece at 3pm which I did not want to miss because I always wanted to see Ciro Immobile and Luis Alberto play live (2 famous players of Lazio). I went to the stadium in the bus and took help from the police officer who showed me the way to the stadium and I got my ticket for 25€ (₹2000).
It was my second SerieA match and this time I had to run to go inside as I reached after 2 minutes of the start. The match ended and Lazio won 4/2 fans were going crazy and it was a nice experience before I left for my hotel. The area where I was staying had many Muslims and Indians. So I planned to have an Indian dinner that day. It was owned by our Punjabi friends. Their ancestors had settled here years ago and started the restaurant is what the owner told me.
Day 14 -Rome
It was drizzling when I woke up but I couldn't afford a day off here in Rome. I was off for Colosseum and Roman Forum the iconic structures. I had taken an umbrella which Patricio had kept if anyone would need. It was raining and there were huge lines so I took a guide and skipped the queue. The tour for 25€ (2000Rs). The guided tour was worth it, learnt a lot about its history and the tour also included Roman Forum so after Colosseum went to Roman Forum and trust me, for history lovers this the place is a must.
Our guide's name was Bruce and he told me that he is organising a night walk for free in Rome that night which will include Pantheon and Trevi fountain and other gems of Rome, and he asked me I would like to join. I said sure I will. Bruce wanted to start a new venture and one can now book this on Trip Advisor. Like other places I was going to cover at the night walk, I went back to Roma Termini to book my bus ride for the airport the next day.  I got the tickets, pick up was from the station itself and it cost around 10€ (800Rs). After booking the tickets I had lunch at Mcdonalds where I had fries with coke for 4€.
Finishing lunch I went to the shopping street and visited AS ROMA, Juventus football stores as I was keen on to see the official stores of this football club. I shopped a bit for myself and then I went to Spanish Steps spent my evening sitting there which was beautiful. Rome has so many fountains, wow!!
Then met Bruce at the start of his night walk. We were around 6 people only for the walk. I made new friends and all were from different parts of the world so that was nice. First, we visited the Benito Mussolini office where he used to work passing the only lap dance club in Rome. He also made us show the smallest church in Rome where I swear not more than 20 people can be accommodated at once.
Trevi Fountain was the next stop and Bruce had told us to toss three coins. Tossing a coin once means you will come to Rome at least once in your life, tossing it second time means you will find love in Rome and third time means you will get married here. I did it thrice cause why not? And also there is a way to throw you have to throw from your right hand and your hand should go over your left shoulder while throwing. Trevi was truly amazing.
Before we went to Pantheon it was a Church and it is worth visiting as it has tombs. We had the oldest coffee in Rome in Sant Eustachio which was worth it and our last stop was Piazza Navona which is a public plaza in Rome. Bruce explained everything properly to us after the tour got over. I, Bruce and Kelli, a yoga teacher from the states went to an Irish pub to have dinner and drink beer. Bruce is from England so he knew the owner there. We three got along very well and I truly enjoyed my last night there I came home really late at around 2:00 am. Spent my last night the way I wanted to.
Day 15 -Rome
My flight was at 7:00pm so I went shopping for some things before I was on the bus to the airport. Fiumicino airport in Rome. Shopped with the euros I had left from the airport and I was on the plane back to my home country. I learnt so many things from this trip, coming back with tons of memories.
My Favourite place out of all has to be Milan. Milan was just different it had a different vibe about it. The Duomo was just majestic and second would be Positano. The road from Sorrento to Positano was too good. It is tough to select the top one place because everything was just beautiful but if I had to select one it has to be Milan.
Budget Breakup For My Italy Trip
I travelled to Italy for 15 days in ₹1.35 lakhs including flight tickets. Here's a budget breakup of my trip to Italy. I spent ₹43,000 on flights. My accommodation cost me ₹17,000 and visa amounted to ₹9000. The internal travel including Pisa, Greve and Positano cost ₹9000. Miscellaneous expenses including food, shopping, entry fees, matches and everything else cost me ₹57,000.
Tips For People Wanting To Visit Italy
I would like to share one thing. Whenever in Italy always travel by train from one city to another. When you're in the city use public transport and not a taxi because it is very expensive. And gorge on pizzas as if there is no tomorrow because you will not get such pizza anywhere. Do visit Greve in Chianti if one is travelling to Florence because the experience of wine tasting was too good and it will give one a feeling of an old town vibe.
Half-day is enough for Pisa from Florence do not spend the whole day there. Keep a whole separate day for Positano and also for Pompeii. Football fans don't miss out on Serie A matches. If you're lucky enough you might get to see Cristiano Ronaldo play in Turin. For now, I do hope you can have a holiday as amazing as mine in Italy
This article was contributed to Curly Tales by Samin Parikh. If you have an article or similar experience to share, do write to us on hey@curlytales.com