Right from being the happiest country in Asia to being one of the safest solo travel destinations for women, Bhutan is not an ordinary country. It's filled with a plethora of folklores that will blow your mind away. While it's known for many things, Bhutan is most famous for its hike to Tiger's Nest. And I decided to hike all by myself to Paro Taktsang. With that, Hi I am Yogita Chainani, and I went on a solo hike to Paro Taktsang, which is 3120 meters above the sea level on the side of the upper Paro valley. And here's what I want to tell you about it. 
Also read: 10 Unique Things To Do In Bhutan
Tiger's nest in Paro is known as a holy Buddhist site, and was built-in 1692, around the cave where Guru Rinpoche first meditated, the event that introduced Buddhism into Bhutan. As fables have it, Guru Rinpoche was carried from Tibet to Taktsang on the back of a tigress; hence this place is known as Tiger's Nest. 
1. Go for a solo hike
As surreal as it sounds, hiking solo is not only liberating, but it also makes you appreciate little things around you more. It allows you to meet new people and know more about their country. I met people from Bangladesh, Australia and Japan, and I must say I had some great conversations. Lastly, you can hike at your pace; you don't have to depend on others and can soak in the marvel that the route has to offer.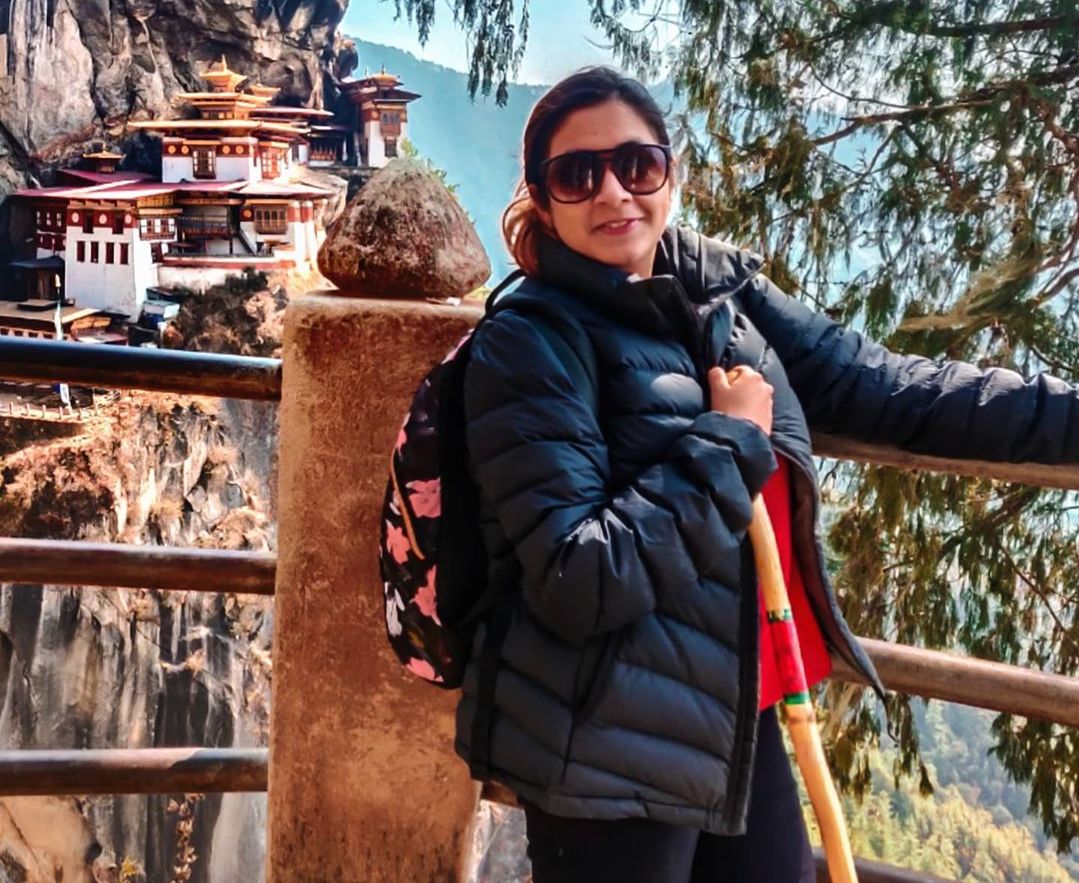 2. Do not compete with others
I made this mistake in the beginning, but you shouldn't. Everyone is different, and their walking pace is different too. It took me 4 hours to reach the first base and just 2 hours to finish at the main point. While others took in total 5 hours to complete the one-way trek. I took more stops, appreciated the beauty of nature that's unscathed by commercialisation and made my way to the top. Listen to your body and don't rush! Remember there's no other way to reach to the top and descent, so take it slow. So, don't compete, take it slow, breathe and enjoy, 'cause it's an experience that you will cherish for eternity. 
3. Start the hike early
Yes, it will be too cold to start hiking in the wee hours, but trust me will get more time to explore the monastery and will get enough time to take breaks. I started by 8 AM and descended by 3 PM. Sunset in Bhutan happens between 4 30 – 5 PM, so it's better to get down before that. With forests and rocks to cross for the descent, it's a safer option to start early. 
4. Don't give up
Yes, it's challenging, it's treacherous, but all that is compensated, when you finish the climb! I felt like giving up after covering the first base, but the tranquillity and the sheer beauty around motivated me. Listen to songs, talk to other companions, click pictures and pave your way to the top! 
5. Things to carry
Lastly, make a checklist of things that you need to carry. Carry some glucose biscuits, energy bars and drinks, medicines, a cap, sunglasses and some food. There is only one cafe and rest point at the first base, besides that there's nothing else. I repeat, nothing else. So if you feel nauseous or giddy, you can always rely on the stuff you are carrying in your backpack!
You will love Bhutan, and you will love hiking to Paro Taktsang even more! The first phase of the hike will be relatively tiring than the second phase, yet stay motivated because you can do it!