An Indian biker from Maharashtra was detained by the police in Bhutan after a video of him climbing a memorial stupa at Dochula Pass in Bhutan went viral. He used a ladder that was being used for repair work to climb the stupa, sit atop and take photos. The biker has got a lot of flak from the Twitterati community after news of his 'stunts' were posted online.
The Biker Incident In Bhutan
Abhijit Ratan Hajare from Maharashtra was part of a 15 bike convoy to Bhutan and they were passing Dochula Pass when they decided to stop. As per Bhutanese laws, it is compulsory to have a local Bhutanese guide to be part of the convoy. The guide was helping to sort parking for the bikes, when this incident took place. Abhijit climbed the memorial stupa and and his mates recorded the incident and posted it online. The video sparked a lot of anger online as the stupas at Dochula Pass are considered sacred and the biker's actions were considered inappropriate.
And the tourist has been released after a written apology to the RBP.
He cited ignorance.
Welcome to a Buddhist country that forgives. https://t.co/jSuHF5qwdt

— Tenzing Lamsang (@TenzingLamsang) October 18, 2019
In the video you can see another person from the convoy holding the ladder as Hajare climbs it. A few more members of his convoy are seen around him but no one seems to be trying to stop him.
This isn't the first time an Indian tourist is seen misbehaving in a foreign location. Check out the story of this Indian Family Stealing Accessories From Bali Hotel, Gets Caught By The Hotel Staff.
Significance Of The Dochula Pass
The Dochula Pass is home to 108 memorial chortens that were built as a memorial in honour of the Bhutanese soldiers who were killed in the December 2003 battle against Assamese insurgents from India. the chortens are also called Druk Wangyal Chortens and while there is no harm in clicking pictures inside the site itself, clicking a picture on top of the stupa is obviously disrespectful.
I have visited the Dochula Pass and it is an absolutely beautiful and peaceful place. You can touch the stupas, walk around them or even click pictures with them. Bhutan is a beautiful, magical country with simple people and if you follow the rules, it's an absolute must-visit. Here is A 7 Day Detailed Itinerary For Bhutan Under ₹50,000 Trip Cost.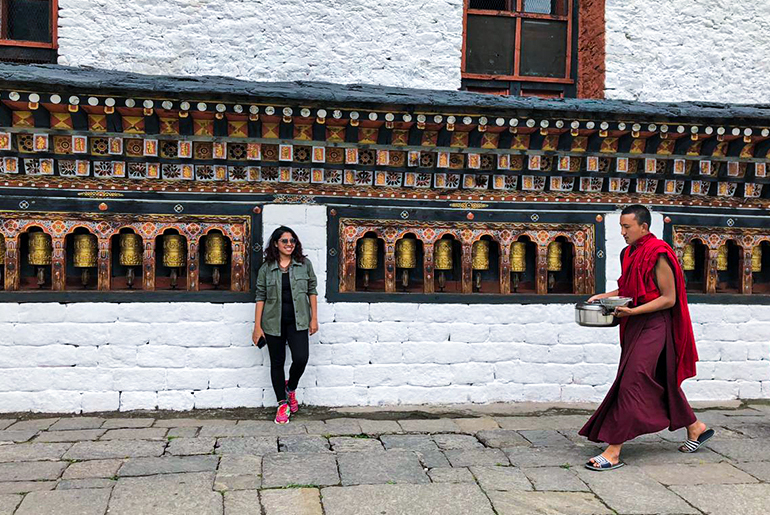 What Happened to The Indian Tourist?
Hajare was arrested by the police after his video went viral and his passport was confiscated. However, he was released after a written apology. The biker claimed ignorance.
And the tourist has been released after a written apology to the RBP.
He cited ignorance.
Welcome to a Buddhist country that forgives. https://t.co/jSuHF5qwdt

— Tenzing Lamsang (@TenzingLamsang) October 18, 2019