"Mere upar ya tho aasman hai, ya bhagwan hai. Isse upar kuch bhi nahin hai. Sirf main hoon." This thought ran through Megha Parmar's mind when she became the first woman from Madhya Pradesh to climb Mount Everest on 22nd May 2019 at 5 am, creating history. The lyrics of the famous Bollywood song "Aaj main upar, aasman neeche" played in her mind as she noticed how tiny the neighbouring mountains looked from the massive height of 8848m above sea level. Megha Parmar, the daughter of a farmer from Bhoj Nagar village in Sehore district of Madhya Pradesh hoisted the Indian Flag on the peak of Mt. Everest in the crack of dawn, making her family, her village Bhoj Nagar, her state Madhya Pradesh and the entire nation proud.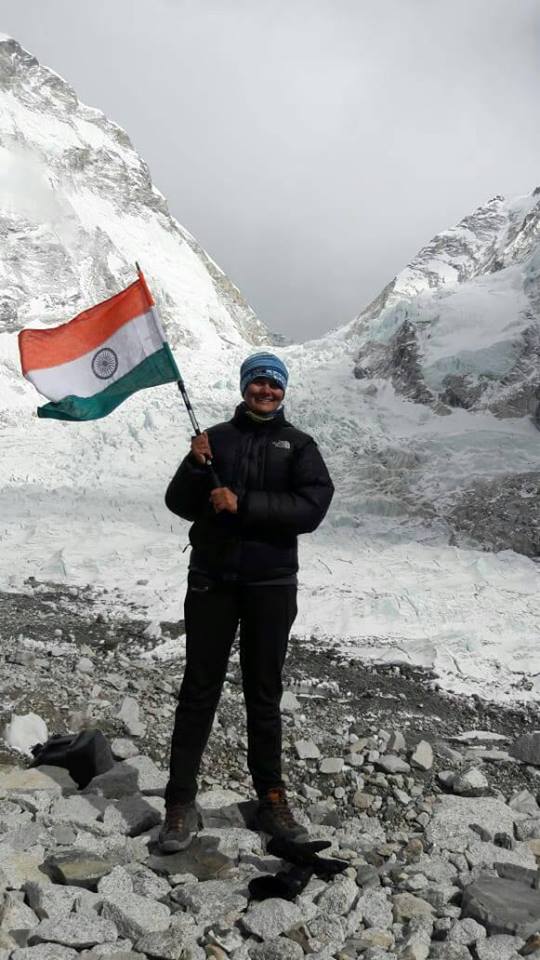 Megha Parmar's Tryst With Mountaineering
An adventurous woman, Megha Parmar belongs to a lower-middle-class family in the tiny village of Bhoj Nagar in Madhya Pradesh. Initially, she did not have any set plans or goals. But when she read a news article about 2 boys from Madhya Pradesh who climbed Mt Everest, she felt the mountains calling her. And Megha got even more excited to know, that no woman from her state had ever achieved this feat.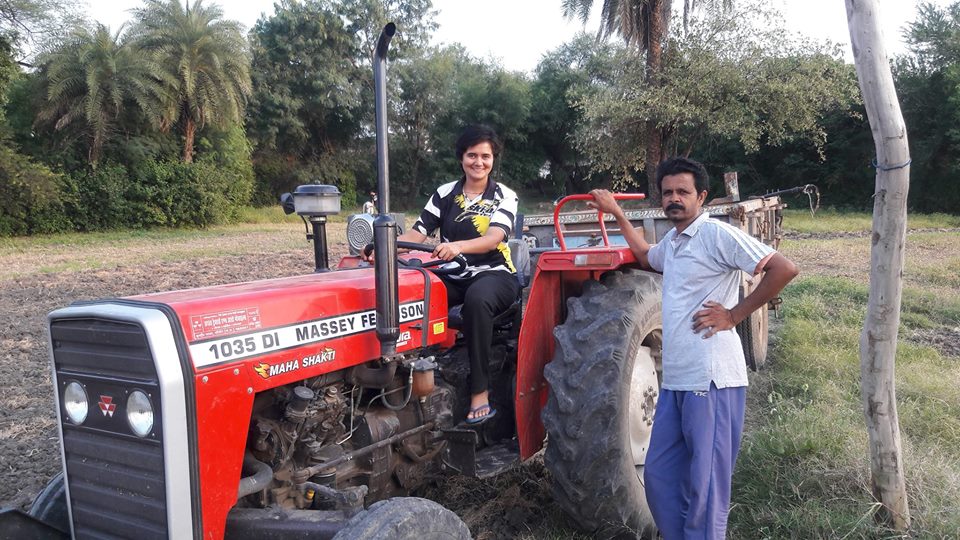 So she aspired to be the first woman from her state to climb Mt Everest. She initiated her first step towards her dream by enrolling herself in basic training from Atal Bihari Vajpayee Institute of Mountaineering. On successful completion, she then finished her advance mountaineering training from The Himalayan Mountaineering Institute Darjeeling in 2018.
Megha Parmar's Struggles
Life of a mountaineer is hard, but it's harder if you're a woman. Megha Parmar's relentless passion for mountaineering faced a lot of flak from the people in her village in Bhoj Nagar. Residents of her area would often taunt her parents for giving her the freedom to stay away from home for days during her mountaineering expeditions. Nasty remarks were made about her unique mountaineering lifestyle of setting up tents and trekking with strangers.
But through all these hiccups, her family stayed strong by her side. Her father advised her that she must always think before she acts for her family would face its consequences, for better or worse. Keeping this thought in mind, she felt she could conquer every mountain in the world, with her family by her side.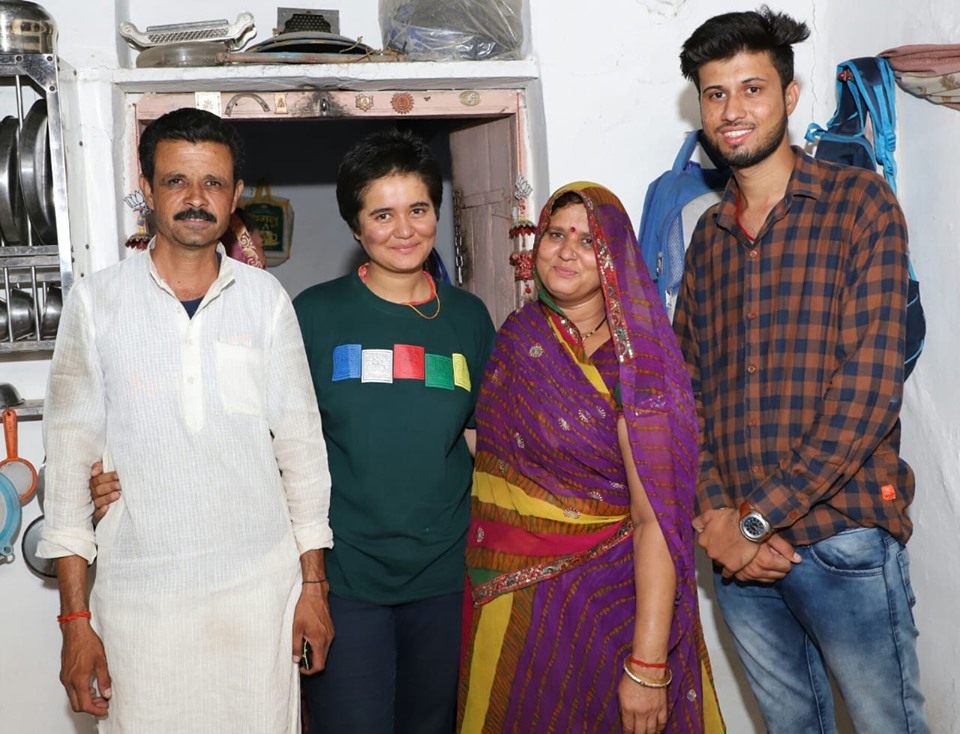 But little did she know that the first hurdle she had to conquer was even before she embarked on her expedition to Mt Everest- the sponsorship fee of ₹25 lakhs. Megha didn't have the means to afford this huge sum of money. She approached a sports officer in her region, dressed in a simple salwar suit to request him to sponsor her expedition. To her utter dismay, the sports officer condescendingly remarked, if salwar suit girls were to climb Mt. Everest then what would sportsmen do! This left her utterly crushed and she reached a roadblock to her dreams.
And like they say, where there is a will, there is a way, Megha Parmar's father believed in his daughter's dreams. So he sold his land, requested donations from the residents of Bhoj Nagar and helped her embark on her journey to summit the highest mountain in the world.
Also Read: Meet Flight Lieutenant Mohana Singh,The First Woman Fighter Pilot Of India
Alas, in 2018, she was unsuccessful in summiting Mt. Everest, and her dreams remained unfulfilled. Megha faced one of the lowest points in her life. She fell into depression and her physical health deteriorated. To make matters worse, her family had to face the disappointment of her entire village, which had so many hopes on her.
Never Say Never
Gathering all the internal frustration and disappointment, she decided to learn from her failure and work hard towards achieving her goal again. Megha started training even harder with more determination. She stopped using her phone, practised hard throughout the day and even late at nights when the whole village slept. She didn't even celebrate festivals and occasions.
After several sleep-deprived nights, long hours of practice, limitless determination, sponsorship of ₹15 lakhs from the Madhya Pradesh Government and with some other sponsors, Megha Parmar was ready to climb Mt Everest.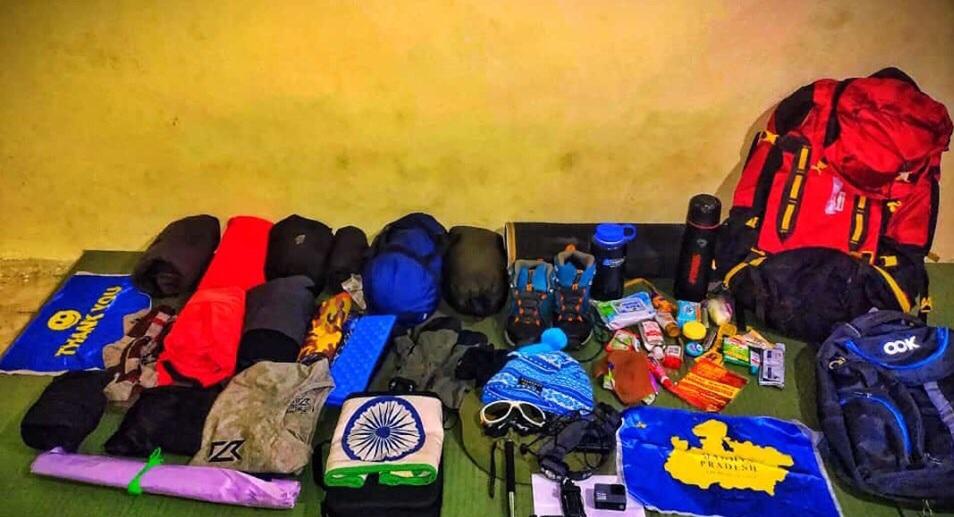 Reaching The Peak Of Mt Everest
On May 22nd 2019, a massive number of 220 climbers attempted to summit the peak, resulting in a deadly traffic jam near the death zone of Mt Everest. The death zone, having a very low level of oxygen and sub-zero temperatures is at an altitude of 26,000 to 29,000 feet.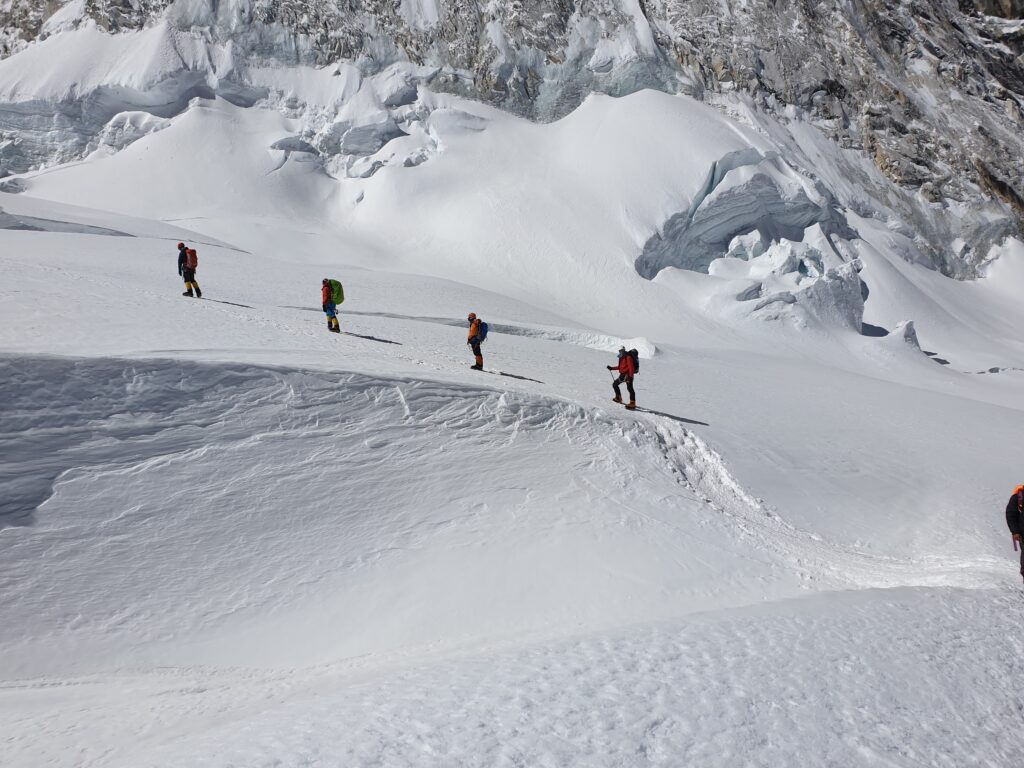 And in spite of this deadly traffic jam and bad weather conditions, Megha Parmar created history and reached the summit of Mt Everest on 22nd May 2019 at 5 am in the morning. Achieving her life goal she literally felt on top of the world, as she hoisted the Indian flag amidst international mountaineers who were unfurling flags of their respective countries. From the highest peak in the world, Megha felt strange powerful energy emitted by the mountain which was an unexplainable, divine superpower. And it was truly heaven on earth! The pride in her chest and the happiness in her eyes gleamed through.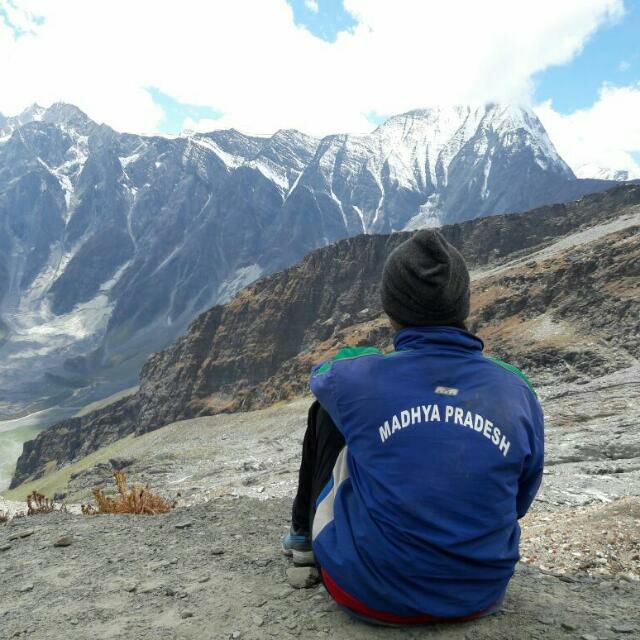 The Challenging Descend
But she did not let her happiness take over the crucial task of getting down the mountain, as she remembered the wise words of her coach, who had told her that it's not difficult to climb Mt Everest but it's much more difficult to descend. On her way to descend the steep slopes of the mountain, the heavy traffic jam at the death zone of the Mt Everest created a lot of difficulties for her and other mountaineers, who had to wait in the same spot having a low level of oxygen for more than 3 hours.
Also Read: Have You Visited The Rainbow MountainIn Peru Yet?
During this trying time, Megha lost her glasses, causing her acute snow blindness. Her eyes were watering and burning. She wasn't able to open her eyelids and temporarily lost her vision due to overexposure of the sun's UV rays. Megha was also short on oxygen cylinders and was extremely sick to climb downhill. So she and her Sherpa had to camp in the death zone at Camp 4 for the night, the very death zone where mountaineers could hardly survive for 4 hours, she and her Sherpa stayed there for over 30 hours.
Megha could even feel hoards of sleeping bags kept in Camp 4. Her Sherpa informed her that those sleeping bags contained dead bodies of people who died years ago. Listening to this, she just got chills down her spine as she had never witnessed anything like this before. The freezing temperatures, low levels of oxygen at Mt Everest was truly a battle to survive. She felt her clock was ticking due to drastically low levels of oxygen and her acute snow blindness. She was worried if she could survive the might and regain her sight in time to descend the summit. Her Sherpa was also worried about her and kept checking if she was alive and breathing.
The next morning her Sherpa enquired if she had regained her vision so they could begin their journey downhill. But Megha still didn't regain her sight and her oxygen level was to the brim of emptiness. Megha could feel her body stiffening, her throat getting drier, her breath getting softer, she felt that each breath would be her last. At that moment she understood the value of oxygen and vowed that if she were to survive, she will definitely plant more trees and do her bit to contribute towards the oxygen supply in the world. Megha murmured her final prayers and remembered her parents for one last time.
Suddenly, her Sherpa's friend approached them, and to her good fortune, he had an oxygen cylinder which would last her for another 2 hours. Her Sherpa immediately took the extra oxygen cylinder from his friend. And the minute he changed her oxygen cylinder, Megha took the deepest, most valuable breath of her life. When she wanted to show her gratitude towards the owner of this oxygen cylinder, she came to know it belonged to the late Mrs, Anjali Kulkarni, a Mumbai based mountaineer who died climbing this mountain. She prayed for her and thanked her kind soul.
For the next few days after her descent from Mt Everest, Megha was hospitalized in Kathmandu, due to her weak health and snow blindness. Once she recovered from her illness, she contacted her family who were worried sick for her. After her speedy recovery, she finally returned to her village in Bhoj Nagar, as the first woman to climb Mt Everest from Madhya Pradesh.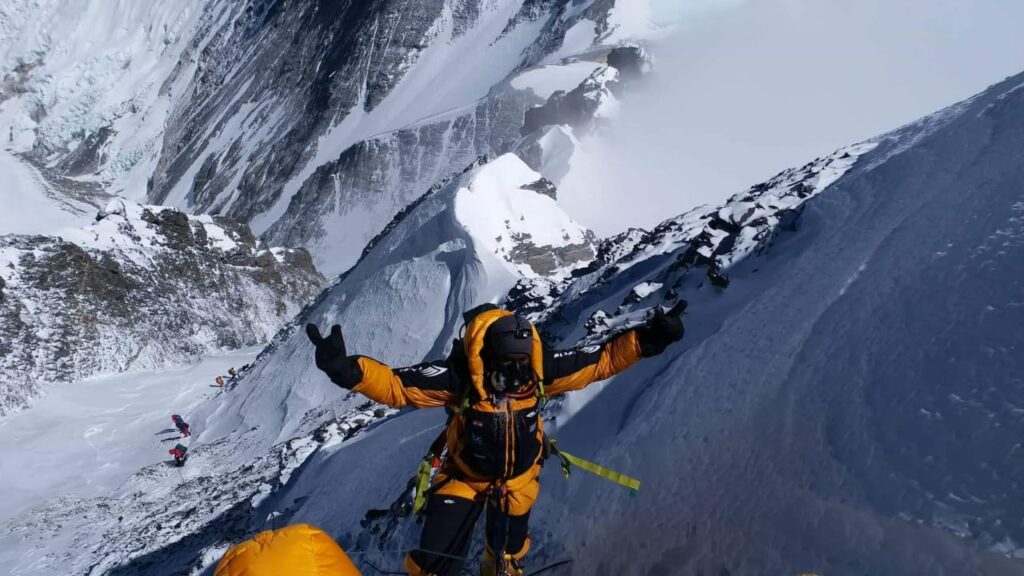 Megha Parmar- An Inspiration
Bhoj Nagar, a village in the Sehore district of Madhya Pradesh had now come in the maps of not just the state but of the entire nation. A village which often ridiculed Megha and her family now played the Dhol-Baja and welcomed the proud mountaineer in full gusto, celebrating her achievements in the grandest proudest manner. Megha's parents had tears of joy for their daughter who achieved an incredible feat and made the impossible, possible. She was also given a royal welcome by the cabinet of ministers of Madhya Pradesh, nominated for the highest sports award of Madhya Pradesh, the Vikram Award, and has also been nominated for the Padma Shri this year.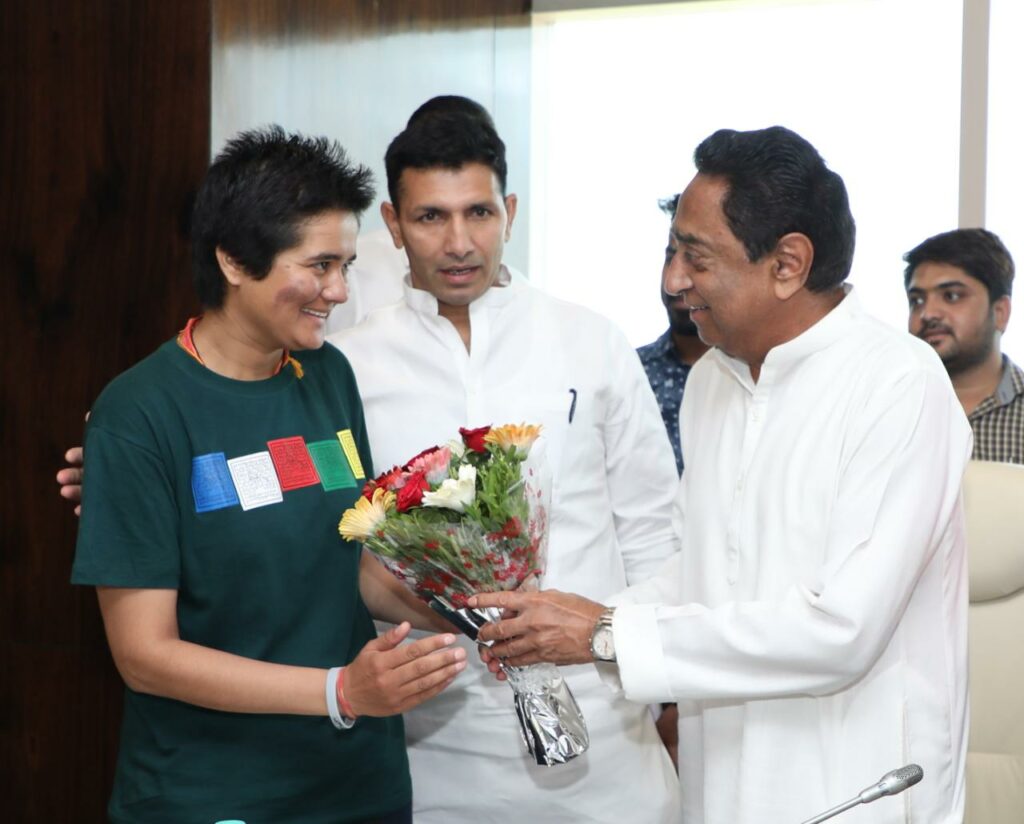 Megha's achievements opened the doors of opportunity for every girl in the Bhoj Nagar village of Madhya Pradesh. A village where male children were given preference over female children, a village where men in households were served Ghee laden Rotis and women ate their's without it, a village where women could hardly come out of their homes, a village where women in households were not given enough educational and recreational opportunities, has now transformed into a village recognizing the opportunities and contributions of women.
Also Read: UAE Among Top Nations To Empower Women
Several girls from her village are now encouraged by their families to learn mountaineering from Megha Parmar. Daughters in their households are slowly starting o be valued and treated equally as compared to their brothers And Megha Parmar couldn't have been prouder, to be a pioneer of this achievement. She has even started giving motivational talks in the schools and colleges in her district to encourage young girls to grab hold of opportunities and achieve their goals.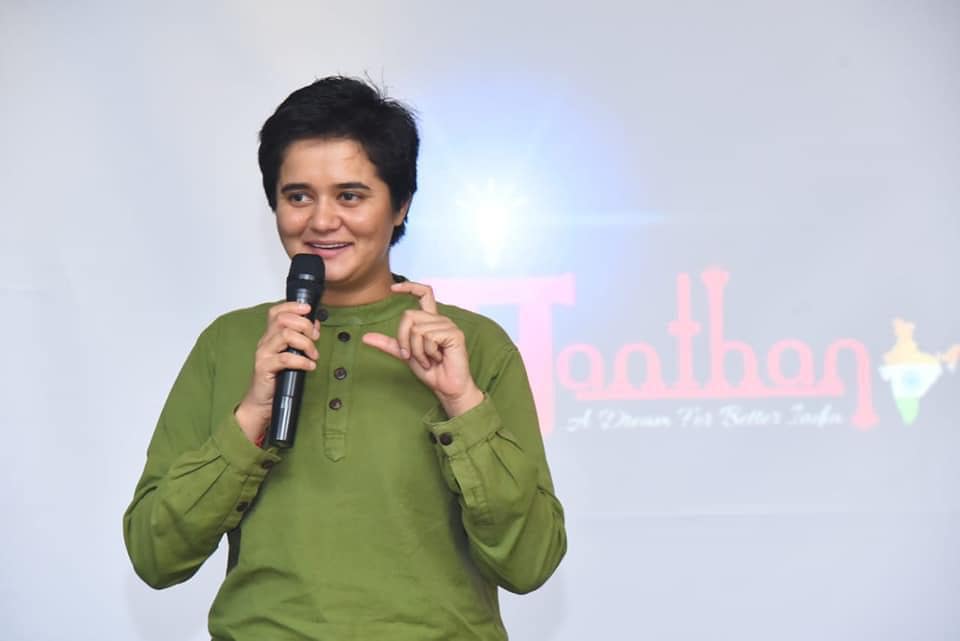 Megha Parmar has started training girls belonging to lower-middle-class families to learn the art of mountaineering. And that's not all, she also takes them along with her to global destinations, where they can get the opportunity to summit international peaks. She hopes to climb the highest peaks of all the 7 continents in the world.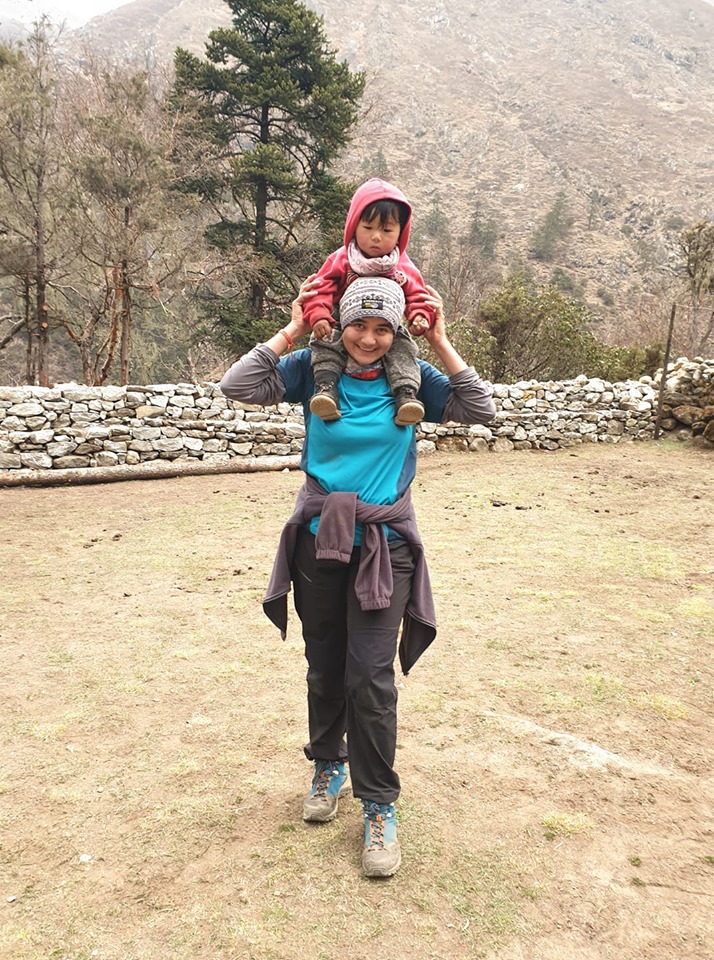 Megha Parmar's Message To The World
Megha Parmar's trek to Mt Everest has taught her valuable life lessons, which she hopes to instill in people. She wants to convey to you, that you must always be determined towards your goals and strive to achieve it with so much gusto, that the universe would be obliged to reward it to you. She also wants to tell every woman out there, that your freedom is extremely valuable. And as a woman, you might get very few opportunities to use your freedom wisely. So when you do get it, you must decide on your goals and work extremely hard to fulfil it.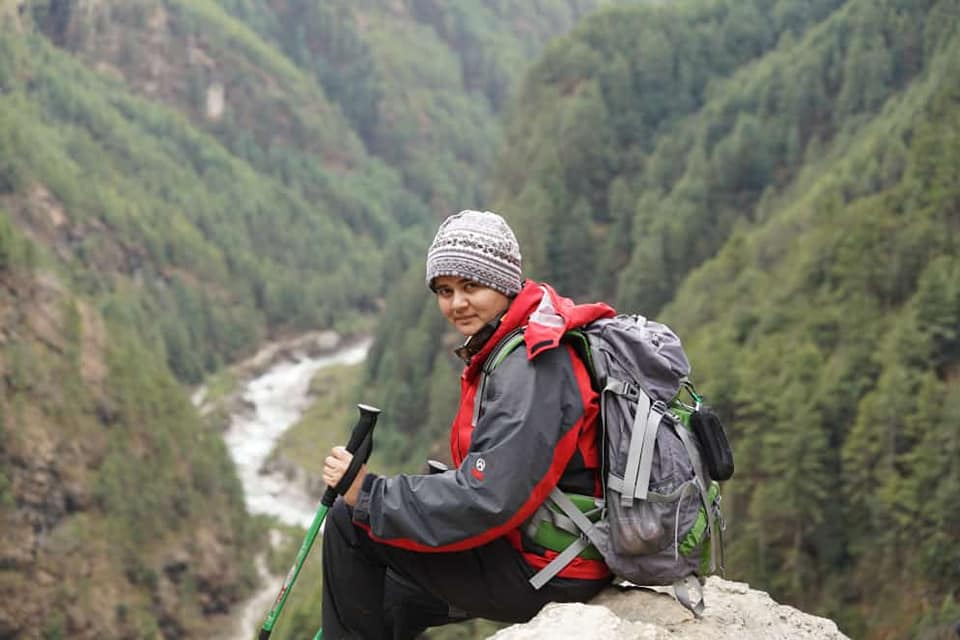 Whenever Megha Parmar would think about achieving her goal of climbing Mt. Everest, she would tell her goal "Jab Tak Chadungi Nahin, Tab Tak Chodoongi Nahin" So similarly, every woman must tell her goals "Jab Tak Karenge Nahin, Tab Tak Chodengi Nahin." 
 To know more about Megha Parmar click here