Due to a significant rise in Covid-19 cases in India, the Southern Railway announced on January 8 that only fully vaccinated passengers will be permitted to board the suburban trains in Chennai. Passengers must show their vaccination certificates at the ticket counters before boarding the trains. This restriction remains in place from January 10 to January 31. Folks in Chennai, do keep this in mind.
IRCTC Had Launched Shri Ramayana Yatra Train Tours
Indian Railway Catering and Tourism Corporation ( IRCTC) has launched a series of "Shri Ramayana Yatra Train Tours" to promote spiritual tourism in the country. The first tour commencing on November 7, 2021, from Delhi Safdarjung Railway Station is covering all the places associated with Lord Rama. According to IRCTC, the response for the first tour was overwhelming and it got entirely booked. Passengers can opt for Deluxe Tourist Trains and Pilgrim Special Tourist Trains depending on their budget.
The Luxurious Trains Have Modern Kitchens, Shower Cubicles And More
The Ramayana Circuit trains of IRCTC incorporate a plethora of luxury features like fine dining restaurants, shower cubicles, sensor-based washrooms, a modern kitchen and loads more. The journey that started in Delhi's Safdarjung will be completed in 17 days. Ayodhya will be the first stop of the journey. The journey will also cover Varanasi, Shringverpur, Chitrakoot, Nasik, Hampi and Rameshwaram. The fares for the Shri Ramayana Yatra train are ₹82,950/person for AC-II class configuration and ₹1,02,095/person for the first AC. Both the classes together can fit in 156 passengers. Also, Shri Ramayana Yatra Express-Madurai will depart on November 16 and booking for the same has started on the IRCTC tourism website.
First train departure on the 'Ramayana Circuit' will commence from Delhi's Safdarjung railway station today. The 17 days tour will cover many prominent locations including Ayodhya, Sitamarhi & Chitrakoot, associated with the life of Lord Ram

(Photo source: IRCTC) pic.twitter.com/pgcVesgeMV

— ANI (@ANI) November 7, 2021
Also Read: Ayodhya Deepotsav Enters Guinness Book Of World Records By Lighting 7.5 Lakh Diyas This Diwali
'Shri Ramayana Yatra Train Tours' To Cover All Places Associated With Lord Rama
IRCTC is offering both standard and premium category facilities in the packages. The standard category for the tour is priced at ₹900 plus taxes per person per day. The premium category for AC-3 Tier is priced at ₹1500 plus taxes per passenger per day. For the pilgrim passengers in South India, there is a 13-day, 12-night train from Madurai. Budget tourists in North India can board from Sri Ganganagar. And for Central and Western passengers, Shri Ram Path Yatra train will take them on the journey, starting from Pune.
Also Read: Bored Of WFH? Work From A Hotel In Kerala With This Hotel Package From IRCTC
IRCTC Buddhist Circuit Train No Less Than A 5-Star Hotel, Say Passengers
IRCTC has recently launched its special Buddhist Circuit Train and passengers are saying that it looks no less than a luxury hotel on wheels. The train passes through prominent sites of Buddhism like Sarnath, Gaya, Kushinagar and Rajgir. Lord Buddha is believed to have spent important phases of his life in these spiritual sites. The interiors of the train are inspired by stunning Buddhist artworks and paintings.
The Twitter handle of the Buddhist Train has shared the testimonials of happy travellers on the luxurious train. A tweet by the page reads, "Setting benchmarks in providing extraordinary experience of Buddhism, the feature-loaded train is loved by all! Watch the testimonials of our esteemed guests who had an experience of a lifetime travelling on Buddhist Circuit Tourist Train." Here out the reviews of the passengers below:
Setting benchmarks in providing extraordinary experience of Buddhism, the feature-loaded train is loved by all! Watch the testimonials of our esteemed guests who had an experience of lifetime traveling on Buddhist Circuit Tourist Train.#buddhistcircuittrain #irctc pic.twitter.com/7I2sfUOPiH

— Buddhist Train (@buddhistrain) March 19, 2019
IRCTC Launches Special Train For Spiritual Tour Through Uttarakhand, Puri, Rameshwaram And More
When all is lost, we find solace in God. For those seeking both an inner and outer spiritual journey, the Indian Railway Catering and Tourism Corporation (IRCTC)  has launched a special train for a spiritual tour through Uttarkhand, Puri, Rameshwaram and more divine places of worship. The special train for the Char Dham Yatra pilgrimage circuit is by Dekho Apna Desh' Deluxe AC tourist train. This news comes after the launch of the Gurudwara circuit and the 'Shri Ramayana Yatra' train operated by the Indian Railways.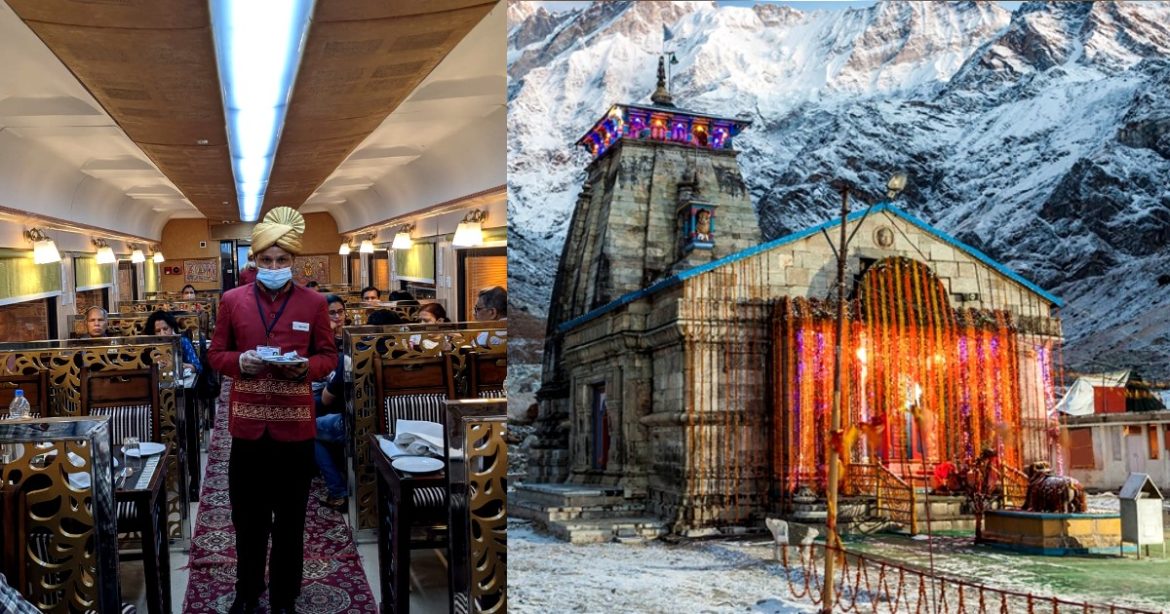 Also Read: Delhi To Get Heli Taxi Services, Smart Roads & Bullet Trains In The Near Future
IRCTC Special Train To Cover Spiritual Destinations In India In 16 Days
The 16-days spiritual tour started from Delhi Safdarjung Railway Station on September 18. It covered the visit of Haridwar, which includes destinations like Ganga aarti, Rishikesh, Ganga ghat, Triveni ghat, Lakshman Jhulla, Ayodhya, Hanuman Garhi, Saryu Aarti, Nandigram, Ramjanam Bhoomi and more. In Puri, pilgrims can visit places like Golden Beach of Puri, Konark Temple, Jagannath temple and Chandrabhaga Beach. The spiritual train also includes destinations in Rameshwaram like Ramnathswami temple and Dhanushkodi. In Dwarka, devotees can visit, Dwarkadhish Temple, Shivrajpur beach, Nageshwar Jyotirlinga and more.
Also Read: From Ayodhya To Rameshwaram, 8 Ramayana Destinations To Visit In Real Life
This Modern Train Has Swanky Facilities & Costs
₹

78,585 Per Person

Guests will be covering a distance of around 8500km on this spiritual tour. A host of amazing features like a modern kitchen, shower cubicles, sensor-based washroom, foot massager and two fine dining restaurants can be expected here. The fully air-conditioned train has two types of accommodation. These are 1st AC and 2nd AC. This State of Art Deluxe AC Tourist Train has security guards for each coach and features CCTV cameras. In a bid to promote domestic tourism, the 'Dekho Apna Desh' initiative that launched the spiritual train starts at a package of  ₹78,585 per person. Meanwhile, if you're curious about Rameshwaram, then here's an enlightening video on the City of Gods.