The pandemic has hit the tourism industry hard but there seems to be some glimmer at the end of the tunnel. A lot of countries are slowly opening up for vaccinated travellers and Israel seems to follow suit. While fast-forwarding its mass vaccination drive, Israel is ready to welcome fully vaccinated tourists from May 23, 2021. The country is allowing tourists after a time span of more than a year. It has already vaccinated more than 80% of its senior citizens, making Israel an attractive as well as a safe destination for tourists. Starting May 23, the nation will permit entry of a limited number of tourist groups. It will allow individual travellers sometime later.  Also, all foreign tourists coming to Israel have to undergo COVID-19 tests before boarding their flights and must give a serological test to prove that they have taken a vaccine.
The country aims to revive its struggling tourism sector when it reopens after a rapid COVID vaccination campaign. Airline companies are competing to add flights to Tel Aviv as fully vaccinated groups of foreign tourists will be permitted into Israel from May 23.
Farkash-Hacohen spoke at the ITB Berlin online conference, alongside Minister Gustavo Segura Sancho of Costa Rica and Raki Phillips, CEO of the Ras Al Khaimah Tourism Development Authority in the UAE. They discussed the impact of COVID-10 on the international tourism industry, as well as the prospects for its reopening.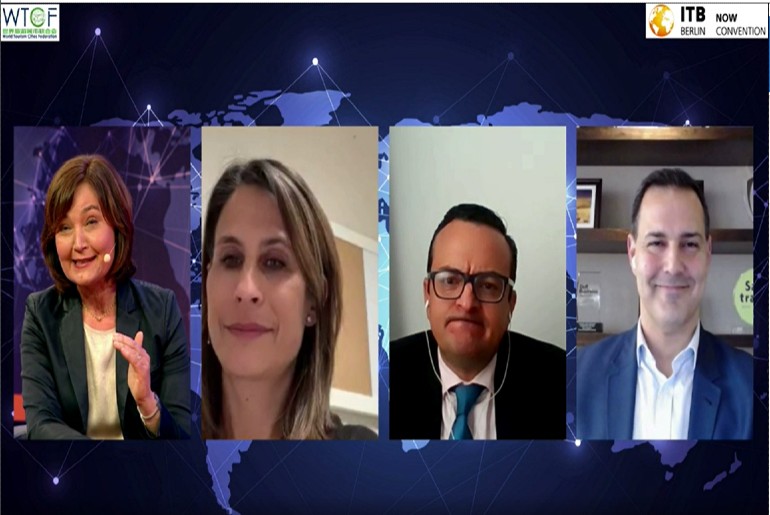 Israel Offered Compensation To Hotels & Subsidised Tours During The Pandemic 
"The tourism sector was shut down, it took it big blow," Minister Farkash-Hacohen summarised how the pandemic has affected Israeli tourism since March 2020. The Minister shared how the Ministry worked to uphold and help the various serious, including distributing compensation to hotels, offering subsidised/ free tours for the public to support tour guides, and more.  "None of this of course is full compensation, but it helped during this difficult year," she said.  "Now we are hopeful tourists can soon return, allowing the various tourism-oriented businesses to get back on their feet." 
Also read: Emiratis Can Now Visa-Free Travel To Israel For 90 Days
 Five Million People Already Vaccinated In Israel
Speaking about the impact of vaccinations on travel, the Israeli Minister said that five million people were already vaccinated from Israel's nine-million strong population. She also stressed the need for protocols for international carriers and visitors to fly to and from Israel: "This is my greatest challenge at the moment, and I am working with the health and transportation ministers to gradually open Israel's skies and allow more tourists in." Referencing the date things will open, the Minister said: "It will take some time, possibly a month" or so, adding she was optimistic. 
Also read: Israel Gets A Floating Cinema For Coronavirus Safe Viewing
Vaccinations Are Key To Reopening Tourism Industry 
The need to open the skies was agreed upon by the other participants too.  "We need to find ways to open up travel," Raki Phillips, CEO, Ras Al Khaimah Tourism Development Authority said, explaining why vaccinations were key to the reopening of the international tourism industry.  "Also from a safety and security perspective. Travel has to be enjoyable."  
At the same time, Minister Sancho of Costa Rica said vaccinations are important, but that protocols regarding the health and wellbeing of employees and vacationers were just as vital.  "We need to continue the important steps taken, and not forget them because of vaccinations," he said. 
Also read: World's Most Expensive Mask Worth ₹11 Crores Designed By Israeli Jeweller
Israel is optimistic that it will soon open for travellers. Watch out this space for more information.