It was around 4:15 PM and I was extremely hungry after a day of shopping in Connaught Place. Back then, I was new In Delhi but had heard a lot about Kake Da Hotel. So, I decided to dine out there. My friend had told me not to expect a cafe ambience inside and I had kept that in mind. We walked past the tall white pillars of Connaught Place following the Google Map. And from the other side of the road, we spotted a long queue in front of a food joint that seemed more like a hole in the wall. The banner of the eatery read, "Kake Da Hotel". Still unsure if the place was worth the hype, we crossed the road.
The guy at the gate noted down our name and asked us to wait for fifteen minutes. We waited. Seeing the crowd, we knew that there is something about this place that is pulling in so many foodies. And there went a good start, they did not let us wait for long. When we went inside, we saw a modest deck up with food certificates and photos with celebrities hung on the walls. The place seemed a bit timeworn yet renovated.
And why not? The eatery has been there since 1954. Before talking about the food, let me elucidate a bit about the eatery's history. But the food was such that I went back to the place a lot of times, and still check it out sometimes when I visit Connaught Place.
The Eatery Was Originally Established In 1931 In Lahore
From colonial rule to the partition of India, Kake Da Hotel has seen it all. The eatery was first established in Lahore in 1931, and then it moved to Delhi in 1948. In 1954, it shifted to the heart of Delhi, in Connaught Place. Since its inception, the restaurant serves the same menu. Tastewise, some dishes are average, while some others are highly lip-smacking. And yes, the preparations here are zesty, perfect for someone who loves succulent desi curries.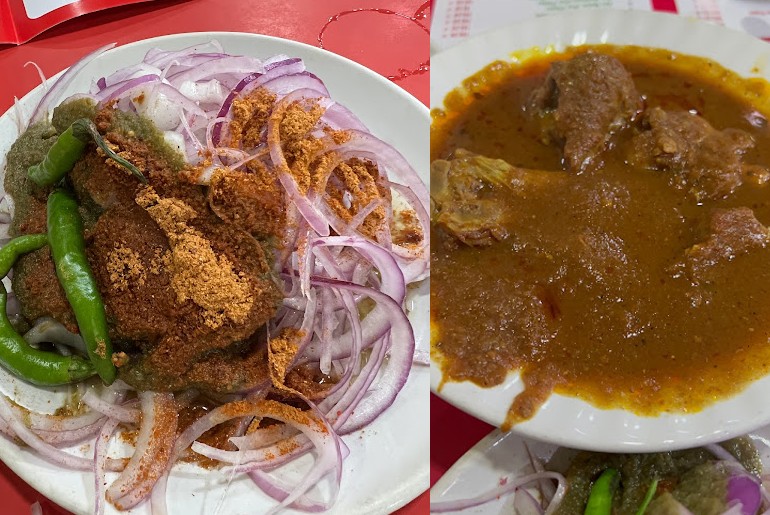 Also Read: This Iconic Coffee Shop In Delhi Has Been Serving Yummy Flavoured Coffee For Decades
Try Roti With Rogan Josh Or Chicken Curry Here!
Food at Kake Da Hotel is prepared with pure desi ghee. We absolutely loved the kebabs and tikkas here. You can go for Seekh Kebab, Chicken Tandoori, Chicken Tikka or Paneer Tandoori. Among curries, Rogan Josh had our hearts. Paneer Makhani and Butter Chicken are not the best. But overall, the experience can be wholesome and pampering. Also, the north Indian taste buds love spicy food and Kake Da Hotel fits their coat. My personal favourite is their Roomali Roti paired with Chicken Curry. Simple yet delectable!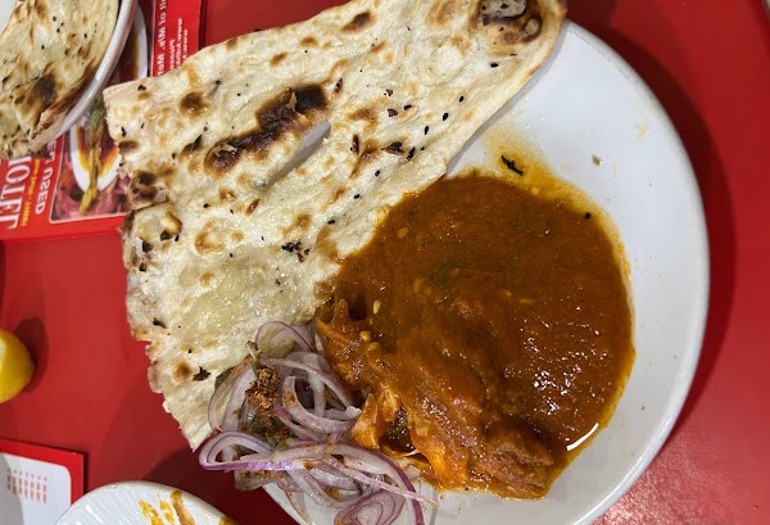 Also Read: 5 Historic Breakfast Places In Delhi's Paharganj That Offer Meals Under ₹100 Per Person
Kake Da Hotel remains open from 12 PM to 12 AM and you'll hardly find an hour when it is not crowded ( not even after 11 at night). So, if you're planning to eat out here, reach there well in advance. After all, when in Delhi, we cannot miss out on trying out its historic flavours.
Address | Shop No. 67, Municipal Market, Connaught Cir, Connaught Lane, Connaught Place, New Delhi, Delhi 110001