Craving pani puri? We all are, but it may not be the best time to indulge in your favourite street food as it can expose you to the deadly virus. Recently, Kanpur has banned the sale of pani puri. According to reports, safety norms were being flouted at street food carts. Besides, there was a lack of social distancing at these food stalls. Most pani puri vendors were seen without masks, and some were not wearing gloves while serving customers. The news, however, gave a blow to all street vendors.
Also read: Order Street Food Online & Get It Delivered At Your Door Step Soon Just Like Restaurants
Vendors Seen Flouting Hygiene Rules
Incidents were reported in other parts of India where safety rules were being flouted, especially in pani puri kiosks. While vendors are directed to wear masks, gloves and maintain all hygiene conditions, they have time and again been seen flouting the rules. There is a need for social distancing to be practised at all shops. Gujarat Has A Contactless Pani Puri ATM For The Hungry Foodies.
Food Safety Is Directly Proportional To Good Health
As the world grapples with the pandemic of the worst proportion, the food we consume and the environment in which we eat, now needs to be of the highest quality when it comes to hygiene. Food safety is directly proportional to good health. The pandemic has brought the food safety aspect to the forefront. Owing to the highly transmissible nature of the deadly virus, we should avoid eating in places where hygiene standards and safety measures are not prioritised.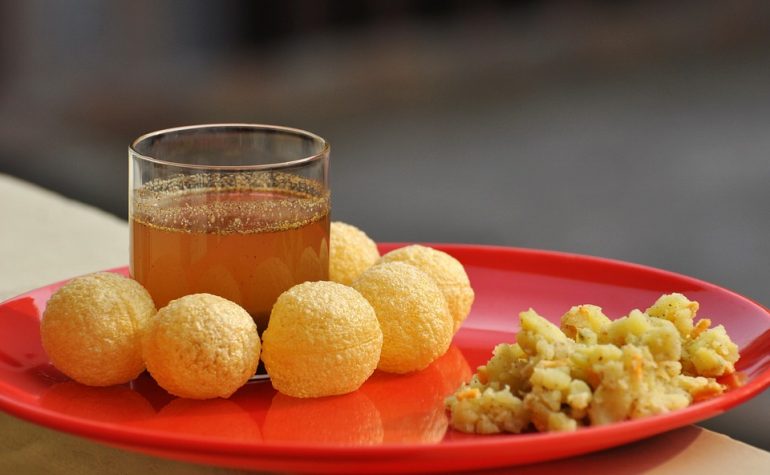 Any Minute Contamination Can Risk Staff & Vendors
As India slowly but indeed looks to reset, it is crucial to prioritise safety and hygiene whenever you step out. Any minute contamination at food stall can put the staff and you at risk. This calls for the best hygiene and safety measures to be put in place. For owners in the food and beverage industry, ensuring that top-notch safety is imperial. For food vendors, educating the staff and keeping track of hygiene is the first step to food safety. The primary focus has to be on providing ample protection and training for the staff who handle the cooking, packaging, and delivery. Nagpur Chaupati Has Nagpur's First Automatic Pani Puri Vending Machine.
The best way to satiate your pani puri cravings right now is to purchase the raw material and prepare the stuffing at home.